10 Gigabit Fiber Media Converter
FR-2000 Series Mini Fiber to Ethernet Media Converter provide flexible options for 100Mbps, Gigabit or 10 Gigabit Ethernet communication across fiber via the SFP or SFP+ port with intelligent configuration features such as link fault pass-through, auto laser shutdown, port speed setting, etc.

Quality Certifications

Guarantee
Inquiry Now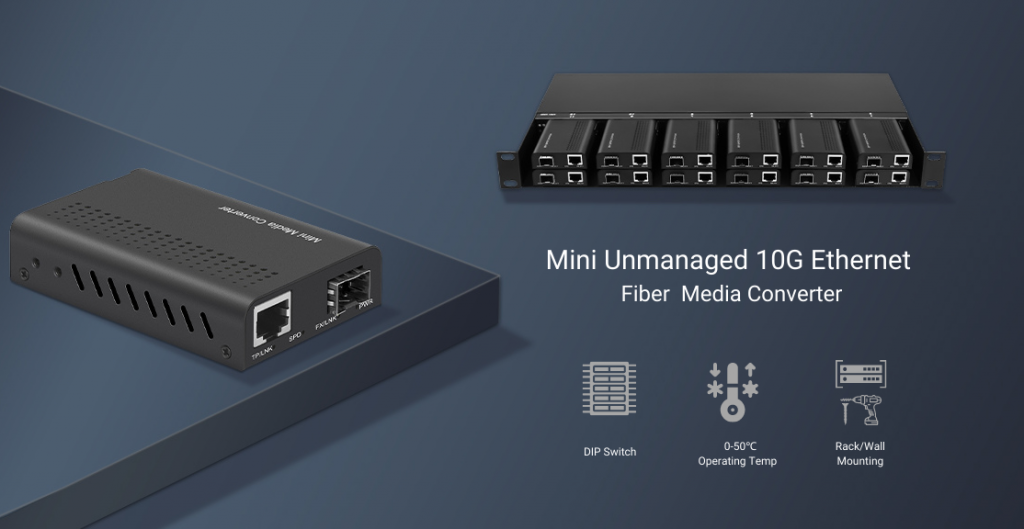 Mini 10G Ethernet Fiber Media Converter
The Mini Unmanaged 10G Fiber to Ethernet Media Converter extends communication distance with high-performance data transmission via fibre optic cable. It is designed for use in network environments where the ultra-high bandwidth provided by 10Gigabit Ethernet is required, for example, data centre cloud computing, enterprise backbone, campus networks and carrier infrastructure.
Ports
1×10/1G/2.5G/5GBase-T RJ45
1x10GBase-X SFP+
Standards and Protocols
IEEE 802.3u, IEEE 802.3ab, IEEE 802.3bz,
IEEE 802.3an, IEEE 802.3ae, IEEE 802.3x
MAC Address
2K
Jumbo Frame
10K
Cable Type(Fiber)
Multimode 50/125µm, 62.5/125µm
Single-mode 9/125µm
Cable Type(Copper)
UTP Cat 5, 5e, 6,6a Cable

LED Indicatiors
TP/LNK,SPD,FX/LNK,PWR
DIP Switch
LFP/ALS/Media Conversion Mode
External Power
AC 100V-240V
Input Power
DC 5-12V
Operating Temperature
0℃ to 50℃(32℉ to 122℉)
Storage Temperature
-20℃ to 70℃(-4℉ to 158℉)
Housing
Metal
Warranty
3 Years
Extend 10G Signals with Fiber Media Converter
Extend the reach of the LAN beyond the 100-meter limitation of the CATx copper cable by converting the links to fiber. Fiber links allow connections over distances of up to 100km. Fiber Media Converter migrates a local network to fiber and at the same time, protects your investment from existing copper hardware while maintaining the existing infrastructure.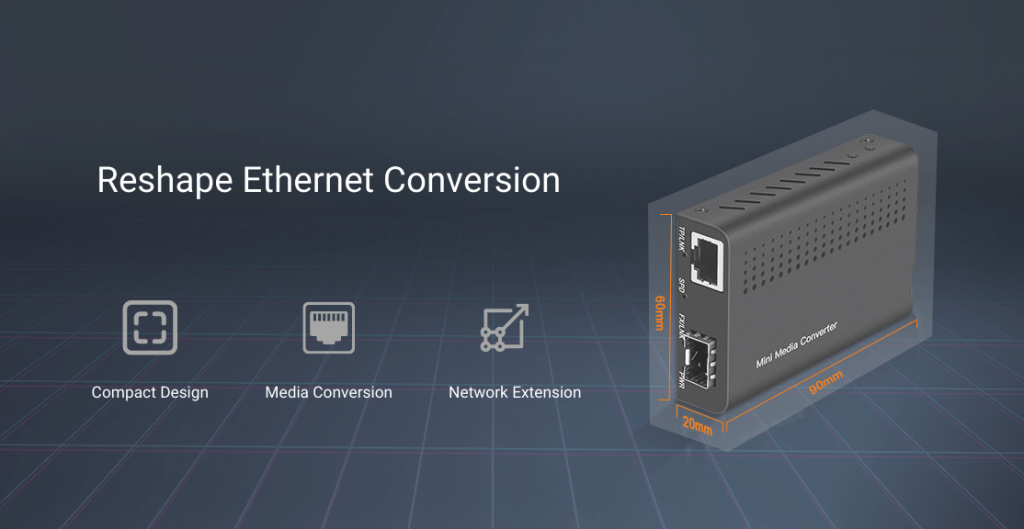 Simple & Intelligent Operation
The hot-swappable design makes these converters easy to install and troubleshoot for newbies, allowing simple communication with other devices. Mini Media Converter with the LFP (link fault pass-through) function, system administrators can notice the link failure within a short period, minimizing the loss caused by this problem.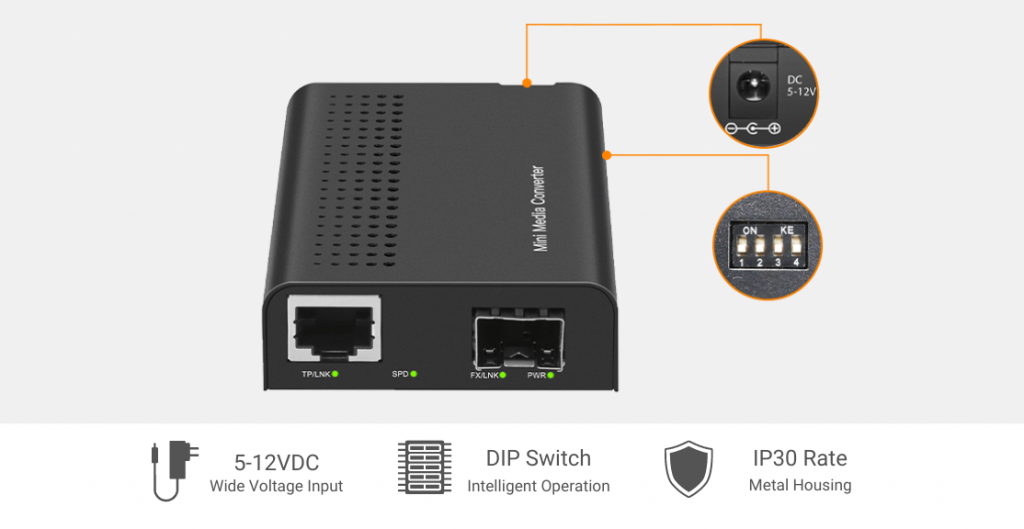 No.
Function
Status
Description
1
LFP
OFF
LFP Disable
ON
LFP Enable
2
ALS
OFF
Disable
ON
Enable
3
Media Conversion Mode
ON
1:TP=10G,FX=10G
2:TP=10/100/1000M, FX=1G
OFF
4
OFF
TP=10/100/1000M/10G, FX=10G
ON
1U Chassis Hosts Up to 12 Media Converters
Physical Port
Model
FR-2201
FR-2203
FR-2206
FR-2222
Copper Port
1x 10/100Base-TX
1x 10/100/1000

Base-TX

2x 10/100/1000

Base-TX

1x10GBASE-T RJ45
Optical Slot
1x 100Base-X (SFP or 1×9 Transceiver SC,ST,FC connector)
1x 1000Base-X (SFP or 1×9 Transceiver SC,ST,FC connector)
1x 1000Base-X (SFP)
1x 10G SFP+
LEDs
Power

SFP/1×9 Link/Activity

RJ45 Link/Activity

RJ45 Speed

Cables
UTP
CAT5 or above

Max. length up to 330 ft. (100 m)

CAT6 or above

Max. length up to 100m (CAT6a)

Fiber Optic
1000BASE-SX: 50/125, 62.5/125, or 100/140-µm Multimode 550m 1000BASE-LX: 8.3/125, 8.7/125, 9/125, or 10/125-µm Single-mode 10km
Multimode up to 400m

Single-mode up to 10-80km
Ethernet Standards
Standards
IEEE802.3i 10Base-T

IEEE802.3u 100Base-TX & 100Base-FX

IEEE802.3ab 1000Base-T

IEEE802.3z 1000Base-X

IEEE802.3bz 2.5/5GBase-T

IEEE802.3an 10Base-T

IEEE802.3ae 10Base-R

Switching Capacity
200Mbps(FR-2201) 2 Gbps(FR-2203) 6Gbps(FR-2206) 20G(FR-2222)
Jumbo Frames
10K
MAC Address
2K
Power
Power Input
1
Operating Voltage
5-12VDC
Power Consumption
3W Max(100Mb & 1Gb Models)

5W Max(10Gb Models)
Inquiry about the product