Mini Fiber Media Converter with Two Gigabit LAN Ports
Looking for a reliable and high-performing fiber media converter with 2 x gigabit ethernet ports? Look no further than the Fiber Media Converter from Fiberroad Technology! This top-of-the-line converter is designed for optimal performance and reliability, and its two-gigabit ethernet ports provide fast and efficient data transfer. Whether you're looking to upgrade your network to connect to a high-speed fiber internet connection, the Fiber Media Converter is the perfect solution. Order yours today and experience the difference!

Quality Certifications

Guarantee
Inquiry Now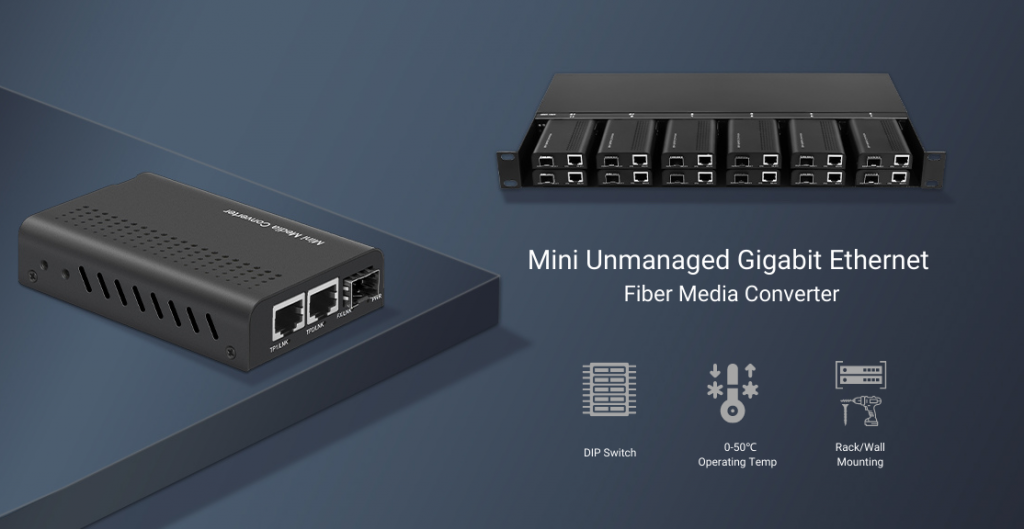 Mini Gigabit Ethernet Media Converter
The Mini Gigabit Ethernet Media Converter extends communication distance with the high performance of data transmission via fiber optic cable. It can build the ISP network solution of FTTH or FTTC for ISPs and FTTBs, or for small office network environments of enterprises. We also supply Media Converter Chassis, the 1U height 12 slots media converter rackmount chassis specially designed for accommodating chassis-based mini Media Converters.
Ports
2×10/100/1000Base-T RJ45
1x1000Base-X SFP/1×9
Standards and Protocols
IEEE 802.3, IEEE 802.3u, IEEE 802.3ab, IEEE 802.3z, IEEE 802.3x
MAC Address
2K
Jumbo Frame
10K
Cable Type(Fiber)
Multimode 50/125µm, 62.5/125µm
Single-mode 9/125µm
Cable Type(Copper)
UTP Cat 5, 5e, 6 Cable (Maxium 100m)
EIA/TIA-568 100Ω STP (Maximum 100m)
LED Indicatiors
TP1/LNK,TP2/LNK,1000M, FX/LNK, PWR
DIP Switch
Jumbo Frame
Port Isolation
FX Speed
External Power
AC 100V-240V
Input Power
DC 5-12V
Operating Temperature
0℃ to 50℃(32℉ to 122℉)
Storage Temperature
-20℃ to 70℃(-4℉ to 158℉)
Housing
Metal
Warranty
3 Years
Extend Transmission with Gigabit Ethernet Media Converter
Fiber links allow connections over distances of up to 100km. Fiber Media Converter migrates a local network to fiber and at the same time, protects your investment from existing copper hardware while maintaining the existing infrastructure.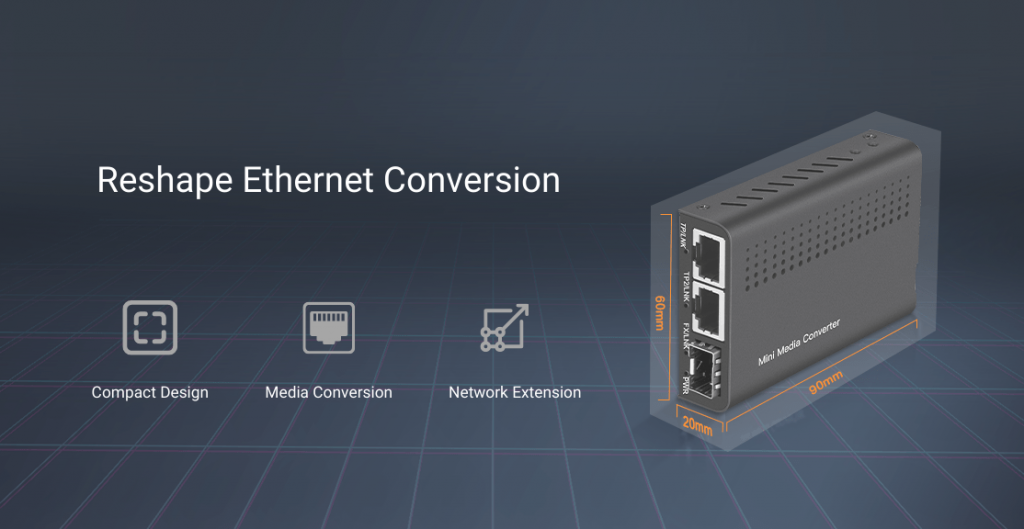 Simple & Intelligent Operation
The hot-swappable design makes these converters easy to install and troubleshoot for newbies, allowing simple communication with other devices. Mini Media Converter with the LFP (link fault pass-through) function, system administrators can notice the link failure within a short period, minimizing the loss caused by this problem.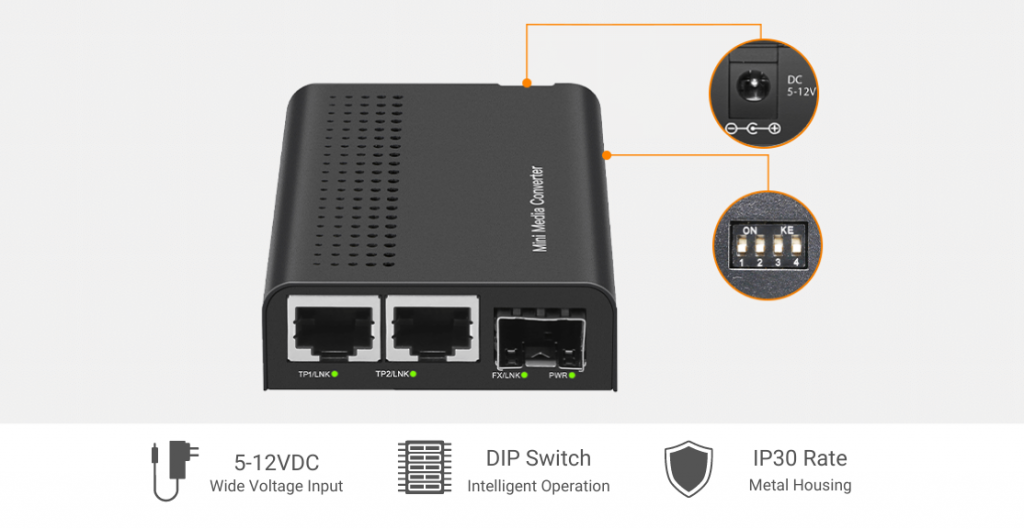 No.
Function
Status
Description
1
Reserved
–
–
–
–
2
Jumbo Frame
OFF
1500 Bytes
ON
Up to 10K
3
Port Isolation
OFF
Disable
ON
Enable
4
FX Speed
OFF
FX1000M
ON
FX 100M
1U Chassis Hosts Up to 12 Media Converters
Physical Port
Model
FR-2201
FR-2203
FR-2206
FR-2222
Copper Port
1x 10/100Base-TX
1x 10/100/1000

Base-TX

2x 10/100/1000

Base-TX

1x10GBASE-T RJ45
Optical Slot
1x 100Base-X (SFP or 1×9 Transceiver SC,ST,FC connector)
1x 1000Base-X (SFP or 1×9 Transceiver SC,ST,FC connector)
1x 1000Base-X (SFP)
1x 10G SFP+
LEDs
Power

SFP/1×9 Link/Activity

RJ45 Link/Activity

RJ45 Speed

Cables
UTP
CAT5 or above

Max. length up to 330 ft. (100 m)

CAT6 or above

Max. length up to 100m (CAT6a)

Fiber Optic
1000BASE-SX: 50/125, 62.5/125, or 100/140-µm Multimode 550m 1000BASE-LX: 8.3/125, 8.7/125, 9/125, or 10/125-µm Single-mode 10km
Multimode up to 400m

Single-mode up to 10-80km
Ethernet Standards
Standards
IEEE802.3i 10Base-T

IEEE802.3u 100Base-TX & 100Base-FX

IEEE802.3ab 1000Base-T

IEEE802.3z 1000Base-X

IEEE802.3bz 2.5/5GBase-T

IEEE802.3an 10Base-T

IEEE802.3ae 10Base-R

Switching Capacity
200Mbps(FR-2201) 2 Gbps(FR-2203) 6Gbps(FR-2206) 20G(FR-2222)
Jumbo Frames
10K
MAC Address
2K
Power
Power Input
1
Operating Voltage
5-12VDC
Power Consumption
3W Max(100Mb & 1Gb Models)

5W Max(10Gb Models)
Inquiry about the product