Unmanaged Industrial Fiber Switch With PoE++
The Unmanaged Industrial PoE++ Switch is designed for small industrial network applications. It provides an easy way to make the access point to Fast or Gigabit Ethernet. With a robust design, this switch is ideal for industrial or outdoor surveillance, withstanding the harshest conditions. The Industrial switch is Plug-and-Play, allowing for easy and quick deployment. It can supply power to PD terminal equipment such as wireless AP, webcam, VoIP, and visual intelligent building intercom through network cable and meet the network environment that needs a high-density PoE/PoE+/PoE++ power supply.

Quality Certifications

Guarantee
Inquiry Now
High Industrial Standard PoE++ Switch
To protect the Unmanaged Industrial PoE++ Switch from the harsh environment, the enclosure plays the core role in fitting the industrial grade standard. Compared to the most used material, iron, aluminium, another widely used metal material, has several advantages for shell material choice.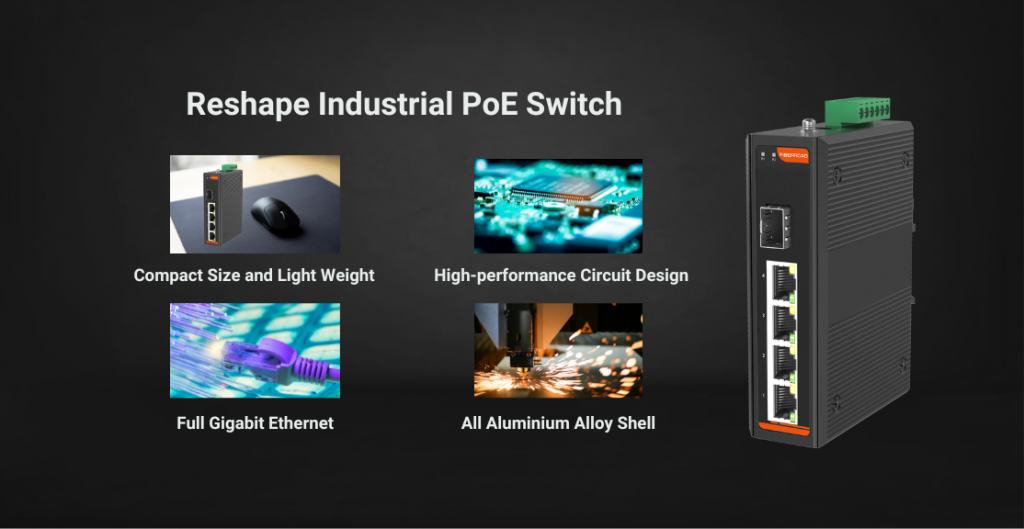 Product Specifications
Ports
4×10/100/1000Base TX RJ45
1x1000Base-X SFP/1×9
Port Mode(Tx)
Auto Negotiation
Full/Half Duplex
Auto MDI/MDIX
Frame Size
10K
PoE Ports
Port 1-4
Input Power
9-56V DC
Max Power Per Port
90W
Housing
Aluminium Case
IP Rating
IP40
Operating Temperature
-40℃ to +75℃
Dimensions
120x90x35mm
Installation Mode
DIN Rail and Wall Mount
Weight
350g
Ensure Industrial PoE++ Switch Runs In Harsh Environments
The industrial PoE++ switch is designed for reliability and ease of maintenance. It features such as a fanless design and low power consumption. The Industrial PoE Network Switch can operate at low and high temperatures thanks to mature technology and open network standards. It is also resistant to electric interference, salt fog, vibration, and shocks. The system also features redundant dual power supplies, allowing for additional reliability for applications that require always-on connections.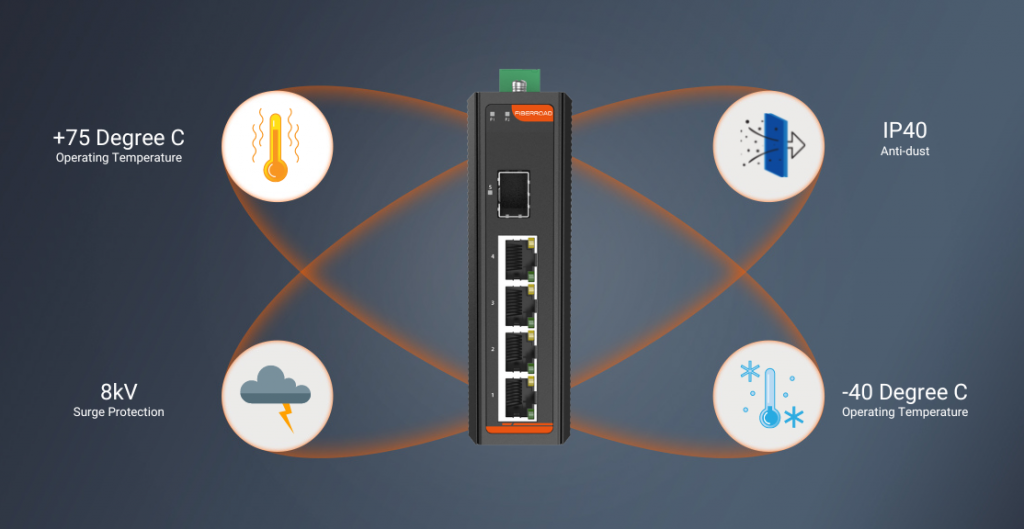 Power PoE Devices with Industrial PoE++ Switch
In compliance with the 802.3af/at/bt PoE++ standard, each port allows for up to 90W. Gigabit Ethernet port permits faster and more reliable connections for all devices. It is all you need to do to start the Ethernet-enabled device, and no more software setups or configurations are needed.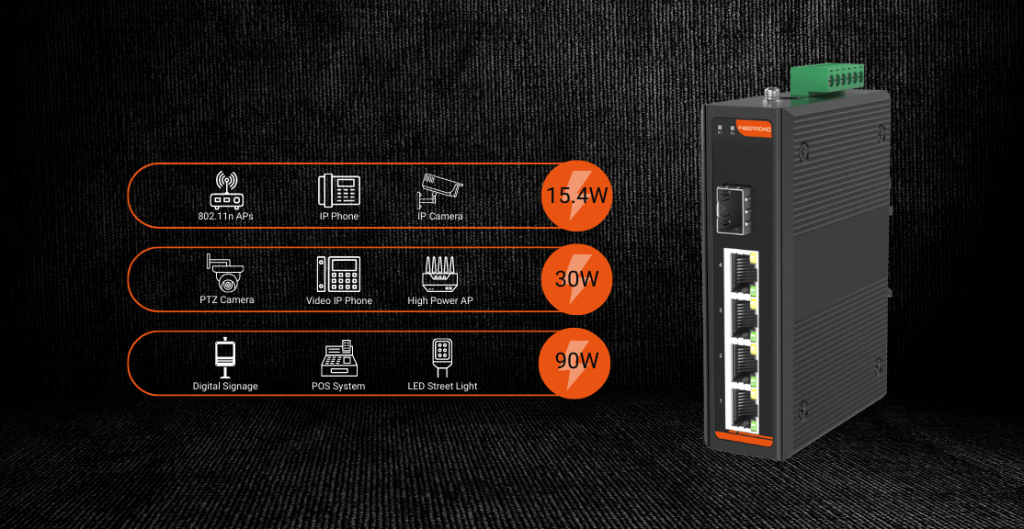 Plug and Play Meets Various Application Needs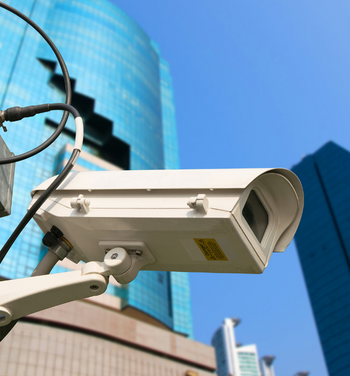 An IP surveillance camera is now ubiquitous PoE supported with only one LAN cable, enabling fast deployment and easy repositioning for business, office, and residential environments.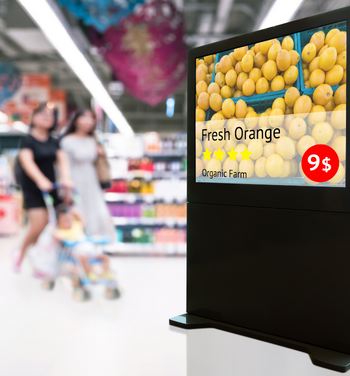 A digital signage can quickly transmit information in schools, hospitals, department stores, stations, airports, and subways, where content can be updated quickly to enhance users' real-time information.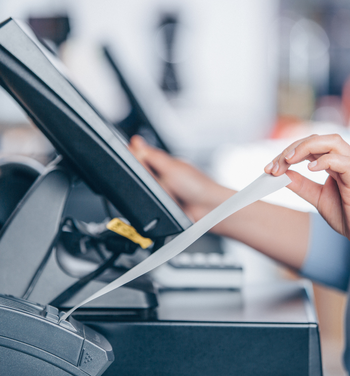 Other PoE-enabled devices, such as POS systems, Information Kiosks, RFID readers, access controls, thin clients, alarms or sensors, are easy and cost-saving, even when they are away from
Ethernet Interface
Model
FR-7N1104/FR-7N1104P/1104BT
FR-7N3104/FR-7N3104P/3104BT
Ports
4×10/100Base-TX Port(RJ45)

1x100Base-X(SFP/1×9)

4×10/100/1000Base-TX Port(RJ45)

1x1000Base-X(SFP/1×9)

Port Mode(Tx)
Auto Negotiation Speed

Full/Half Duplex Mode

Auto MDI/MDI-X Connection

Standards
IEEE 802.3 for Ethernet

IEEE 802.3u for Fast Ethernet

IEEE 802.3x for flow control and back pressure

IEEE802.3az for Energy Efficient Ethernet(EEE)

IEEE 802.3 for 10BaseT

IEEE 802.3u for Fast Ethernet

IEEE 802.3ab Gigabit Ethernet

IEEE 802.3x for flow control and back pressure

IEEE802.3az for Energy Efficient Ethernet(EEE)

Packet Buffer Size
512K
1M
Maximum Packet Length
9K
10K
MAC Address Table
4K
4K
Transmission Mode
Store and Forward (full/half duplex mode)
Exchange Property
Delay time: < 7μs

Backplane bandwidth: 1.25G

Delay time: < 7μs

Backplane bandwidth: 12G
Physical Characteristics
Housing
Aluminium case
IP Rating
IP40
ESD Protection
6kV
EFT Protection
6kV
Dimensions
120mm x 90mm x35mm (L x W x H)
Installation Mode
DIN Rail/Wall Mount
Weight
400g(without PoE)
Working Environment
Operating Temperature
-40℃~75℃ (-40 to 167 ℉)
Operating Humidity
5%~90% (non-condensing)
Storage Temperature
-40℃~85℃ (-40 to 185 ℉)
Heat Dissipation
10 BTU/h (Non-PoE)

420 BTU/h (30W PoE)

1260 BTU/h (90W PoE)

Cooling
Passive Cooling
Noise Level
0 dBA
PoE & Power Supply
Model
FR-7N1104P/3104P
FR-7N1104BT/3104BT
PoE Ports
Port 1 to 4 IEEE802.3af/at @PoE+
Port 1 to 4 IEEE802.3af/at/bt @PoE++
Power Supply Pin
Default: 1/2(+), 3/6(-)
Default: 1/2(+), 3/6(-) or 4/5(+), 7/8(-)
Max Power Per Port
30W
90W
Total PWR /Input Voltage
120W(DC48-56V) (Model dependent)
360W(DC52-56V) (Model dependent)
Power Consumption
3 Watts Max(without PoE load)
Power Inputs
2
Input Voltage
9-56VDC,Redundant dual inputs
Operating Voltage
Non-PoE Mode: 9-56VDC

30W PoE Mode: 48-56VDC

90W PoE Mode: 52-56VDC(IEEE802.3bt model)

Connector
1 removable 6-contact terminal blocks

Pin 1/2 for Power 1, Pin 3/4 for Power 2, Pin 5/6 for fault alarm

Protection
Overload Current Protection, Reverse Polarity Protection
Inquiry about the product