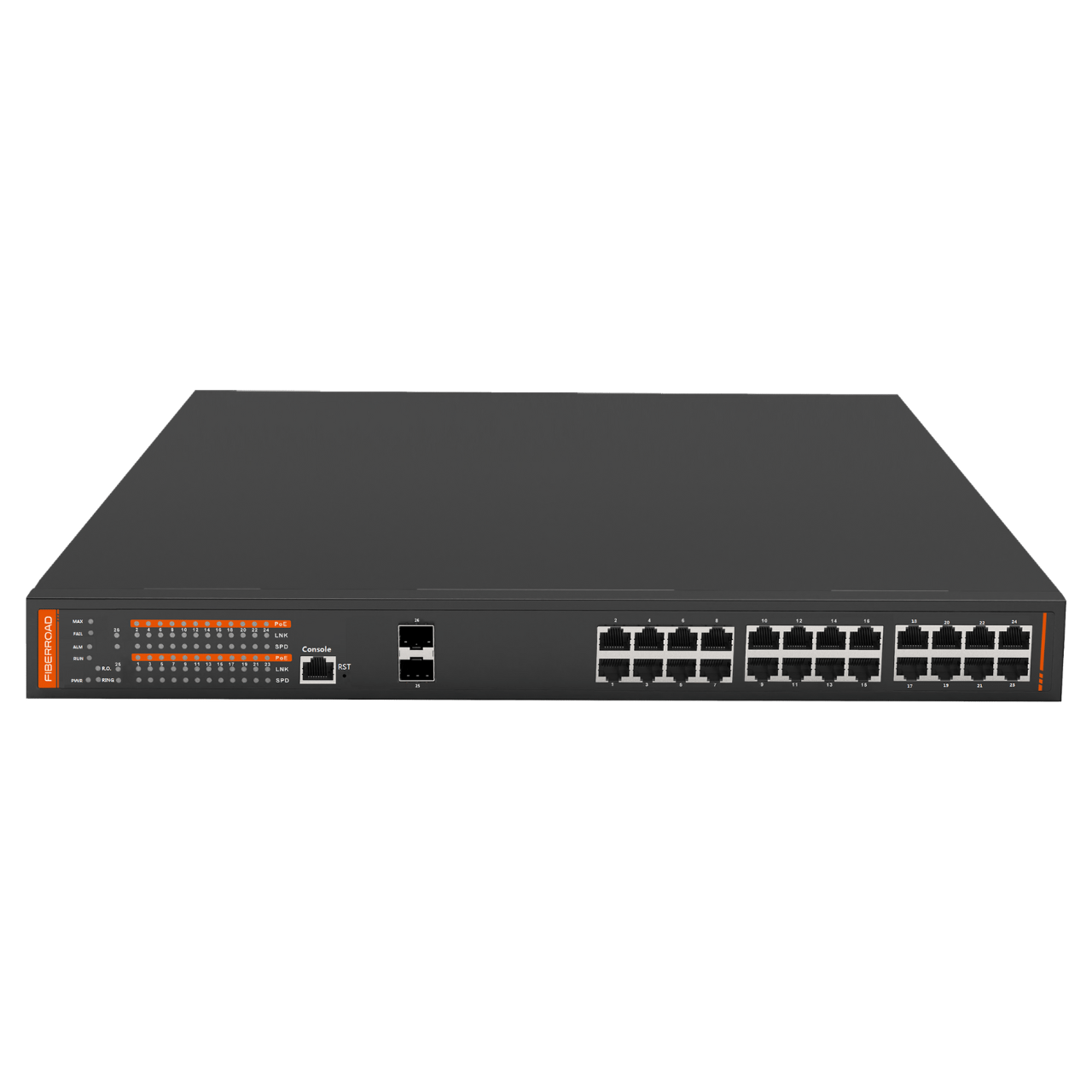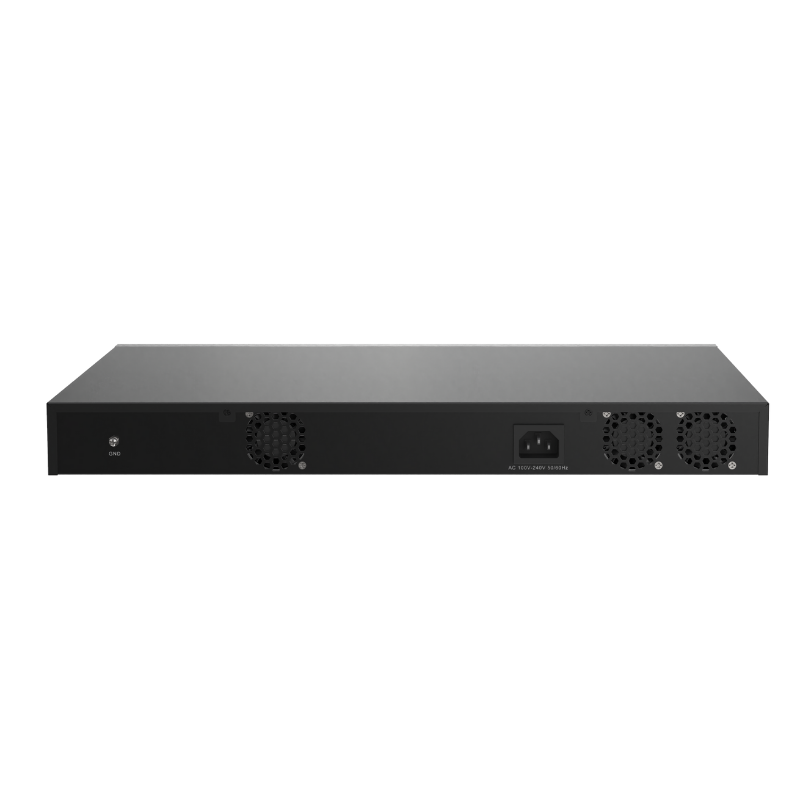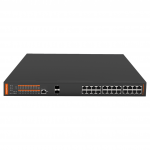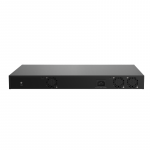 Quality Certifications
Guarantee
Share This Product
Why a 24 Port Managed PoE Switch is Ideal for Small to Medium-Sized Businesses
The 24 Port Managed PoE Switch is a powerful tool that any business looking to improve their network infrastructure should consider. With its ability to provide stable and reliable Ethernet connections, this switch ensures smooth data transmission throughout the entire office. In addition, the switch has enough capacity to power multiple PoE-compatible devices such as wireless APs, IP cameras, VoIP phones or visual intercoms. This means you can easily set up and maintain your network without having to worry about extra cords or bulky adapters cluttering up your workspace. Whether you're running a small startup or managing a large corporation, this PoE switch provides all the features you need for efficient connectivity in one convenient package. So if you want to ensure that your business runs smoothly with minimal downtime due to poor network performance – look no further than the 24 Port Managed PoE Switch!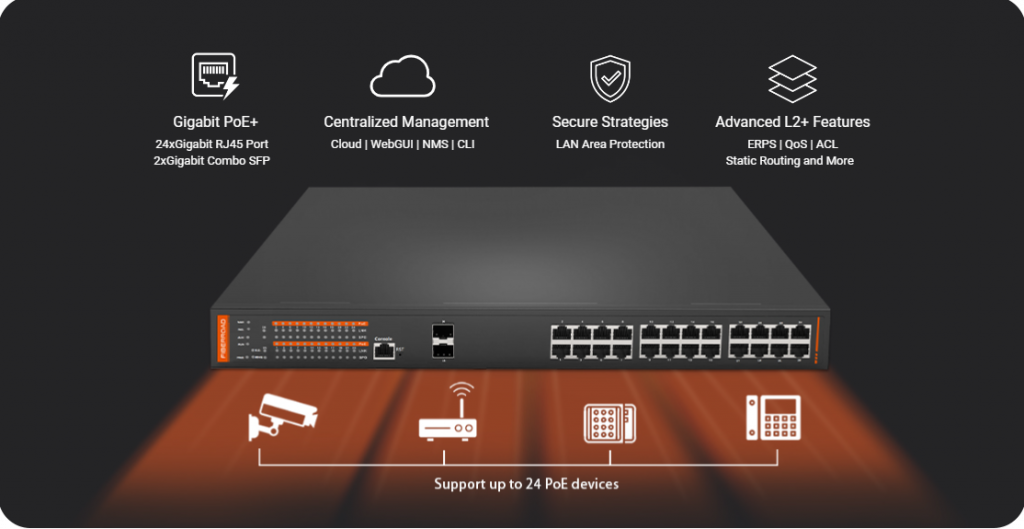 SMART POE FEATURES
1. IEEE802.3af/at/bt standard automatically identifies power devices without damaging non-PoE devices.
2. Up to 30W per port.
3. PoE++ Switch port will supply power to the high priority level port when the power budget is insufficient.
4. PoE output power allocation, Scheduling of PoE operation.
ADVANCE LAYER2+ FEATURES
1. Build a redundant network with STP/RSTRP/MSTP/ERPSv2.
2. IPv4/IPv6 Management and Static Route
3. ACL Based on MAC, IP address.
4. Retagging and complicated flow classification based on VLAN, MAC/IP.
5. Flexible bandwidth control policies.
HIGH-PERFORMANCE NETWORK MANAGEMENT
1. Web-based CloudMQTT to monitor the PoE Network anytime, anywhere.
2. Command-line interface(CLI) and Firo WebGUI management for configuring major managed functions.
3. SNMPv1/v2C/v3 for different levels of network management.
4. FIRO Web-based NMS enable discovery and diagrams of PoE++ Switch network topology.
COMPLETE SECURITY MECHANISMS
1. AAA&RADIUS, IEEE 802.1X, SNMPv3, HTTPs/SSLv3,SSH2.0 to enhance network security.
2. Support user hierarchical management, ACL control list
3. Port isolation within the same VLAN, DHCP-Snooping
4. DDOS, port-based MAC filtering/binding, MAC black holes, IP source protection, ARP message speed limit
Exploring the Features and Capabilities of a High-Quality 24 Port Managed PoE Switch
The 24 Port Managed PoE Switch is an essential tool for network engineers who need to power their devices automatically. With its advanced technology and cutting-edge equipment, the 24 Port Managed PoE Switch ensures that your day runs smoothly and efficiently. This product is perfect for businesses looking to streamline their operations and improve productivity. Our team of experts has designed this switch with seamless integration in mind, making it easy to install and use right out of the box. The 24 Port Managed PoE Switch offers a host of features including VLAN support, QoS prioritization, and IGMP snooping that help ensure optimal performance across your entire network. Whether you are managing a small office or a large enterprise-level operation, this switch provides unmatched reliability, scalability, and flexibility to meet all your networking needs. At the 24 Port Managed PoE Switch we strive to provide our customers with only the best quality products backed by exceptional customer service – so why not upgrade today?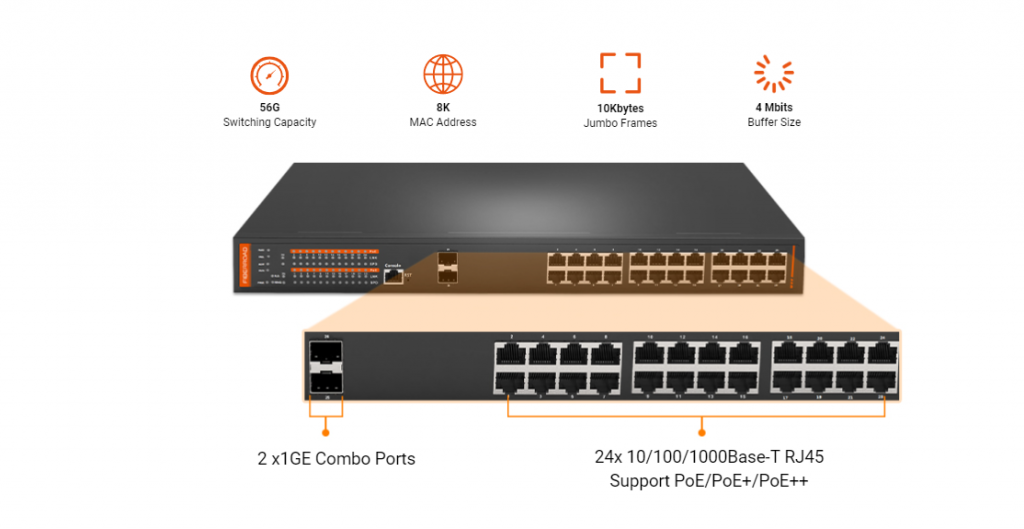 Make PoE Ethernet Network Manageable and Redundant
With Two 100M or 1000M fibre SFP uplinks and 24 Gigabit PoE Ethernet ports, the FR-5M3224P/BT has a non-blocking switch fabric and wire-speed forwarding for extremely large amounts of data.
The FR-5M3224P/BT Managed PoE switches bundle is a convenient and easy way to boost network efficiency, ensuring that there are no interruptions or external intrusions. This particular unit features an ITU-T G.8032 ERPS (Ethernet Ring Protection Switching) feature. It also has redundant ring technology and a strong, rapid self-recovery capability with redundant power input systems to make the system more durable and reliable in complex network environments.
You can view the 24 Port Managed PoE Switch at anytime, anywhere
With the 24 Port Managed PoE Switch, you can have the convenience of viewing your switches anytime and anywhere. Whether you're at home, in the office or on-the-go, this feature allows you to easily monitor and control your network devices with just a few clicks. No longer do you need to be physically present to check on any issues that may arise as everything is now accessible through an online interface. This means that even if there's an emergency situation or a critical problem occurs within your network setup, you'll be able to address it immediately without delay. With its advanced functionality and innovative design, the 24 Port Managed PoE Switch provides unparalleled flexibility and ease-of-use for all types of users.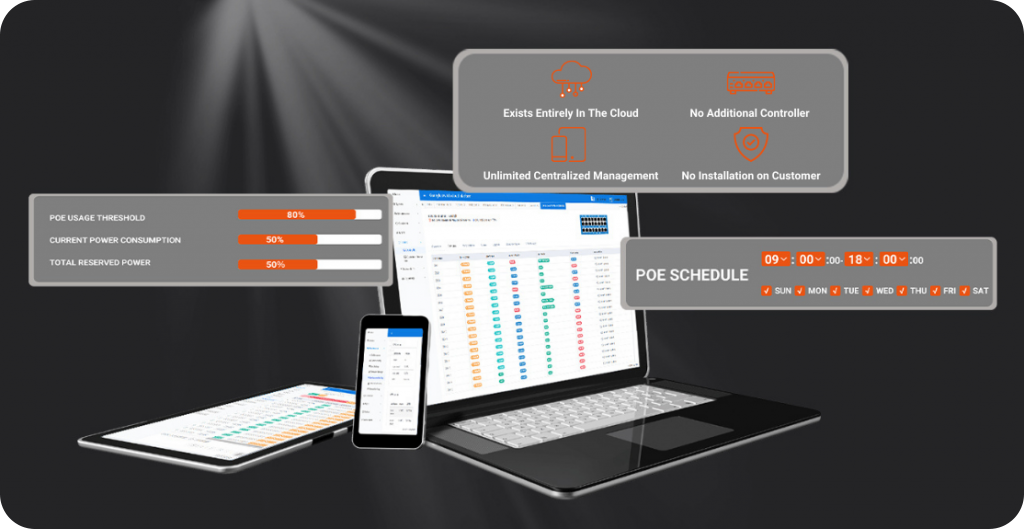 Ethernet Interface
Model
FR-5M3224P/FR-5M3224BT
Ports
2×Gigabit SFP Port

24×10/100/1000M Base-TX RJ45

Port Mode(Tx)
Auto-Negotiation Speed

Full/Half Duplex Mode

Auto MDI/MDI-X Connection

SFP Port Transmission
Multi-mode: 850nm/0-500M, Single-mode:1310nm/0-40km, 1550nm/up to 120km
RJ45 Port Transmission
100m(using standard CAT5/CAT5e cable )
Standards
IEEE 802.3 for 10BaseT

IEEE 802.3u for 100BaseT(X) and 100BaseFX

IEEE 802.3ab for 1000BaseT(X)

IEEE 802.3z for 1000BaseSX/LX/LHX/ZX

IEEE 802.3x for flow control

IEEE 802.1D-2004 for Spanning Tree Protocol

IEEE 802.1w for Rapid Spanning Tree Protocol

IEEE 802.1s for Multiple Spanning Tree Protocol

IEEE 802.1p for Class of Service

IEEE 802.1Q for VLAN Tagging

IEEE 802.1X for authentication

IEEE 802.3ad for Port Trunk with LACP

Packet Buffer Size
4Mbits
Maximum Packet Length
Up to 10K
MAC Address Table
8K
Transmission Mode
Store and Forward (full/half duplex mode)
Exchange Property
Delay time: < 7μs

Backplane bandwidth: 56Gbps; Packet Forwarding Rate:47.616Mpps

IGMP Group
4096
Max. No. of VLAN
256
VLAN ID Range
VID 1 to 4094
Physical Characteristics
Housing
Metal
IP Rating
IP30
Dimensions
440mm*300mm*45mm
Installation Mode
1RU Chassis Rack-Mount Installation
Weight
4000g
Working Environment
Operating Temperature
0℃~50℃ (32to 122 ℉)
Operating Humidity
5%~90% (non-condensing)
Storage Temperature
-20℃~70℃ (-4 to 158 ℉)
MTBF
100,819 Hours
MTBF Standard
Telcordia SR-332 GB 25℃
Cooling
Passive
Noise Level
0 dBA
Ethernet Software Features
Redundancy Protocols
Support STP/RSTP/MSTP/ERPSv2, Link Aggregation
Multicast Support
Support IGMP Snooping V1/V2/V3,support GMRP, GVMP,802.1Q
VLAN
Support IEEE 802.1Q 4K VLAN,support QINQ, Double VLAN,
Time Management
SNTP
QOS
Flow-based redirection

Flow-based rate limiting

Flow-based packet filtering

8*Output queues of each port 802.1p/DSCP priority mapping

Diff-Serv QoS,Priority Mark/Remark

Queue Scheduling Algorithm (SP, WRR, SP+WRR)

ACL
Port-based Issuing ACL

ACL based on port and VLAN

L2 to L4 packet filtering, matching first 80 bytes message.

Provide ACL based on MAC, Destination MAC address, IP Source, Destination IP, IP Protocol Type, TCP/UDP Port, TCP/UDP Port Range, and VLAN, etc

POE Management
Total power limit of PoE power supply

PoE output power allocation, on/off with at/af/bt

PoE output priority configuration

PoE working status

Scheduling of PoE operation

Diagnostic Maintenance
Support port mirroring, Syslog, Ping
Management Function
Support CLI、WEB、SNMPv1/v2/v3,Telnet server for management, EEE, LLDP, DHCP Server/Client(IPv4/IPv6), Cloud/MQTT
Alarm Management
Support 1 way relay alarm output, RMON, TRAP
Security
Broadcast Storm Protection, HTTPS/SSLv3, AAA & RADIUS, SSH2.0

Support DHCP Snooping, Option 82,802.1X security access,

Support user hierarchical management, ACL access control list,

Support DDOS,port-based MAC filtering / binding, MAC black holes, IP source protection, Port isolation, ARP message speed limit

Advance Layer 2+ Features
IPv4/IPv6 Management

Static Route
PoE & Power Supply
Model
FR-5M3224P
FR-5M3224BT
PoE Ports
Port 1 to 24 IEEE802.3af/at @PoE+
Port 1 to 24 IEEE802.3af/at/bt @PoE++
Power Supply Pin
Default: 1/2(+), 3/6(-)
Default: 1/2(+), 3/6(-) or 4/5(+), 7/8(-)
Max Power Per Port
30W
90W
Total PWR
350W (Model dependent)
720W (Model dependent)
Power Consumption
24 Watts Max(without PoE load)
Power Inputs
1
Power Supply
Internal power adapter with AC100 – 240V 50-60Hz input
Protection
Overload Current Protection, Reverse Polarity Protection
Inquiry about the product
Sample request for the product