12-Port Serial over Ethernet Industrial Switch
FR-7M3208S is a new-generation Smart Industrial Ethernet Switch with 8-Port 10/100/1000Base-TX and 2-Port 100/1000Base-FX SFP with 2 x RS485/422/232, that converts between the Modbus TCP and Modbus RTU/ASCII protocols. With a dual power input design, FR-7M3408S can offer redundant mechanisms for critical applications that need always-on connections. It can also operate at a standard temperature range of -40 to 75°C. Housed in rugged DIN rail or wall mountable IP40 enclosures, these switches are perfect for harsh environments, such as industrial networking, and intelligent transportation systems (ITS). They are also suitable for many militaries and utility market applications where environmental conditions exceed commercial product specifications.

Quality Certifications

Guarantee
Inquiry Now
High Standard Managed Industrial Network Switch
The Serial over Ethernet Industrial Switch is equipped with a rugged IP40 metal enclosure to ensure industrial operation in harsh environments where extreme low or high temperatures can be experienced. It is specially designed for outdoor and industrial applications such as city surveillance systems, smart manufacturing, etc. It is ideal for smart lamp post applications, and rapid deployment provides users with a cost-effective and highly reliable option.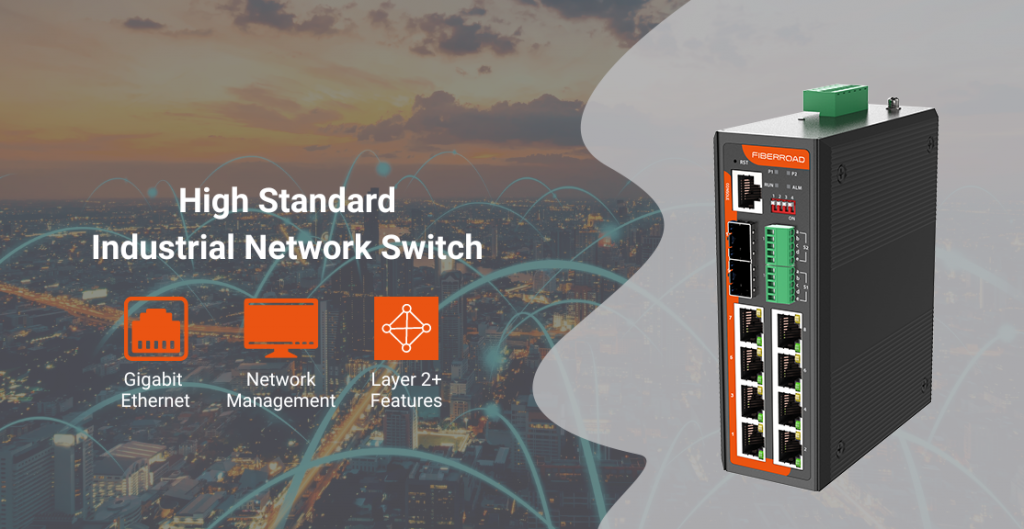 Performance Network Management
Web-based CloudMQTT to monitor the Industrial Network anytime, anywhere.
Command-line interface(CLI) and Firo WebGUI management for configuring major managed functions.
SNMPv1/v2C/v3 for different levels of network management.
Integration of Modbus TCP and Modbus RTU/ASCII networks.

Complete Security Mechanisms
AAA&RADIUS, IEEE 802.1X, SNMPv3, HTTPs/SSLv3,SSH2.0 to enhance network security.
Support user hierarchical management, ACL control list
Port isolation within the same VLAN, DHCP-Snooping
DDOS, port-based MAC filtering/binding, MAC black holes, IP source protection, ARP message speed limit

Advanced Layer 2+ Features
Build a redundant network with STP/RSTP/MSTP/ERPSv2.
IPv4/IPv6 Management and Static Route.
ACL Based on MAC, IP address.
Retagging and complicated flow classification based on VLAN, MAC/IP.
Flexible bandwidth control policies.
Serial over Ethernet Industrial Switch for Harsh Environment
With IP40 Durable Aluminum housing and fanless design also provide efficient heat dissipation. The Industrial Network Switch provides a high level of immunity against electromagnetic interference and heavy electrical surges, usually found on plant floors or curb-side traffic control cabinets. It also possesses an integrated power supply source with a wide range of voltages (9 to 56V DC) for worldwide high availability applications requiring dual or backup power inputs. Indeed, The design of the switch ensures operates in Harsh Environment.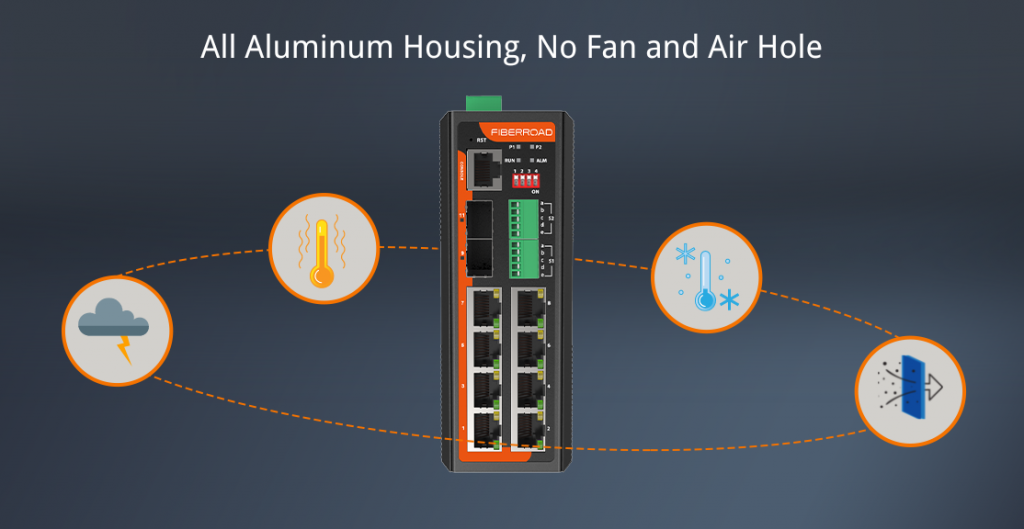 Converting Between Serial and Ethernet Connectivity
Fiberroad Serial over Ethernet Industrial Switch provides an all-in-one solution. It converts RS232/422/485 connections to Ethernet connections, allowing seamless communication between traditional serial-based devices such as PLC, meters, sensors, and barcode readers to an IP-based Ethernet device. More importantly, the industrial switch is fully compliant with Modbus/TCP and offers a convenient solution for connecting existing devices or controllers running the Modbus serial protocol(Modbus/ACSCII or Modbus/RTU) to an Ethernet network.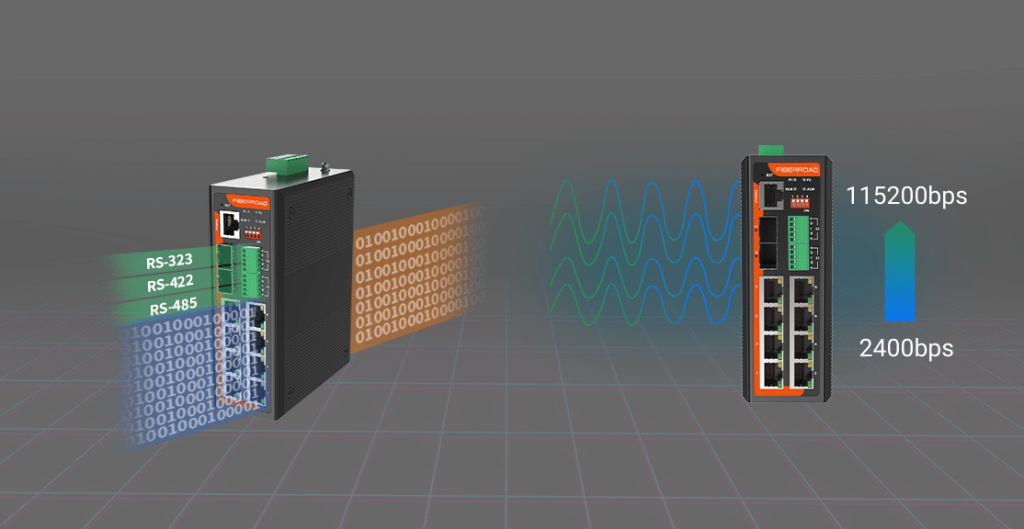 Build Up Secure Network with L2+ Industrial Switch
FR-7M3408S provides robust Layer 2+ Gigabit networks connectivity, including but not limited to Static route, LAN network security, ACL/QoS policy… Moreover, By configuring ITU-T G.8032 ERPS (Ethernet Ring Protection Switching) technology, Spanning Tree Protocol (802.1s MSTP), and redundant power system in industrial automation networks to enhance system reliability and uptime in harsh environments. As can be seen, the Managed Industrial Switch is easy to manage and maintain.
Manage the Industrial Network Anytime, Anywhere
Managed Industrial Ethernet Switch allows various network management methods, such as the WebGUI, CLI and NMS. The notion of easy to use, particularly with no additional hardware investment and installation. Industrial Network Switch can deploy centralised management, Layer 2 to Layer 4 QoS, Bandwidth allocation, real-time monitoring, etc.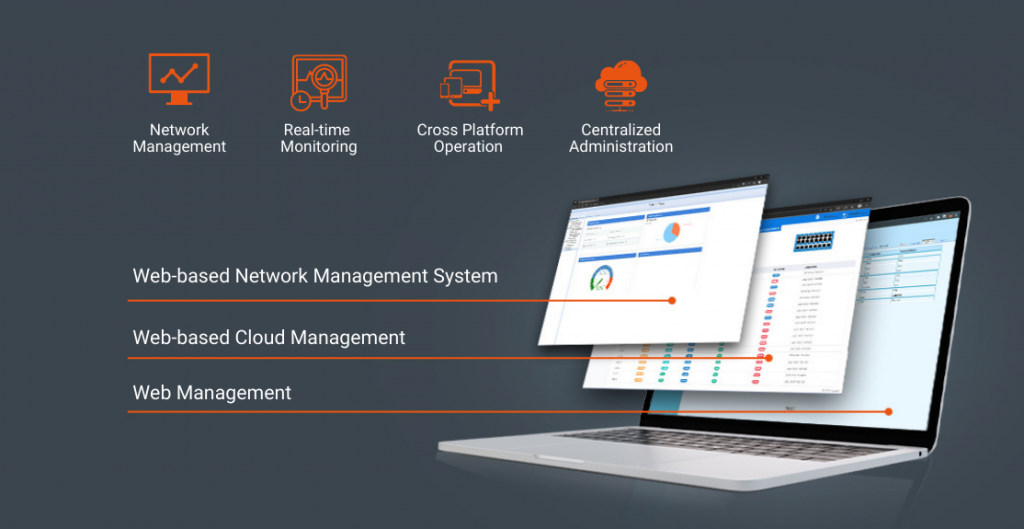 Enthernet Interface
Ports
8×10/100/1000Base-T(X)Ports(RJ45 connector)

2×100/1000Base-FX (SFP Slots)

2x RS485/422/232(5-pin Serial Terminal)

Pors Mode(Tx)
Auto Negotioation Speed

Full/Half Duplex Mode

Auto MDI/MDI-X Connection

Standards
IEEE 802.3 for 10BaseT

IEEE 802.3u for 100BaseT(X) and 100BaseFX

IEEE 802.3ab for 1000BaseT(X)

IEEE 802.3z for 1000BaseSX/LX/LHX/ZX

IEEE 802.3x for flow control

IEEE 802.1D-2004 for Spanning Tree Protocol

IEEE 802.1w for Rapid Spanning Tree Protocol

IEEE 802.1s for Multiple Spanning Tree Protocol

IEEE 802.1p for Class of Service

IEEE 802.1Q for VLAN Tagging

IEEE 802.1X for authentication

IEEE 802.3ad for Port Trunk with LACP

Packet Buffer Size
4Mbits
Maximum Packet Length
Up to 10K
MAC Address Table
8K
Transmission Mode
Store and Forward (full/half duplex mode)
Exchange Property
Delay time: < 7μs

Backplane bandwidth: 20Gbps; Packet forwarding rate: 14.88Mpps

Packet Buffer
4Mbits
IGMP GroupS
2048
Max. No. of VLAN
64
VLAN ID Range
VID 1 to 4094
Series Port
Parameters
Ports
2 x RS485/422/232
Signals
RS-232: a:TXD、b:RXD、c:Na、d:Na、e:GND

RS-422: a:T+、 b:T-、 c:R+、d:R-、 e:GND

RS-485: :a: Na、 b: Na、 c:D+、d:D-、 e:GND

Baud rate
2400-115200bps
Terminal
5-Pin Terminal
Load Capacity
RS-485/422 supports 128 points polling environment
Movement
RS-485 adopts automatic data flow control technology
Interface Protection
RS-232 15KV static protection

Isolation voltage 2KV, electrostatic protection 15KV

Management Features
Serial Protocol
TCP Server/Client, UDP, Modbus ASCII TCP Server/Client, Modbus RTU Server/Client
Interconnection
Data Bits, Parity, Stop Bits Configuration
Serial Statistics
Bytes and Packets Statistics
Ethernet Software Features
Redundant Network
Support STP/RSTP/MSTP,Support EAPS、ERPS, Support manual aggregation,support static/dynamic LACP
Multicast Support
Support IGMP Snooping V1/V2/V3,support GMRP, GVMP
VLAN
Support IEEE 802.1Q 4K VLAN,support QINQ, Double VLAN,
Time Management
SNTP
QOS
Support COS、DSCP,8 queues,support WRR、SP、WFQ,QOS
POE Management
Support total power control,POE on/ off,port power sequencing, POE timing
Diagnostic Maintenance
Support port mirroring, Syslog, Ping
Industrial Protocol
Modbus TCP(ASCII and RTU, Server and Client)
Management Function
Support CLI、WEB、SNMPv1/v2/v3, Telnet server for management, EEE, LLDP, DHCP Server/Client(IPv4/IPv6)
Alarm Management
Support 1 way relay alarm output, RMON, TRAP
Security
Broadcast Storm Protection, HTTPS/SSL, RADIUS, SSH

Support DHCP Snooping, Option 82,802.1X security access,

Support user hierarchical management, ACL access control list,

Support DDOS,port-based MAC filtering / binding, MAC whitelist

Physical Characteristics
Housing
Aluminum case
IP Rating
IP40
Dimensions
138mm x 108mm x 49mm (L x W x H)
Installation Mode
DIN Rail/wall-mountable
Weight
600g (With PoE: 650g)
Working Environment
Operating Temperature
-40℃~75℃ (-40 to 167 ℉)
Operating Humidity
5%~90% (non-condensing)
Storage Temperature
-40℃~85℃ (-40 to 185 ℉)
Inquiry about the product