Open Optical Line System
FR8000-OLS is a new generation of the optical line system, apply to edge data centre interconnection, particularly for IPoverDWDM applications. Provide a cost-effective and meet the transport capacity demand for more than 4T.
Inquiry Now
New Generation Optical Line System
Meet the Needs Of Optical Link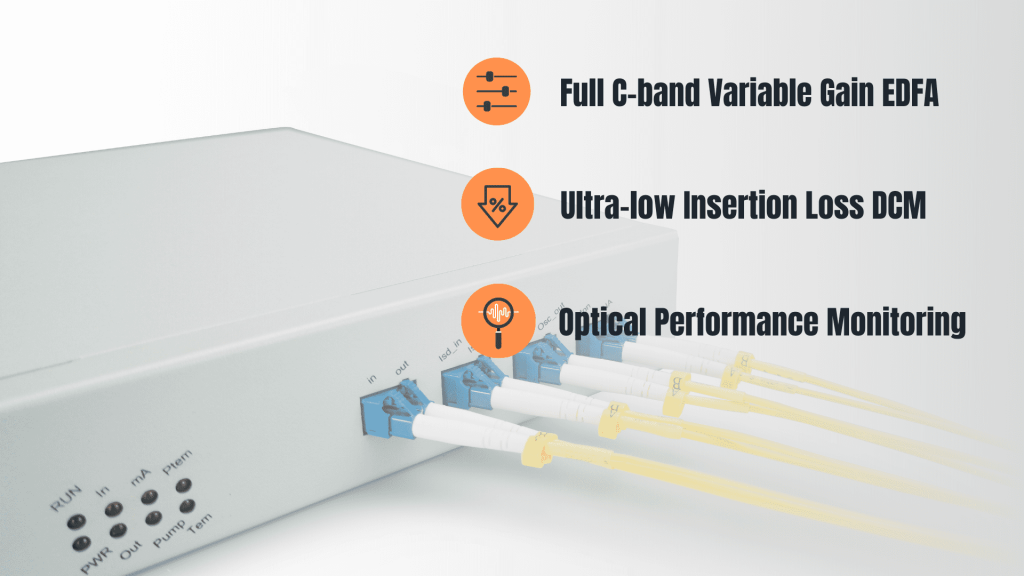 Reliable Management Online Monitoring
Key Feature
Super T-bit Capacity
Extra Long Distance -2000km, Without electric repeater transmission
Support 100M to 400G mixed
Smooth network update for high bandwidth.
Whole network intelligent protection, high reliability.、
Line-side Support 1+1 Double port selecting redundancy protection、
The modular design of Power Supply, Fan Unit, Services Card for easy maintenance.
Various Format
1U/1.25U open and modularized chassis structure.
1/4 universal module slots
High-density Mux/Demux
Intelligent Network Management
Support SNMP、CLI、WEB、TELNET
Completely visual graphic information
Support electronic map positioning, fault location and isolation quickly and accurately
Support voice alarm, e-mail alerts, SMS alerts approach, real-time online remote monitoring
EMS Management platform, covering the entire Process from Plan to maintenance.
Support fault quick diagnosis, one-click export resource statements
Support Cable Fault point localization diagnosis, real-time detection cable quality.
Support OPM transmission performance scan
Chassis Specifications
| System Parameters | Description |
| --- | --- |
| Power Supply | Support universal input 100~240V VAC or -48V VDC The dual power supplies can function in load share mode |
| FAN | 4* FAN units |
| Mgmt Interface | Built-in, Support Ethernet and Console |
| Operation Temperature | 0~50 ℃ |
| Humidity | 5% ~ 95% non-condensing; 0-10,000 ft.altitude |
| LEDs | Power & Module status indication |
| Dimension | 430mm(D)*355mm(W)*265mm(H) |
| Warranty | 1 year (Both Hardware and Software) |
| Compliance | FCC Class A, CE Class A, RoHS |
Inquiry about the product
You may also like:
Related solutions:
Related resources: