What Is Industrial Network Switch?
Industrial Network Switches are network switches designed specifically for industrial applications that require high-speed data communication and are deployed in harsh environments. Depending on the purpose of the switch, these devices can be multi-ring, single-ring, or single-loop. There are also several types of industrial switches, including those managed.
1U Rack-mount industrial switches offer Layer 3 functionality. They are designed to act as routers and have additional power supplies and cooling fans built into the chassis. They are commonly used in Data Centers and big enterprise networks. These switches can segment large LANs into hundreds of VLANs, with Layer 3 inter-VLAN routing capability. Stackable switches are another type of industrial Ethernet switch. They combine the benefits of a fixed switch and a modular switch. Some models are stackable together.
Fiberroad offers a variety of industrial ethernet switches that meet certification requirements. These devices are durable and robust, with up to 24 ports. Fiberroad Industrial Switches have the best feature set for demanding industrial networks. They are available for bay, process, and station-level applications. Their switch technology satisfies the most stringent needs in extreme environments. This product's enhanced power management and reliability make it a good choice for various industrial needs.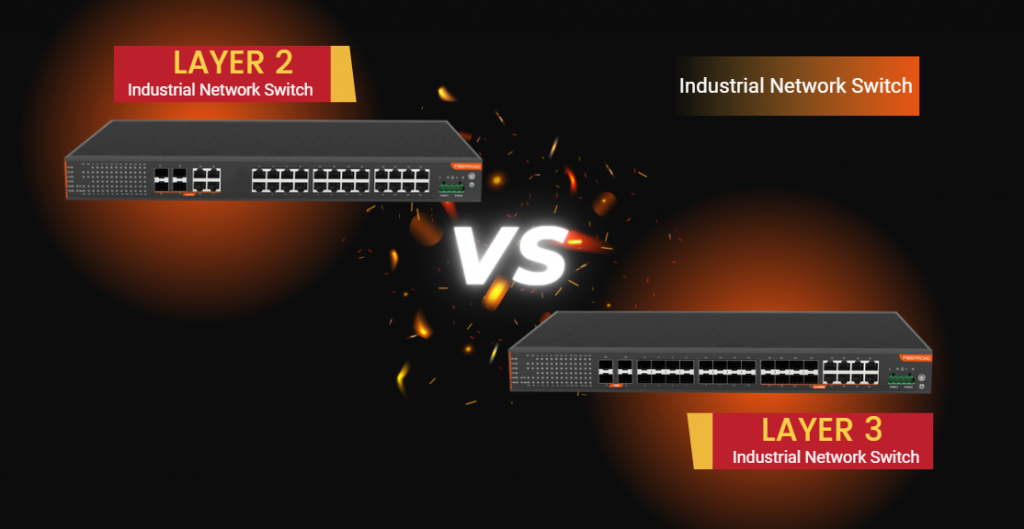 The Differences Between These Two
Features
The two types of industrial network switches have different features and benefits. Layer 2 switches fail to transfer data between LANs, while layer 3 switches route data packets using IP addresses and subnetting. A layer 2 industrial network switch has 1K or 1024 VLANs, while a layer 3 industrial network switch can support up to 4K or 4096 VLANs. Both industrial network switches offer similar features but differ in power and security.
The primary difference between layer 2 and layer 3 switches lies in the routing process. Layer 2 switches encapsulate broadcasts within a subnet, while layer 3 switches map connectivity. Layer 3 switches are more advanced and are therefore favoured in industrial networks. These industrial network switches are scalable and versatile. They support various protocols and can be used to communicate between different networks. A layer 3 switch can also deliver data from one network to another.
Application
A common example of an industrial network switch is the router. A layer 3 switch follows Internet Protocol (IP) standards, meaning all devices connected to it have an individual IP address. A layer 2 switch does not change a device's MAC address but can dynamically assign an IP address to a connected device. Most routers are Layer 3 switches. They are used to route data frames from a host to a client.
Both layers of an industrial network have a role to play in a network. Layer 2 switches are typically small and easy to configure, whereas layer 3 industrial switches support large-scale topologies and can support multiple protocols. These switches are suitable for use in control cabinets and data centres. The high-performance capabilities of layer 3 switches help them achieve their full potential in various industries. To meet your business needs, choose a Layer 2 or Layer 3 switch from Fiberroad.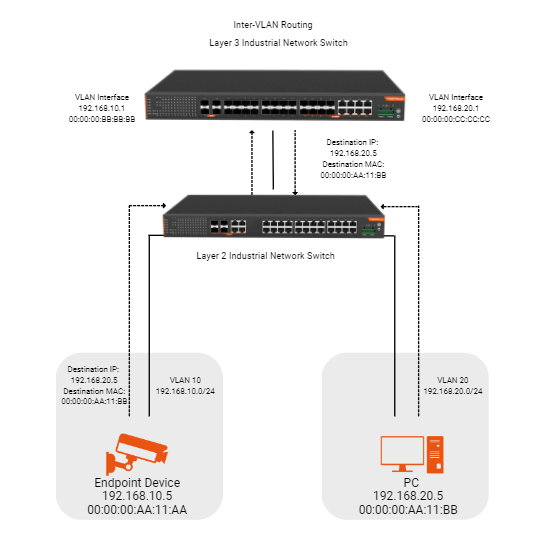 Notes: The diagram shows an example of a layer 3 switching routing between VLANs through its two VLAN interfaces. As before, the layer 3 device will still need to resolve the PC's MAC address through an ARP request broadcasted out to VLAN 20. It then rewrites the appropriate destination MAC address and forwards the packet back out of the layer 2 segment:
Speed
The difference between a layer 2 and layer 3 industrial network switch is primarily related to how it processes traffic. Layer 2 switches function by using the MAC addresses of devices to manage traffic. Unlike layer 3 switches, which operate on IP addresses, a layer 2 switch cannot implement intelligence while forwarding packets. However, this doesn't mean that a layer 2 switch is inferior to a layer 3 switch because they are both appropriate for different applications.
The key parameters of both types of switches are forwarding rate and backplane bandwidth. The forwarding rate refers to the rate at which packets travel through the switch. Backplane bandwidth is the total speed of all ports in the switch. This value is generally expressed in bits per second. The latency, or delay time between packets, refers to the delay in transmission time. The higher the latency, the lower the speed of data transfer.
Final Thoughts
Managed industrial Ethernet switches allow users to manage and configure the devices on their network. In the event of a communication failure, a user can manage the switches through a web interface from their PC. In addition, these devices are highly flexible and allow administrators to change their parameters remotely. Depending on the application's needs, industrial Ethernet switches are available with many features. The options are limitless. They provide a powerful communication platform and ensure the highest level of security for all connected devices.