IIoT: A strong foundation for a
Smart

Lamppost

The smart lamppost is an essential element of the smart city. With IIoT installed, smart lampposts can provide more than just light and other integrated smart functions that benefit people nearby. A smart lamppost can provide wireless access, environmental monitoring, surveillance, lighting, and charging for electric vehicles. Smart Street Lighting offer benefits such as public safety, wireless network coverage, and reduced energy consumption.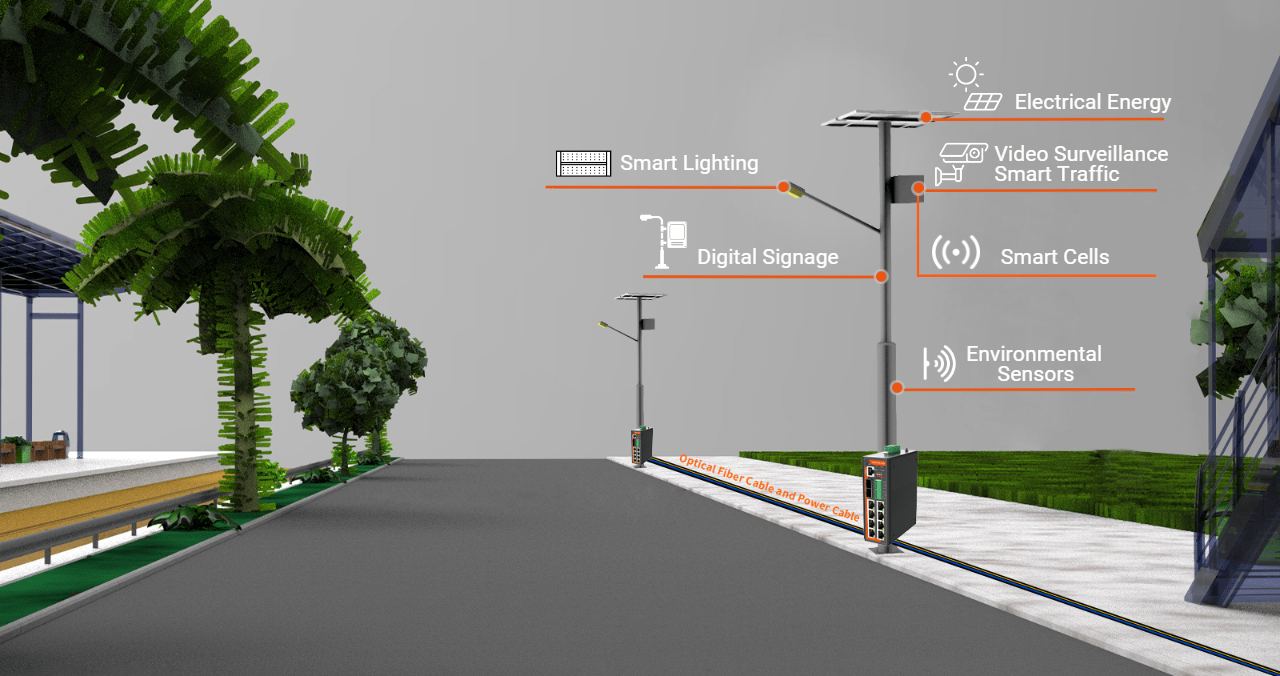 Considerations for the construction of Smart Street Lighting
The smart street lighting system can be a network node for a Smart city. The contractors should be aware of different existing systems and technologies:
How does IIoT work for Smart Street Lighting?
IIoT is a network of devices connected to an industrial network device. These devices collect data and then analyze it to help improve efficiency. The entire IIoT network consists of:
Connected devices that can sense, communicate and store information about themselves
Analytics and applications that generate information from raw data
Analytics and applications that generate information from raw data
Storage for the data that is generated by the IIoT devices
Fiberroad All-in-One Industrial Network Switch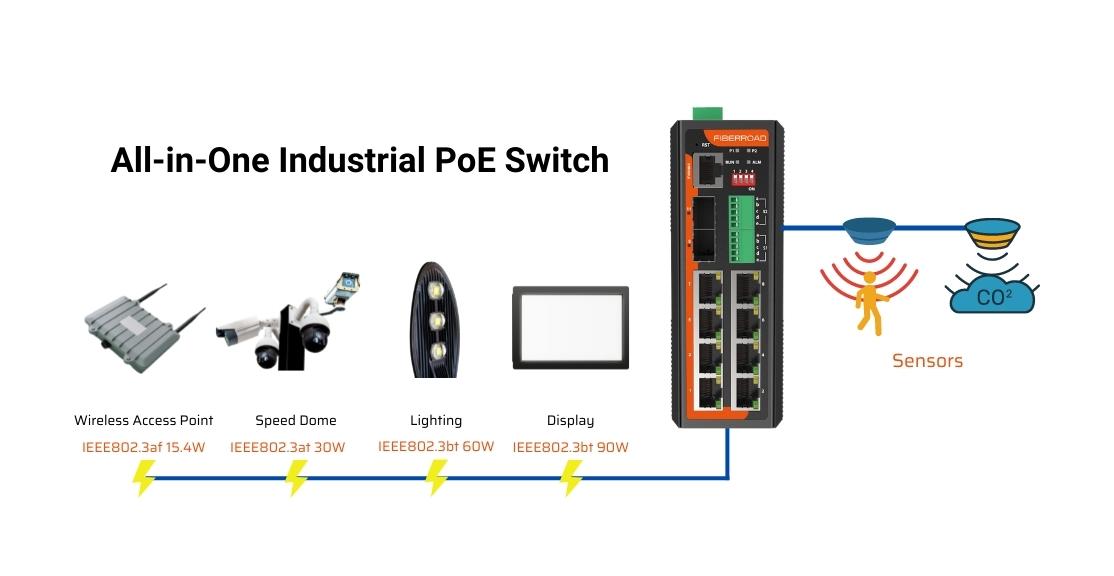 Each PoE++ port can deliver up to 90 watts of power. It is compatible with wireless access points, IP cameras, and IP monitors.
2xRS485/422/232 Serial Port with 2400-115200bps Baud Rate, which available to connect with IIoT Sensors
This optical SFP fiber has a bandwidth of 20G, which extends the network connection and increases bandwidth for higher performance.
MSTP/ERPSv2 enables you to build a redundant industrial Ethernet network. QoS allows you to prioritize specific high-performance applications, ensuring that overall data traffic flows smoothly.
Configure, Manage and Monitor each of the lamppost's PoE switches via Fiberroad WebGUI, NMS and Cloud/MQTT. Standardized network management protocol provides conditions to manage smart lamp posts anytime, anywhere.
Comprehensive Security and Authentication strategy are utilized to provide powerful protection against network threats.














Ethernet Interface

Model

FR-7M3208SBT

FR-7M3008P

Ports

8X10/100/1000M Base-TX RJ45

2X100/1000M Base-X SFP Uplink

2XRS485/422/232(5-pin Serial Terminal

8×10/100/1000M Base-TX RJ45

Port Mode(Tx)

Auto-Negotiation, Full/Half Duplex Mode, Auto MDI/MDI-X connection

Standards

IEEE 802.3 for 10BaseT , IEEE 802.3u for100BaseT(X)100BaseFX, IEEE 802.3ab for 1000BaseT(X)

IEEE 802.3z for 1000BaseSX/LX/LHX/ZX , IEEE802.3x for flowcontrol , IEEE 802.1D-2004 for Spanning Tree Protocol ,

IEEE 802.1w for Rapid Spanning Tree Protocol , IEEE 802.1p for Class of Service ,IEEE 802.1Q for VLAN Tagging

IEEE 802.1X for authentication , IEEE 802.3ad for Port Trunk with LACP

Packet Buffer Size

4Mbits

Maximum Packet Length

Up to 10K

MAC Address Table

8K

Transmission Mode

Store and Forward (full/half duplex mode)

Exchange Property

Delay time: < 7μs , Backplane bandwidth: 56Gbps

IGMP Group

4096

Max. No. of VLAN

256

VLAN ID Range

VID 1 to 4094

Physical Characteristics

Housing

Aluminium case

IP Rating

IP40

Dimensions

138mmx108mmx49mm

Dimensions

DIN Rail/Wall Mount

DIN Rail/Wall Mount

Weight
680g

680g

Environmental

Operating Temperature

-40℃~75℃ (-40 to 167 ℉)

-40℃~75℃ (-40 to 167 ℉)

Operating Humidity

5%~90% (non-condensing)

Storage Temperature

-40℃~85℃ (-40 to 185 ℉)

MTBF

907,476 hours @ Telcordia SR-332 Standard

Heat Dissipation

65 BTU/h (non-PoE mode)

Cooling

Passive Cooling, Fanless Design

Noise Level

0 dBA

Ethernet Software Features

Redundancy Protocols

Support STP/RSTP/ERPSv2 , Link Aggregation

Multicast Support

Support IGMP Snooping V1/V2/V3 , support GMRP, GVMP,802.1Q

VLAN

Support IEEE 802.1Q 4K VLAN , support QINQ, Double VLAN

Time Management

SNTP

QOS

Flow-based redirection , Flow-based rate limiting, Flow-based packet filtering

8*Output queues of each port 802.1p/DSCP priority mapping , Diff-Serv QoS, Priority Mark/Remark

Queue Scheduling Algorithm (SP, WRR,

SP+WRR)

ACL
Port-based Issuing ACL , ACL based on port and VLAN ,

L2 to L4 packet filtering, matching first 80

bytes message. , Diff-Serv QoS, Priority Mark/Remark

Queue Scheduling Algorithm (SP, WRR, SP+WRR)

Provide ACL based on MAC, Destination MAC address, IP Source, Destination IP, IP Protocol Type, TCP/UDP Port, TCP/UDP Port Range, VLAN, etc

Diagnostic Maintenance

Support port mirroring, Syslog, Ping

Management Function
Support CLI , WEB , SNMPv1/v2/v3 , Telnet server for management ,
EEE, LLDP , DHCP Server/Client(IPv4/IPv6) , Cloud/MQTT
Alarm Management

Support 1-way relay alarm output, RMON, TRAP

Security
Broadcast Storm Protection, HTTPS/SSLv3, AAA &
RADIUS ,

SSH2.0 Support DHCP Snooping, Option 82,802.1X

security access , Support user hierarchical management,

ACL access control list, Support DDOS ,

port-based MAC filtering/binding, MAC black holes, IP source

protection, Port isolation, ARP message speed

limit
Why Fiberroad Solution Suits for Smart Lamppost
Applications?
This all-aluminium case is compact and ideal for installation in a smart lamp post. There is no fan or air hole, so it is completely sealed.This smart lamp post with Fiberroad Industrial Network device can operate under a wide temperature range, from -40 to +75℃, making it ideal for outdoor use. Unified access protocol (Serial over Ethernet, Power over Ethernet, Ethernet over Fiber). One Industrial PoE Switch fulfils the connection needs of the single smart lamppost.
Solution Conclusion
<p>Smart lamp posts are the foundation of a smart city. They integrate with IIoT Industrial Network devices, preventing recurrence, saving investment, reducing maintenance, and effectively using resources. Therefore, equipment such as charging piles, data acquisition, and forwarding equipment needs to be monitored to ensure the safety of road lighting and other operating conditions.</p>