The smart lamppost is an essential element of the smart city. With IIoT installed, smart lampposts can provide more than just light and other integrated smart functions that benefit people nearby. A smart lamppost can provide wireless access, environmental monitoring, surveillance, lighting, and charging for electric vehicles. Smart Street Lighting offer benefits such as public safety, wireless network coverage, and reduced energy consumption.
Considerations for the construction of Smart Street Lighting
The smart street lighting system can be a network node for a Smart city. The contractors should be aware of different existing systems and technologies:
Compatibility
Data security
Network redundancy
Network Scalability
How does IIoT work for Smart Street Lighting?
IIoT is a network of devices connected to an industrial network device. These devices collect data and then analyze it to help improve efficiency. The entire IIoT network consists of:
connected devices that can sense, communicate and store information about themselves;
public and private data communications infrastructure;
analytics and applications that generate information from raw data;
storage for the data that is generated by the IIoT devices;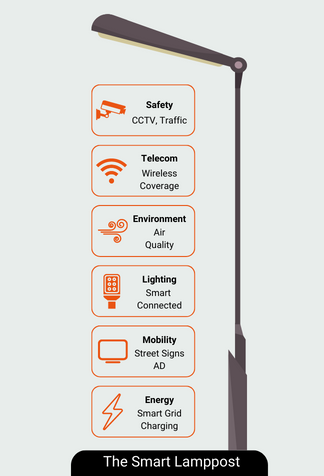 Each PoE++ port can deliver up to 90 watts of power. It is compatible with wireless access points, IP cameras, and IP monitors.
2xRS485/422/232 Serial Port with 2400-115200bps Baud Rate, which available to connect with IIoT Sensors
This optical SFP fiber has a bandwidth of 20G, which extends the network connection and increases bandwidth for higher performance.
MSTP/ERPSv2 enables you to build a redundant industrial Ethernet network. QoS allows you to prioritize specific high-performance applications, ensuring that overall data traffic flows smoothly.
Configure, Manage and Monitor each of the lamppost's PoE switches via Fiberroad WebGUI, NMS and Cloud/MQTT. Standardized network management protocol provides conditions to manage smart lamp posts anytime, anywhere.
Comprehensive Security and Authentication strategy are utilized to provide powerful protection against network threats.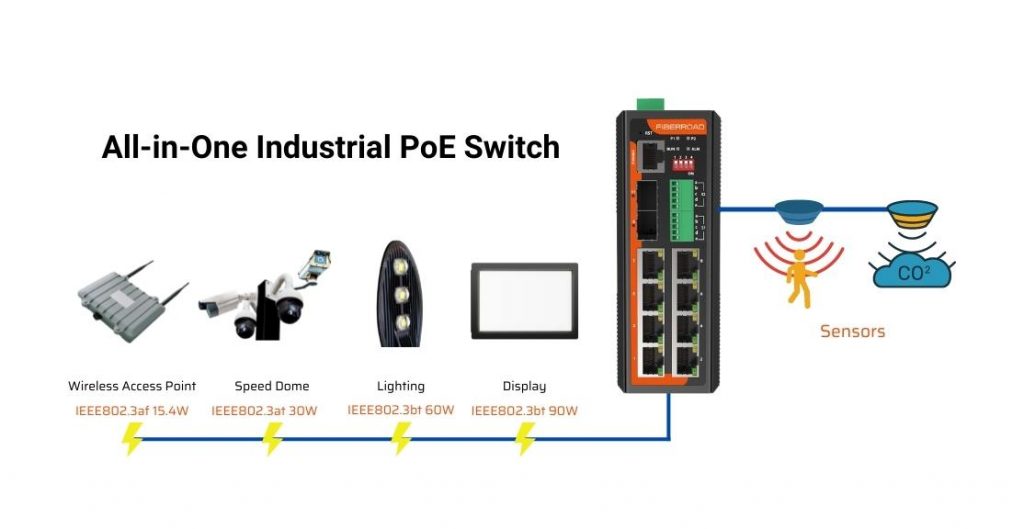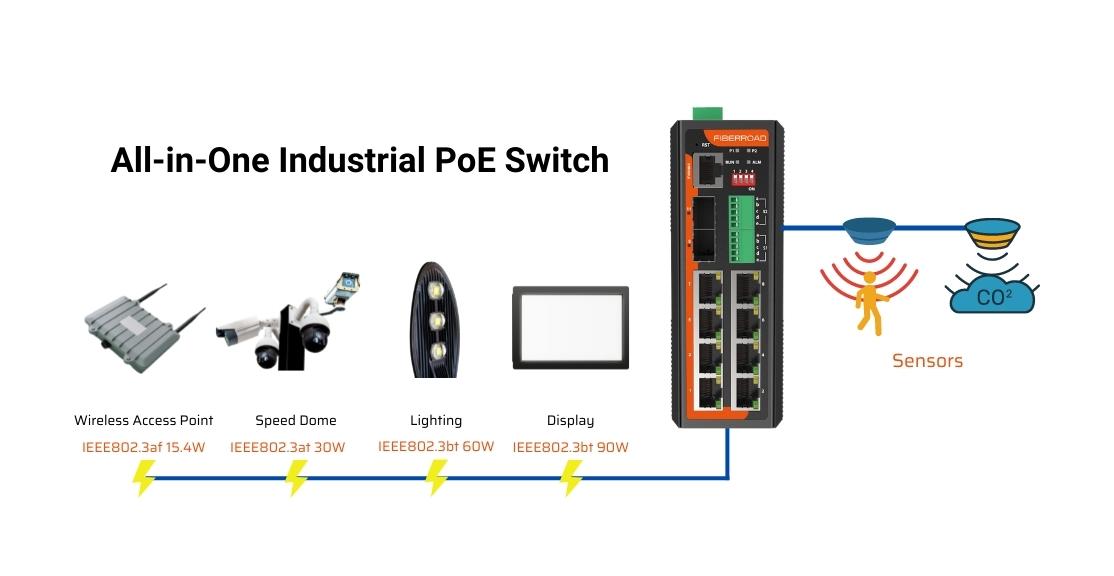 Why Fiberroad Solution Suits for Smart Lamppost Applications?
This all-aluminium case is compact and ideal for installation in a smart lamp post. There is no fan or air hole, so it is completely sealed.
This smart lamp post with Fiberroad Industrial Network device can operate under a wide temperature range, from -40 to +75℃, making it ideal for outdoor use.
Unified access protocol (Serial over Ethernet, Power over Ethernet, Ethernet over Fiber). One Industrial PoE Switch fulfils the connection needs of the single smart lamppost.
Unified Network Management with Modbus TCP/IP Protocol and MQTT Communication.
Solution Conclusion
Smart lamp posts are the foundation of a smart city. They integrate with IIoT Industrial Network devices, preventing recurrence, saving investment, reducing maintenance, and effectively using resources. Therefore, equipment such as charging piles, data acquisition, and forwarding equipment needs to be monitored to ensure the safety of road lighting and other operating conditions.