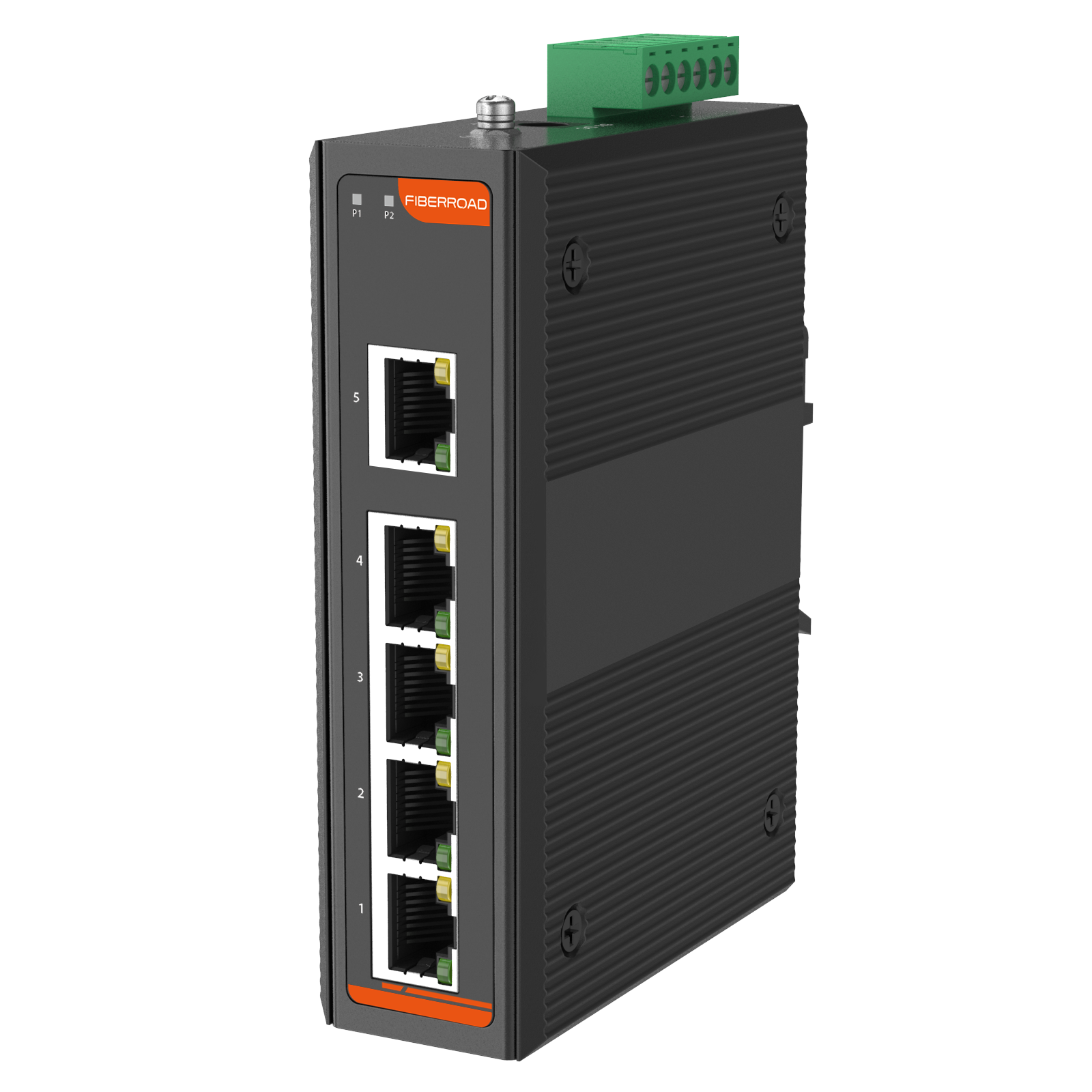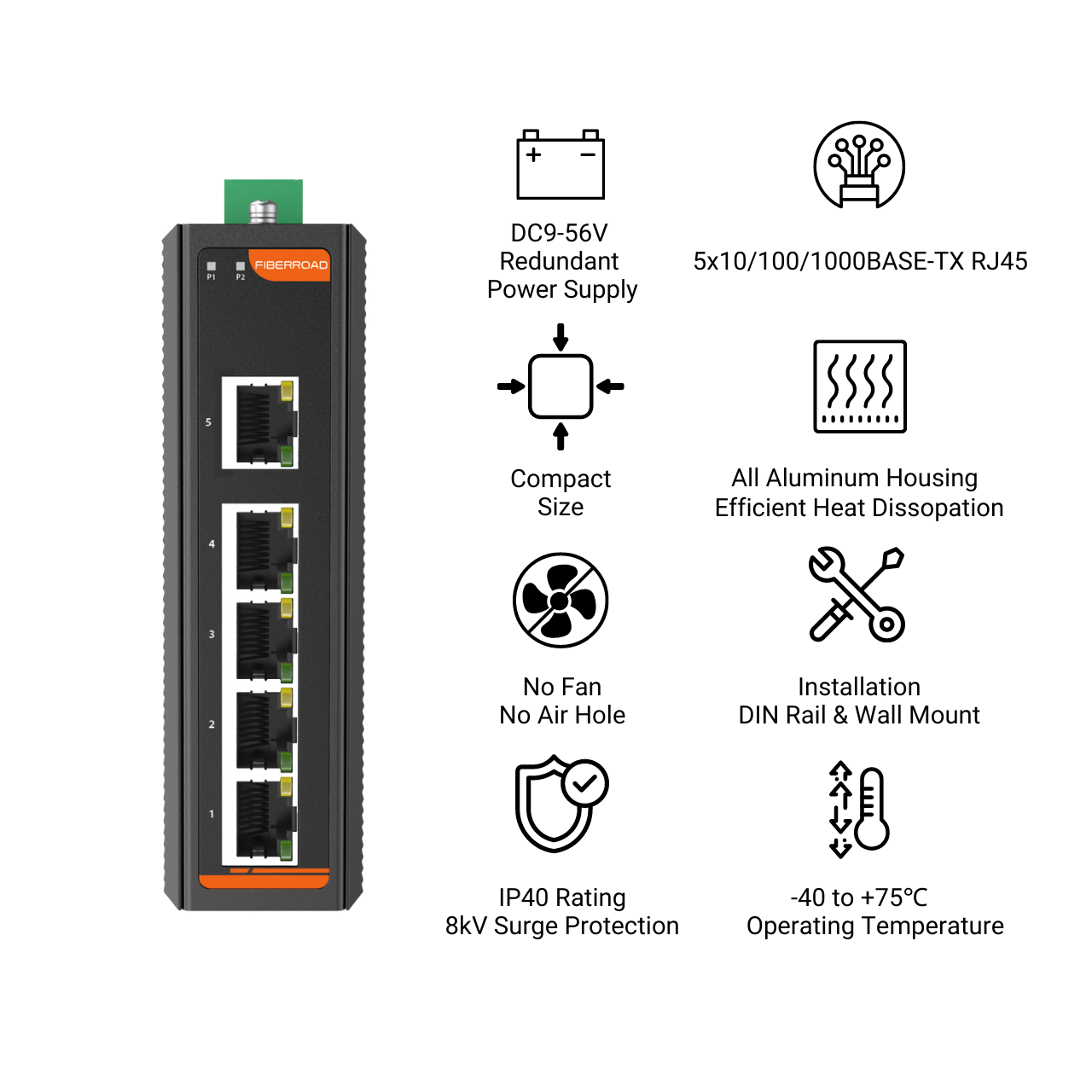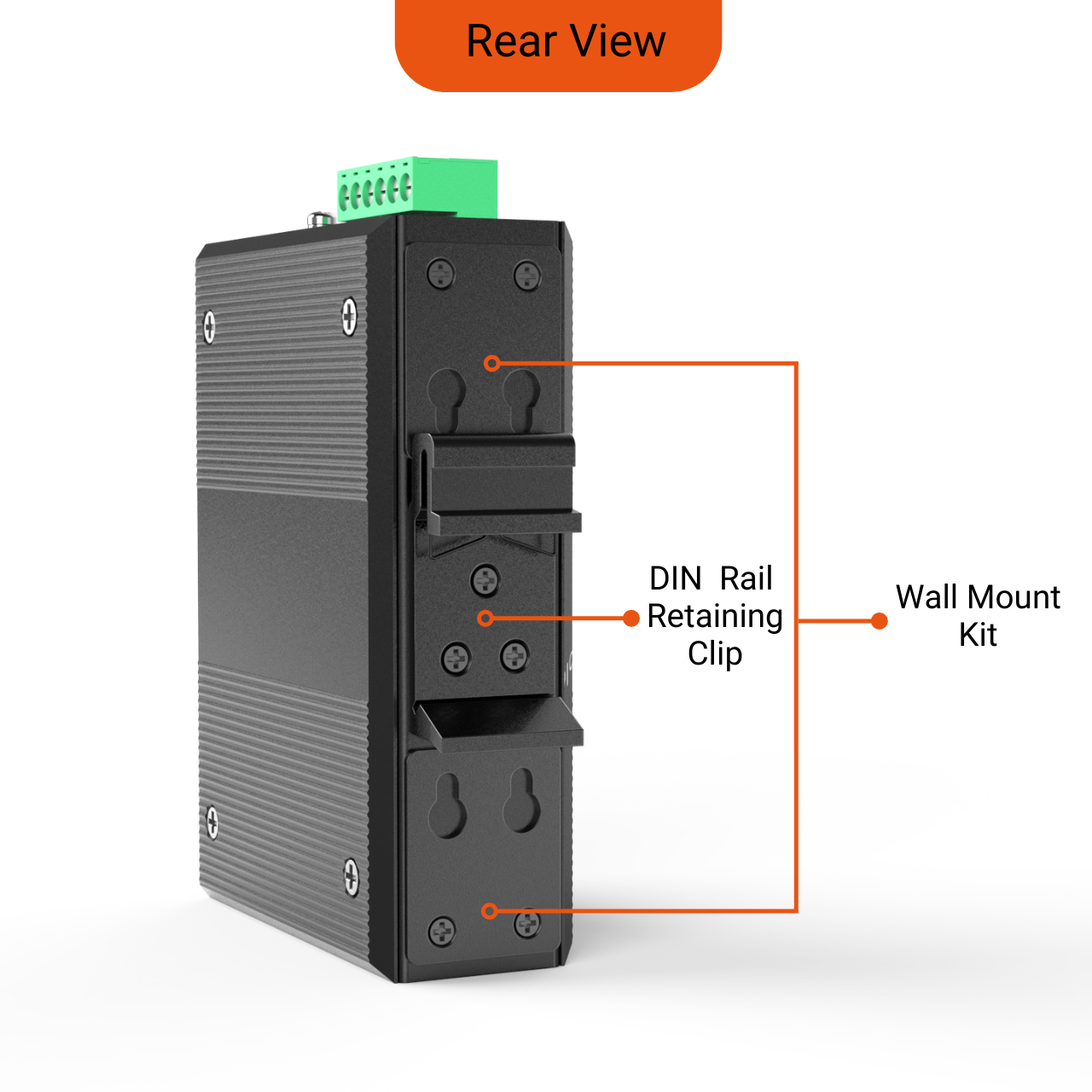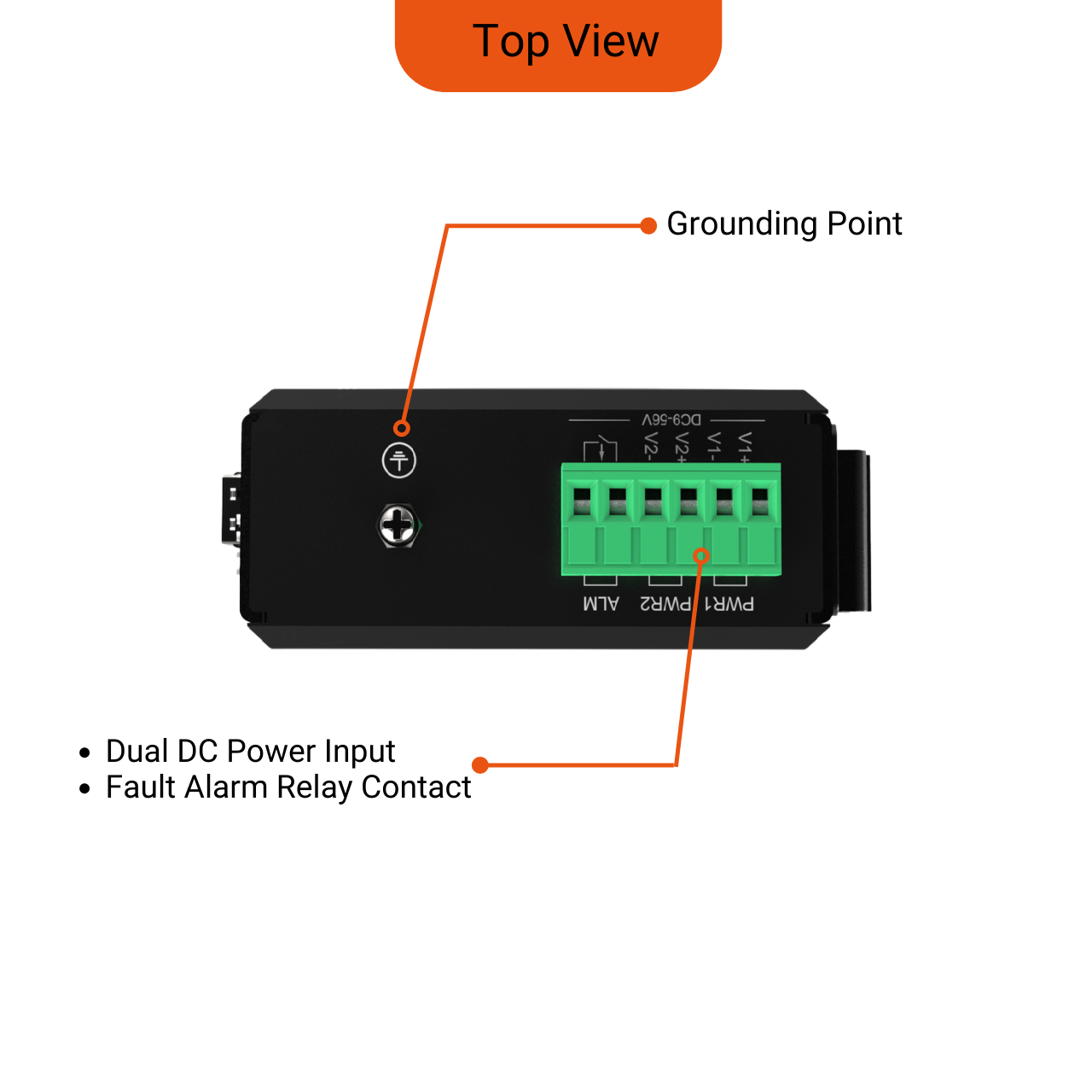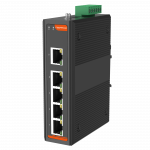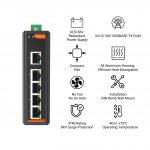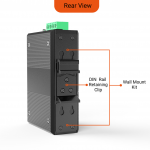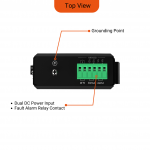 Quality Certifications
Guarantee
Share This Product
Boost Your Network Efficiency with a 5 Port Industrial Ethernet Switch
If you're seeking to enhance your network performance and efficiency, look no further than the 5 port unmanaged industrial Ethernet switch. Designed specifically for industrial environments, this cutting-edge technology offers a seamless solution to streamline data transmission and connectivity within your network infrastructure. With its compact design and robust construction, this switch is built to withstand harsh conditions such as extreme temperatures, vibrations, and electromagnetic interference. Boasting five high-speed Ethernet ports with auto-negotiation capabilities, it allows for effortless integration of multiple devices into your network without compromising on speed or reliability. This versatile switch ensures smooth communication between different endpoints in your system while eliminating unnecessary congestion or bottlenecks that can impede productivity. Featuring plug-and-play functionality, installation becomes a breeze even for those with limited technical expertise. The 5 port unmanaged industrial Ethernet switch empowers businesses across various industries by providing a cost-effective solution that optimizes network performance while ensuring seamless connectivity in demanding environments.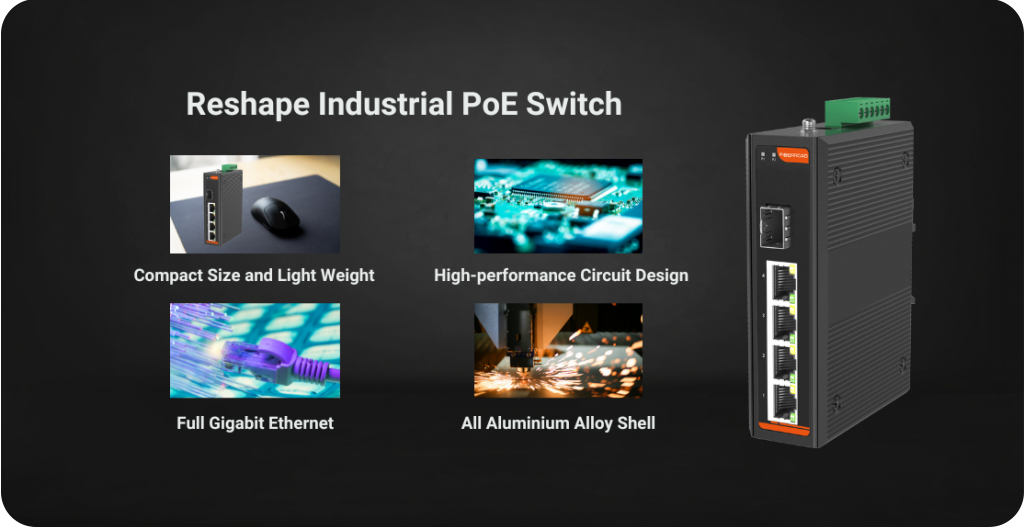 Product Specifications
Ports
4×10/100/1000Base TX RJ45
1x1000Base-X SFP/1×9
Port Mode(Tx)
Auto Negotiation
Full/Half Duplex
Auto MDI/MDIX
Frame Size
10K
Transmission Mode
Store and Forward
Input Power
9-56V DC
Power Consumption
3 Watts Max
Housing
Aluminium Case
IP Rating
IP40
Operating Temperature
-40℃ to +75℃
Dimensions
120x90x35mm
Installation Mode
DIN Rail and Wall Mount
Weight
350g
How a 5 Port Industrial Ethernet Switch Can Safeguard Your Data
In the fast-paced and interconnected world of industrial automation, ensuring the security and integrity of your data is paramount. Enter the 5 port unmanaged industrial Ethernet switch – a powerful tool that can safeguard your valuable information like a vigilant guardian. With its compact yet robust design, this switch acts as a steadfast shield against potential threats lurking in your network infrastructure. Equipped with five ports, it provides seamless connectivity for multiple devices within an industrial setting while maintaining optimal performance levels. Its unmanaged nature ensures effortless installation and operation, eliminating the need for complex configurations or constant monitoring by IT experts. This Ethernet switch not only facilitates efficient communication between various components of your network but also safeguards against unauthorized access attempts or malicious intrusions that could compromise sensitive data. By leveraging cutting-edge technology and built-in safety features, this reliable device guarantees uninterrupted operations even in demanding environments that are prone to electrical interference or extreme temperatures. The 5 port unmanaged industrial Ethernet switch empowers businesses with peace of mind knowing their critical data is protected at all times – a true ally in today's digital landscape where security breaches pose significant risks to productivity and reputation alike.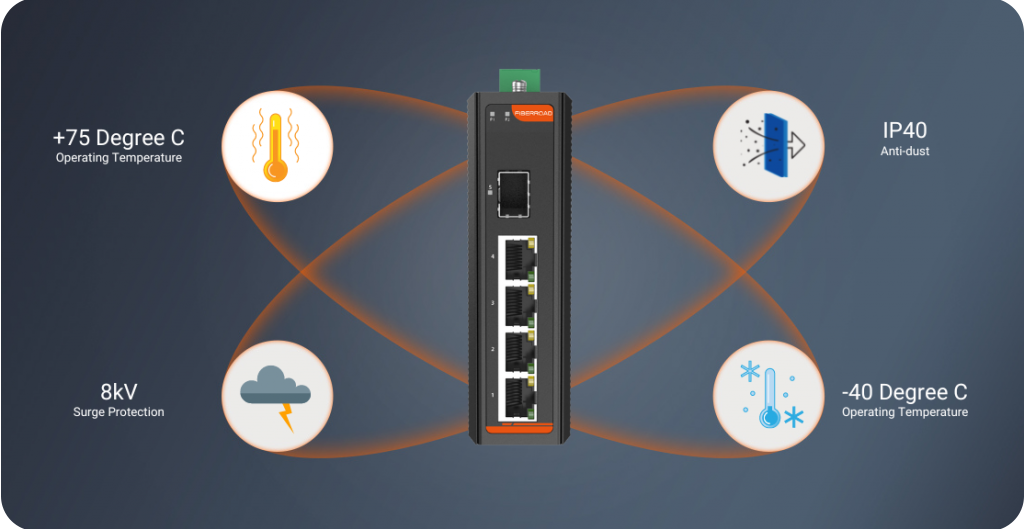 Boost Your Industrial Network Performance with a 5 Port Unmanaged Ethernet Switch
If you are seeking to enhance the performance of your industrial network, look no further than the 5 Port Unmanaged Ethernet Switch. This powerful device is designed to optimize data transfer speeds, ensuring seamless connectivity between multiple devices within your network. With its five ports, this switch allows for efficient and reliable communication across various machines, making it ideal for small to medium-sized industrial setups. The unmanaged feature eliminates the need for complex configurations or constant monitoring, simplifying network management and saving valuable time and resources. Whether you have a manufacturing facility or an automation system in place, this Ethernet switch guarantees uninterrupted data flow with exceptional speed and stability. Its compact size makes installation effortless while its robust construction ensures durability even in harsh industrial environments. Say goodbye to bottlenecks and lagging connections; empower your network with the 5 Port Unmanaged Ethernet Switch today!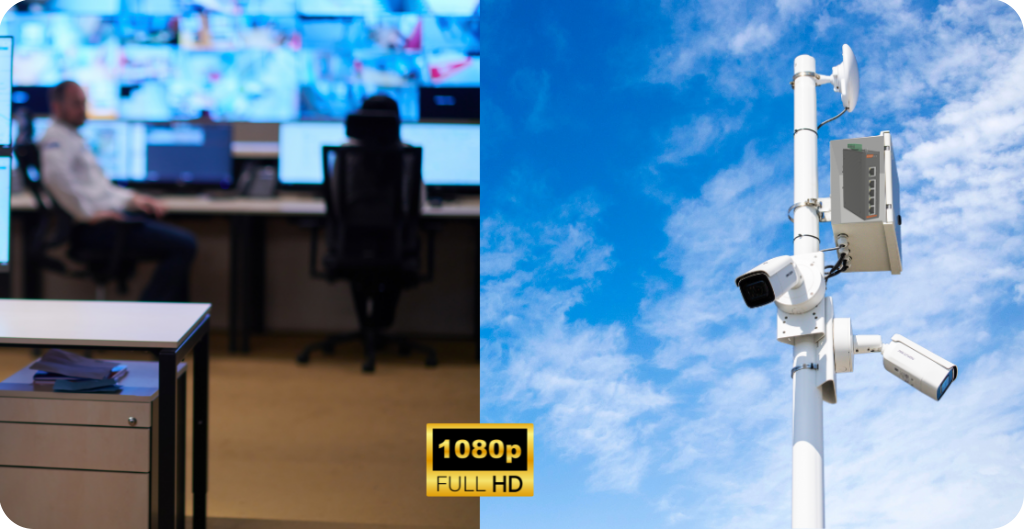 Maximize Network Performance and Reliability with a Robust 5 Port Industrial Ethernet Switch
Maximize Network Performance and Reliability with a Robust 5 Port Industrial Ethernet Switch. In today's fast-paced industrial environments, maintaining efficient communication networks is vital for seamless operations. Enter the 5 port unmanaged industrial Ethernet switch – a reliable solution engineered to optimize network performance. Equipped with five high-speed ports, this robust device effortlessly handles heavy data traffic while ensuring rapid transmission speeds. Its unmanaged nature simplifies installation, making it an ideal choice even for non-technical personnel. Built to withstand harsh conditions, such as extreme temperatures and vibrations commonly found in industrial settings, this Ethernet switch guarantees exceptional durability and longevity. With its compact design and wall-mounting capability, it can be easily deployed in space-constrained areas without compromising functionality or reliability. Whether used in factory automation systems or smart grid applications, this cutting-edge technology provides uninterrupted connectivity between devices while minimizing latency issues that could hinder productivity. Harness the power of the 5 port unmanaged industrial Ethernet switch to streamline your network infrastructure and enhance overall operational efficiency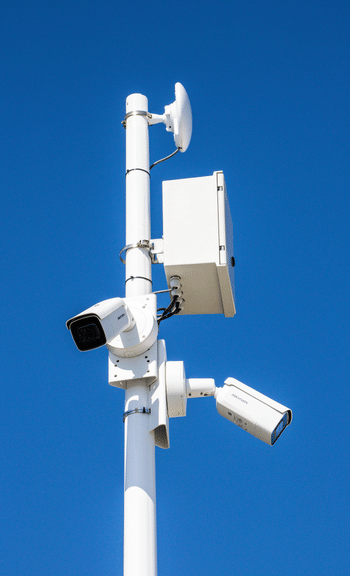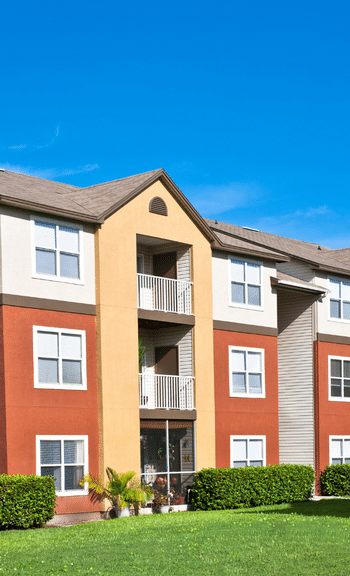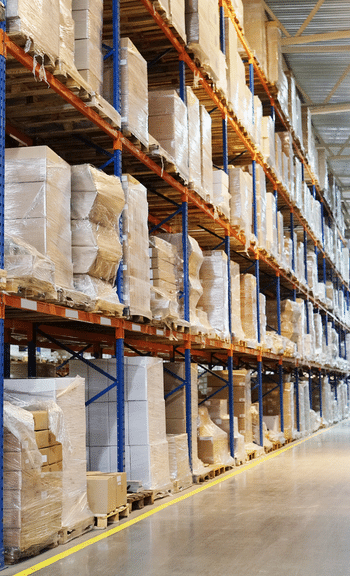 Ethernet Interface
Model
FR-7N1005/FR-7N1005P/1005BT
FR-7N3005/FR-7N3005P/3005BT
Ports
5×10/100Base-TX Port(RJ45)
5×10/100/1000Base-TX Port(RJ45)
Port Mode(Tx)
Auto-Negotiation Speed

Full/Half Duplex Mode

Auto MDI/MDI-X Connection

Standards
IEEE 802.3 for Ethernet

IEEE 802.3u for Fast Ethernet

IEEE 802.3x for flow control and back pressure

IEEE802.3az for Energy Efficient Ethernet(EEE)

IEEE 802.3 for 10BaseT

IEEE 802.3u for Fast Ethernet

IEEE 802.3ab Gigabit Ethernet

IEEE 802.3x for flow control and back pressure

IEEE802.3az for Energy Efficient Ethernet(EEE)

Packet Buffer Size
512K
1M
Maximum Packet Length
9K
10K
MAC Address Table
4K
4K
Transmission Mode
Store and Forward (full/half duplex mode)
Exchange Property
Delay time: < 7μs

Backplane bandwidth: 1.25G

Delay time: < 7μs

Backplane bandwidth: 12G
Physical Characteristics
Housing
Aluminium case
IP Rating
IP40
ESD Protection
6kV
EFT Protection
6kV
Dimensions
120mm x 90mm x35mm (L x W x H)
Installation Mode
DIN Rail/Wall Mount
Weight
400g(without PoE)
Working Environment
Operating Temperature
-40℃~75℃ (-40 to 167 ℉)
Operating Humidity
5%~95% (non-condensing)
Storage Temperature
-40℃~85℃ (-40 to 185 ℉)
Heat Dissipation
10 BTU/h (Non-PoE)

420 BTU/h (30W PoE)

1260 BTU/h (90W PoE)

Cooling
Passive Cooling
Noise Level
0 dBA
Inquiry about the product
Sample request for the product