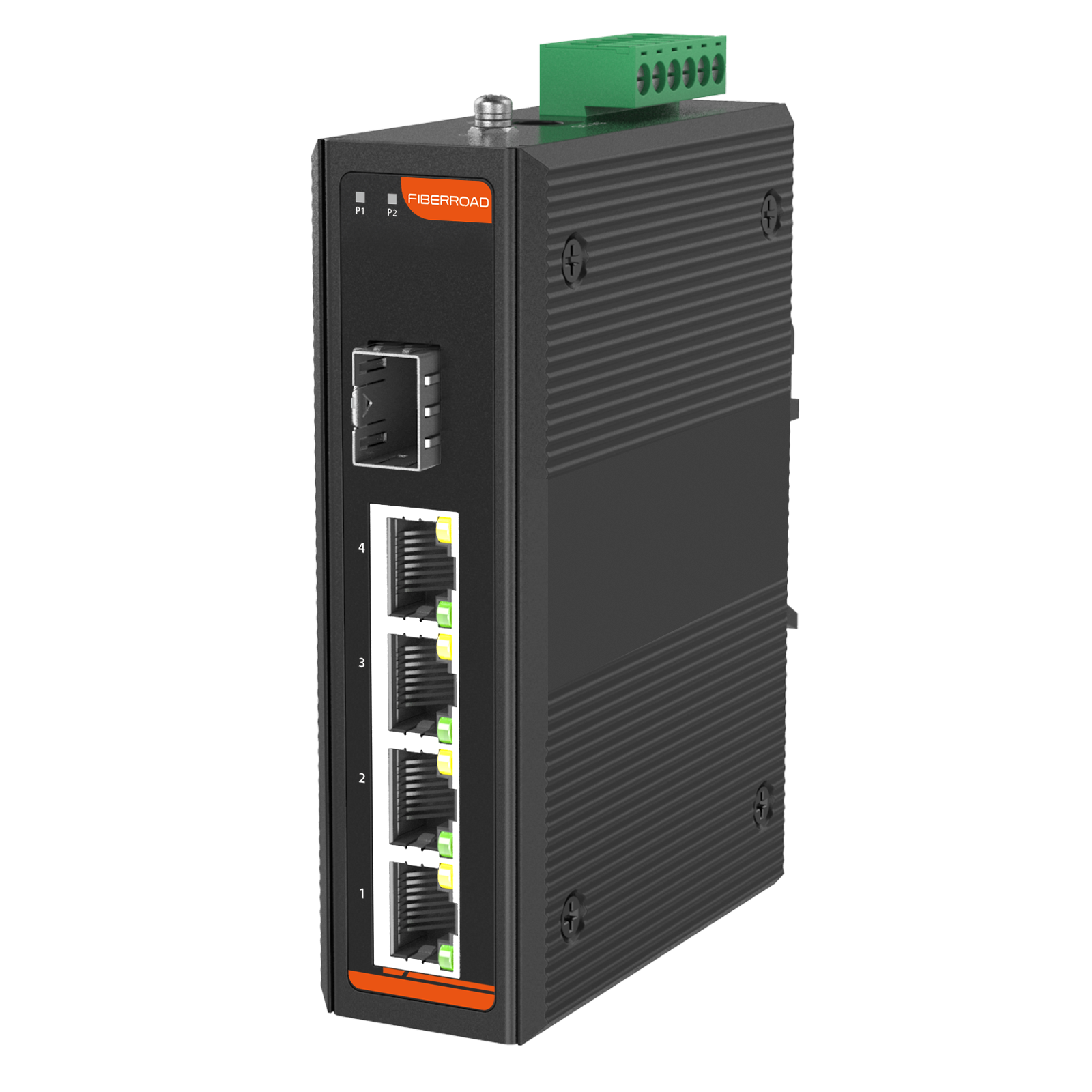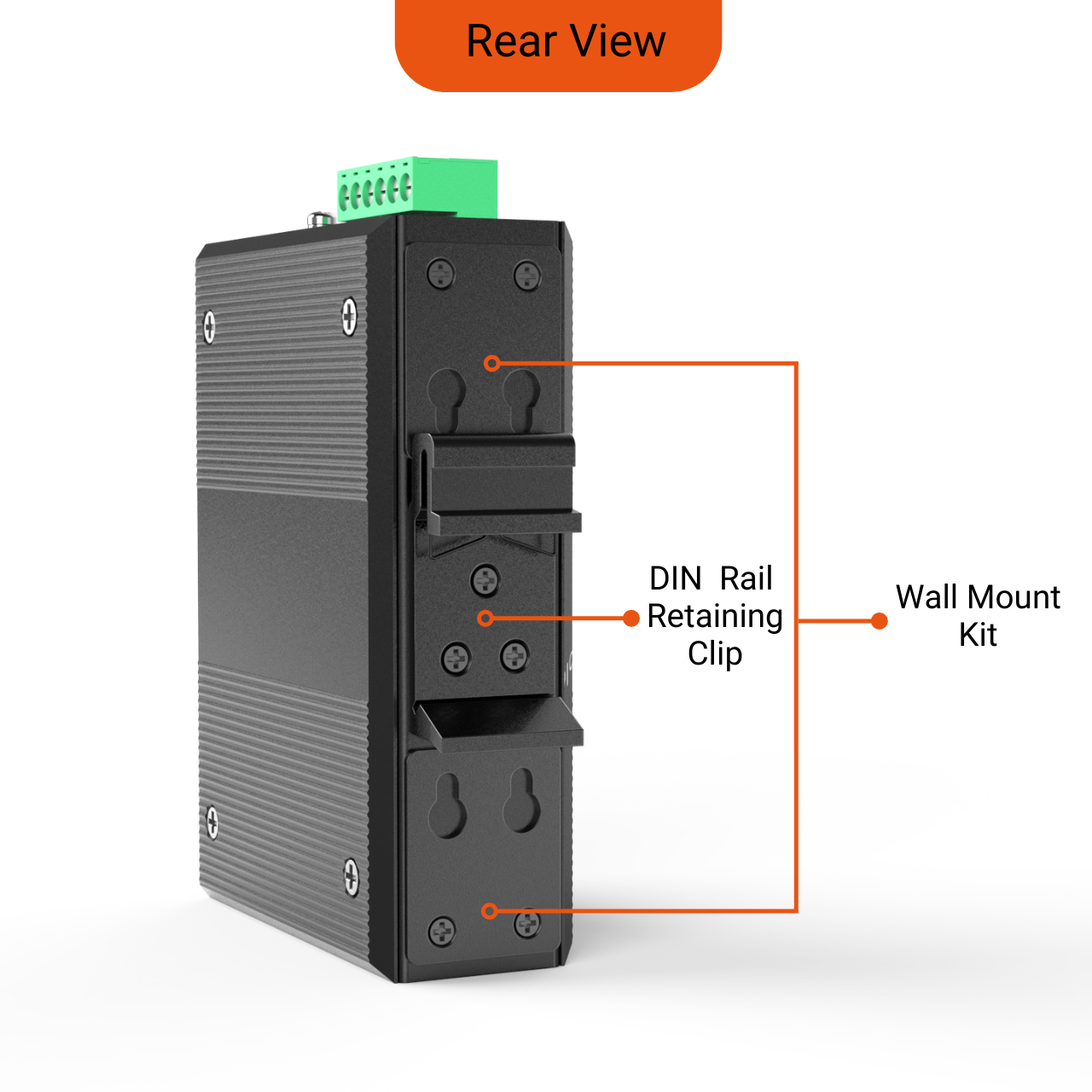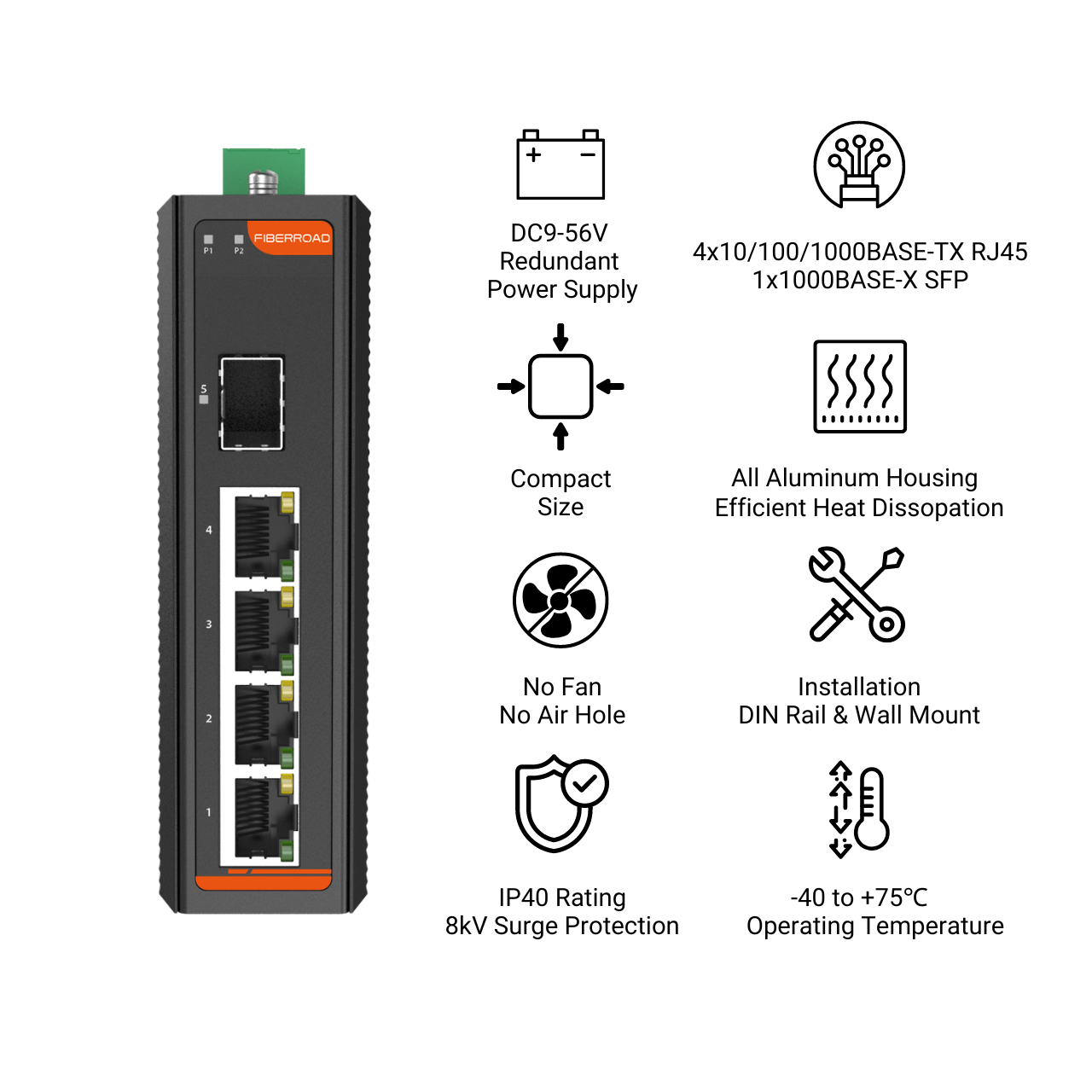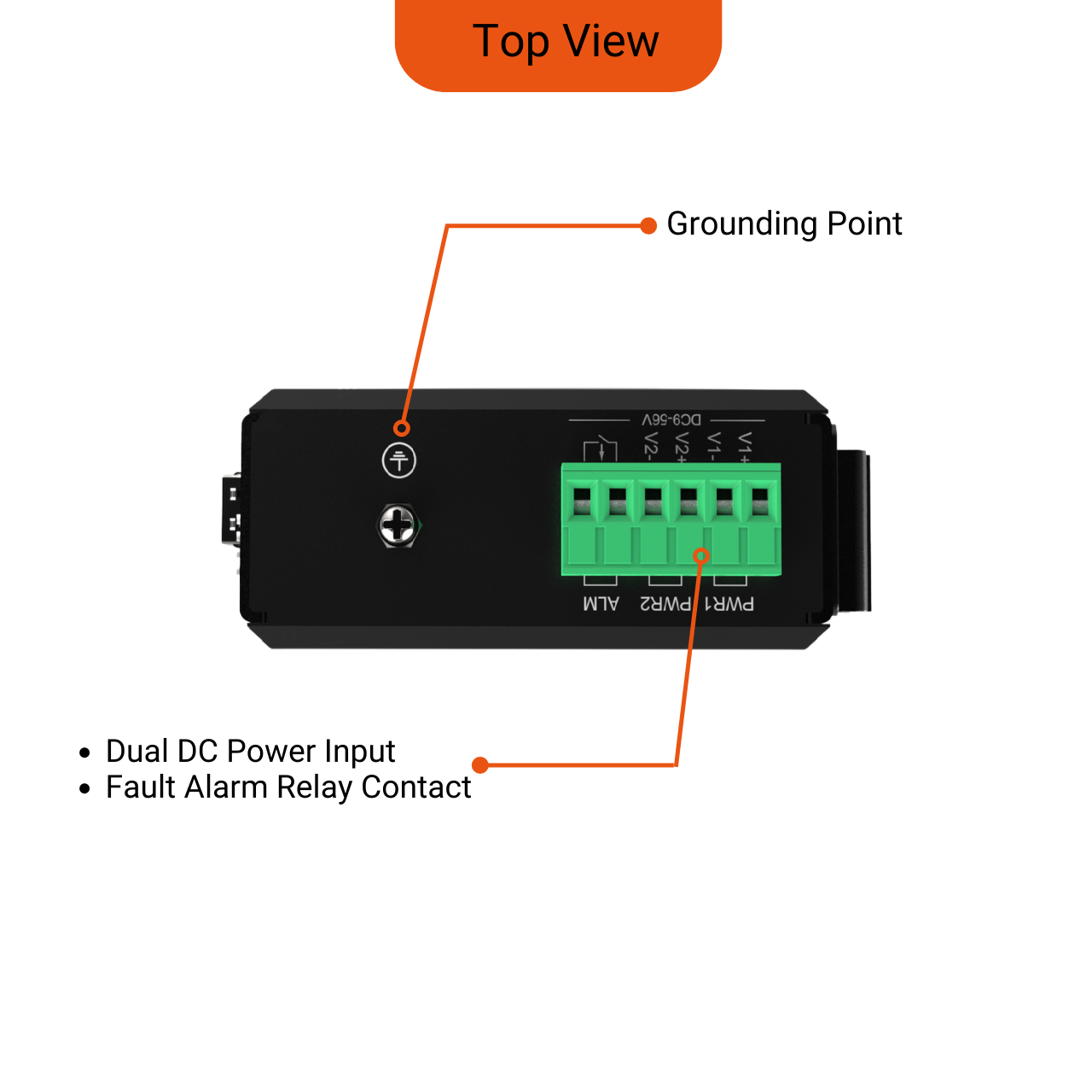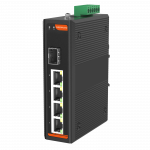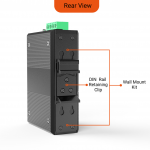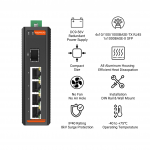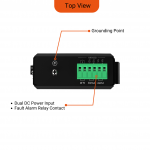 Quality Certifications
Guarantee
Share This Product
High Industrial Standard Fiber Ethernet Switch
To protect the industrial network switch from the harsh environment, the enclosure plays the core role in fitting the industrial grade standard. Compared to the most used material, iron, aluminium, another widely used metal material, has several advantages for shell material choice.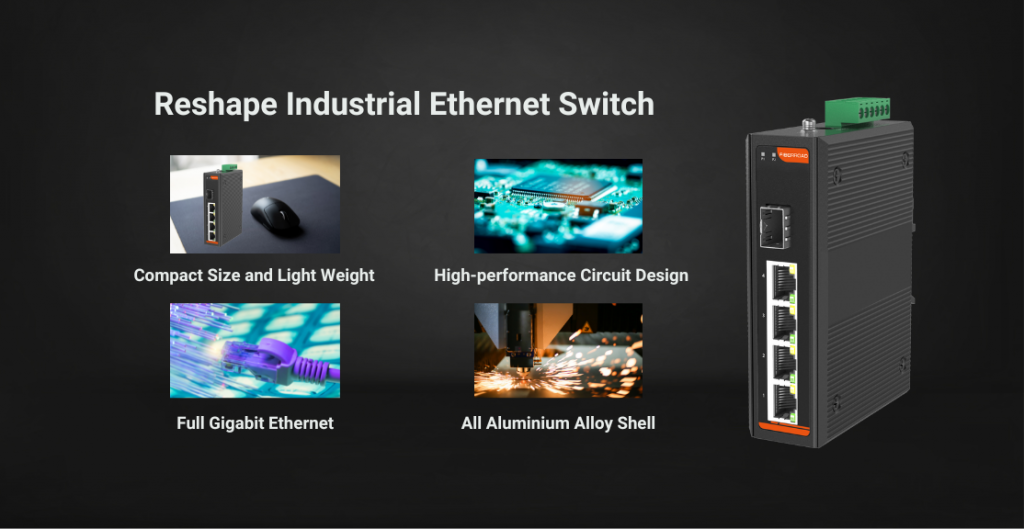 Product Specifications
Ports
4×10/100/1000Base TX RJ45
1x1000Base-X SFP/1×9
Port Mode(Tx)
Auto Negotiation
Full/Half Duplex
Auto MDI/MDIX
Frame Size
10K
Transmission Mode
Store and Forward
Input Power
9-56V DC
Power Consumption
3 Watts Max
Housing
Aluminium Case
IP Rating
IP40
Operating Temperature
-40℃ to +75℃
Dimensions
120x90x35mm
Installation Mode
DIN Rail and Wall Mount
Weight
350g
Ensure Industrial Switch Runs In Harsh Environments
The industrial fibre switch is designed for reliability and ease of maintenance. It features such as a fanless design and low power consumption. The Industrial Ethernet Switch can operate at low and high temperatures thanks to mature technology and open network standards. It is also resistant to electric interference, salt fog, vibration, and shocks. The system also features redundant dual power supplies, allowing for additional reliability for applications that require always-on connections.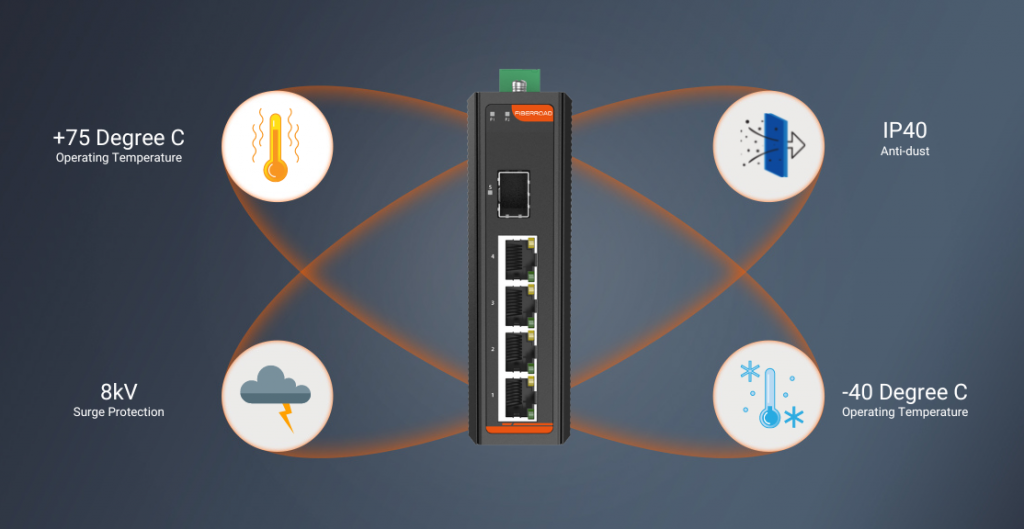 Receives Remote Video Surveillance Signals Effortlessly
The unmanaged Industrial Fiber Switch comes with high bandwidth and Jumbo Frames, ensuring connection with wireless AP, IP cameras, and VoIP phones with Gigabit Ethernet connections. Thus, a Fiber Ethernet network switch can transfer large amounts of data faster and with higher bandwidth.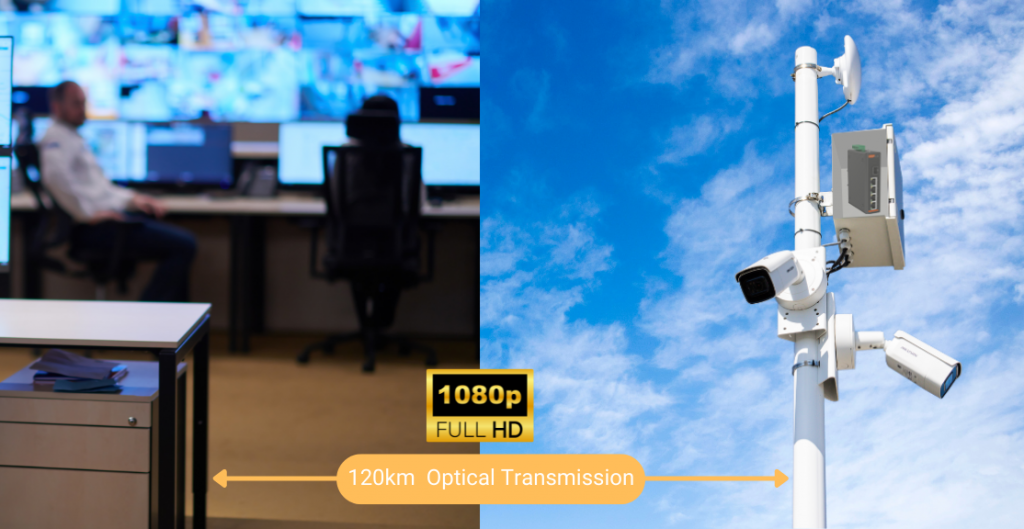 Plug and Play Meets Various Application Needs
Ethernet UTP cables can transmit IP devices at a distance of 100 meters. Unmanaged industrial fibre switches that supports 1000BASE-X, SFP modules, and more can expand the range of IP devices by up to 120 kilometres.
This makes it so easy for users to build a network solution consisting of FTTH (Fiber to the Home), FTTC (Fibre to the Curb) for ISPs or FTTB (Fibe to The Building). The FR-7N3104 can handle large amounts of data in a secure topology linking to a metro switch, backbone or high-capacity server.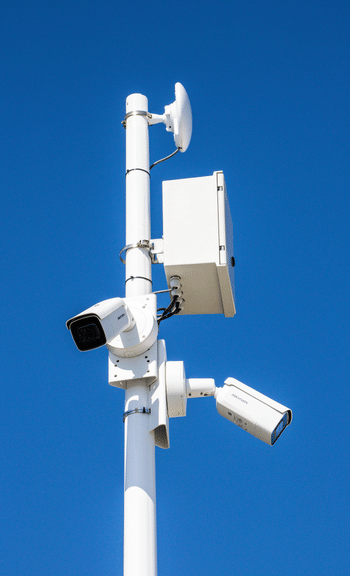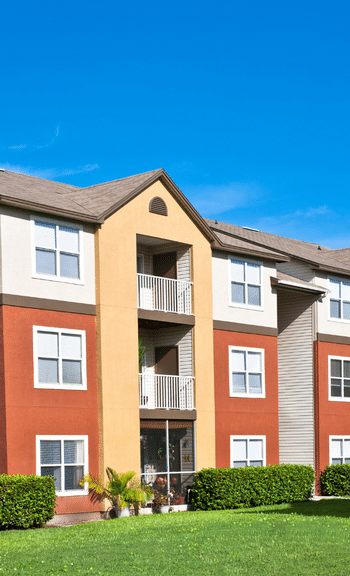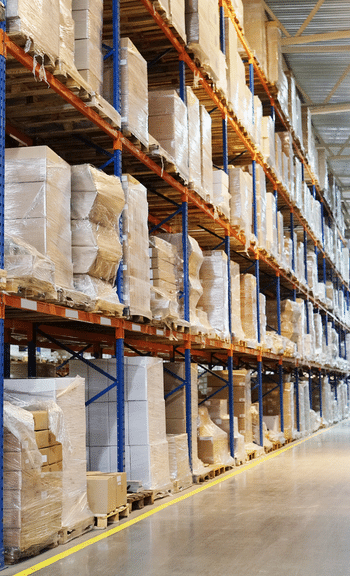 Ethernet Interface
Model
FR-7N1104/FR-7N1104P/1104BT
FR-7N3104/FR-7N3104P/3104BT
Ports
4×10/100Base-TX Port(RJ45)

1x100Base-X(SFP/1×9)

4×10/100/1000Base-TX Port(RJ45)

1x1000Base-X(SFP/1×9)

Port Mode(Tx)
Auto-Negotiation Speed

Full/Half Duplex Mode

Auto MDI/MDI-X Connection

Standards
IEEE 802.3 for Ethernet

IEEE 802.3u for Fast Ethernet

IEEE 802.3x for flow control and back pressure

IEEE802.3az for Energy Efficient Ethernet(EEE)

IEEE 802.3 for 10BaseT

IEEE 802.3u for Fast Ethernet

IEEE 802.3ab Gigabit Ethernet

IEEE 802.3x for flow control and back pressure

IEEE802.3az for Energy Efficient Ethernet(EEE)

Packet Buffer Size
512K
1M
Maximum Packet Length
9K
10K
MAC Address Table
4K
4K
Transmission Mode
Store and Forward (full/half duplex mode)
Exchange Property
Delay time: < 7μs

Backplane bandwidth: 1.25G

Delay time: < 7μs

Backplane bandwidth: 12G
Physical Characteristics
Housing
Aluminium case
IP Rating
IP40
ESD Protection
6kV
EFT Protection
6kV
Dimensions
120mm x 90mm x35mm (L x W x H)
Installation Mode
DIN Rail/Wall Mount
Weight
400g(without PoE)
Working Environment
Operating Temperature
-40℃~75℃ (-40 to 167 ℉)
Operating Humidity
5%~95% (non-condensing)
Storage Temperature
-40℃~85℃ (-40 to 185 ℉)
Heat Dissipation
10 BTU/h (Non-PoE)

420 BTU/h (30W PoE)

1260 BTU/h (90W PoE)

Cooling
Passive Cooling
Noise Level
0 dBA
Inquiry about the product
Sample request for the product