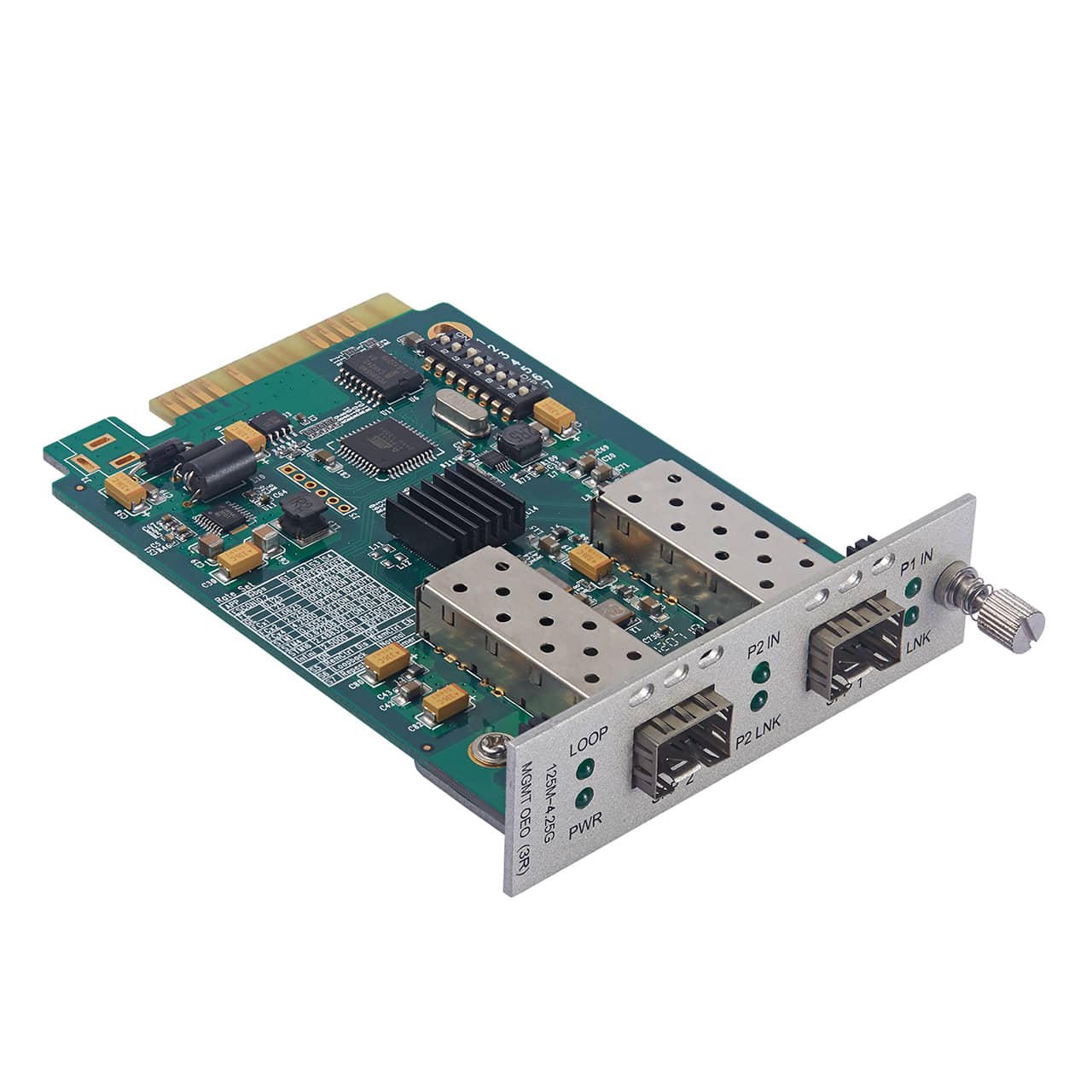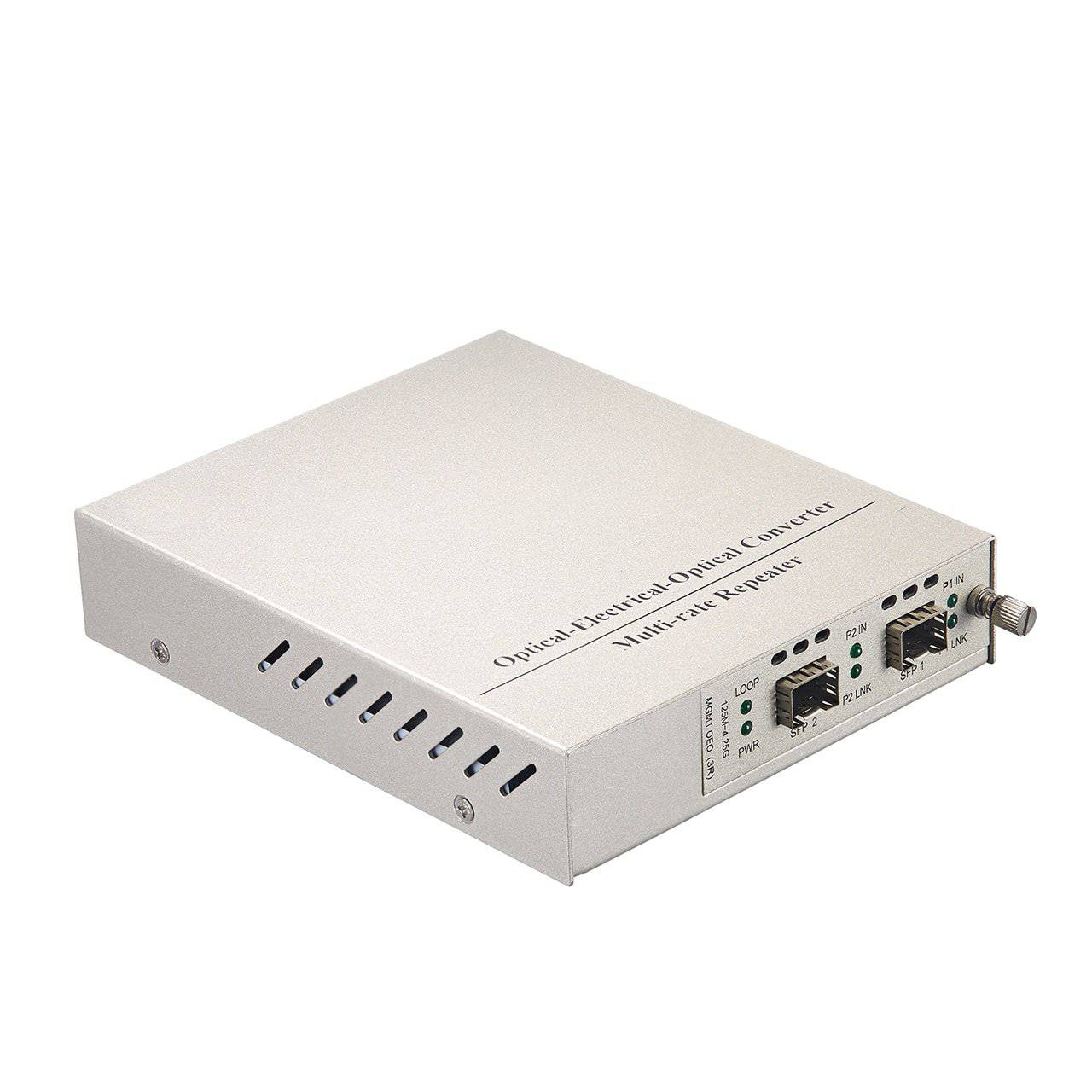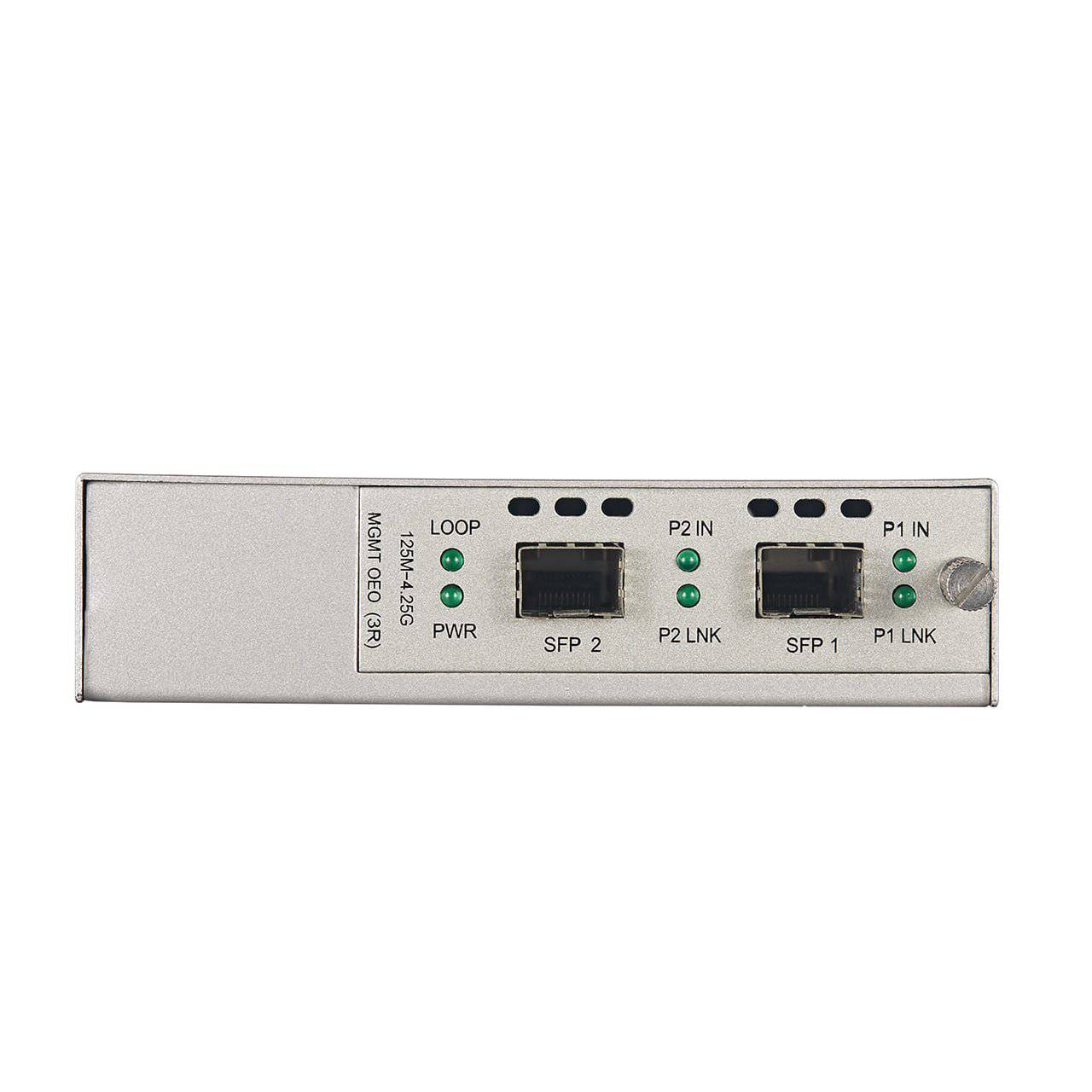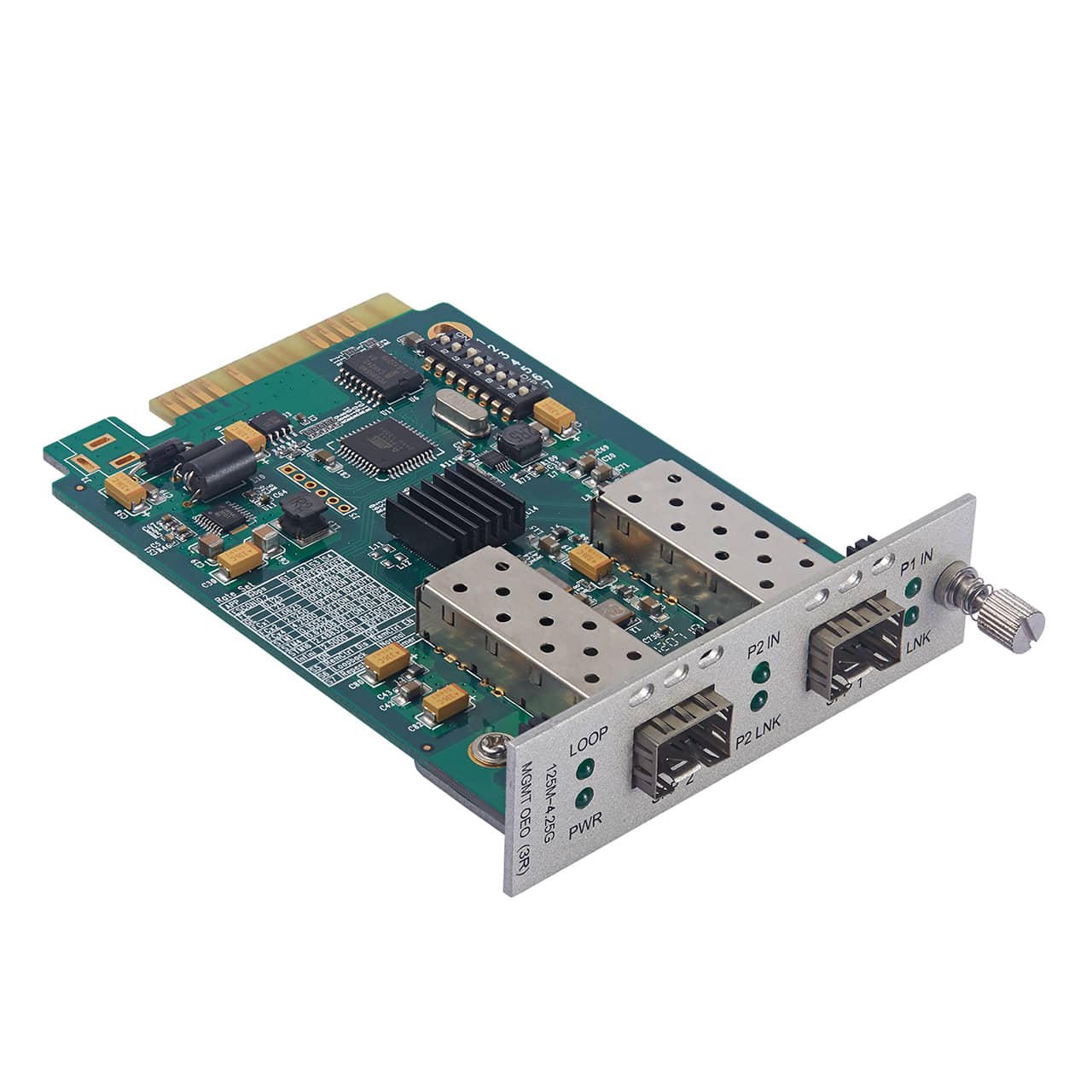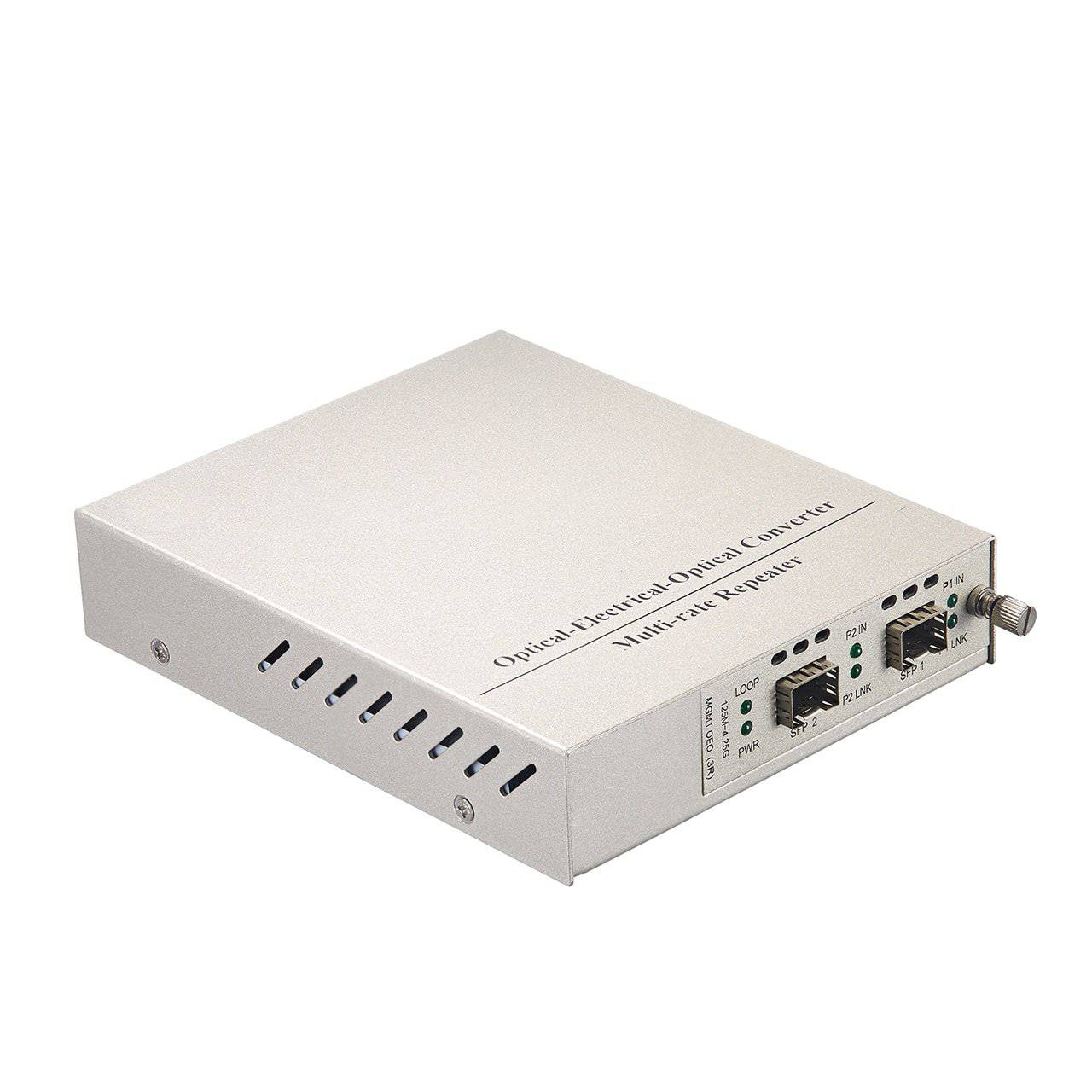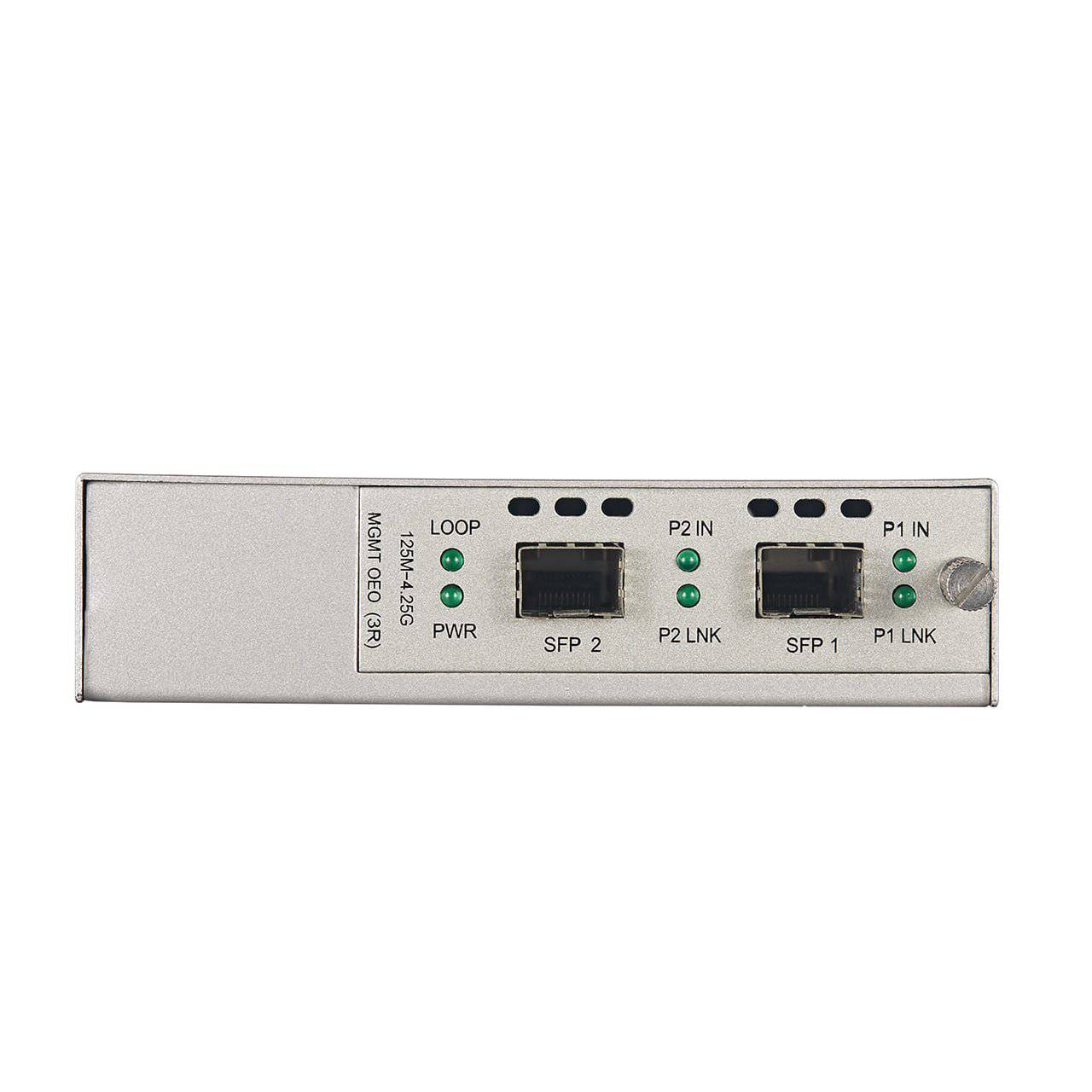 Quality Certifications
Guarantee
Share This Product
Managed Conversion Platform – 2U 16 Slots Managed Converter Rack
The 2U 16 Slots Converter Rack is an Ethernet and SDH transmission equipment,support mutiple services including managed media converter card, OEO Converter card, 1+1 protection switching card, CWDM/DWDM MUX/DEMUX Card, etc., support protocols like SNMP, WEB, CONSOLE and TELNET , with strong management function, and operate easily to meet different customer's requirement.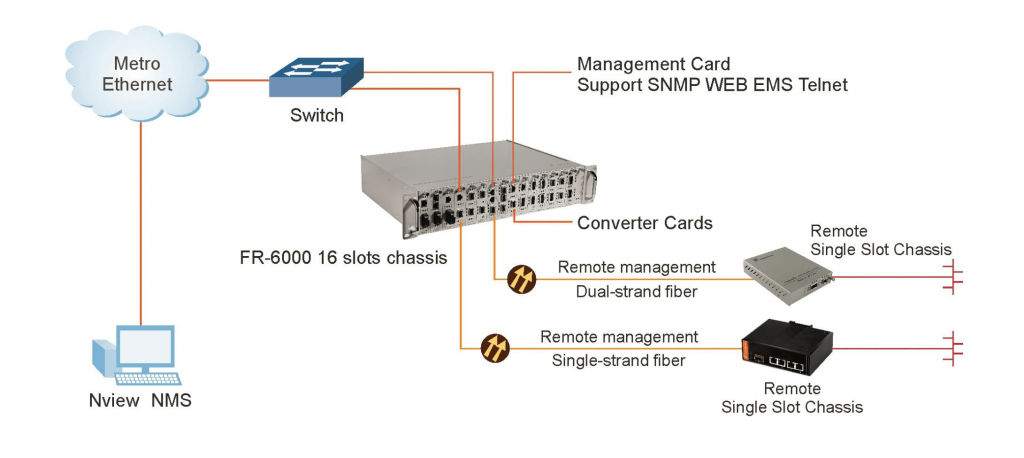 Cards can insert in 2U 16 Slots Managed Converter Rack:
Advantages of 4.25G 3R SFP to SFP Transponder
Excellent Transponder Supporting Wavelength Conversion for WDM Networks
The optical transponder can convert 125Mbps~4.25Gbps Ethernet signals into a corresponding wavelength in CWDM and DWDM network infrastructures. It enables network operators to implement a wide range of media conversions in a compact and flexible design.
Optical Transponder for Fiber-Type Conversion and Optical Repeating
The optical transponder can be deployed in the seamless integration of different fiber types by converting multimode fiber to single-mode fiber, dual fiber to single fiber, and it can also be used as a repeater to convert the weak optical signals into the strong optical signal for continuous
Available for All-in-One Multi-Service Transport System
As a part of multi-service transport system, hot-swappable pluggable 4.25G 3R SFP to SFP Transponder only occupies 1 slot in the 2U chassis, it allows the backbone of the network to be flexible and easier to be managed and maintained.
Our transponders are available in two form factors, chassis-based slide-in cards and stand-alone converters, allowing you the most flexibility for your network. Our transponders also utilize both fixed optics and Small Form-Factor Pluggable (SFP) transceivers allowing you to customize each converter for the cable type you are using. View the different form factors asbelow:
| | |
| --- | --- |
| | |
| Chassis-based slide-in (Local Side) | Remote Standalone (Remote Side) |
Comprehensive Management System Built to Reduce Complexity
Web Management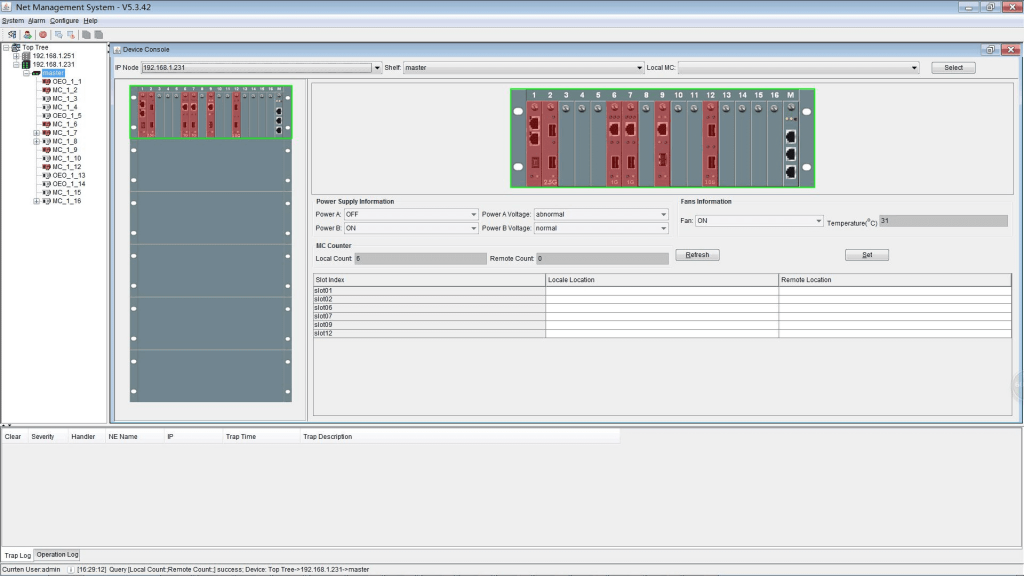 SNMP Management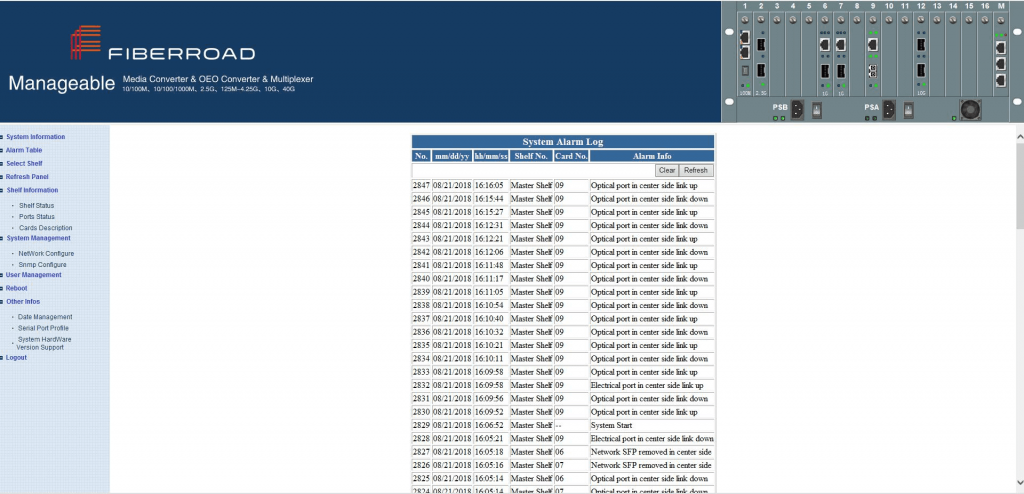 Our Monitor Online based on SNMP is a user-friendly and remote network management system. It monitors network performance, and provisioning, provides fault notification status, etc. The management system simplifies provisioning of complex networks and services that address today's and tomorrow's network management challenges.
Physical Port
Optical Interface
10GBASE-X R SFP+/XFP interface
Data rate
1Gbps~4.25Gbps
Parameters
Protocol
SONET
OC-12, OC-24, OC-48, OC-192
SDH
STM-4, STM-16, STM-64
Ethernet
1G, 2.5G, 10G
OTU
10GE OTU2e, 10GE OTU1e, STM-64 OTU2, STM-16 OTU1, 10GFC OTU2
ODU
10GE ODU2e, 10GE ODU1e, STM-64 ODU2, STM-16 ODU1
OBSAI
OBSAI x1, x2, x4, x8
CPRI
CPRI x1, x2, x4, x5, x8, x10, x16, x20
Fiber
Channel 1/ 2/4/8/10G FC
SDI/Other
HD-SDI, 3G-SDI, 6G-SDI, 12G-SDI
Regeneration
Re-Amplification, Re-Shaping, Re-Timing
LED Indicator
Power, System, Mode, Test, FX1 Link, FX2 Link, FX3 Link, FX4 Link
Power Information
Power Input
Card: DC 5V Standalone: AC 220V/DC -48V
Power Consumption
Full-load<8W
Physical Property
Dimensions
Card:120mm×90mm×22mm Standalone:160mm×130mm×32mm
Installation Mode
wall-mountable
Weight
Card:100g Standalone:800g
Working Environment
Operating Temperature
0°C~50°C
Operating Humidity
10%~90% non-condensing
Storage Temperature
-10°C~70°C
Warranty
MTBF
50,000 hours
Defects Liability Period
1 year warranty, lifetime technical support
Certification Standard
EMC
FCC Part15 Class A CE-EMC/LVD RoHS EN61000-4-2 (ESD), EN61000-4-3 (RS) EN6100044 (EFT), EN6100045 (Surge) EN61000^1-6 (CS), EN61000-4-8 EN61000-4-11
Physical Port
Optical Interface
10GBASE-X R SFP+/XFP interface
Data rate
1Gbps~4.25Gbps
Parameters
Protocol
SONET
OC-12, OC-24, OC-48, OC-192
SDH
STM-4, STM-16, STM-64
Ethernet
1G, 2.5G, 10G
OTU
10GE OTU2e, 10GE OTU1e, STM-64 OTU2, STM-16 OTU1, 10GFC OTU2
ODU
10GE ODU2e, 10GE ODU1e, STM-64 ODU2, STM-16 ODU1
OBSAI
OBSAI x1, x2, x4, x8
CPRI
CPRI x1, x2, x4, x5, x8, x10, x16, x20
Fiber
Channel 1/ 2/4/8/10G FC
SDI/Other
HD-SDI, 3G-SDI, 6G-SDI, 12G-SDI
Regeneration
Re-Amplification, Re-Shaping, Re-Timing
LED Indicator
Power, System, Mode, Test, FX1 Link, FX2 Link, FX3 Link, FX4 Link
Power Information
Power Input
Card: DC 5V Standalone: AC 220V/DC -48V
Power Consumption
Full-load<8W
Physical Property
Dimensions
Card:120mm×90mm×22mm Standalone:160mm×130mm×32mm
Installation Mode
wall-mountable
Weight
Card:100g Standalone:800g
Working Environment
Operating Temperature
0°C~50°C
Operating Humidity
10%~90% non-condensing
Storage Temperature
-10°C~70°C
Warranty
MTBF
50,000 hours
Defects Liability Period
1 year warranty, lifetime technical support
Certification Standard
EMC
FCC Part15 Class A CE-EMC/LVD RoHS EN61000-4-2 (ESD), EN61000-4-3 (RS) EN6100044 (EFT), EN6100045 (Surge) EN61000^1-6 (CS), EN61000-4-8 EN61000-4-11
Inquiry about the product
Sample request for the product