Industrial Network Switch with Optical Fiber Bypass
The New Generation Managed Industrial Switch with 8-Port 10/100/1000Base-TX, and 2xGigabit SFP ports provide reliable Ethernet transmission. To prevent fibre network communication during power loss, The Industrial Switch has built-in 2-channel SC/FC/ST connectors for optical bypass. A managed industrial network switch with optical fiber bypass supports various management functions, including Rapid Spanning Tree, Multiple Spanning Tree and Ethernet Ring Protection Switching (ERPS) protocols for network redundancy. The IGMP facility can handle the multicast traffic commonly used in Video Surveillance deployments.

Quality Certifications

Guarantee
Inquiry Now
Layer 2+ Industrial Network Switch With Optical Fiber Bypass
Fiberroad L2+, a managed industrial network switch, was designed for industrial Ethernet networks. In such a rugged enclosure, it provides user-friendly IPv6/IPv4 management interfaces, comprehensive layer 2 switching functions, and Layer 3 static routing support. Industrial Ethernet switches operate stably under temperature ranges between -40 and 75 degrees, allowing DIN rail mounting or wall mounting to utilise cabinet space efficiently. This allows you to extend the distance with 2 Gigabit SFP ports.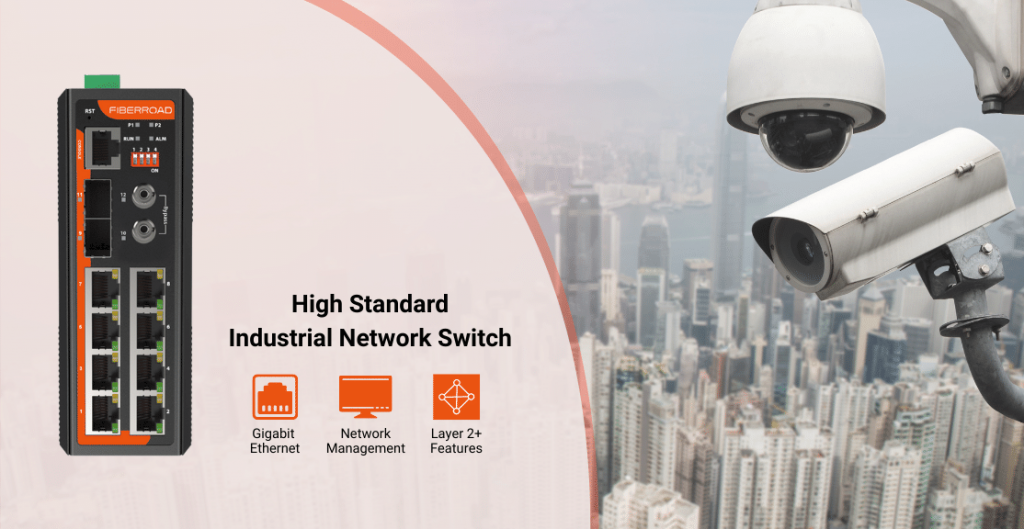 High-Performance Network Management
Web-based CloudMQTT to monitor the Industrial Network anytime, anywhere.
Command-line interface(CLI) and Firo WebGUI management for configuring major managed functions.
SNMPv1/v2C/v3 for different levels of network management.
Web-based NMS support automatically discovers and diagrams network topology

Complete Security Mechanisms
AAA&RADIUS, IEEE 802.1X, SNMPv3, HTTPs/SSLv3,SSH2.0 to enhance network security.
Support user hierarchical management, ACL control list
Port isolation within the same VLAN, DHCP-Snooping
DDOS, port-based MAC filtering/binding, MAC black holes, IP source protection

Advanced Layer 2+ Features
Build a redundant network with STP/RSTP/MSTP/ERPSv2.
IPv4/IPv6 Management and Static Route.
ACL Based on MAC, IP address,MAC, Destination MAC address, IP Source, Destination IP, IP Protocol Type, TCP/UDP Port, TCP/UDP Port Range, and VLAN.
Retagging and complicated flow classification based on VLAN, MAC/IP.
Extreme Networks Industrial Switches for Harsh Environments
The housing has an IP40 Durable Aluminum housing and fanless design provides efficient heat dissipation. Industrial Network Switches protect against electromagnetic interference and heavy electrical surges, usually found on plant floors or curb-side traffic control cabinets. Additionally, it features an integrated power supply source (9–56V DC) for worldwide high availability applications that require dual or backup voltage inputs. Indeed, The design of the switch ensures operates in Harsh Environment.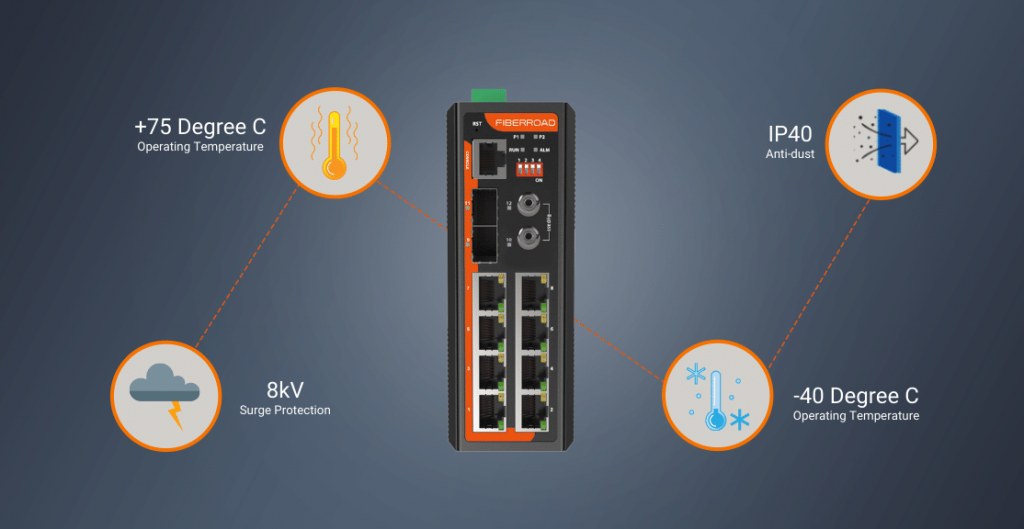 The Fastest and Easiest Way to Maintain Fiber Networks
Industrial Network Switch built-in 2 simplex ST/SC/FC connectors featuring 2-channel optical bypass function. Fiber connections are supported in the optical fiber ports with speeds of 1Gbps. It automatically switches optic network traffic to prevent link failure during power loss. Additionally, it allows the local network switch to be replaced or removed without any downtime.
Establish a Secure Network with L2+ Industrial Network Switches
FR-7M3408F provides robust Layer 2+ Gigabit networks connectivity, including but not limited to Static route, LAN network security, ACL/QoS policy… Moreover, By configuring ITU-T G.8032 ERPS (Ethernet Ring Protection Switching) technology, Spanning Tree Protocol (802.1s MSTP), and redundant power system in industrial automation networks to enhance system reliability and uptime in harsh environments. As can be seen, the Managed Industrial Switch is easy to manage and maintain.
Keep up with the Industrial Network Anytime, Anywhere
Managed Industrial Ethernet Switch allows various network management methods, such as the WebGUI, CLI and NMS. The notion of easy to use, particularly with no additional hardware investment and installation. Industrial Network Switch can deploy centralised management, Layer 2 to Layer 4 QoS, Bandwidth allocation, real-time monitoring, etc.
Both SSH2.0 and HTTPS/TLS protocols are utilized to provide powerful protection against network threats. It includes a range of cybersecurity features such as DHCP Snooping, IP Source Guard, ARP Inspection Protection, 802.1x port-based and MAC-based network access control, user hierarchical management, SNMPv3 authentication, and so on to complement it as an all-security solution. The Industrial Network Switch administrator can now construct highly-secure corporate networks with considerably less time and effort than before.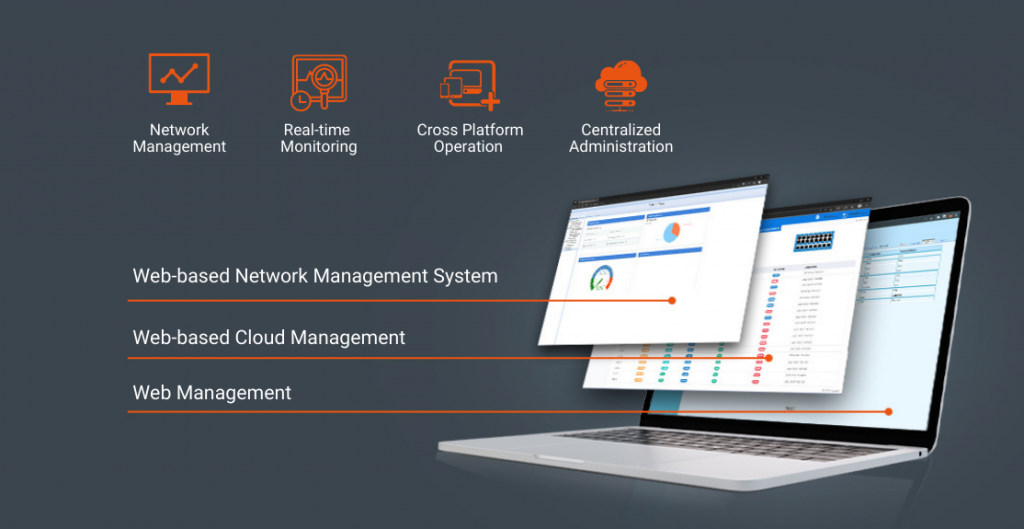 Hardware Specifications
Model
FR-7M3208F
FR-7M3408F
Ports
8×10/100/1000Base-T(X)RJ45 Ports

2x1000Base-X Optical Fiber Bypass

8×10/100/1000Base-T(X)RJ45 Ports

2x1000Base-X (SFP Slots)

2x1000Base-X Optical Fiber Bypass

Port Mode(Tx)
Auto-Negotiation Speed

Full/Half Duplex Mode

Auto MDI/MDI-X Connection

Bypass Interface
2 x Simplex SC/FC/ST
Bypass Optic Mode,

Wavelength, Distance

Port 10: T1310/R1550nm 20km

Port 12: T1550/R1310nm 20km

Bypass Return Loss
Multimode: >50dB;Singlemode: >35dB
Bypass Insertion Loss
Typical: 1.0dB; Max: 1.5dB
Bypass Switching Time
< 8ms
Standards
IEEE 802.3 for 10BaseT

IEEE 802.3u for 100BaseT(X) and 100BaseFX

IEEE 802.3ab for 1000BaseT(X)

IEEE 802.3z for 1000BaseSX/LX/LHX/ZX

IEEE 802.3x for flow control

IEEE 802.1D-2004 for Spanning Tree Protocol

IEEE 802.1w for Rapid Spanning Tree Protocol

IEEE 802.1s for Multiple Spanning Tree Protocol

IEEE 802.1p for Class of Service

IEEE 802.1Q for VLAN Tagging

IEEE 802.1X for authentication

IEEE 802.3ad for Port Trunk with LACP

Console
1x RJ45-to-RS232 Serial Port(115200)
Packet Buffer Size
2Mbits
Maximum Packet Length
Up to 9K
MAC Address Table
4K
Transmission Mode
Store and Forward (full/half duplex mode)
Exchange Property
Delay time: < 7μs

Backplane bandwidth: 20Gbps

IGMP GroupS
2048
Max. No. of VLAN
64
VLAN ID Range
VID 1 to 4094
Power Supply
Power Consumption
10 Watts Max
Power Inputs
2
Input Voltage
9-56VDC,Redundant dual inputs
Connector
1 removable 6-contact terminal blocks

Pin 1/2 for Power 1, Pin 3/4 for Power 2, Pin 5/6 for fault alarm

Protection
Overload Current Protection, Reverse Polarity Protection
Software Features
Redundancy Protocols
Support STP/RSTP/MSTP/ERPSv2, Link Aggregation
Multicast Support
Support IGMP Snooping V1/V2/V3,support GMRP, GVMP,802.1Q
VLAN
Support IEEE 802.1Q 4K VLAN,support QINQ, Double VLAN,
Time Management
SNTP
QOS
Flow-based redirection

Flow-based rate limiting

Flow-based packet filtering

8*Output queues of each port 802.1p/DSCP priority mapping

Diff-Serv QoS, Priority Mark/Remark

Queue Scheduling Algorithm (SP, WRR, SP+WRR)

ACL
Port-based Issuing ACL

ACL based on port and VLAN

L2 to L4 packet filtering, matching first 80 bytes message.

Provide ACL based on MAC, Destination MAC address, IP Source, Destination IP, IP Protocol Type, TCP/UDP Port, TCP/UDP Port Range, and VLAN, etc

Diagnostic Maintenance
Support port mirroring, Syslog, Ping
Management Function
Support CLI、WEB、SNMPv1/v2/v3,Telnet server for management, EEE, LLDP, DHCP Server/Client(IPv4/IPv6), Cloud/MQTT
Alarm Management
Support 1 way relay alarm output, RMON, TRAP
Security
Broadcast Storm Protection, HTTPS/SSLv3, AAA & RADIUS, SSH2.0

Support DHCP Snooping, Option 82,802.1X security access,

Support user hierarchical management, ACL access control list,

Support DDOS,port-based MAC filtering / binding, MAC black holes, IP source protection, Port isolation, ARP message speed limit

Advance Layer 2+ Features
IPv4/IPv6 Management

Static Route
Inquiry about the product