100G PAM4 DWDM QSFP28 ZR
100G PAM4 QSFP28 is a pluggable, DWDM, fiber-optic transceiver for 100 Gigabit Ethernet (100GbE) applications.

This module is designed for the data centers to interconnect, which requires high fiber capacity for links up to 80 km.

The optical interface utilizes two DWDM wavelengths on a 50 GHz grid. PAM4 modulation format is used to increase capacity enabling 50 Gb/s on each wavelength. Integrated, high-gain FEC (Forward Error Correction) and advanced Rx ADC/DSP technology enables optical reaches up to 80 km over an amplified, DWDM line system. The optical signals are transmitted and receive from the module by standard duplex SMF and LC receptacles.

Electrical signals are transmitted and received from the host via a standard, 38-pin connector described in the QSFP28 MSA (SFF-8679). The electrical interface is CAUI-4 compliant (IEEE P802.3bm Annex 83E), splitting the 100 Gb/s signals into four, parallel, 25 Gb/s NRZ streams.

This module incorporates Inphi's innovative, silicon photonics circuit, arrayed modulation driver,arrayed TIA and advanced DSP technology to provide high performance in a miniature, pluggable package.
Inquiry Now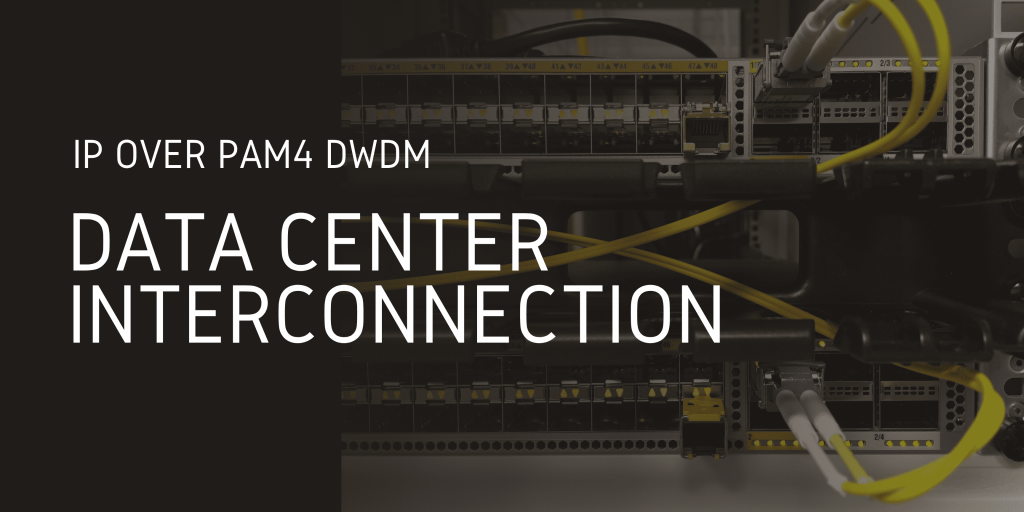 Key Features
Compatible with the QSFP28 MSA as described in SFF-8665
100Gb/s over 2 wavelengths on a 50 GHz DWDM grid enabling 4Tb/s over a single fiber
PAM4 modulation format enabling 56Gb/s on a single wavelength
80km reach over a duplex, SMF
Integrated, high-gain FEC encode / decode
Advanced ADC/DSP receiver technology
Optical and host loopback functionality
Standard CAUI4 electrical interface
Adaptive equalization (CTLE) on transmit-side electrical input and adjustable output de-emphasis (3 tap FIR filter) to compensate for losses on host
Typical power consumption of 4.5W
2-wire management interface with extended digital diagnostic monitoring and alarm functions
100G PAM4 DWDM Solution Diagram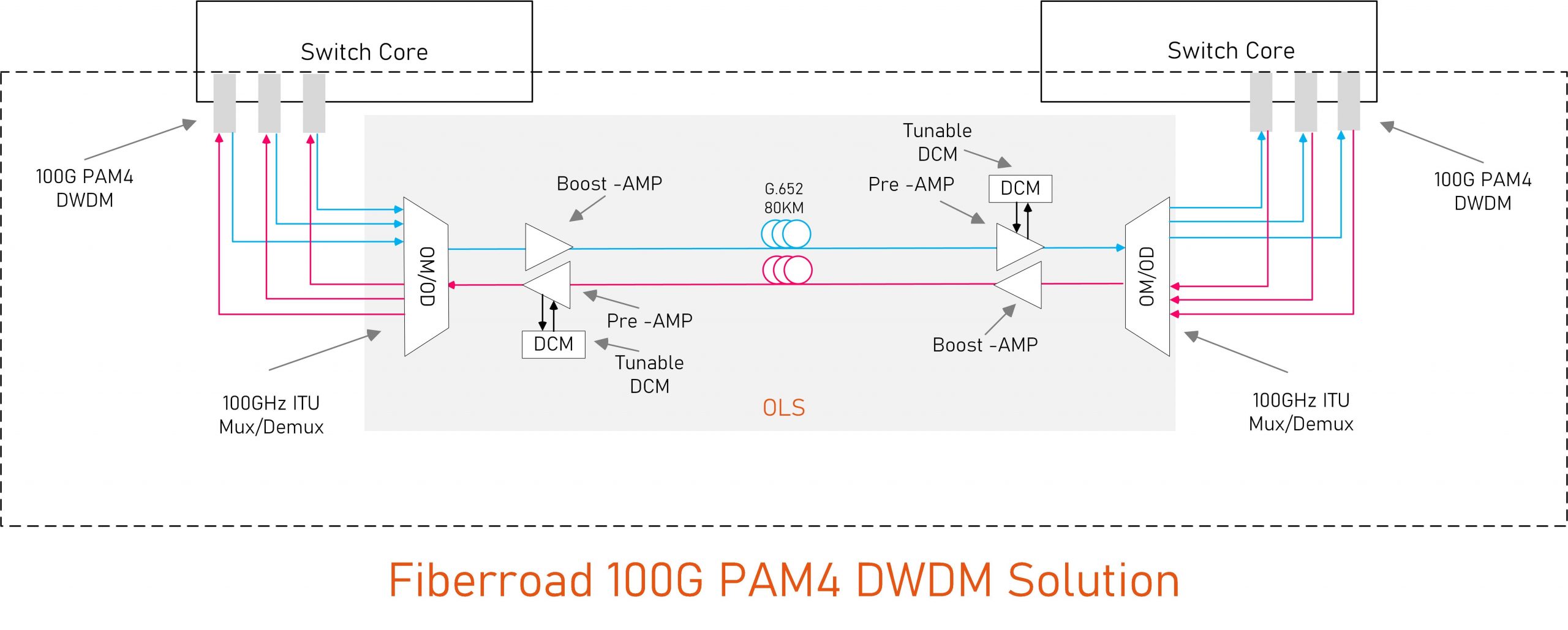 Transmitter Optical Characteristics
Parameter
Comment
Min
Typ
Max
Unit
Signaling Rate, each lane
Rate=25.78913Gb/s+FEC OH(~9%)*2(PAM4)
Typ

-100 ppm

56.25
Typ

+100 ppm

Gb/s
Wavelength
Check the wavelength table
nm
Frequency Control
Frequency control loop used to optimize link performance. Mix/max limits indicate control loop range.
λc – 12
N/A
λc + 12
GHz
Center Wavelength Spacing
Wavelength/lane 1-2 spacing
N/A
50
N/A
GHz
Extinction Ratio
N/A
6
N/A
dB
SMSR
30
N/A
N/A
dB
Average Launch Power, per lane
-11
-10
-8
dBm
Dispersion Tolerance
Residual dispersion (RD) after DCM
-100
N/A
+100
ps/nm
Average Launch Power of OFF

Transmitter, each lane

N/A
N/A
-30
dBm
Optical Return Loss Tolerance
N/A
N/A
20
dB
Transmitter Reflectance
Defined looking into the transmitter
N/A
N/A
-12
dB
Receiver Optical Characteristics
Parameter
Comment
Min
Typ
Max
Unit
Signaling Rate, each lane
Rate=25.78913Gb/s+FEC OH(~9%)*2(PAM4)
Typ

-100 ppm

56.25
Typ

+100 ppm

Gb/s
Wavelength
Check the wavelength table
nm
Damage Threshold
Frequency control loop used to optimize link performance. Mix/max limits indicate control loop range.
10
N/A
N/A
dBm
Receiver Power, each lane
-2.0
N/A
6.0
dBm
Receiver Reflectance
N/A
N/A
-20
dB
Required OSNR
31
N/A
N/A
dB
LOSS asserted threshold-OMA
-10
N/A
N/A
dBm
LOSS de-asserted threshold-OMA
N/A
N/A
-3
dBm
LOS Hysteresis
N/A
1.0
N/A
dB
Notes:
1, The receiver shall be able to tolerate, without damage, continuous exposure to an optical input signal below this average power level
2, Module receiver LOS characteristics are realized by monitoring the DC current of the high-speed photodiodes. Preliminary LOS threshold limits are shown in the table
Wavelength Selection Table
| | | | |
| --- | --- | --- | --- |
| Channel No. | 100GHz Grid | Channel No. | 100GHz Grid |
| D20 | 192.00 | D40 | 194.00 |
| D21 | 192.10 | D41 | 194.10 |
| D22 | 192.20 | D42 | 194.20 |
| D23 | 192.30 | D43 | 194.30 |
| D24 | 192.40 | D44 | 194.40 |
| D25 | 192.50 | D45 | 194.50 |
| D26 | 192.60 | D46 | 194.60 |
| D27 | 192.70 | D47 | 194.70 |
| D28 | 192.80 | D48 | 194.80 |
| D29 | 192.90 | D49 | 194.90 |
| D30 | 193.00 | D50 | 195.00 |
| D31 | 193.10 | D51 | 195.10 |
| D32 | 193.20 | D52 | 195.20 |
| D33 | 193.30 | D53 | 195.30 |
| D34 | 193.40 | D54 | 195.40 |
| D35 | 193.50 | D55 | 195.50 |
| D36 | 193.60 | D56 | 195.60 |
| D37 | 193.70 | D57 | 195.70 |
| D38 | 193.80 | D58 | 195.80 |
| D39 | 193.90 | D59 | 195.90 |
Inquiry about the product
You may also like:
Related solutions:
Related resources: