By Irena Ho, Technical Writer and Editor
Fiber media converter is a kind of simple networking device. They connect and translate signals between fiber optic cabling and other cabling media types, such as UTP (unshielded twisted pair) copper Ethernet cables.
To construct an available network, it's important to choose suitable fiber media converters for different applications and deploy them correctly. This article will discuss types of Fiber Media converters based on different dimensions.
Managed & Unmanaged Fiber Media Converters
Managed Fiber Media Converters
They are more expensive but provide advanced features like network monitoring, fault detection, and remote configuration. Additionaly, they have an SNMP agent that reports their status to the NSM manager.
Three important components make up an SNMP-managed network:
A managed fiber media converter
SNMP agent, software which works on managed devices
Network management systems (NMS) software typically works on a manager device, such as an administrative computer. Many managed media converters support popular AAA security services used in corporate networks, such as TACACS+, RADIUS, LDAP, Kerberos, NIS and RSA.
SANMPv3, Telnet, and HTTPS-enabled managed media converters provide secure management capabilities to protect IDs and passwords against unauthorized personnel tracking networks.
These features are necessary when managing your corporate firewalls, switches and routers.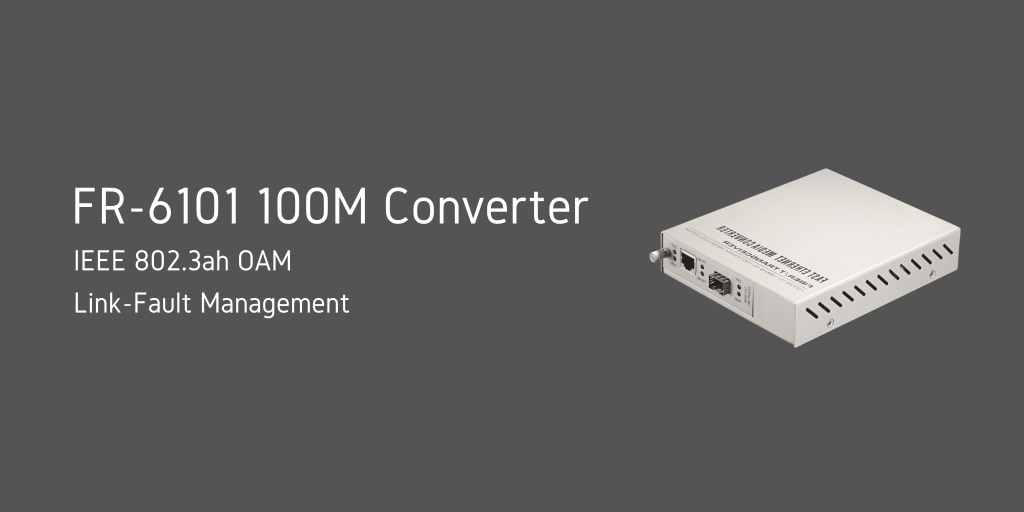 Unmanaged Fiber Media Converter
Unmanaged media converter can be used to communicate with each other but do not provide monitoring, fault detection, or setting up network configurations.
The unmanaged option is ideal for novices looking for a plug-and-play fiber network cable installation. DIP switches allow you to set configurations, such as Link Fault Pass-through.
Industrial & Commercial Fiber Media Converter
Industrial Grade Fiber Media Converter
Designed as industrial grade, Industrial media converter are expected to convert data between single-mode or multimode fiber optic cables and twisted pair cables in harsh environmental conditions, like chemical, oil, gas mining, drilling, and building automation.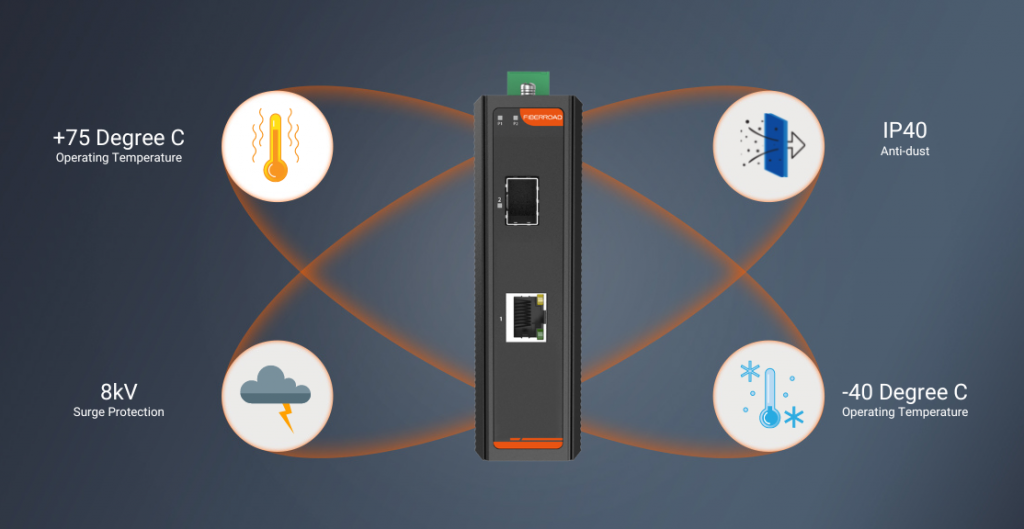 Commercial Grade Fiber Media Converter
These media converter are suitable for use in data centres and offices, where the environment temperature is controlled. Copper-based equipment extends broadband distance and performs better as a result.
Categories of Fiber Media Converter Based on Conversion
Fiber to Fiber
These media converter allow connectivity between different types of fiber optic cable, and between single-fiber and dual-fiber cable. They usually do not rely on any specific protocol and make it easy to convert between different wavelengths.
Copper to Fiber
Media converter that transforms electrical pulses in copper data networks to light pulses in fiber optic data networks are mostly adopted for extending network connections beyond the 100-meter range of traditional copper UTP Ethernet cabling
Categories of Fiber Media Converter Based on Modes
Single-Mode Fiber Media Converter
These media converter transmits signals in a single direction, usually via light signals. They have small diameter cores, typically 9-125 microns, which results in low signal attenuation. This mode is also referred to transverse mode.
Multi-Mode Fiber Media Converter
This kind of media converter is available for transmitting data in two or more directions. Multimode media converter can have core diameters between 50 microns and 125 microna. Because the diametrical core is larger, the light transmits much more efficiently and attenuates. LAN applications, is commonly used in video streaming, are ideal for these media converters.
Categories of Fiber Media Converter Based on Applications
Standard Media Converters
This is the simplest type of media converter. They are designed to be operated without a web interface, making them suitable for start-up companies that don't need senior staff.
PoE Media Converters
These are also named Power-over-Ethernet technology converters, providing data and power over a single cable. They power the endpoint devices connected to them and adjust the Ethernet standard's utility. PoE media converter allows devices to be powered using Ethernet cables, eliminating the need for additional power cables. They are widely used in security cameras, IP phones, and wireless access points.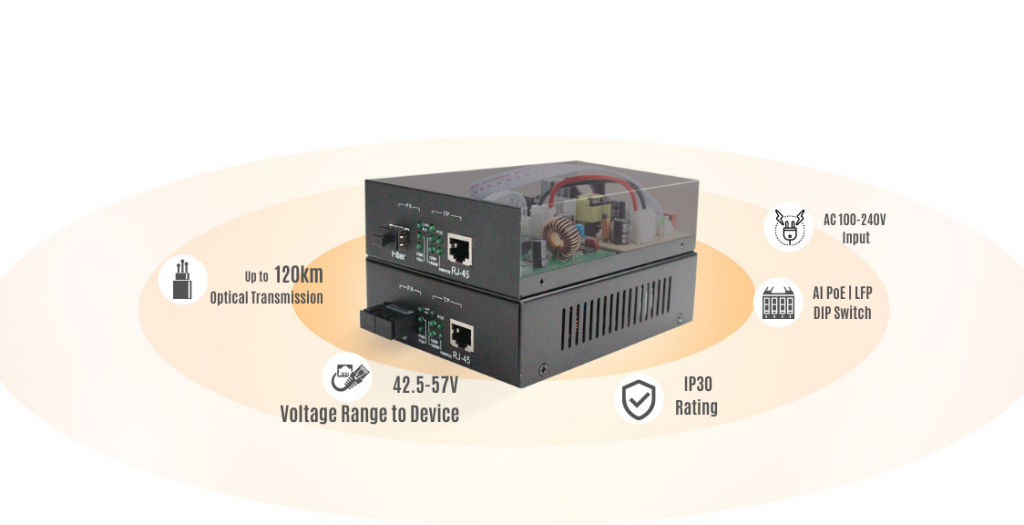 Mini Media Converters
Adding network services to non-IT applications like security cameras can be difficult for network managers. In these scenarios, mini media converter can be adopted. These are simple devices that allow for a connection between copper and fiber cables. Media converters of this kind are also suitable for applications with a compact footprint.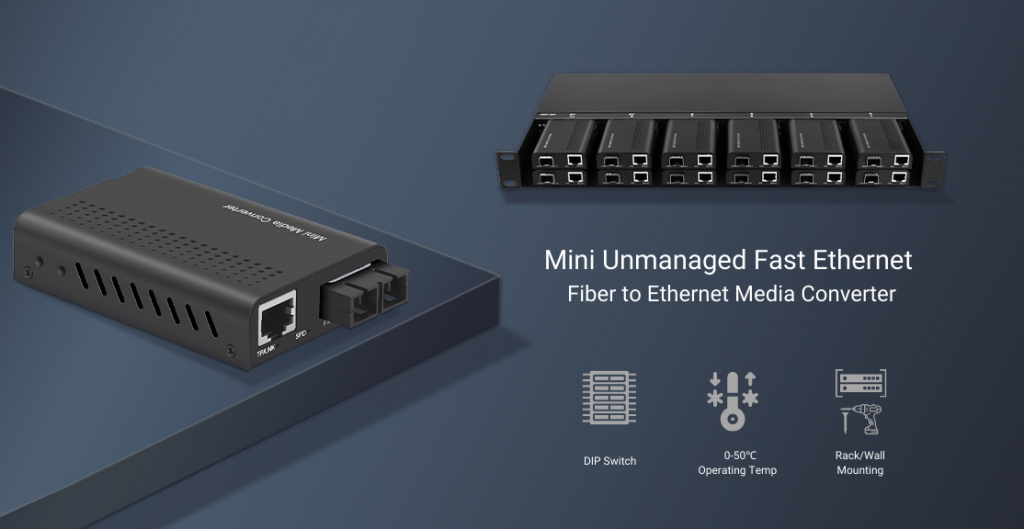 Enterprise Media Converters
Referring to the name, enterprise media converter is widely seen in enterprise network cabling applications. Their usage is to connect different types of cables or media. These connectors allow businesses to extend the distance between devices and increase the lifespan of non-fiber-based equipment.
Harden Media Converters
This kind of media converter is designed with climate-controlled specification, which features a hard enclosure that is rated to an ingress protection (IP) scale. As a result, it is protected from temperature, dust, swigs, and moisture. Users must connect different types of cables and media to hardened media converters, especially for copper and fiber in outdoor environments. These media converters also optimize the value of their existing network. Thus, they are suited for industrial applications utilizing fiber cables and driven by EMI noise challenges.
Carrier Ethernet Media Converters
A common abbreviation for these media converters is the CE media converter. This is primarily used to expand Ethernet, which aims to provide Wide Area Network (WAN) connectivity. CE media converters are also adopted in extending network connections or bridging different network types.