Success Story | Case Study
Case Background
Fiberroad is one of the major equipment providers for the deployed smart urban utility tunnel. The second batch of Smart Urban Utility Tunnel pilot cities in China, Hangzhou, has made significant progress in the planning, construction, operation and management. This Smart Urban Utility Tunnel construction and management mode set was made with Hangzhou characteristics.
This year's plan of 10 Utility Tunnel projects has been completed up to 16.44 kilometres and is expected to be completed by the end of the year as planned. The seven planned Utility Tunnel projects have all started, and the seven renewal projects totalling up to 24.14 kilometres are progressing steadily. The main structure of the 7 Utility Tunnels in the Asian Games Village, such as the Plan Road project, Beijing Avenue project and Ring Road project, has been completed. Some of the power cables have been placed into trial operations.
Urban Utility Tunnel Challenges
While utility tunnels have major benefits, there are also serious challenges to their development. These include the risks associated with urban excavation, management, and governance. While these challenges are not insurmountable, smart technology can help overcome them. Smart technologies can collect and share comprehensive data and provide collaborative working environments.
The challenges to utility tunnel construction include the need for underground clearances for other technical infrastructure systems, as well as the need for safe, ergonomic, and comfortable working environments. Other considerations involve visual and physical intervention. A well-designed utility tunnel can provide for the safety and convenience of workers in the surrounding community. Developing utility tunnels can be a complex and costly undertaking.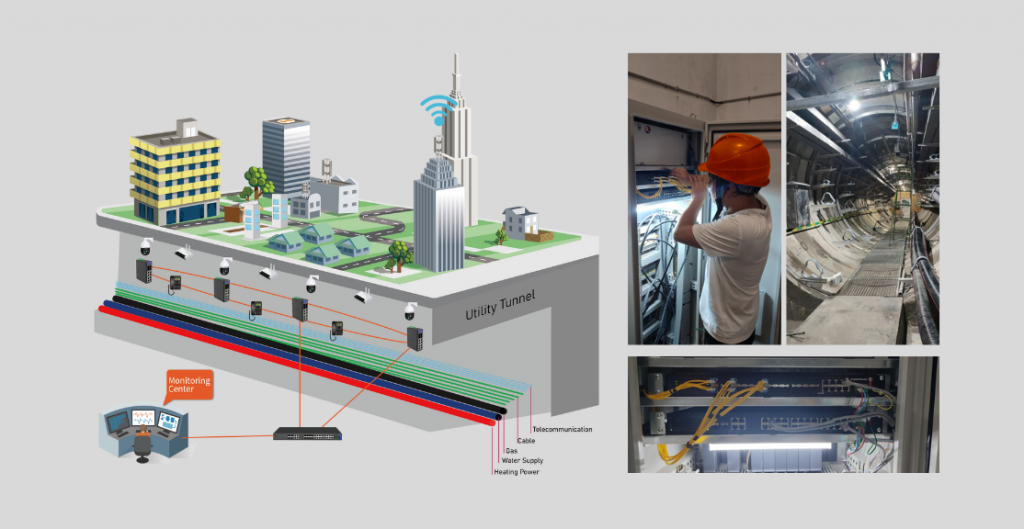 Advantages of Fiberroad Industrial Network Switch for Smart Urban Utility Tunnel
The 24 Port Industrial Ethernet Switch adopts mature technology and open network standards. The 24 port is designed for outdoor and industrial applications such as city surveillance systems and smart manufacturing. It can adapt to low and high temperatures and also offers an 8kV surge protection mechanism to help protect it. This is critical in ensuring industrial ethernet applications are always ongoing without failure.
The Industrial Ethernet Switch refers to the extension and use of the internet of things (IoT) in industrial sectors and applications. Factories that focus on machine-to-machine (M2M) communications, big data, and machine learning requires these industrial switches to help have better efficiency and reliability in their day-to-day operations. Fiberroad FR-7M3208 is a managed industrial network switch that provides user-friendly interfaces that are of suitable choice in a harsh environment. It also possesses an integrated power supply source with a wide range of voltage.