PoE Fiber Media Converter With 2xRJ45
Fiberroad POE230 Series commercial-grade PoE fibre media provides an option for single or dual PoE ports with 100Mbps or Gigabit Ethernet, which communicates across optical fibre via SFP port or 1×9 optical transceiver.

The PoE feature complied with IEEE802.3 af/at standard, including a PSE controller, which offers PD signature sensing and PoE negotiation features. Other intelligent features include over-current protection, LFP function, etc.

Quality Certifications

Guarantee
Inquiry Now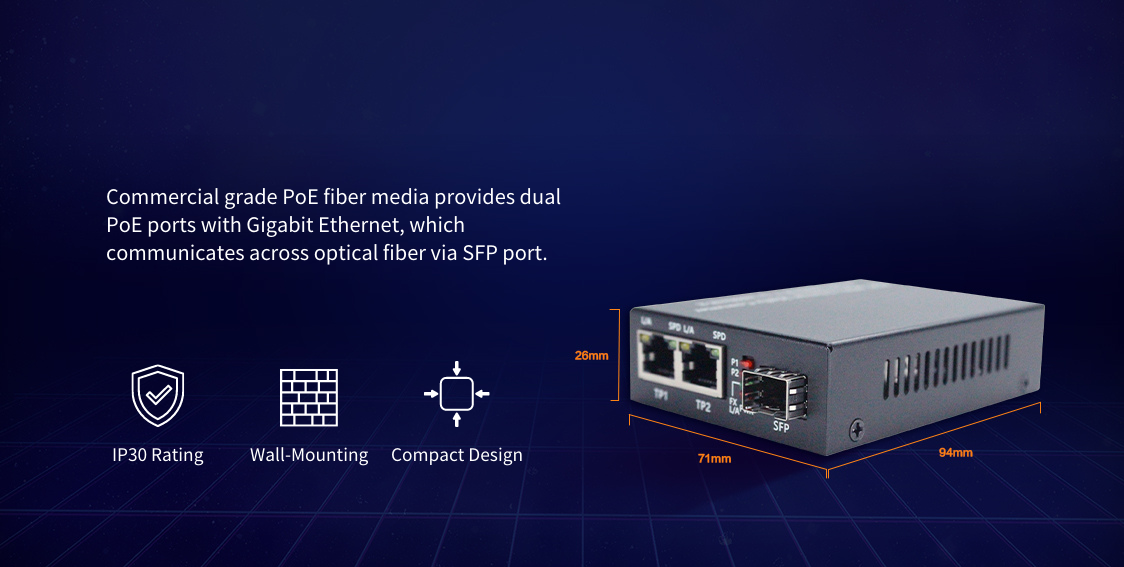 Gigabit Fiber Media Converter with 2 PoE+ Ports
PoE Media Converter with Standard PoE Negotiation
If you're looking for a top-of-the-line PoE fiber media converter with standard PoE negotiation, you've come to the right place. Our selection of PoE fiber media converters are designed to provide your devices with reliable power and data transmission, and they come with a variety of features to make installation and use easy. With standard PoE negotiation, our PoE fiber media converters are compatible with a wide range of devices, and they support 2×10/100/1000Base-T and 100/1000Base-X data rates. So whether you need a dependable power source for your devices or want to ensure high-speed data transfer, our PoE fiber media converters have you covered.
Product Attributes
Ports
2×10/100/1000Base-Tx RJ45
1x1000Base-x SFP/1×9 Port
Port Mode(Tx)
Auto Negotiation
Full/Half Duplex
Auto MDI/MDIX
PoE Power Capacity
IEEE 802.3 af: 15.4W
IEEE 802.3 at: 30W
Frame Size
9K
DIP Switch
AI PoE/Jumbo Frame/VLAN/FX 100M
Input Power
48-56VDC/1.25A
Installation Mode
Desktop or Wall Mount
Power Consumption
af mode:35W
at mode:70W
Housing
Metal
IP Rating
IP30
Operating Temperature
0 to 50℃ (32 to 122℉)
MTBF
100,819 Hours
PoE Media Converter – Ideal for IP Surveillance
PoE Fiber Media Converter complies with the 802.3af/at PoE+ standard and supports up to 30 W on each PoE port. The total 60W PoE power budget for the 2× PoE ports opens up a wide range of applications, such as surveillance for offices, dormitories, and small businesses. It is fully compatible with IP cameras, access points, IP phones, computers, printers, and more.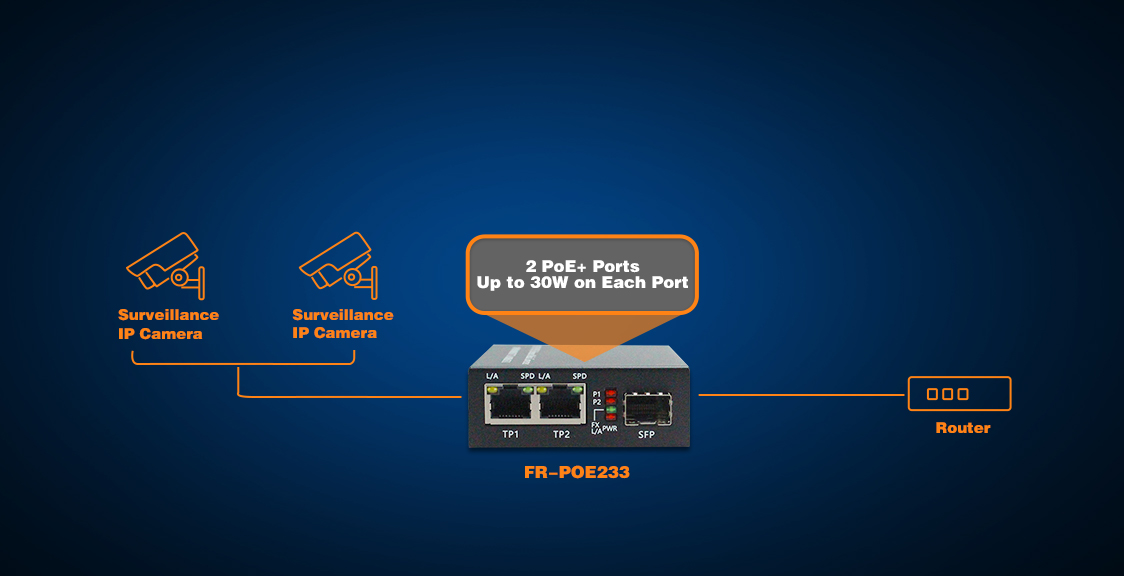 Not Only Power over Ethernet Features
PoE media converters with built-in DIP switch offer an easy way to disable or enable AI VLAN, AI PoE function, and other features with just a single click. This enhances the application ability of PoE media converters and makes them more versatile and useful for a variety of applications.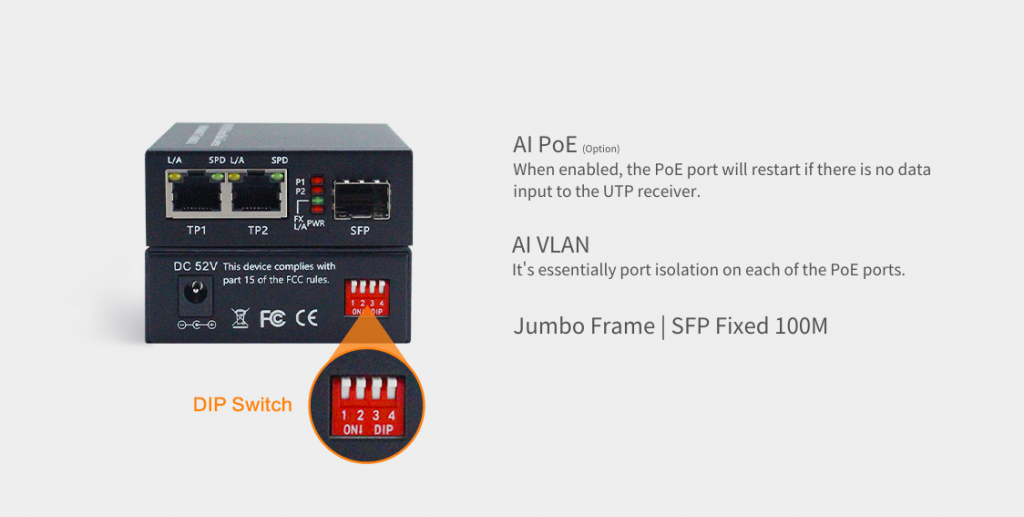 Physical Port
Model
FR-POE231
FR-POE232
FR-POE233
Copper Port
1x 10/100Base-TX RJ45
1x 10/100/1000Base-TX RJ45
2x 10/100/1000Base-TX RJ45
SFP Slot
1x 100Base-X (SFP or 1×9 Transceiver SC,ST,FC connector)
1x 1000Base-X (SFP or 1×9 Transceiver SC,ST,FC connector)
1x 1000Base-X (SFP or 1×9 Transceiver SC,ST,FC connector)
LED Indicators
Power

SFP/1×9 Link/Activity

RJ45 Link/Activity

RJ45 Speed

RJ45 Duplex

PoE

Power

SFP/1×9 Link/Activity

RJ45 Link/Activity

RJ45 Speed

RJ45 Duplex

PoE1

PoE2

Cables
UTP
UTP Cables: CAT5 or above

UTP Cable Limitations: Max. length up to 330 ft. (100 m)

Fiber Optic
1000BASE-SX: 50/125, 62.5/125, or 100/140-µm Multimode 550m 1000BASE-LX: 8.3/125, 8.7/125, 9/125, or 10/125-µm Single-mode 10km
Ethernet Standards
Standards
IEEE802.3i 10Base-T

IEEE802.3u 100Base-TX & 100Base-FX

IEEE802.3ab 1000Base-T

IEEE802.3z 1000Base-X

IEEE802.3x Flow Control

IEEE802.3af 15W PoE

IEEE802.3at 30W PoE+

Switching Capacity
200Mbps(FR-POE231) 2 Gbps(FR-POE232) 6Gbps(FR-POE233)
Jumbo Frames
9K
Power
Power Input
1
Operating Voltage
48-56VDC
PoE Power Capacity
IEEE802.3 af : 15.4W (x2 FR-POE233)

IEEE802.3 at : 30W (x2 FR-POE233)

Power Consumption
af mode: 20W (x2 FR-POE233)

at mode: 35W (x2 FR-POE233)

Protection
Over Currency
Mechanical
Housing
Metal
Dimensions
94mm×71mm×26mm(W x D x H) 3.70 x 2.80 x 1.02in
IP Rating
IP30
Weight
0.2kg/0.44lb(Bare Hardware)
Installation
Desktop or Wall Mount
Environmental
Temperature
Operating: 0 to 50℃ (32 to 122℉)

Storage: -20 to +70℃ (-4 to +158℉)

Humidity
5 to 95% noncondensing
Altitude
<3000m(<10000 ft.)
MTBF
100,819 Hours
MTBF Standard
Telcordia SR-332 GB 25℃
Heat Dissipation
113 BTU/h (With 30W PoE)
Cooling
Passive Cooling
Noise Level
0 dBA
Inquiry about the product