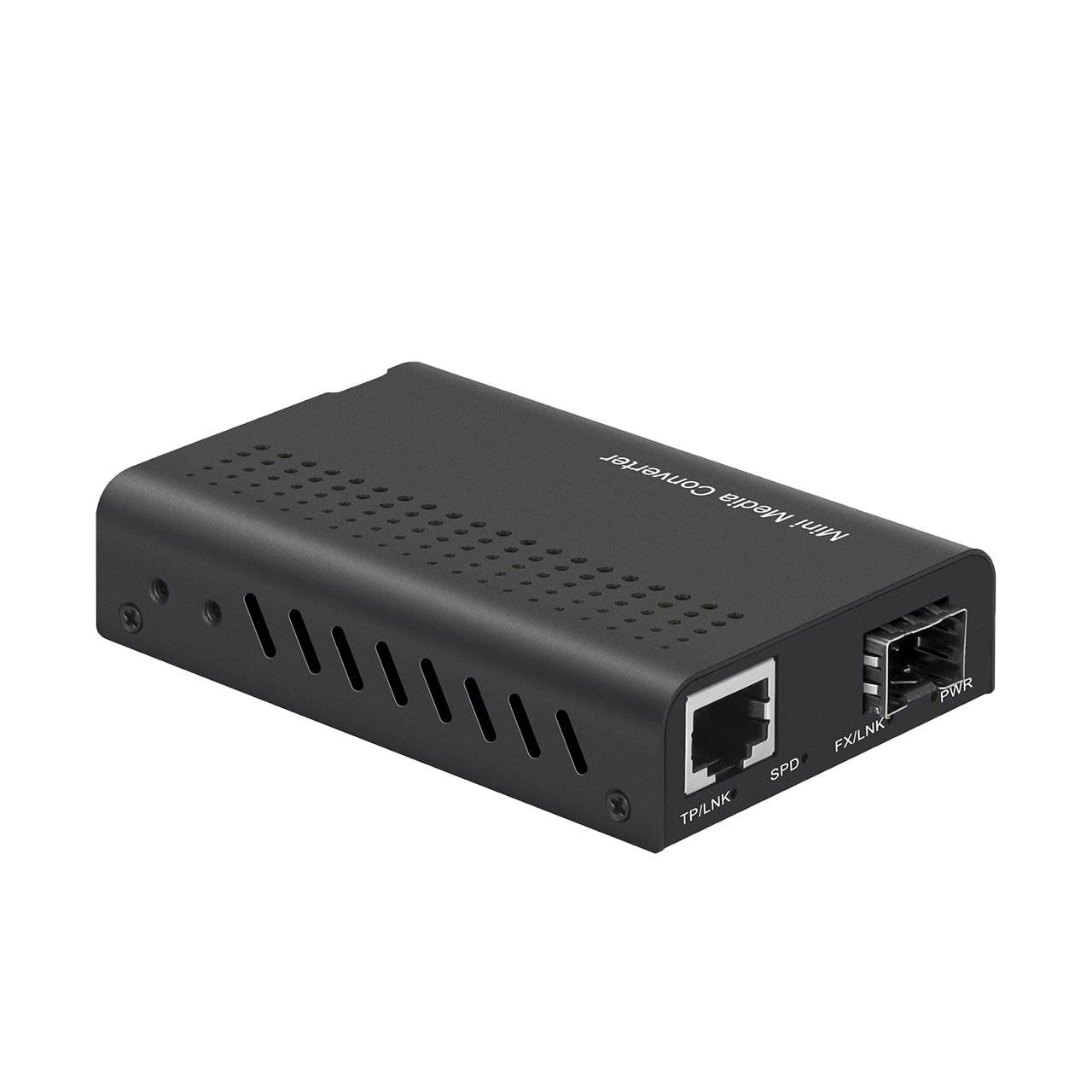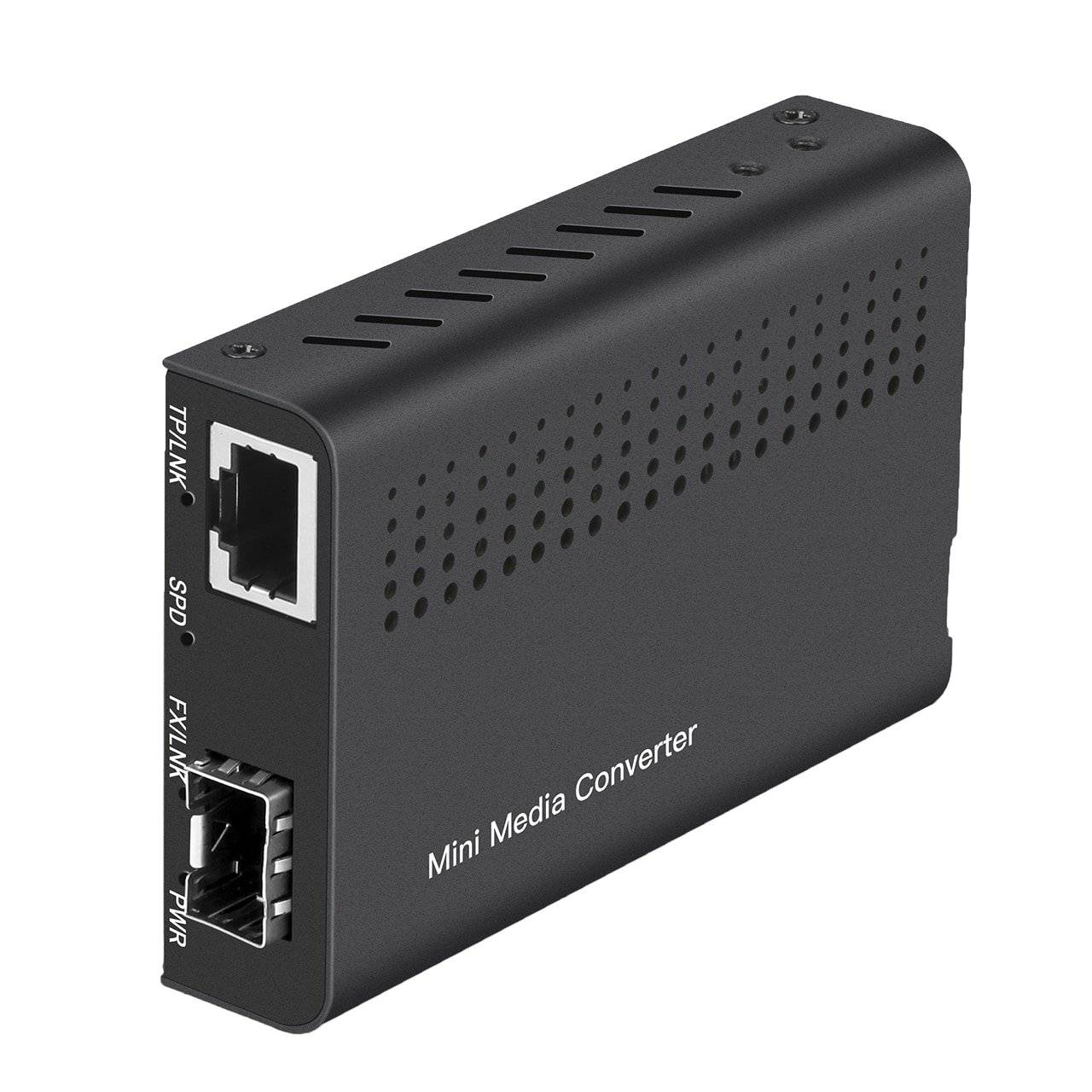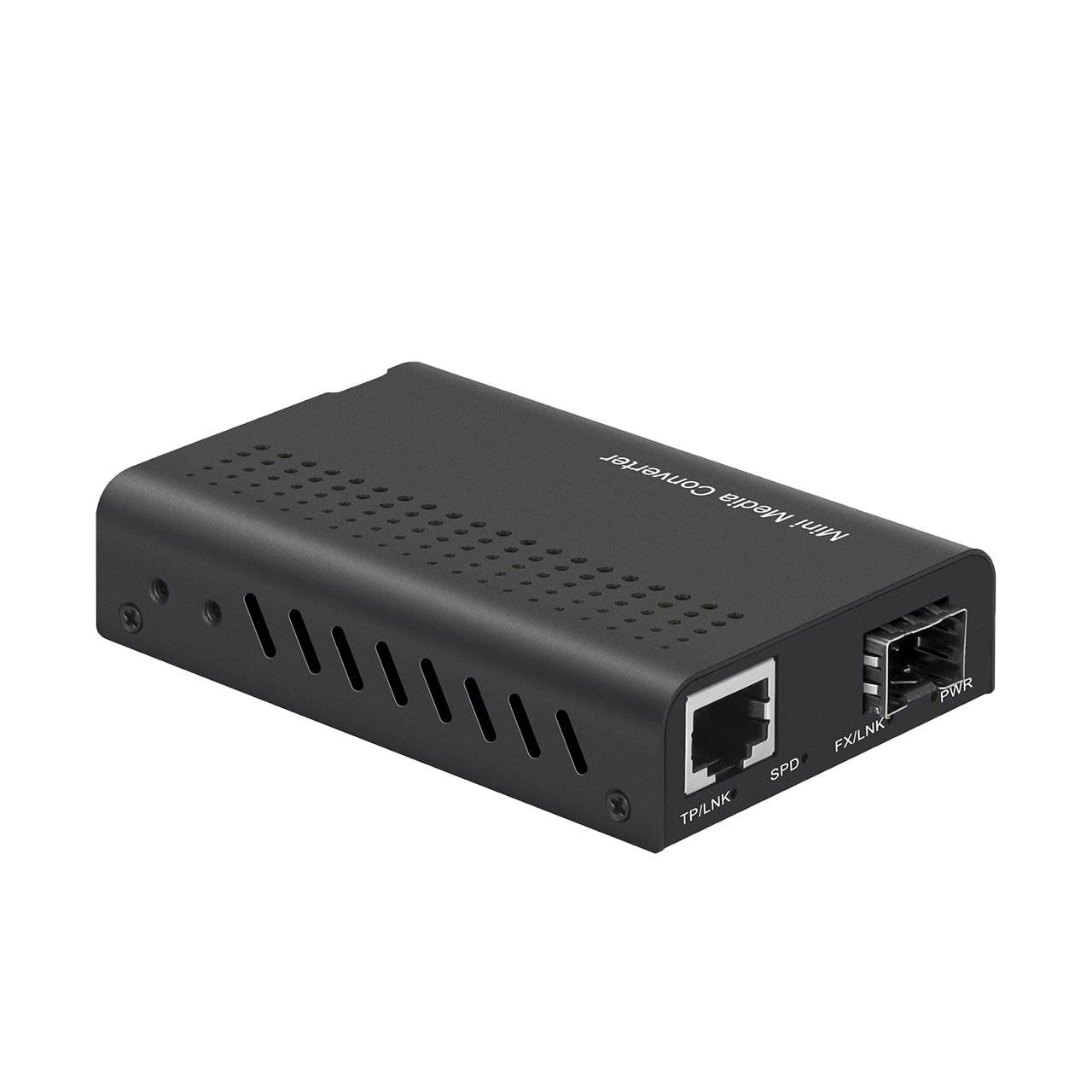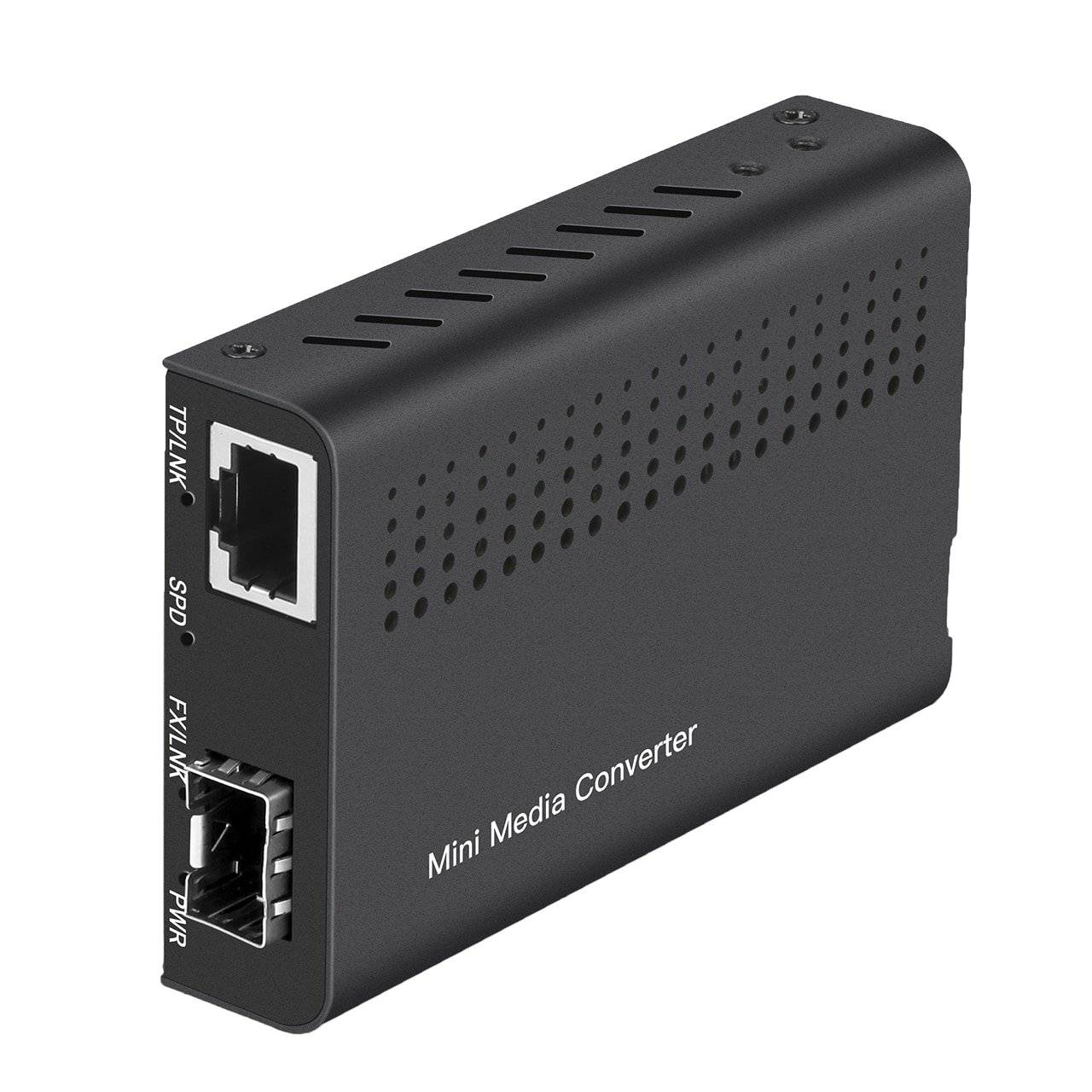 Quality Certifications
Guarantee
Share This Product
Unlock an Unmatched Connection Speed with a 10G Fiber Media Converter
Upgrade your network to ultra-high bandwidth with the Mini Unmanaged 10G Fiber Media Converter! This high-performance data transmission tool extends communication distance through fibre optic cable, perfect for data centre cloud computing, enterprise backbone, campus networks and carrier infrastructure. Trust in this converter to provide top-of-the-line performance and seamless integration into your network environment.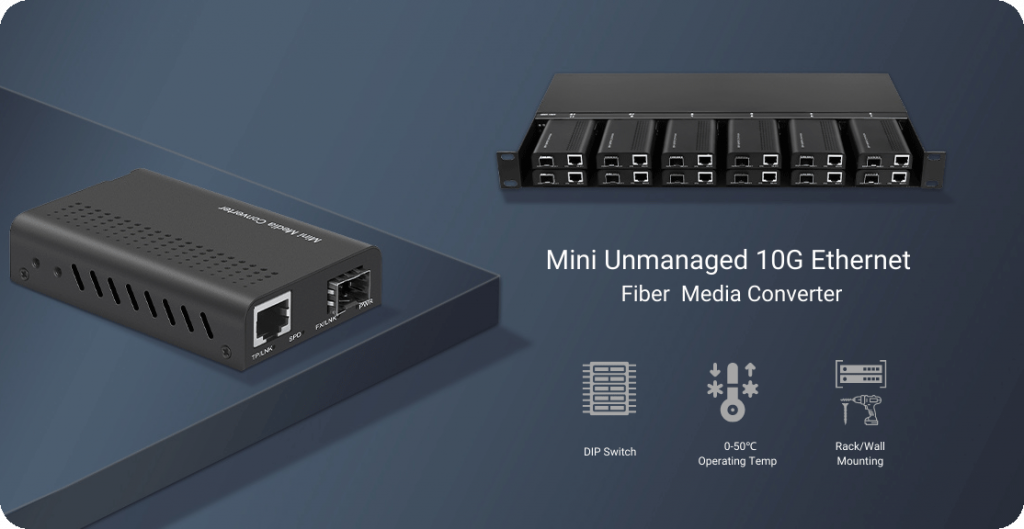 Ports
1×10/1G/2.5G/5G/10GBase-T RJ45
1x10GBase-X SFP+
Standards and Protocols
IEEE 802.3u, IEEE 802.3ab, IEEE 802.3bz,
IEEE 802.3an, IEEE 802.3ae, IEEE 802.3x
MAC Address
2K
Jumbo Frame
10K
Cable Type(Fiber)
Multimode 50/125µm, 62.5/125µm
Single-mode 9/125µm
Cable Type(Copper)
UTP Cat 5, 5e, 6,6a Cable

LED Indicatiors
TP/LNK,SPD,FX/LNK,PWR
DIP Switch
LFP/ALS/Media Conversion Mode
External Power
AC 100V-240V
Input Power
DC 5-12V
Operating Temperature
0℃ to 50℃(32℉ to 122℉)
Storage Temperature
-20℃ to 70℃(-4℉ to 158℉)
Housing
Metal
Warranty
3 Years
Connect Devices Faster and More Reliable With 10G Ethernet Media Converter
Are you looking for a 10G fiber to ethernet media converter that can help you connect your devices faster and more reliably? If so, we've got just the thing. Our 10G fiber to ethernet converter is designed to provide a high-speed, reliable connection between your devices and the internet. With our converter, you'll be able to take full advantage of the speed and reliability of the 10G network.
Extend the reach of the LAN beyond the 100-meter limitation of the CATx copper cable by converting the links to fiber. Fiber links allow connections over distances of up to 100km. Fiber Media Converter migrates a local network to fiber and at the same time, protects your investment from existing copper hardware while maintaining the existing infrastructure.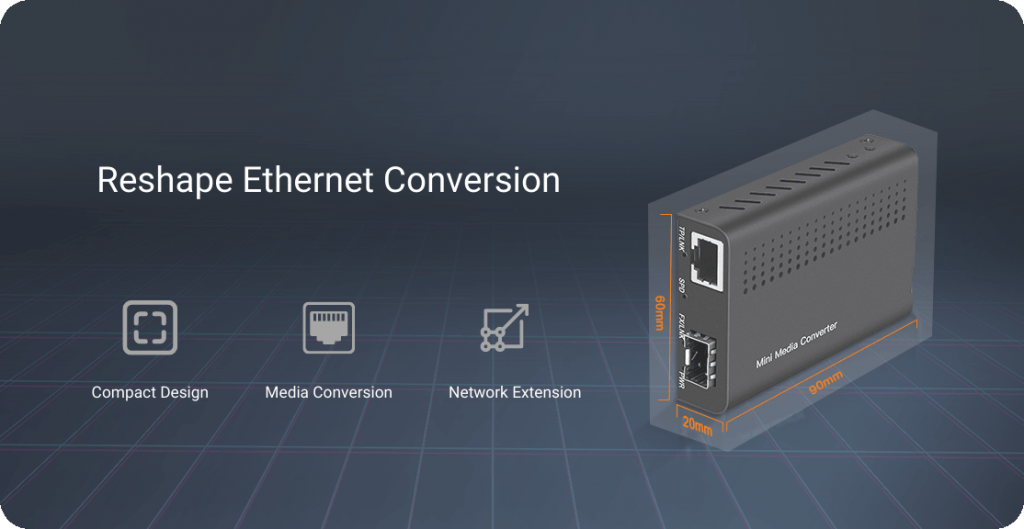 Get Instant Access to High-Speed Network
The hot-swappable design makes these converters easy to install and troubleshoot for newbies, allowing simple communication with other devices. Mini 10G Media Converter with the LFP (link fault pass-through) function, system administrators can notice the link failure within a short period, minimizing the loss caused by this problem.
If you're looking for a way to get instant access to a high-speed network, then a 10G media converter is the perfect solution. With this device, you'll be able to connect to any 10G network in seconds, giving you the speed and performance you need.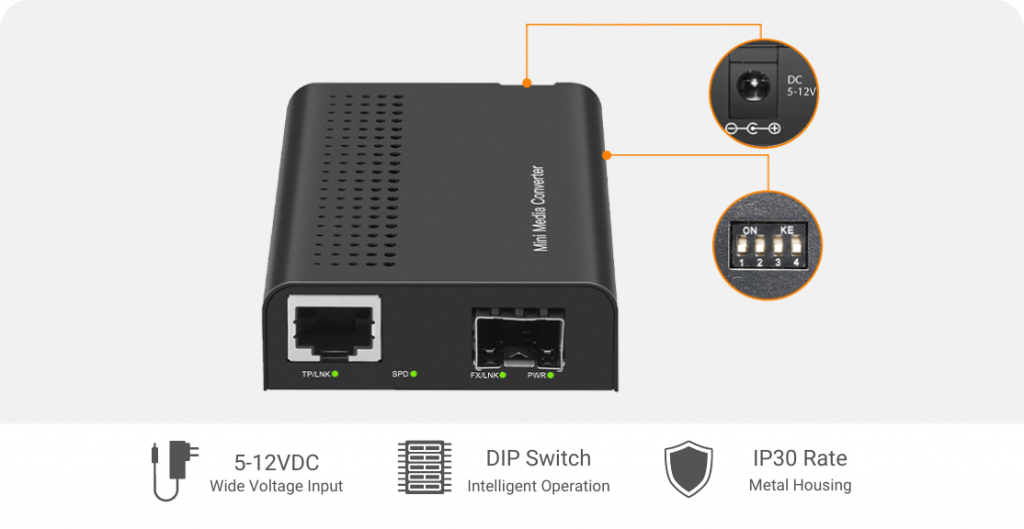 No.
Function
Status
Description
1
LFP
OFF
LFP Disable
ON
LFP Enable
2
ALS
OFF
Disable
ON
Enable
3
Media Conversion Mode
ON
1:TP=10G,FX=10G
2:TP=10/100/1000M, FX=1G
OFF
4
OFF
TP=10/100/1000M/10G, FX=10G
ON
Upgrade Your Network to 10 Gigabit with Our 1U Media Converter Chassis
If you're looking to upgrade your network to 10G, our 1U Media Converter Chassis is the perfect solution. This converter chassis supports up to 12 media converters, making it ideal for large networks. Plus, it's easy to install and comes with a comprehensive warranty. So why wait? Upgrade your network today with our 1U Media Converter Chassis.
FAQs
What is the 10G Media Converter used for?
The 10G Media Converter is used in high performance networking environments to bridge different media types and connect different speeds of network devices. This device is especially useful in environments where ultra-high bandwidth provided by 10 Gigabit Ethernet is needed, such as data center cloud computing, enterprise backbones, campus networks, and carrier infrastructure.
What is the latency of the 10G Media Converter?
Our 10G Media Converter offers extremely low latency and high throughput, making it ideal for environments where speed and efficiency are paramount. The 10G Media Converter has an unmatched latency of < 4μs in a full-duplex mode, providing almost instantaneous transmission between network nodes.
What is the maximum distance that the 10G Media Converter can transmit data?
With the 10G Media Converter, you can transmit data up to a maximum of 80km (50 miles) over single-mode fiber. This allows you to extend the reach of your network, connecting two different sites separated by long distances. It is also suitable for environments where ultra-high bandwidth is required.
What kind of optics does the 10G Media Converter support?
The 10G Media Converter supports both single-mode and multi-mode optics. Our 10G Media Converter has two ports, one for SFP+ optical port and one for RJ45 copper port. The optical port supports 850nm, 1310nm and 1550nm wavelengths for single-mode fiber with a maximum distance of up to 80 km.
Physical Port
Model
FR-2201
FR-2203
FR-2206
FR-2222
Copper Port
1x 10/100Base-TX
1x 10/100/1000

Base-TX

2x 10/100/1000

Base-TX

1x10GBASE-T RJ45
Optical Slot
1x 100Base-X (SFP or 1×9 Transceiver SC,ST,FC connector)
1x 1000Base-X (SFP or 1×9 Transceiver SC,ST,FC connector)
1x 1000Base-X (SFP)
1x 10G SFP+
LEDs
Power

SFP/1×9 Link/Activity

RJ45 Link/Activity

RJ45 Speed

Cables
UTP
CAT5 or above

Max. length up to 330 ft. (100 m)

CAT6 or above

Max. length up to 100m (CAT6a)

Fiber Optic
1000BASE-SX: 50/125, 62.5/125, or 100/140-µm Multimode 550m 1000BASE-LX: 8.3/125, 8.7/125, 9/125, or 10/125-µm Single-mode 10km
Multimode up to 400m

Single-mode up to 10-80km
Ethernet Standards
Standards
IEEE802.3i 10Base-T

IEEE802.3u 100Base-TX & 100Base-FX

IEEE802.3ab 1000Base-T

IEEE802.3z 1000Base-X

IEEE802.3bz 2.5/5GBase-T

IEEE802.3an 10Base-T

IEEE802.3ae 10Base-R

Switching Capacity
200Mbps(FR-2201) 2 Gbps(FR-2203) 6Gbps(FR-2206) 20G(FR-2222)
Jumbo Frames
10K
MAC Address
2K
Power
Power Input
1
Operating Voltage
5-12VDC
Power Consumption
3W Max(100Mb & 1Gb Models)

5W Max(10Gb Models)
Inquiry about the product
Sample request for the product