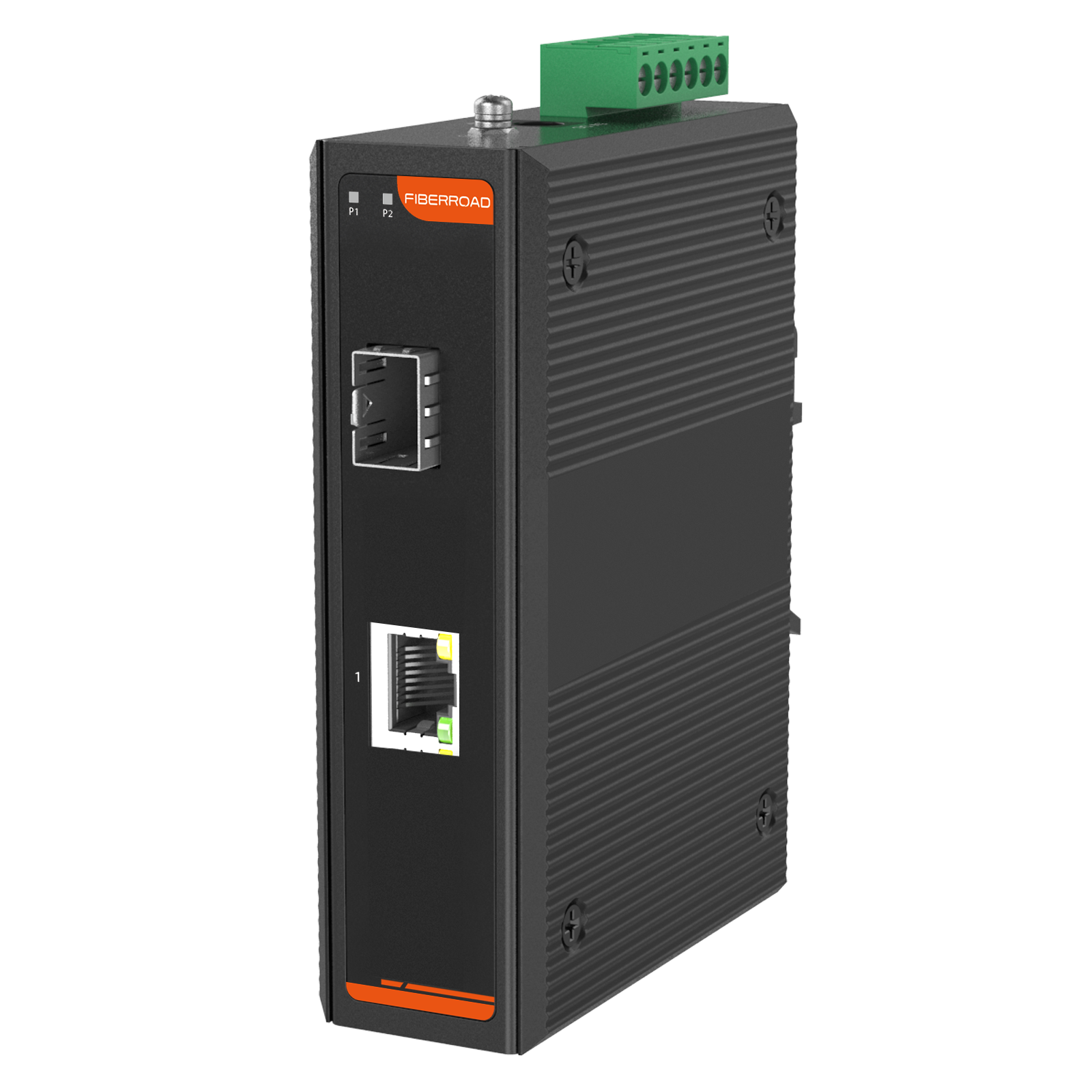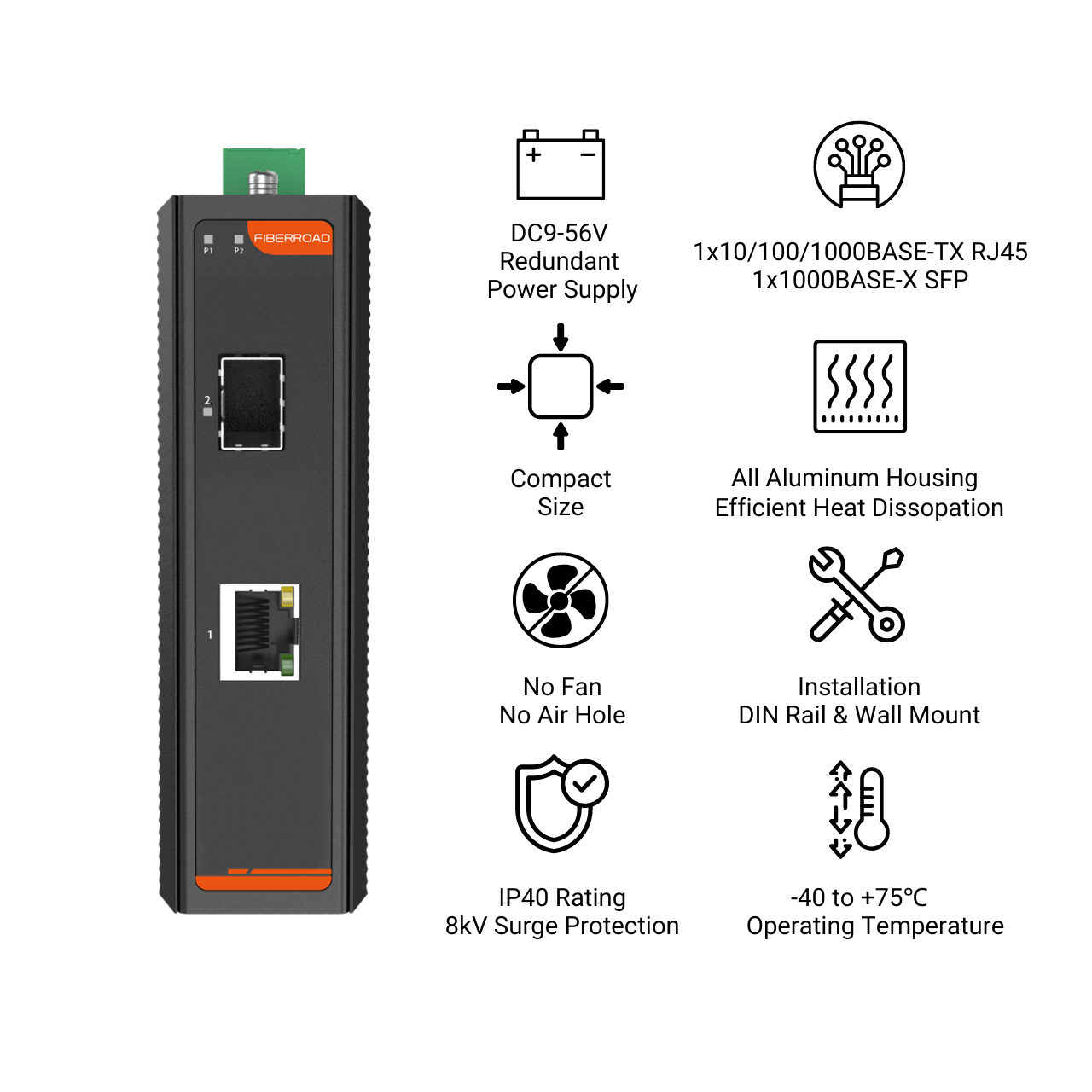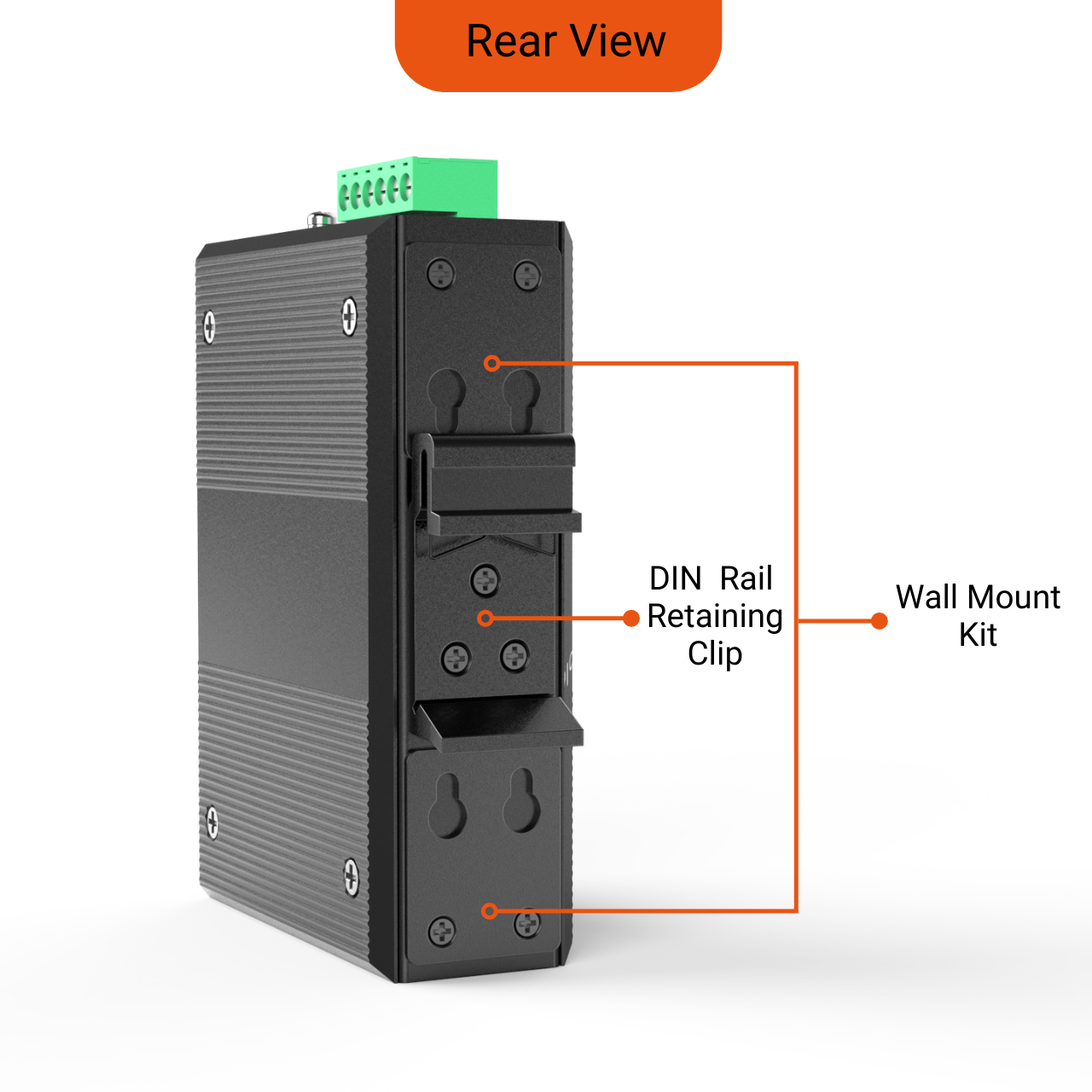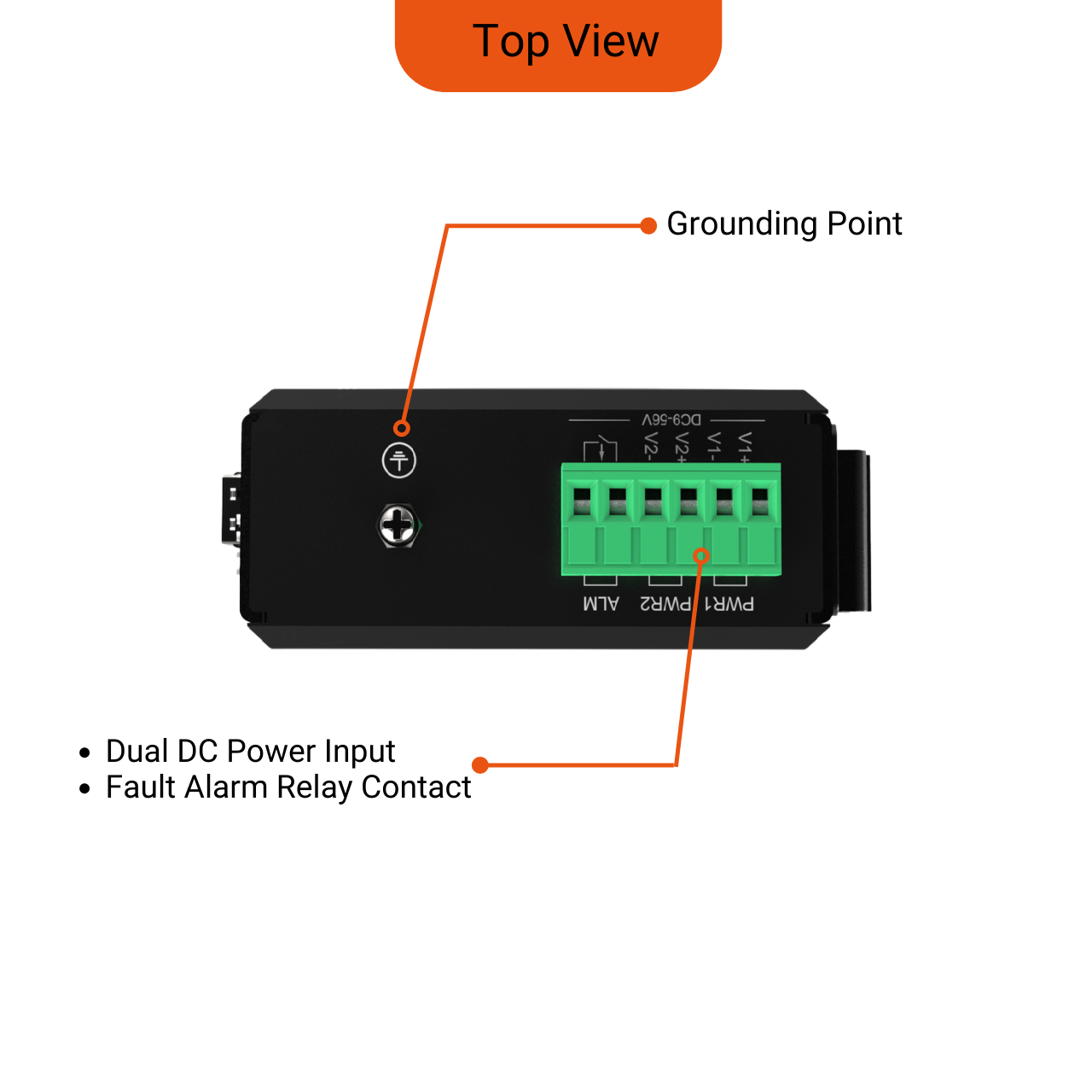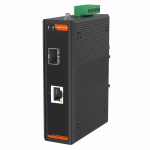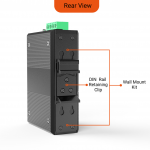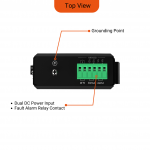 Quality Certifications
Guarantee
Share This Product
Gigabit Industrial Fiber Media Converter
High Industrial Standard Fiber Media Converter
To protect the Industrial Ethernet Media Converter from the harsh environment, the enclosure plays the core role in fitting the industrial grade standard. Aluminium, also a widely used metal material, has several advantages over steel as compared to iron.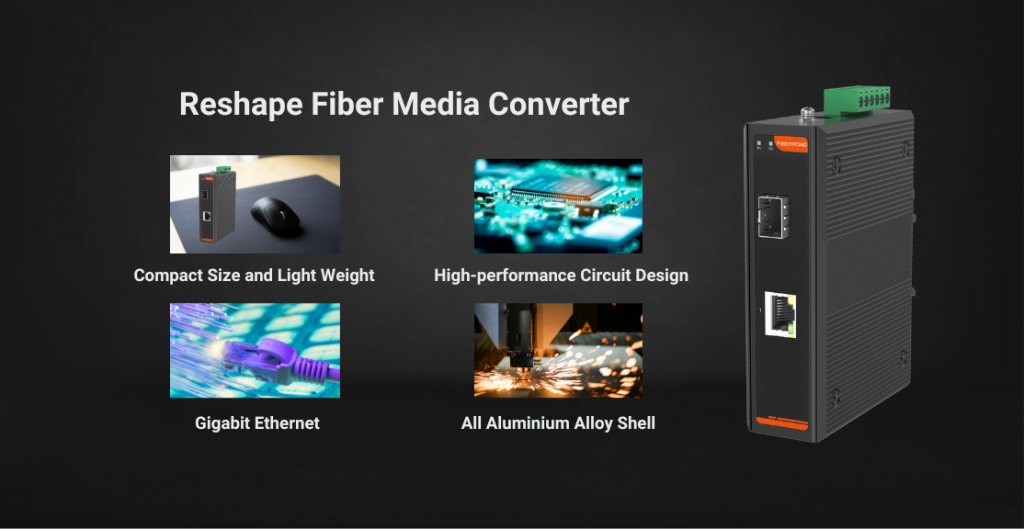 Product Specifications
Ports
1×10/100/1000Base TX RJ45
1x1000Base-X SFP/1×9
Port Mode(Tx)
Auto Negotiation
Full/Half Duplex
Auto MDI/MDIX
Frame Size
10K
Transmission Mode
Store and Forward
Input Power
9-56V DC
Power Consumption
3W MAX
Housing
Aluminium Case
IP Rating
IP40
Operating Temperature
-40℃ to +75℃
Dimensions
120x90x35mm
Installation Mode
DIN Rail and Wall Mount
Weight
350g
Make sure the Industrial Fiber Media Converter is Rugged in Harsh Environments
There is no need to worry about reliability or maintenance issues with the Industrial Ethernet Media Converter . Features include a fanless design and low power consumption. The Industrial Fiber Media Converter can operate at low and high temperatures thanks to mature technology and open network standards. It is also resistant to electric interference, salt fog, vibration, and shocks. Also, it integrates redundant dual power supplies, which provides additional reliability for applications that require always-on connections.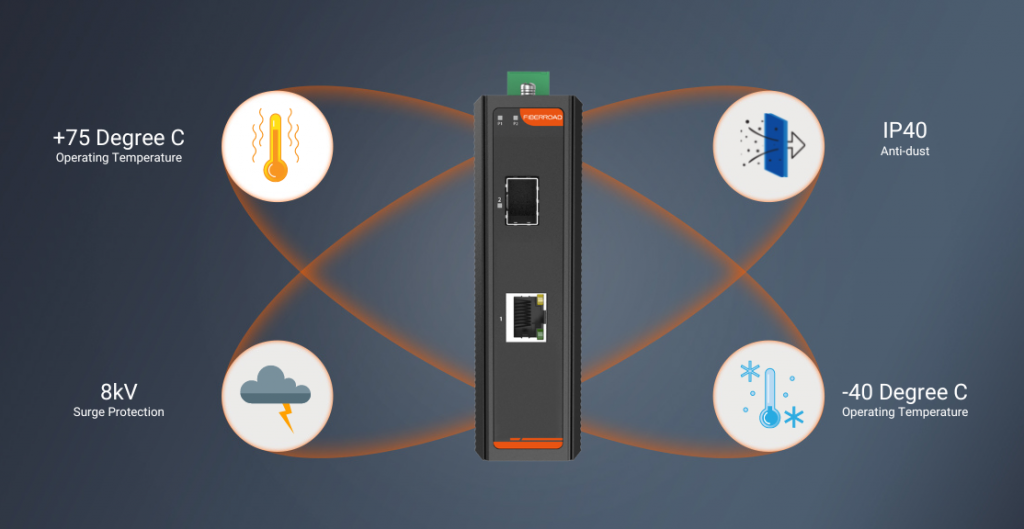 Fibre-optic Link Capacity Allows Network Deployment to Extend
Video surveillance administrators can select a suitable SFP transceiver based on the transmission distance and speed requirements. Distances can be extended from 550 meters to 2 kilometres (multi-mode fibre) and up to 10/20/40/60/80/120 kilometres (single-mode fibre or WDM fibre). Applications within enterprise data centres and distributed systems are particularly suitable.
Plug and Play Meets a Variety of Application Needs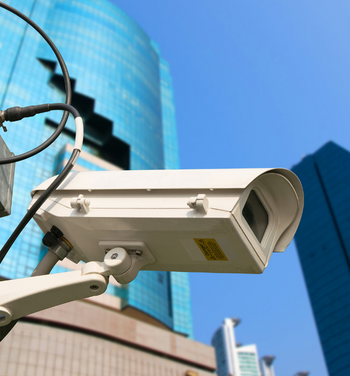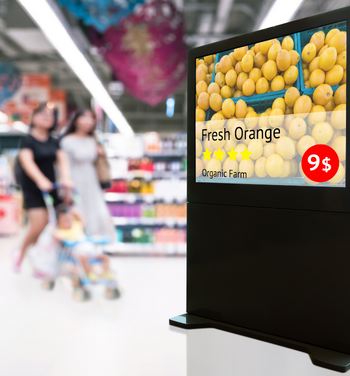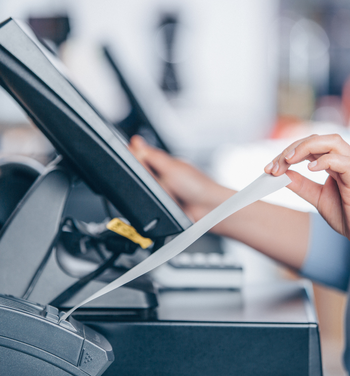 Ethernet Interface
Model
FR-7N1101/P/BT
FR-7N3101/P/BT
FR-7N1102/P/BT
FR-7N3102/P/BT
RJ45 Port
1×10/100Base-TX
1×10/100/1000Base-TX
2×10/100Base-TX
2×10/100/1000Base-TX RJ45
Optical Port
1x100Base-X SFP/1×9
1x1000Base-X SFP/1×9
1x100Base-X SFP/1×9
1x1000Base-X SFP/1×9
Port Mode(Tx)
Auto Negotiation Speed

Full/Half Duplex Mode

Auto MDI/MDI-X Connection

Standards
IEEE 802.3 for 10BaseT

IEEE 802.3u for 100BaseT(X) and 100BaseFX

IEEE 802.3z for 100BaseSX/LX/LHX/ZX

IEEE 802.3x for flow control

IEEE 802.3 for 10BaseT

IEEE 802.3u for 100BaseT(X) and 100BaseFX

IEEE 802.3ab for 1000BaseT(X)

IEEE 802.3z for 1000BaseSX/LX/LHX/ZX

IEEE 802.3x for flow control

Maximum Packet Length
Up to 10K
Forward Filter Rate
14,880pps(10Mbps)

148,800pps(100Mbps)

1,488,000pps(1000Mbps)

Transmission

Distance

SFP Port: Depends on optical module(0-160km)

RJ45 Port Transmission Distance: 100m (using standard CAT5/CAT5e cable)
Physical Characteristics
Housing
Aluminium case
IP Rating
IP40
Dimensions
120mm*90mm*35mm
Installation Mode
DIN Rail or Wall Mount
Weight
350g
Environmental
Operating Temperature
-40℃~75℃ (-40 to 167 ℉)
Operating Humidity
5%~90% (non-condensing)
Storage Temperature
-40℃~85℃ (-40 to 185 ℉)
MTBF
2,573,692 Hours (Non-PoE Models)

2,332,497 Hours (PoE Models)

Standard: Telcordia SR-332 GF 30℃

Heat Dissipation
7 BTU/h (1Ch Non-PoE)

14 BTU/h (2Ch Non-PoE)

109 BTU/h (1Ch 30W PoE)

218 BTU/h (2Ch 30W PoE)

314 BTU/h (1Ch 90W PoE)

628 BTU/h (2Ch 90W PoE)
Inquiry about the product
Sample request for the product