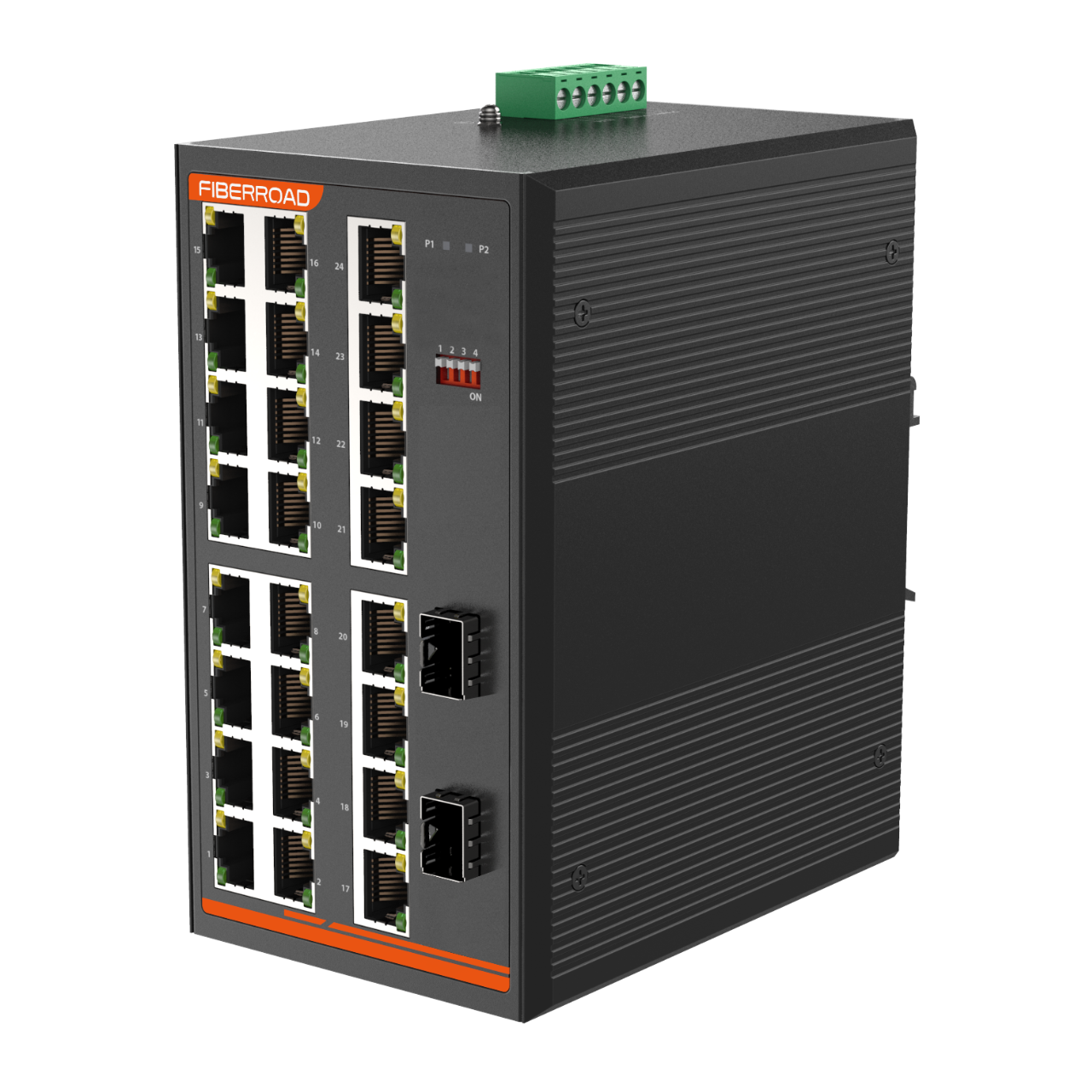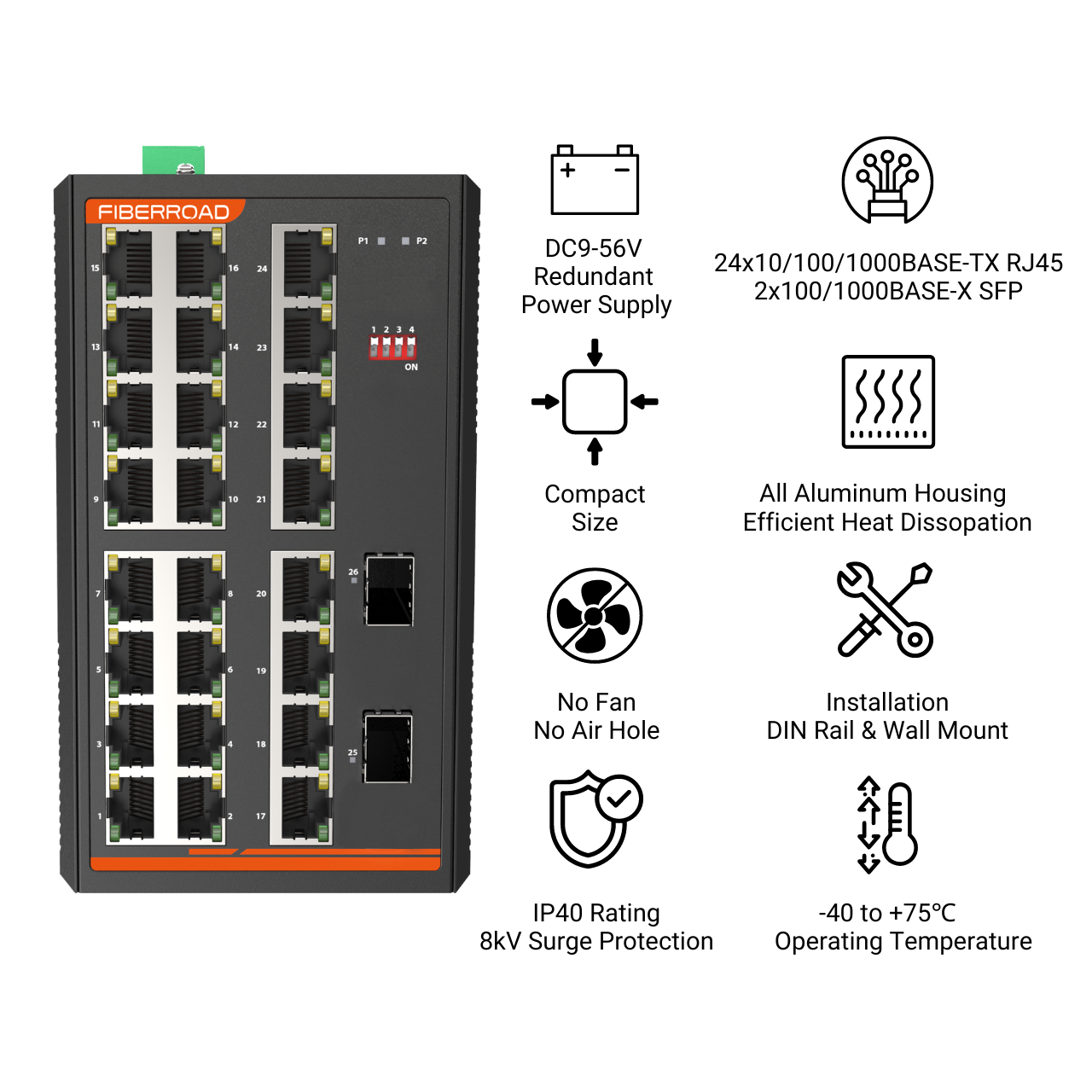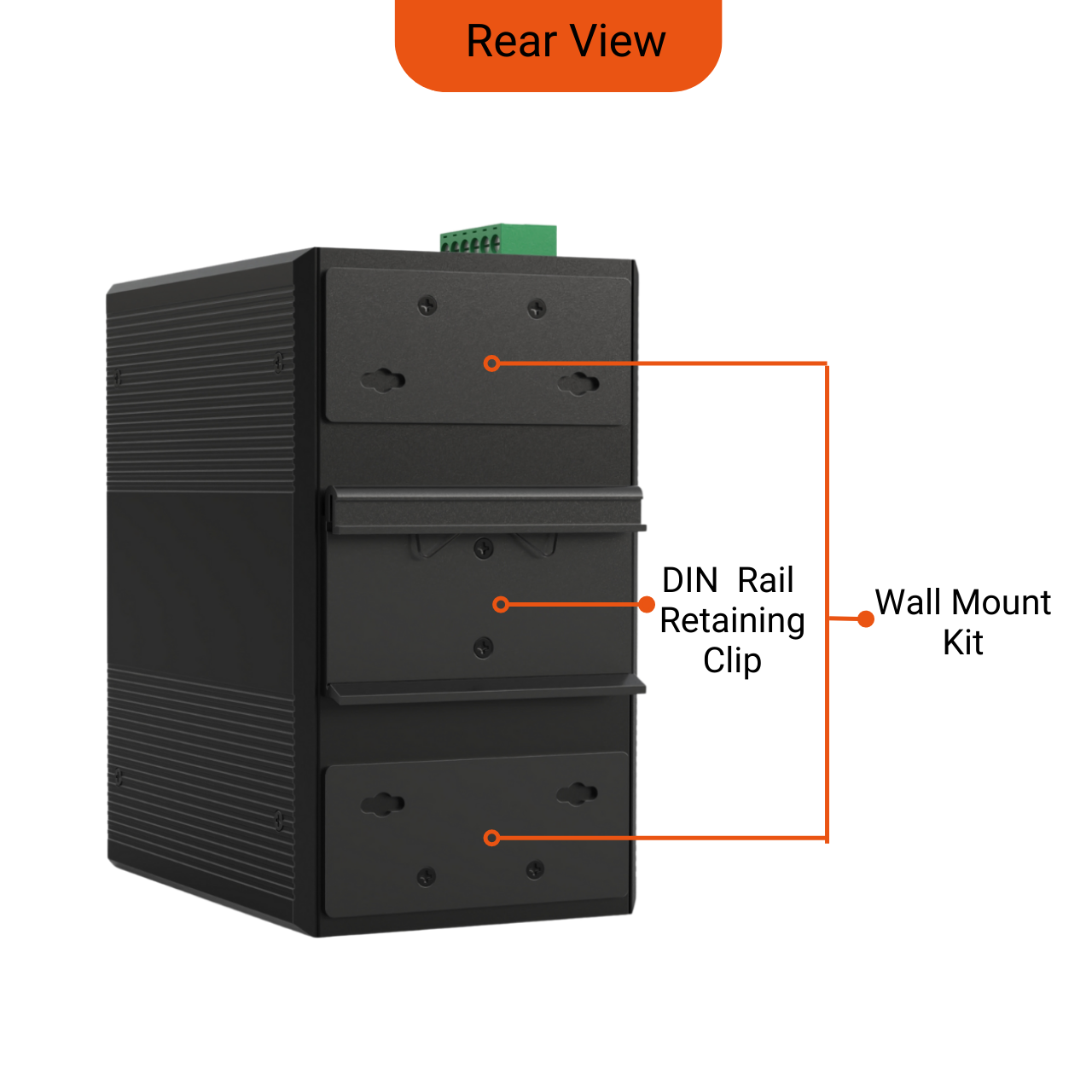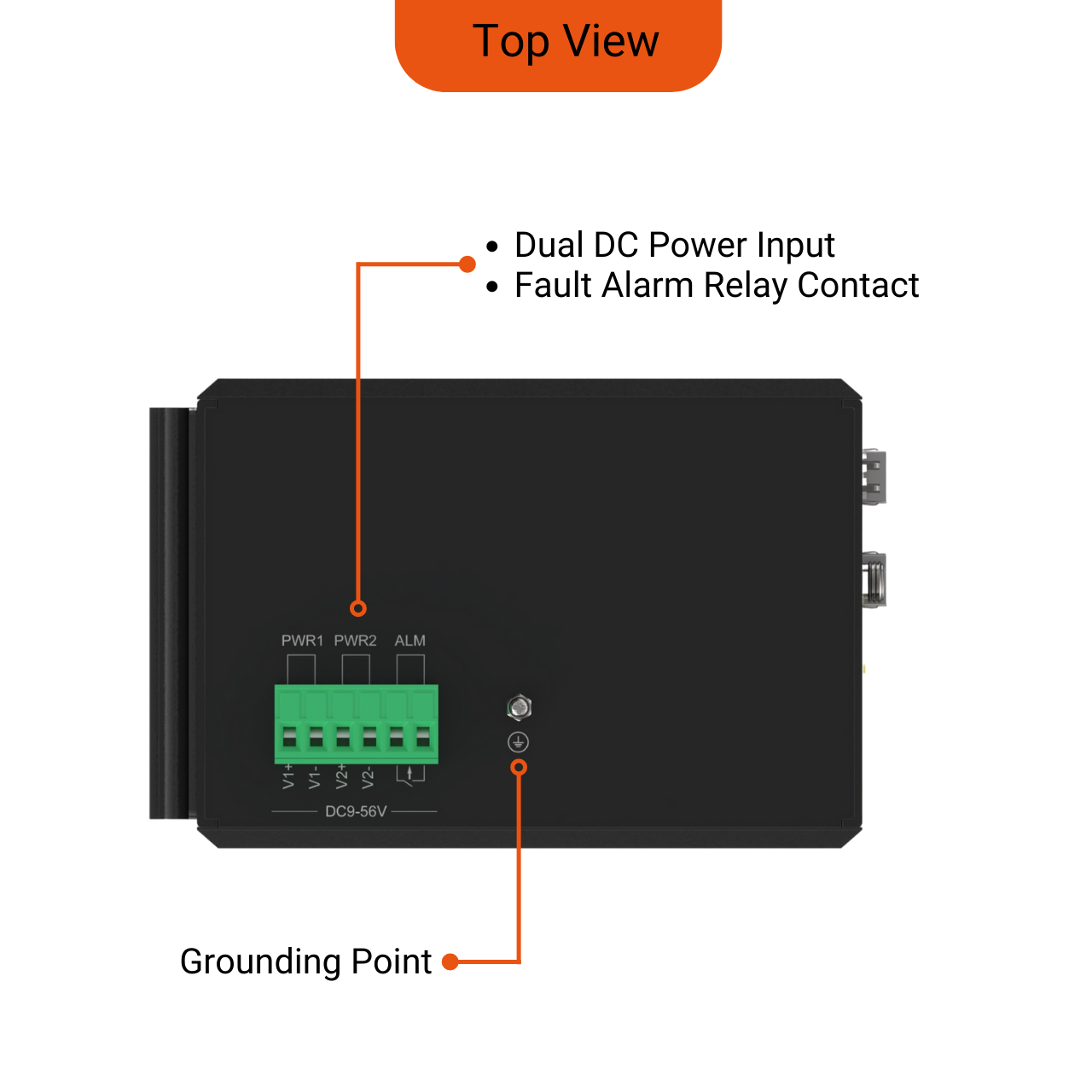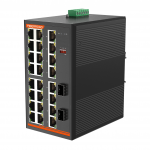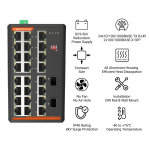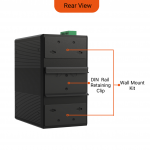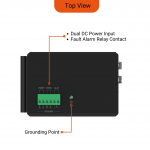 Quality Certifications
Guarantee
Share This Product
24-Port Unmanaged Industrial Ethernet Switch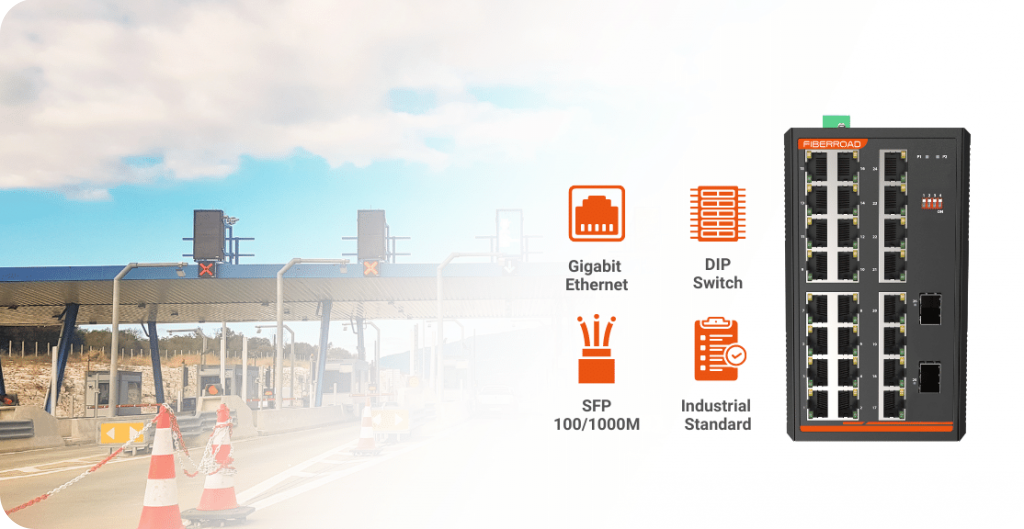 Product Specifications

  


  
    
Ports

    
24x10/100/1000Base TX RJ45
2x100/1000Base-X SFP

    
Port Mode(Tx)

    
Auto Negotiation
Full/Half Duplex
Auto MDI/MDIX

  
  
    
Frame Size

    
9K

    
Transmission Mode

    
Store and Forward

  
  
    
Input Power 

    
9-56VDC

    
Power Connector

    
1 Removable 6-contact Terminal Block

  
  
    
Housing

    
Aluminium Case

    
IP Rating

    
IP40

  
  
    
Operating Temperature

    
-40℃ to +75℃

    
Dimensions

    
155mmx128mmx88mm


  
  
    
Installation Mode

    
DIN Rail and Wall Mount

    
Weight

    
680g

  


Ensure Industrial Network Switch Operate in Harsh Environments
24 Port Industrial Network Switch is designed for reliability and ease of maintenance. It features such as a fanless design and low power consumption. 24 Port Industrial Network Switch can operate at low and high temperatures thanks to mature technology. It is also resistant to electric interference, salt fog, vibration, and shocks. The system also features redundant dual power supplies, allowing for additional reliability for applications that require always-on connections.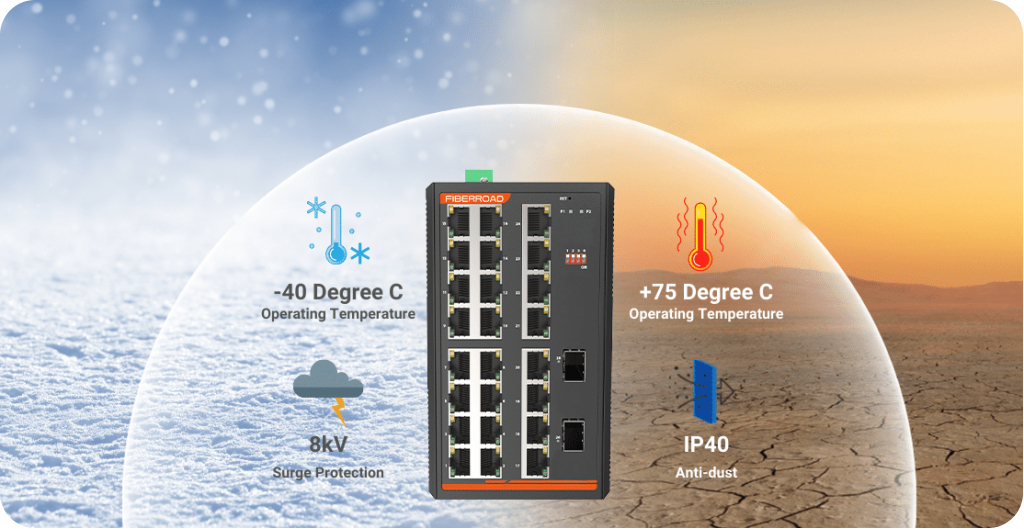 Enabling Industrial Network Deployment Capacity Extension
With 24 Port Unmanaged Industrial Network Switch, The video surveillance administrators may select a transceiver based on the transmission distance and speed requirements. It is possible to extend the distance from 550 meters to 2 kilometres (multi-mode fibre) and up to 10/20/40/60/80/120 km (single-mode fibre or WDM fibre). Many enterprise data centres and distributed systems are suitable for applications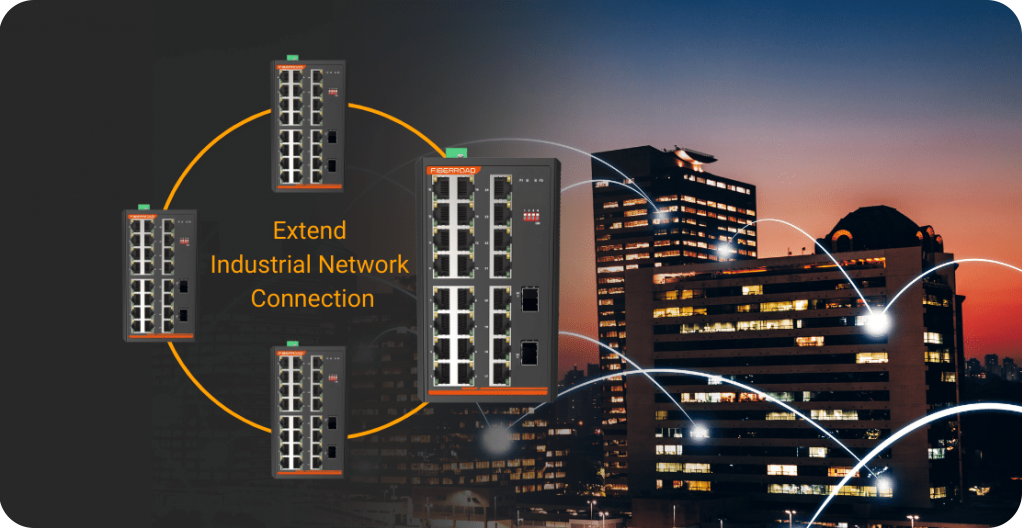 Unmanaged Industrial Network Switch for IP surveillance
AI Extend: AI extend is a common PoE switch feature designed to extend PoE distance up to 250m. The downside is that port speeds will be limited to only 10Mbps.
AI PoE: The AI PoE feature allows the switch to periodically check the ports for activity. If a port is not passing traffic for a certain amount of time, the switch will reset the power on that specific port.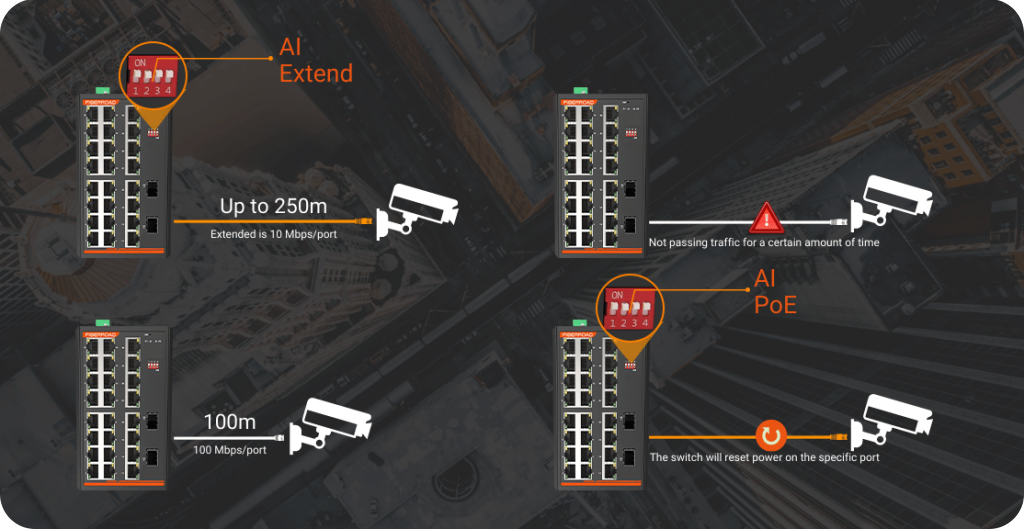 NOTE: AI PoE function based on the product model.
Powerful 24 Port Unmanaged Industrial Network Switch
AI VLAN: AI VLAN is essentially port isolation on each PoE port. All PoE ports can only communicate with the uplinks when this option is enabled.
AI QoS: When AI QoS is enabled, 1-8 port prioritises video and VoIP traffic flows over others. For example, an IP camera streaming in real-time takes preference over a user transferring a backup file to a server.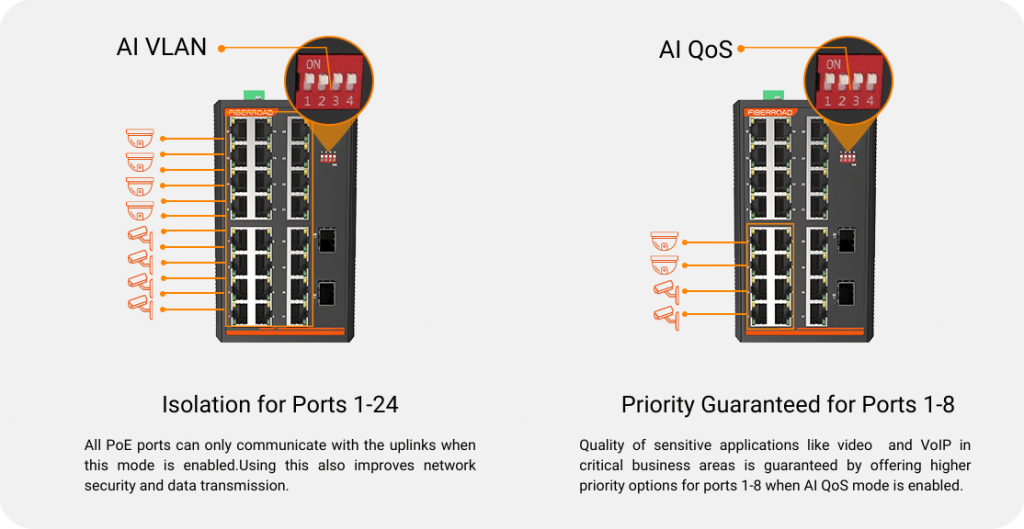 Plug and Play Meets a Variety of Application Needs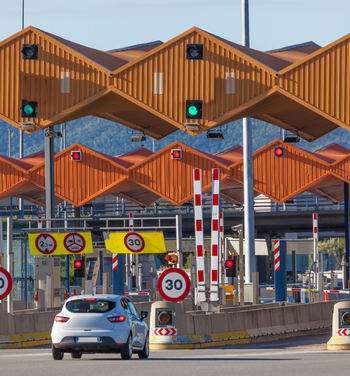 Smart Highway Tollgate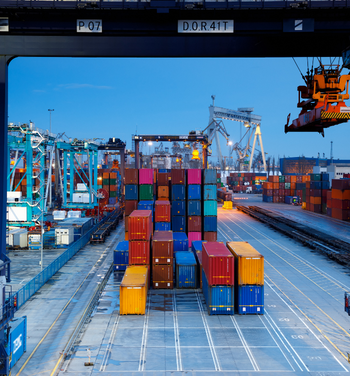 Smart Container Terminal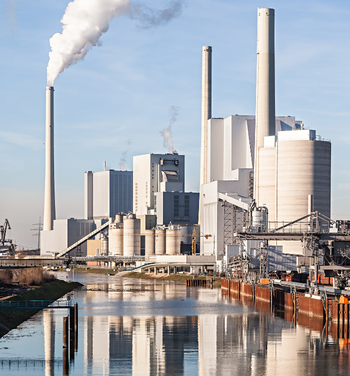 Smart Energy
Ethernet Interface
Model
FR-7N3224
FR-7N3224P/FR-7N3224BT
Ports

24×10/100/1000Base-TX Port(RJ45)

2x1000Base-X SFP

Port Mode(Tx)

Auto-Negotiation

Full/Half Duplex Mode

Auto MDI/MDI-X Connection

Standards

IEEE 802.3 for 10BaseT

IEEE 802.3u for Fast Ethernet

IEEE 802.3ab Gigabit Ethernet

IEEE 802.3x for flow control and back pressure

IEEE802.3az for Energy Efficient Ethernet(EEE)

Packet Buffer Size
4M
Maximum Packet Length
10K
MAC Address Table
8K
Transmission Mode
Store and Forward (full/half duplex mode)
Exchange Property

Delay time: < 7μs

Backplane bandwidth: 52G
PoE & Power Supply(Base on model)
Model
FR-7N3224P
FR-7N3224BT
PoE Ports
Port 1 to 24 IEEE802.3af/at @PoE+
Port 1 to 24 IEEE802.3af/at/bt @PoE++
Power Supply Pin
Default: 1/2(+), 3/6(-)
Default: 1/2(+), 3/6(-) or 4/5(+), 7/8(-)
Max Power Per Port
30W
90W
Total PWR /Input Voltage
480W(DC48-56V) (Model dependent)
720W(DC52-56V) (Model dependent)
Power Consumption
24 Watts Max(without PoE load)
Power Inputs
2
Input Voltage
9-56VDC, Redundant dual inputs
Operating Voltage

Non-PoE Mode: 9-56VDC

30W PoE Mode: 48-56VDC

90W PoE Mode: 52-56VDC(IEEE802.3bt model)

Connector

1 removable 6-contact terminal blocks

Pin 1/2 for Power 1, Pin 3/4 for Power 2, Pin 5/6 for fault alarm

Protection
Overload Current Protection, Reverse Polarity Protection
Physical Characteristics
Housing
Aluminium case
IP Rating
IP40
Dimensions
155mmx128mmx88mm
Installation
DIN Rail/Wall Mount
Weight
1.35kg
Environmental
Operating Temperature
-40℃~75℃ (-40 to 167 ℉)
Operating Humidity
5%~95% (non-condensing)
Storage Temperature
-40℃~85℃ (-40 to 185 ℉)
MTBF
907,476 hours @ Telcordia SR-332 Standard
Heat Dissipation

34 BTU/h (non-PoE mode)

853 BTU/h (with 240W PoE load)

Cooling
Passive Cooling, Fanless Design
Noise Level
0 dBA
Inquiry about the product
Sample request for the product