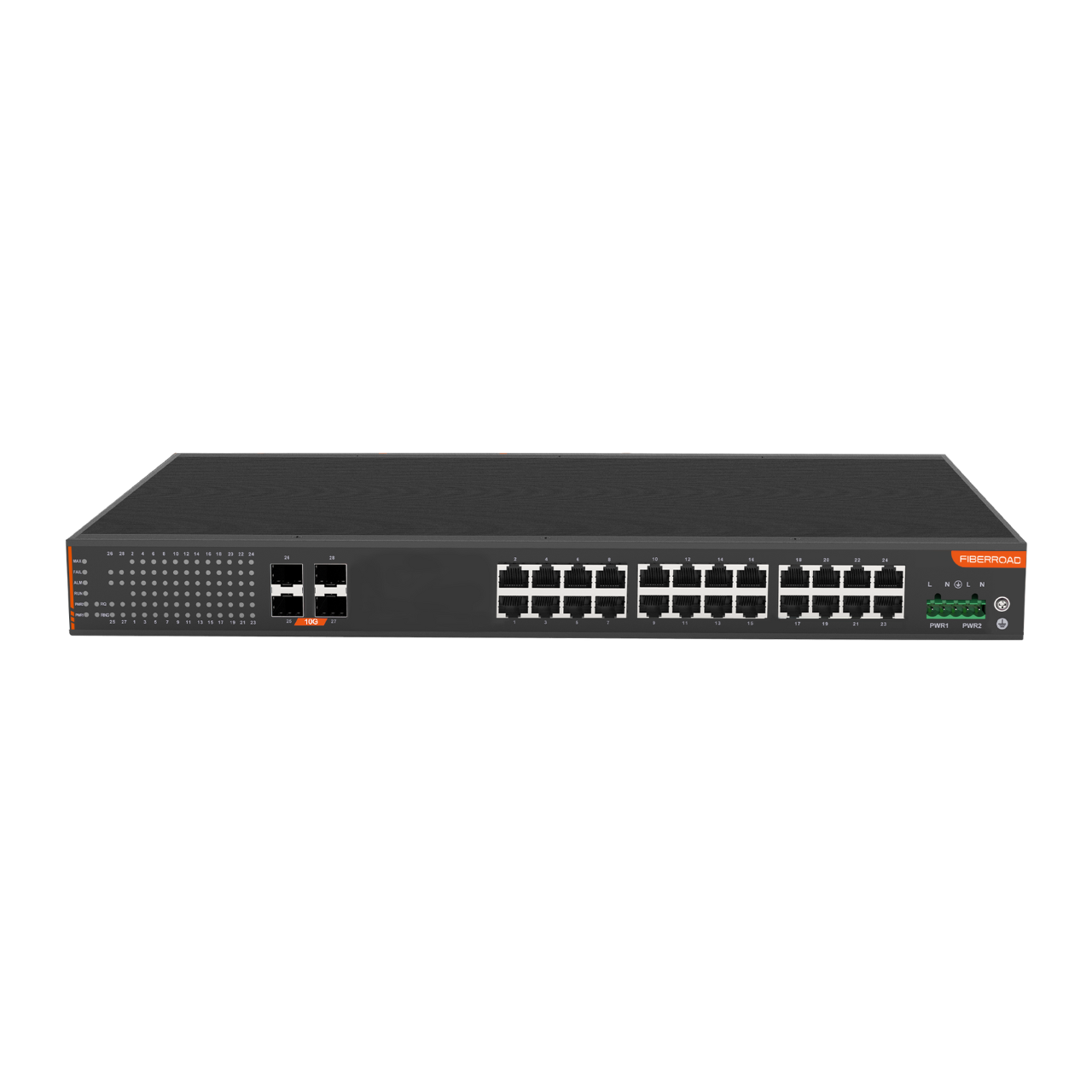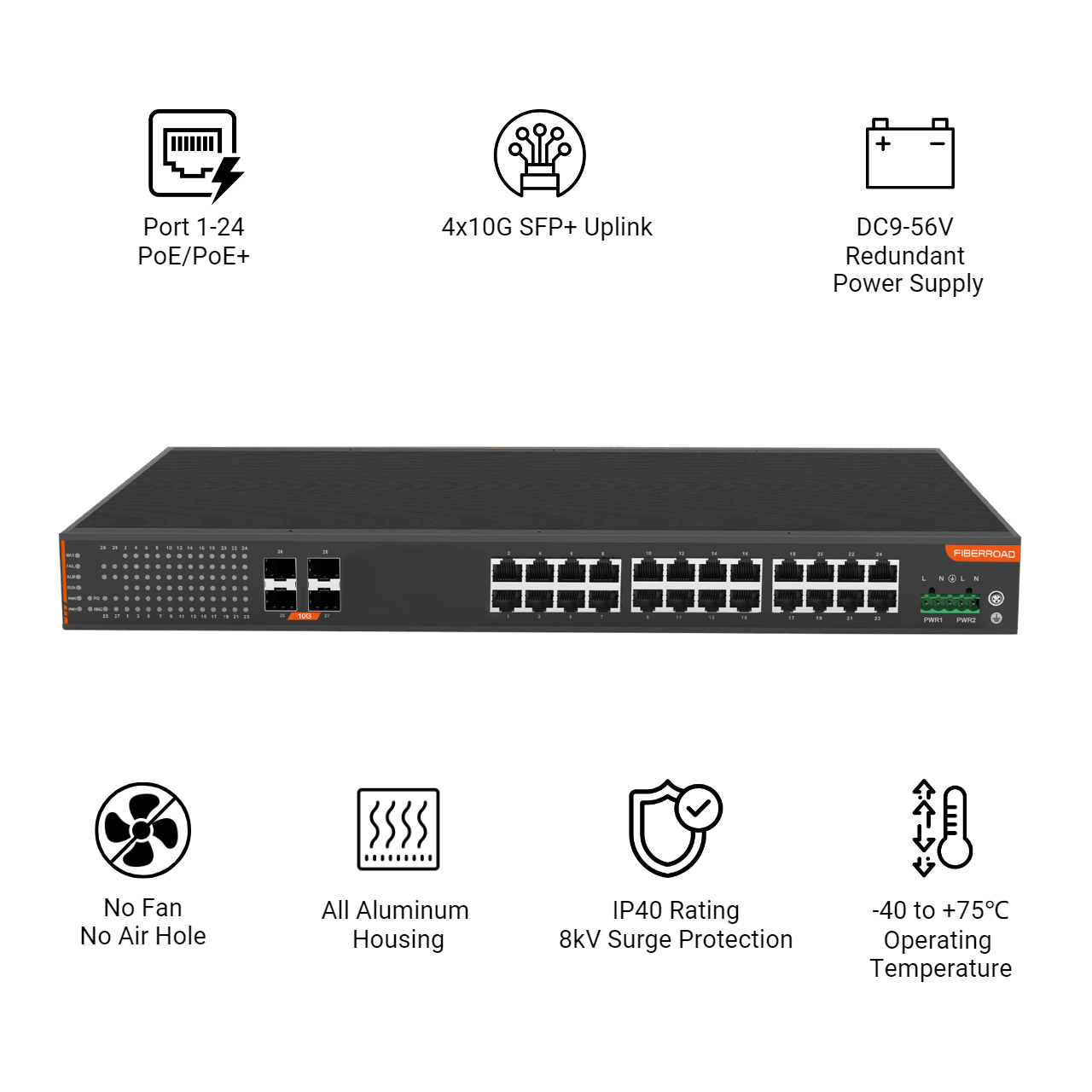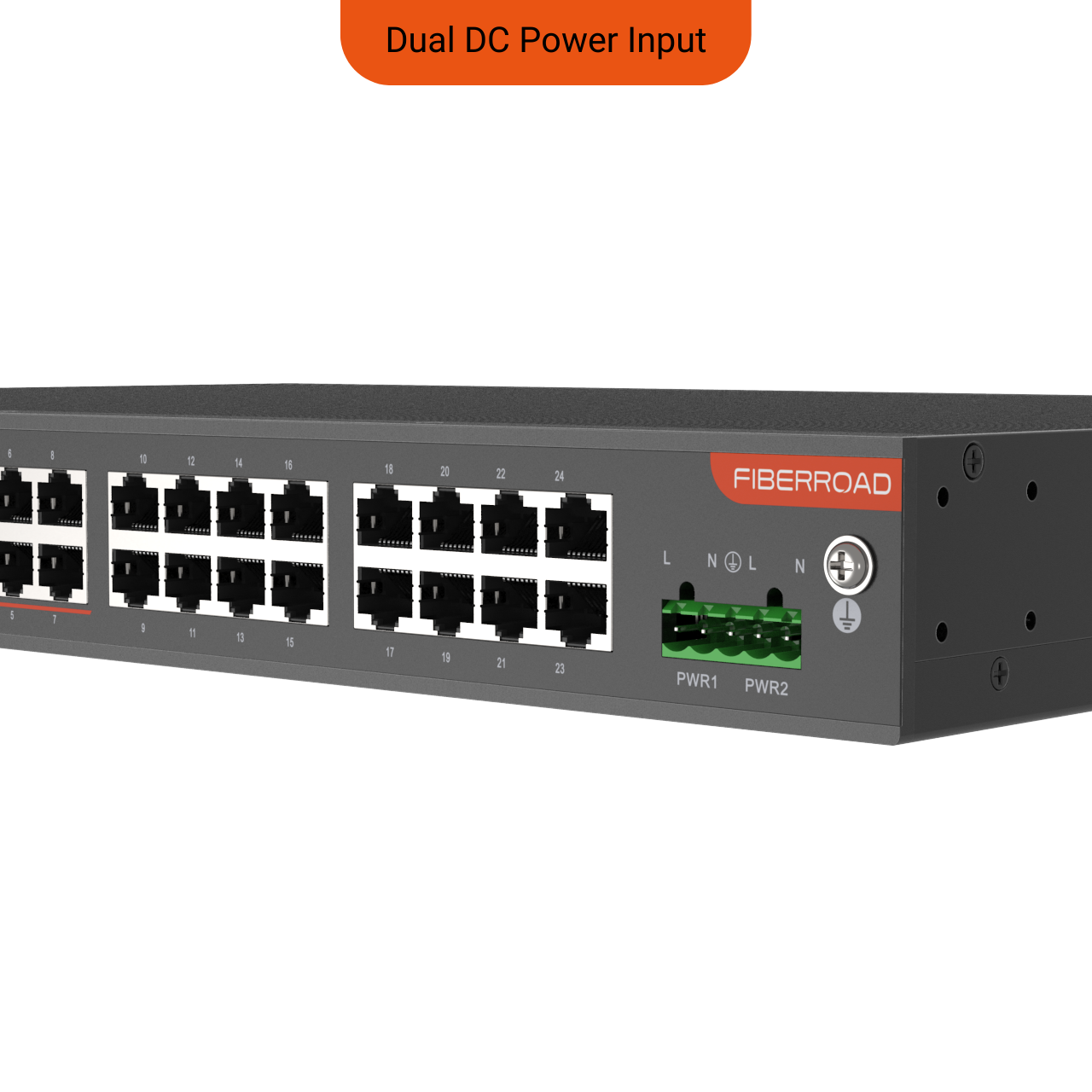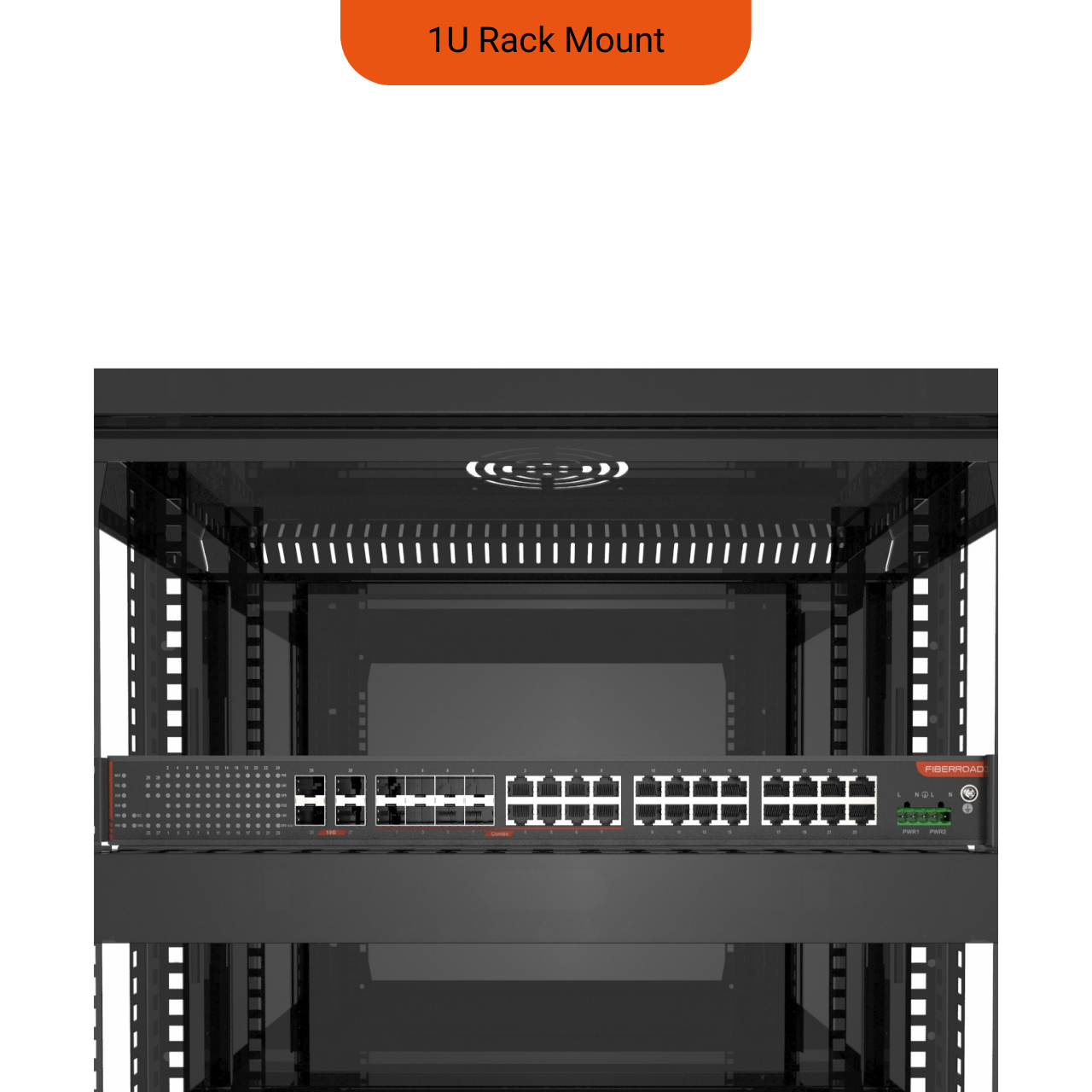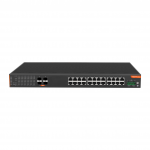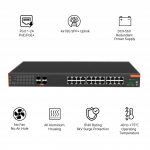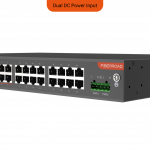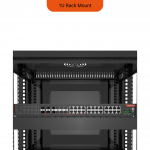 Quality Certifications
Guarantee
Share This Product
The Robust Design of the Layer 3 10G Industrial PoE Switch
The 10G Industrial PoE Switch is a rack-mounted device that supports Gigabit Ethernet as well as 10Gbe transmission. It has 24 Gigabit RJ-45 ports, 4x10G SFP+ ports and 8xGigabit SFP Combo ports. Besides, it also includes Layer 3 functionality, which makes it easier for you to provide power to your devices such as wireless APs, webcams and VoIP devices through network cables.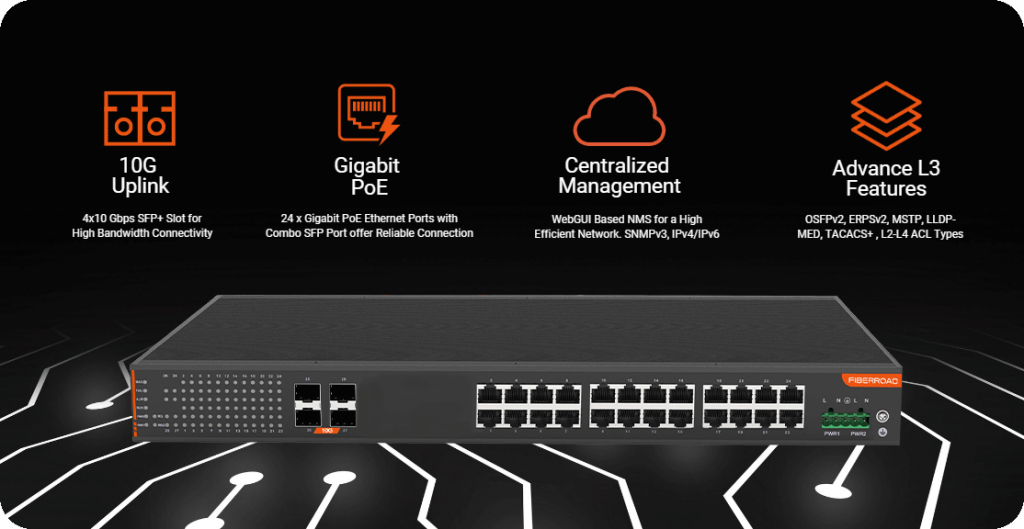 High Reliable and Multi-Service Support
1.Support the Spanning Tree Protocols (IEEE802.1d STP, IEEE802.1w RSTP, standard 802.1s MSTP)
2.Support the IPv4 and IPv6 multicast functions
3.Voice VLAN, Surveillance VLAN
4.Support traffic classification of each field of L2/L3/L4 protocol headers
5.Support IGMP v1/v2/v3, IGMP snooping, MLD
Advance Network Configuration
1.Support OSPFv2, RIPv2
2.Port-based VLAN, IEEE 802.1Q VLAN, and GVRP to ease network planning
3.Support LACP, ERPSv2
4.Class of Service(Port-based, 802.1p, IP TOS Precedence, IP DSCP), Trusted QoS, Rate Limitation
Secure and Simplified Access
1.CLI(Console/Telnet(RFC854)), WebUI(HTTPS), SNMPv3
2.HTTPS/SSLv2v3,TLSv1 RADIUS, TACACS+,AAA SSHv1/v2
3.Support DHCP Snooping, Option 43/82, 802.1X security access
4.Support user hierarchical management
5.Support DOS, port-based MAC filtering/binding, MAC whitelist
6.Support IPv4/IPv6 ACL
SMART POE FEATURES
1.Support IEEE802.3af/at/bt standard automatically identifies PoE devices for power supply without damaging non-PoE devices.
2. Support up to 30W per port.
3. Priority mechanism for PoE+ Switch port will supply power to the high priority level port first when the power budget is insufficient.
4. PoE output power allocation, Scheduling of PoE operation.
L3 10G Industrial PoE Switch for Harsh Environments
This 10G Industrial PoE switch can provide non-blocking communications and wire-speed throughput in temperatures ranging from -40 to 75 degrees Celsius. It features a polycarbonate exterior casing and is designed for outdoor use, so it's durable and its fanless design provides efficient heat dissipation. It's equally capable of withstanding electromagnetic interference.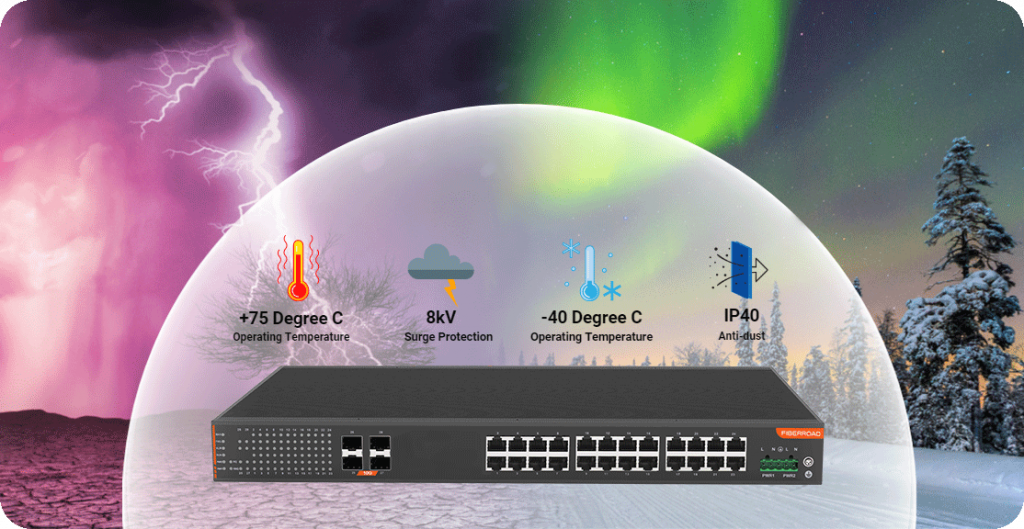 Simplified and Secure Industrial Ethernet Networks
The L3 10G Rack Mount Industrial PoE Switch supports both routing protocols: RIP and OSPF. When RIP is enabled, it uses hop count as a metric for routes. As a result, this prevents routing loops by limiting the number of hops in any path from source to destination. The other one, OSPF (Open Shortest Path First), is a link-state dynamic routing protocol that's different from RIP's (strict distance-vector) method of calculating routes. When enabled, this means that when networks send link state updates to peers, each 10G Industrial PoE Switch will collect information about its network links and build a Link State Database. As a result, the Shortest Path First algorithm can then calculate the fastest route available based on that database.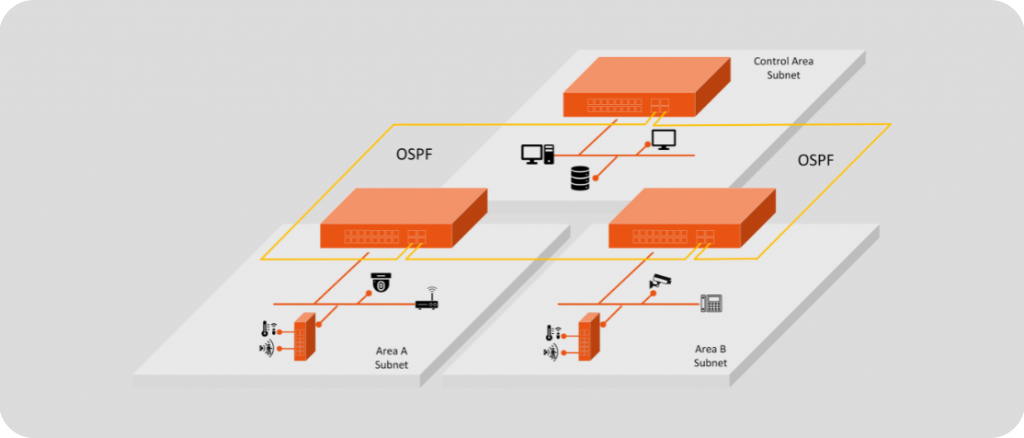 Optimize IIoT Networks with 10G Managed Industrial PoE Switches
IoT and IIoT networks often require a voice VLAN. VoIP devices with an IPcam interface are able to use Voice VLANs and Surveillance, which is a new type of VLAN. They use this feature to create either a voice-only or Surveillance VLAN that's exclusive to digital devices. This offers the possibility for disruption in industrial networks by providing an alternate voice solution for digital controllers that are connected to analogue devices.
With LLDP-MED, that enhances the automation/management of certain types of network devices like IP Phones, etc. In LLDP-MED, the capabilities of a connected device are determined and whether those capabilities are enabled. It will then keep sending out LLDP-MED packets until the remote device to which it is connected ceases to be LLDP-MED capable.
The Industrial PoE Switch can be Easily Managed at Any Time.
The L3 Managed Industrial PoE Switch comes equipped with console, web, and SNMP management to allow for easy-to-use, platform-independent management. Web-based management allows for a simple, customizable configuration of the FR-9T4424P PoE switch. The L3 Industrial Ethernet Switch also provides a complete suite of SNMP capabilities and can be centrally managed with any standard management software. With the built-in Cisco-like command line via Telnet or console, product learning time is reduced while improving remote management capabilities through SSH connections.
10G Industrial PoE Switch FAQs
Are there any built-in security features on your 10G Industrial PoE Switch to protect against cyber threats?
Absolutely. Our 10G Industrial PoE Switch is built with robust security features to protect against cyber threats, including port-based and 802.1X based access control, an integrated firewall for enhanced protection, multiple VLANs for secured traffic segmentation, and IP address filtering for further control and protection of your network. Don't let cyber threats stand in the way of your success; our 10G Industrial PoE Switch has you covered.
Can 10G Industrial PoE Switch withstand extreme temperatures and harsh environments commonly found in industrial settings?
Absolutely! 10G Industrial PoE Switch is specifically designed to withstand extreme temperatures and harsh environments commonly found in industrial settings. It features a robust IP30 rated housing, full redundant power supply and passive cooling that ensures reliable operation in temperatures ranging from -40°C to 70°C. Plus, it has been rigorously tested to comply with industrial standards, so you can rest assured that your network will remain reliable even in the most demanding conditions.
Can multiple devices be powered through the PoE ports on 10G Industrial PoE Switch?
Absolutely! 10G Industrial PoE Switches come with multiple ports that can be used to power up different devices. With the advanced technology, each port supports up to 30W of power supply and can provide up to four devices with the energy they need. This makes it a great choice for powering multiple devices in complex network structures!
Ethernet Interface
Model
FR-9T44F8
FR-9T448F
FR-9T4424/P/BT
Ports
4×10Gigabit SFP plus +

16×1000M Base-X SFP +

8×10/100/1000M Base-TX or 8x1000M Base-X SFP Combo

4×10Gigabit SFP plus

16×10/100/1000M Base-TX RJ45

8×10/100/1000M Base-TX or 8x1000M Base-X SFP Combo

4×10Gigabit SFP plus

24×10/100/1000M Base-TX RJ45

Port Mode(Tx)
Auto-Negotiation

Full/Half Duplex Mode

Auto MDI/MDI-X Connection

Standards
IEEE 802.3 for 10BaseT

IEEE 802.3u for 100BaseT(X) and 100BaseFX

IEEE 802.3ab for 1000BaseT(X)

IEEE 802.3z for 1000BaseSX/LX/LHX/ZX

IEEE 802.3ae for 10 Gigabit Ethernet

IEEE 802.3x for flow control

IEEE 802.1D-2004 for Spanning Tree Protocol

IEEE 802.1w for Rapid Spanning Tree Protocol

IEEE 802.1s for Multiple Spanning Tree Protocol

IEEE 802.1p for Class of Service

IEEE 802.1Q for VLAN Tagging

IEEE 802.1X for authentication

IEEE 802.3ad for Port Trunk with LACP

Packet Buffer Size
12Mbits
Maximum Packet Length
Up to 10K
MAC Address Table
16K
Transmission Mode
Store and Forward (full/half duplex mode)
Exchange Property
Delay time: < 7μs

Backplane bandwidth: 128Gbps

IGMP Group
4096
Max. No. of VLAN
256
VLAN ID Range
VID 1 to 4094
Software Features
Management Interface
CLI(Console/Telnet(RFC854)), WebUI(HTTPS), SNMPv3
Management
ARP, Flow Control, DDM, DHCP Server/Client, IPv4/IPv6, LLDP, LLDP-MED, UDLD, Port Mirror, RMON, SNMPv1/v2c/v3, Syslog, Telnet,
File Management
Firmware Upgrade/Backup, Dual Images, Configuration Download/Backup, Multiple Configuration, TFTP(RFC783), HTTP, UART
Management Access
Management VLAN, Management ACL(256)
Filter
802.1Q, GMRP, GVRP, IGMP Snooping v1/v2/v3, IGMP Querier V2/V3

QinQ VLAN

Redundant Network
Link Aggregation, STP/RSTP/MSTP/ERPSv2, Auto Edge Port, BPDU Filtering, Self Loop Detection
VLAN
Support IEEE 802.1Q 4K VLAN, QINQ, Double VLAN, Voice LAN, Surveillance VLAN(Auto/Manual), Multicast VLAN Registration(MVR)
Time Management
Local, SNTP, NTP
Unicast Routing
OSPFv2, RIPv1/v2, Static Route
QOS
Support Queue Scheduling(WRR, WFQ, Strict Priority , Hybrid(WRR+SP or WFQ+SP); Priority Queue(8 queues/port); Class of Service(Port-based, 802.1p, IP TOS Precedence, IP DSCP), Trusted QoS, Rate Limitation
ACL Type
L2/L3/L4, MAC-based, IPv4-based, IPv6-based
Diagnostic Maintenance
Support port mirroring, Syslog, Ping
POE Management
PoE working status

Scheduling of PoE operation

Security
Broadcast Storm Control, HTTPS/SSLv2v3,TLSv1 RADIUS, TACACS+,AAA SSHv1/v2,Support DHCP Snooping, Option 43/82, 802.1X security access,

Support user hierarchical management, ACL access control list,

Support DOS, port-based MAC filtering/binding, MAC whitelist

MIB
Ethernet-like MIB, MIB-II, MIB-I, Bridge MIB, Bridge MIB extensions, RMON MIB(1,2,3 & 9 groups, RFC2737 Entity, RFC2863 Interface Group, SNMP-Community-MIB
PoE & Power Supply
Model
FR-9T448FP
FR-9T44F8P
FR-9T448FBT
FR-9T44F8BT
PoE Ports
Port 1-24
Port 17-24
Port 1-24
Port 17-24
Power Supply Pin
Default: 1/2(+), 3/6(-)
Default: 1/2(+), 3/6(-) ,4/5(+), 7/8(-)
Max Power Per Port
IEEE802.3 af/at 30W
IEEE802.3 af/at/bt 90W
Total PWR /

Input Voltage

480W(DC48-56V) (Model dependent)
240W(DC48-56V) (Model dependent)
720W(DC48-56V) (Model dependent)
360W(DC48-56V) (Model dependent)
Power Consumption
24 Watts Max(without PoE load)
Power Inputs
2
Input Voltage
9-56VDC, Redundant dual inputs
Operating Voltage

Non-PoE Mode: 9-56VDC

30W PoE Mode: 48-56VDC

90W PoE Mode: 52-56VDC

Connector

DC: 1 removable 6-contact terminal block

Pin 1/2 for Power 1, Pin 3/4 for Power 2, Pin 5/6 for fault alarm

AC: 3 Pin AC Socket

Protection
Overload Current Protection, Reverse Polarity Protection
Inquiry about the product
Sample request for the product