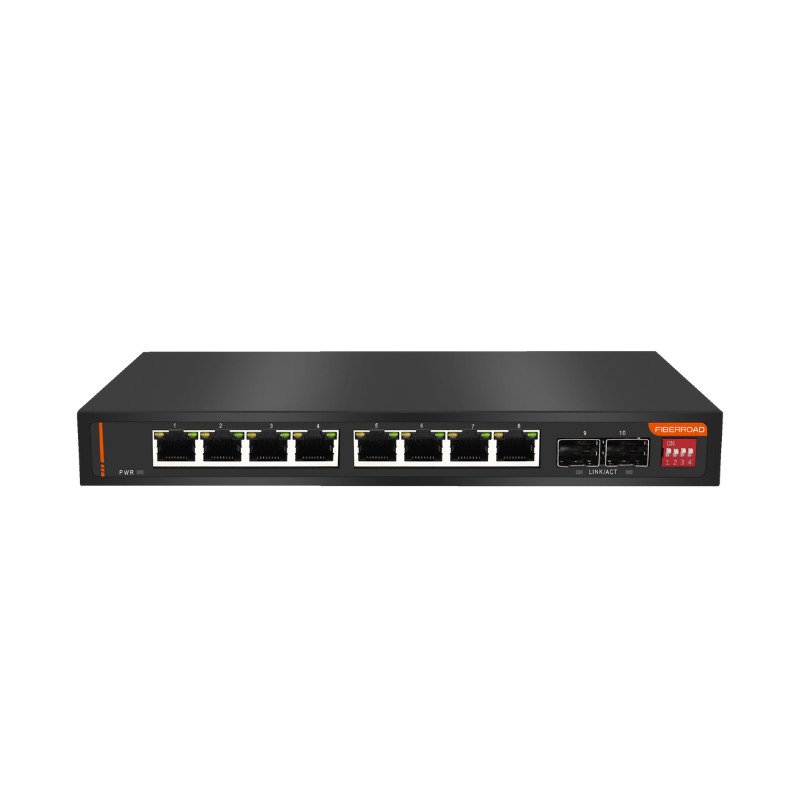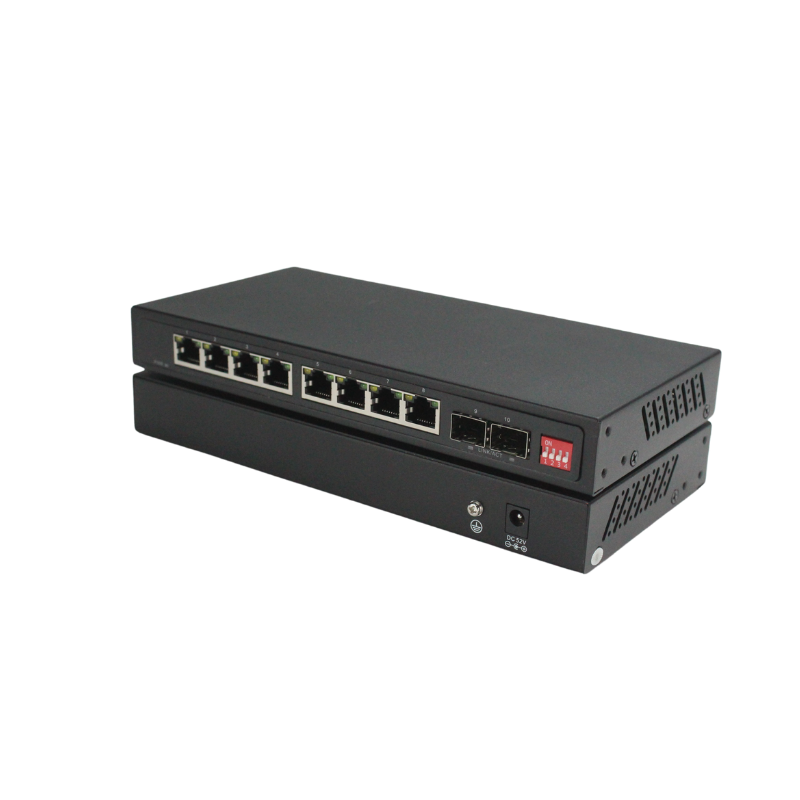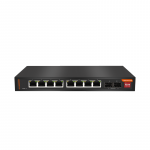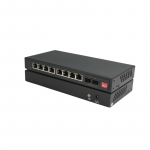 Quality Certifications
Guarantee
Share This Product
Get The Best Out Of Your Network With 8 Port PoE Switch
8 port PoE switch compliance with the 802.3af/at PoE+ standard supports up to 30W on each PoE port. The poe network switch supports a total 125W PoE power budget* for the 8× PoE ports and opens up a wide range of applications, such as surveillance for offices, dormitories, and small businesses. It is fully compatible with IP cameras, wireless access points, IP phones, computers, printers, and more.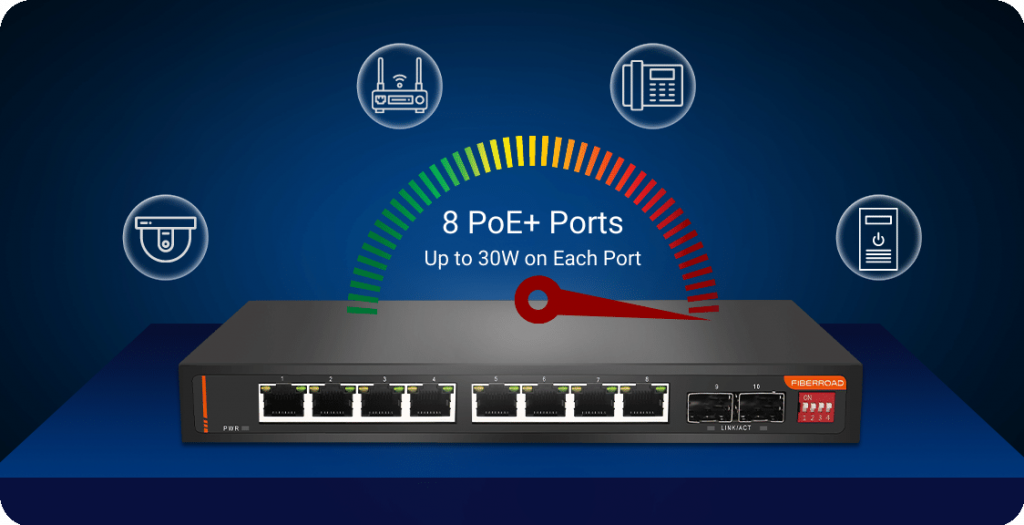 Product Attributes
Ports
8×10/100/1000Base-T RJ45
2x1000Base-X SFP
Switching Capacity
20 Gbps
MAC Address
4K
Jumbo Frame
9K
PoE Port
Port 1 to 8 IEEE802.3af/at
Total Power
125W@15.4W/Port
Input Voltage
(External Power Adapter)
100V-240VAC, 50-60Hz
Output Voltage
(External Power Adapter)
52VDC
Operating Temperature
0℃ to 50℃(32℉ to 122℉)
Storage Temperature
-20℃ to 70℃(-4℉ to 158℉)
Housing
Metal
Warranty
3 Years
Power Your Network with the 8 Port PoE Switch
An 8 port PoE switch is a great way to expand your network and provide power to devices that need it. PoE switches are becoming more and more popular as they offer a convenient and cost-effective way to power devices. This type of switch is ideal for powering IP cameras, VoIP phones, and other devices that require power over Ethernet. If you're looking for an 8 port PoE switch, there are a few things you should keep in mind. First, make sure the switch supports the Power over Ethernet standard. Second, consider the amount of power each port can provide. Some switches have different power levels for different ports, so you'll want to make sure you choose a switch that can provide enough power for all of your devices. Finally, take into account the price and features of the switch. There are many different 8 port PoE switches on the market, so be sure to compare features and prices to find the best deal.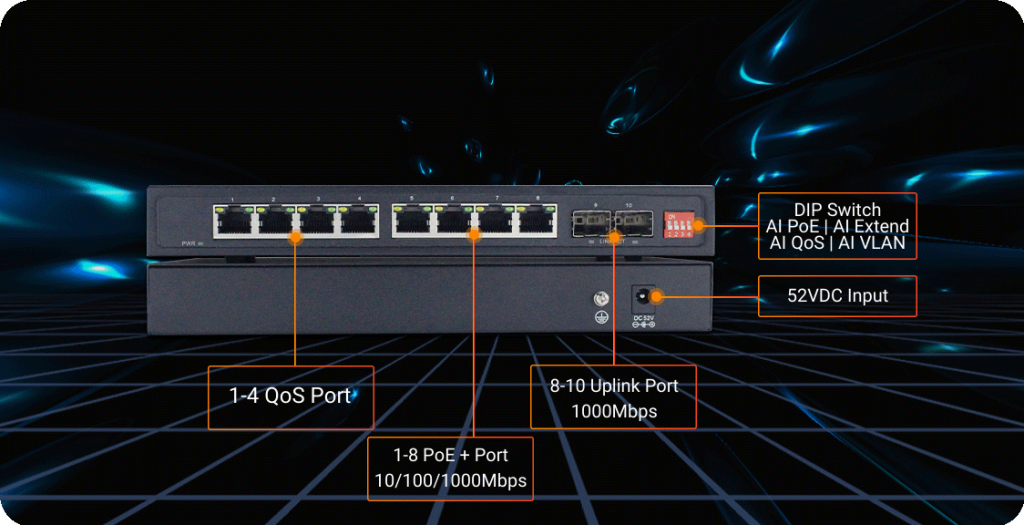 Maximizing Your Network Performance with an 8 Port PoE Switch
AI VLAN: AI VLAN is essentially port isolation on each PoE port. When this option is enabled, all PoE ports can only communicate with the uplinks.
AI QoS: When AI QoS is enabled, 1-4 ports prioritise video and VoIP traffic flows over others. For example, an IP camera streaming in real-time takes preference over a user transferring a backup file to a server.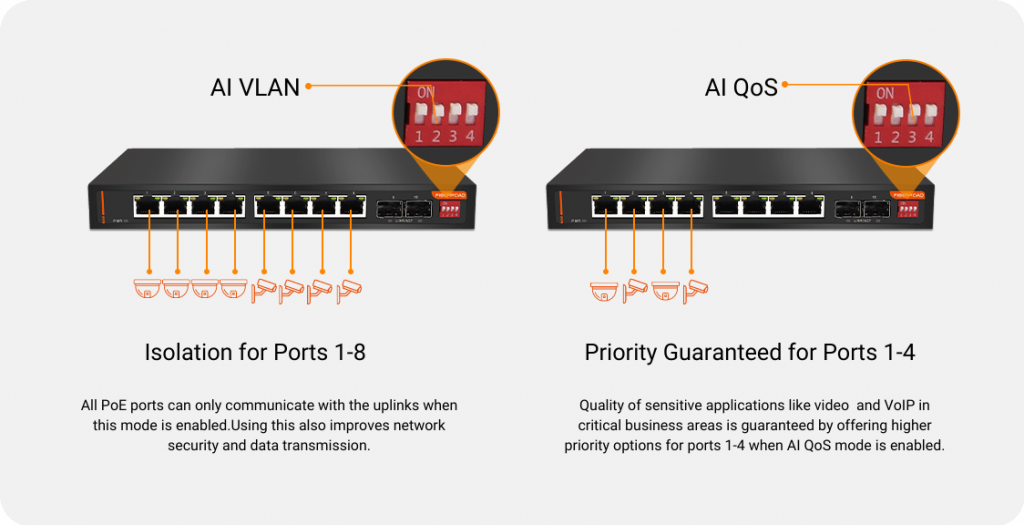 Maximum Reliability and Power Efficiency
AI Extend: AI extend is a common PoE switch feature designed to extend PoE distance up to 250m. The downside is that port speeds will be limited to only 10Mbps.
AI PoE: The AI PoE feature (PoE watchdog) allows the switch to periodically check the ports for activity. If a port is not passing traffic for a certain amount of time, the switch will reset the power on that specific port.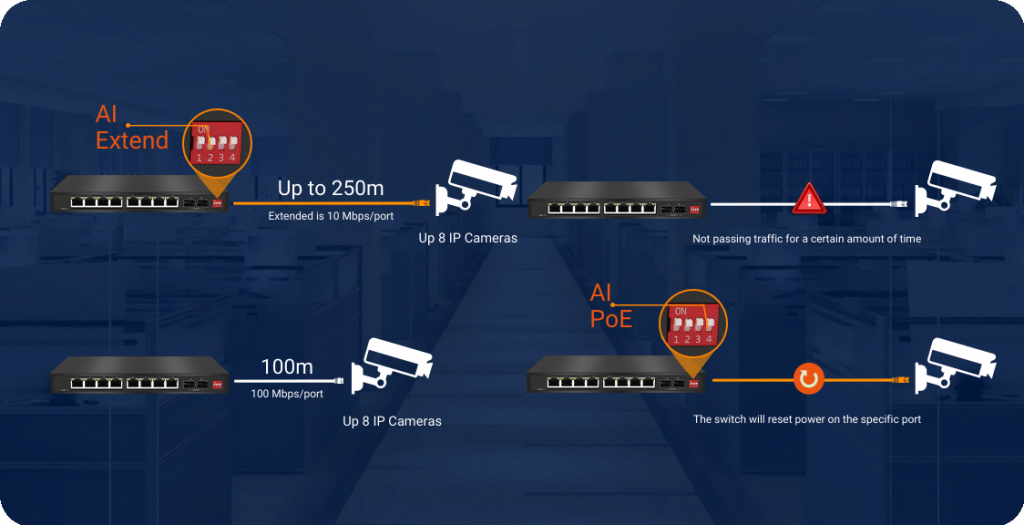 8 Port PoE Switch FAQs
What is the maximum power that can be provided by this 8 port PoE switch?
Our 8 port PoE switch is capable of providing up to 250 Watts of power. This means that it can power up to 8 devices with a maximum power requirement of 30W each. With such a large capacity, you can rest assured that your devices are provided with the most reliable and cost-effective power source available.
Do I need a power supply to use this 8 port PoE switch?
No, you don't. This 8 port PoE switch is built with Power over Ethernet technology that allows you to power your device directly from the data connection itself. It's an efficient and cost-effective solution for powering any device that requires power over Ethernet. So all you need is a data connection and the switch will take care of the rest.
What is the benefit of using a PoE switch?
Using a PoE switch offers multiple benefits. First, you can easily add additional devices to your network without having to run power cables. Secondly, the switch itself is energy-efficient and helps reduce energy costs. Finally, the switch provides additional security since it can be configured with VLANs and other advanced features. PoE switches are an ideal solution for any network that requires power connectivity for its devices.
What is the advantage of using an 8 port PoE switch over a regular switch?
An 8 port PoE switch offers many advantages over a regular switch. Firstly, it provides power to connected devices eliminating the need for additional power supplies. Secondly, it reduces the amount of wiring required as only a single Cat5e/Cat6 cable needs to be run from each device to the switch. Finally, its centralised design makes it easier to manage and troubleshoot connected devices, making it ideal for larger networks.
Ethernet Interface
Model
FR-5A3010P
FR-5A3208P
RJ45 Port
8×10/100/1000Base-TX + 2×10/100/1000Base-Tx
8×10/100/1000Base-TX
Optical Fiber Port
2x1000Base-X(SFP)
SFP Slot Port
Gigabit SFP optical fiber interface, default matching optical modules (optional order single-mode / multi-mode, single fiber / dual fiber optical module. LC)
Twisted Pair Transmission
10BASE-T: Cat3,4,5 UTP(≤100 meter)

100BASE-TX: Cat5 or later UTP(≤100 meter)

1000BASE-T: Cat5e or later UTP(≤100 meter)

Port Mode(Tx)
Auto-Negotiation

Full/Half Duplex Mode

Auto MDI/MDI-X Connection

Standards
IEEE 802.3 for 10BaseT

IEEE 802.3u for 100BaseT(X) and 100BaseFX

IEEE 802.3ab for 1000BaseT(X)

IEEE 802.3z for 1000BaseSX/LX/LHX/ZX

IEEE 802.3x for flow control

IEEE 802.1p for Class of Service

IEEE802.3az Energy Efficient Ethernet

Packet Buffer Size
2Mbits
Maximum Packet Length
Up to 9K
MAC Address Table
4K
Transmission Mode
Store and Forward (Full Wire Speed)
Exchange Property
Delay time: < 7μs

Backplane bandwidth: 20Gbps
PoE & Power Supply
PoE Port
Port 1 to 8 IEEE802.3af/at @PoE
Power Supply Pin
Default: 1/2(+), 3/6(-),Optional:4/5, 7/8(-)
Max Power Per Port
30W; IEEE802.3af/at
Total PWR / Input Voltage
125W(DC52V) @ 15.4W

240W(DC52V) @ 30W

Power Consumption
Standby<4W
Power Inputs
1
Power Supply
External power adapter with AC100 – 240V 50-60Hz input

52VDC 5A output@30W per port

52VDC 2A output@15.4W per port

Protection
Overload Current Protection
Inquiry about the product
Sample request for the product