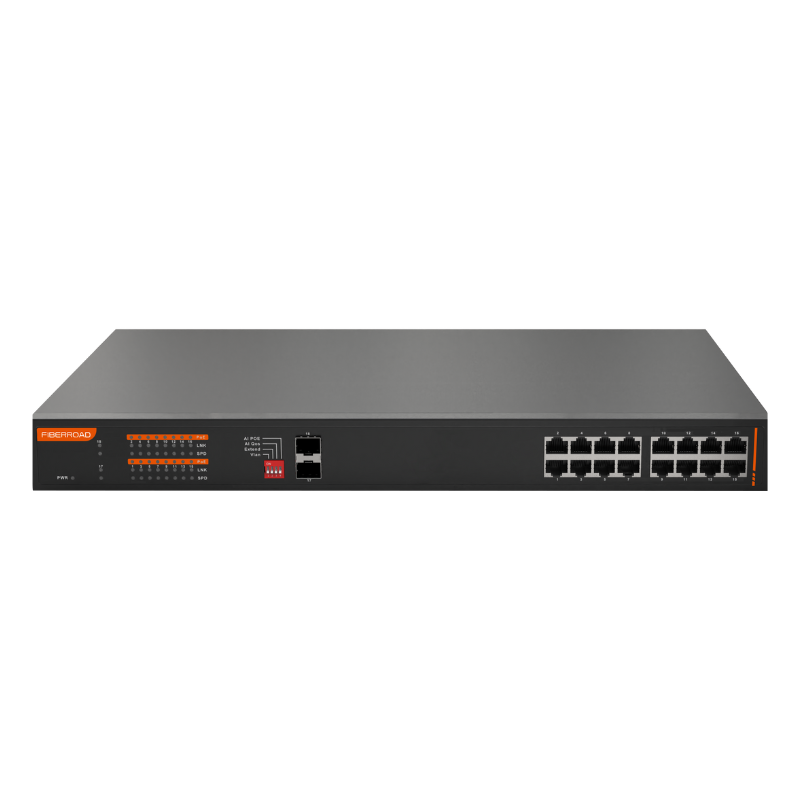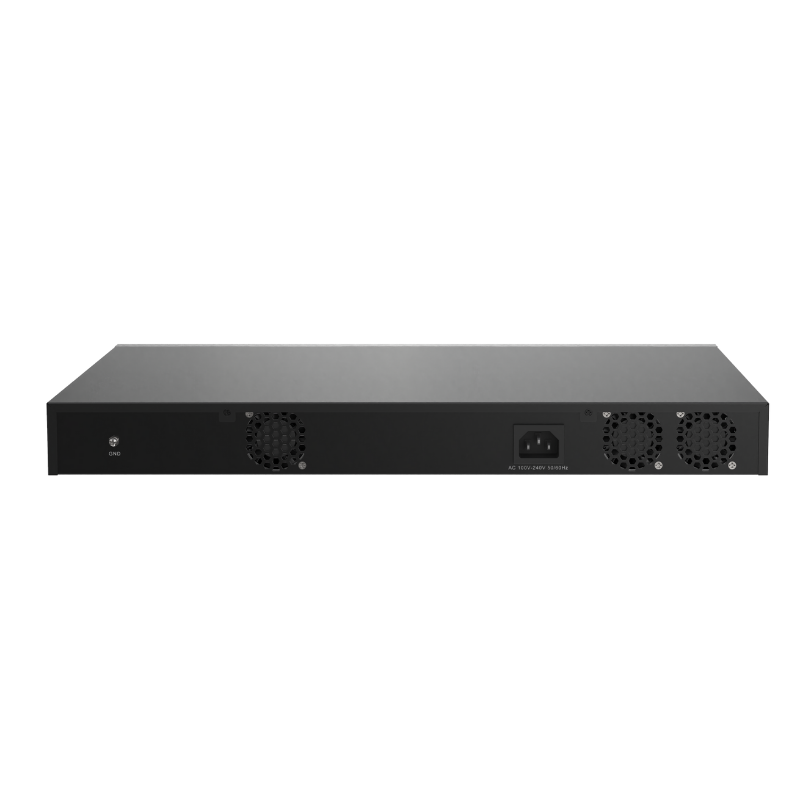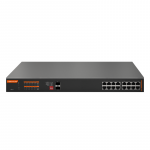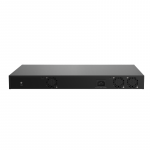 Quality Certifications
Guarantee
Share This Product
Maximizing Efficiency and Cost Savings with a 16 Port PoE Switch
The 16 Port PoE Switch is the ultimate solution for businesses seeking to maximize efficiency and cost savings. This cutting-edge technology allows up to sixteen devices to be connected simultaneously, without sacrificing speed or quality. With its innovative Power over Ethernet (PoE) feature, this switch can power all of your essential network devices using a single cable, reducing clutter and saving on energy costs. The sleek design ensures that it will fit seamlessly into any work environment while providing exceptional performance. Whether you are running a small office or managing an entire enterprise, the PoE Switch 16 Port offers an unrivalled combination of versatility and reliability, making it the go-to choice for savvy business owners who refuse to compromise on quality or efficiency. Get ready to achieve new levels of productivity with this game-changing device!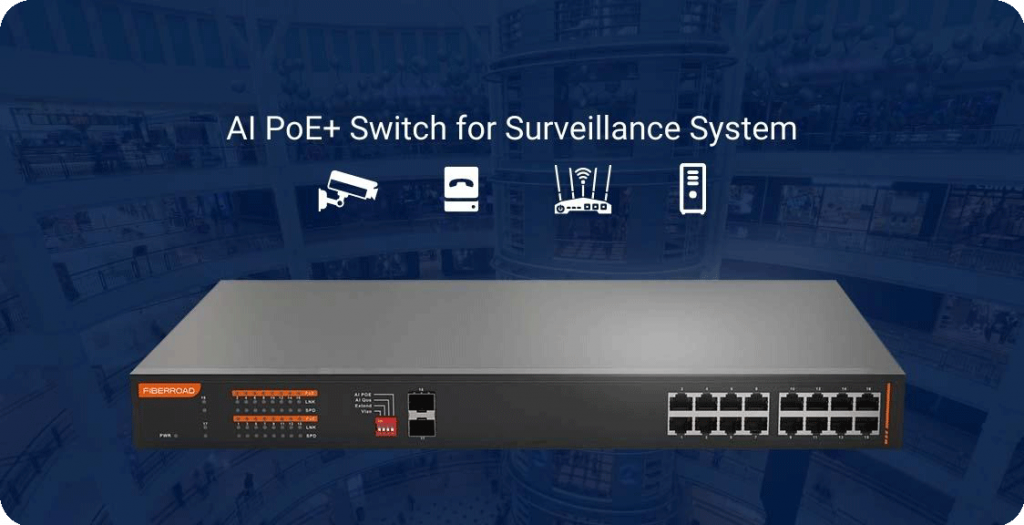 Product Attributes
Ports
16×10/100/1000Base-T RJ45
2x1000Base-X SFP
Switching Capacity
52 Gbps
MAC Address
8K
Jumbo Frame
10K
PoE Port
Port 1 to 16 IEEE802.3af/at
Total Power
250W@15.4W/Port
Input Voltage
100V-240VAC, 50-60Hz
Output Voltage
48VDC
Operating Temperature
0℃ to 50℃(32℉ to 122℉)
Storage Temperature
-20℃ to 70℃(-4℉ to 158℉)
Housing
Metal
Warranty
3 Years
Power Up Your Network with 30W PoE Ports: Ideal for Surveillance, Offices, and Small Businesses
SupportinAre you tired of dealing with tangled cords and power outlets that never seem to be in the right place? Look no further than the 16 Port PoE Switch, designed to bring convenience and efficiency to your network. With its 30W PoE ports, this switch is perfect for powering up surveillance cameras, keeping your office organized, and strengthening connections in small businesses. Imagine having all your devices connected in one central location without worrying about additional power sources or cables cluttering up your space. This switch also provides fast data transfer speeds so you can work seamlessly without any lag or interruptions. Say goodbye to messy wires and hello to a powerful network with the 16 Port PoE Switch – it's time to take control of your technology!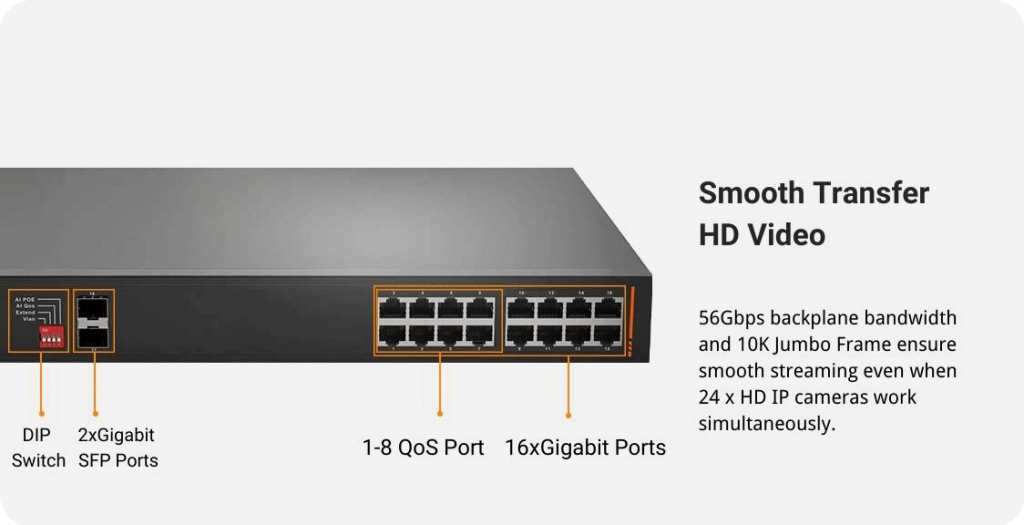 Powering Up Your Devices with Ease: Exploring the Benefits of a 16 Port PoE Switch
AI Extend: AI extend is a common PoE switch feature designed to extend PoE distance up to 250m. The downside is that port speeds will be limited to only 10Mbps.
AI PoE: The AI PoE feature allows the switch to check the ports for activity periodically. If a port is not passing traffic for a certain amount of time, the switch will reset the power on that specific port.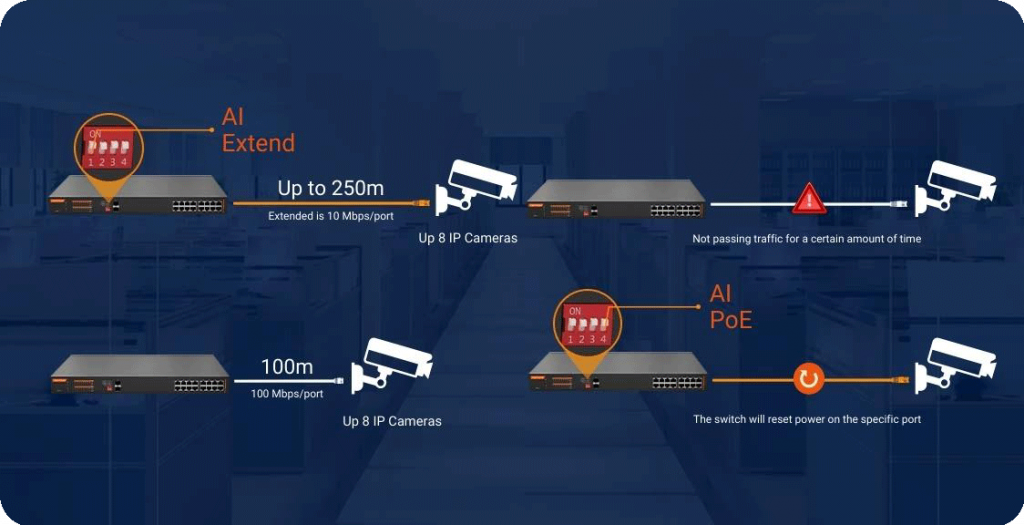 Maximizing Your Network Efficiency: A Comprehensive Look at the 16 Port PoE Switch
AI VLAN: AI VLAN is essentially port isolation on each of the PoE ports. All PoE ports are only able to communicate with the uplinks when this option is enabled.
AI QoS: When AI QoS is enabled, 1-8 ports will prioritise Video and VoIP traffic flows over others. For example, an IP camera streaming in real-time takes preference over a user transferring a backup file to a server.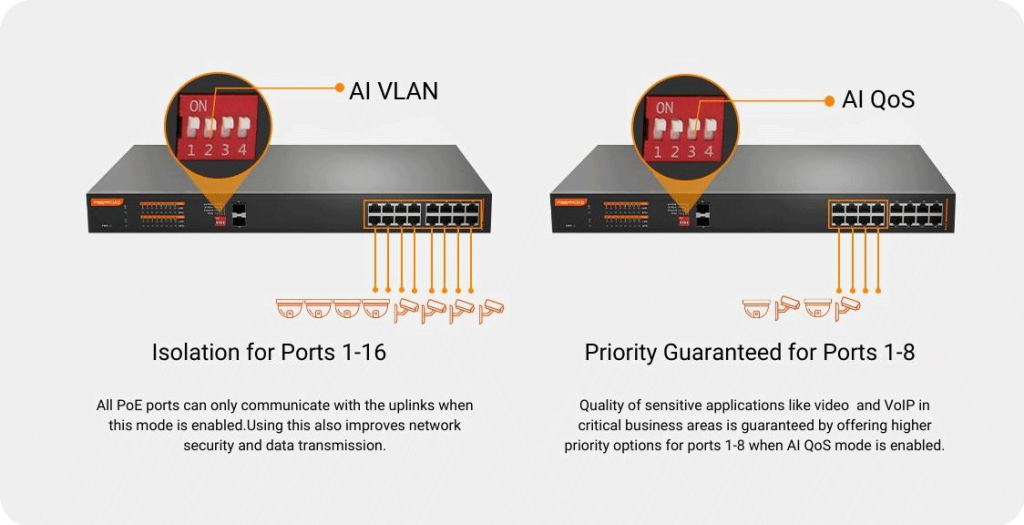 16 Port PoE Switch FAQs
Does the 16 Port PoE Switch support VLANs for network segmentation and security purposes?
Absolutely! Our 16 Port PoE Switch comes with an AI VLAN feature to enable network segmentation and security. With the built-in DIP Switch, you can manually support AI VLAN Function, which allows each port to be isolated from one another. This prevents malicious users from accessing the network, thus protecting your data and privacy.
Can this switch be used to connect and power up wireless access points in a small business environment?
Absolutely! Our 16 Port PoE Switch is perfectly suited for powering up wireless access points and other devices in a small business environment. The 30W PoE ports with Power-over-Ethernet technology are specifically designed for this purpose, providing both power and data to connected devices without the need for additional power sources or cables. This will help keep your office organized and ensure a strong connection throughout the network.
Can this switch be easily installed and configured by a non-technical user?
Absolutely! This 16 Port PoE switch is designed with a built-in DIP switch that allows for quick and easy installation and configuration without any technical knowledge. Our switch also offers advanced features like AI PoE, AI VLAN, AI QoS, and AI Extend that allow you to optimize your network.
Ethernet Interface
Model
FR-5A3216P
FR-5A3224P
RJ45 Port
16×10/100/1000Base-TX
24×10/100/1000Base-TX
Optical Fiber Port
2x1000Base-X SFP
2x1000Base-X SFP
SFP Slot Port
Gigabit SFP optical fiber interface, default matching optical modules (optional order single-mode / multi-mode, single fiber / dual fiber optical module. LC)
Twisted Pair Transmission
10BASE-T: Cat3,4,5 UTP(≤100 meter)

100BASE-TX: Cat5 or later UTP(≤100 meter)

1000BASE-T: Cat5e or later UTP(≤100 meter)

Port Mode(Tx)
Auto-Negotiation

Full/Half Duplex Mode

Auto MDI/MDI-X Connection

Standards
IEEE 802.3 for 10BaseT

IEEE 802.3u for 100BaseT(X) and 100BaseFX

IEEE 802.3ab for 1000BaseT(X)

IEEE 802.3z for 1000BaseSX/LX/LHX/ZX

IEEE 802.3x for flow control

IEEE 802.1p for Class of Service

IEEE802.3az Energy Efficient Ethernet

Packet Buffer Size
4Mbits
Maximum Packet Length
Up to 10K
MAC Address Table
8K
Transmission Mode
Store and Forward (Full Wire Speed)
Exchange Property
Delay time: < 7μs

Backplane bandwidth: 52Gbps

Advanced Features
Compatible With IEEE 802.3at/af Compliant PDs
Extend Mode (Up to 250m PoE power supply and data transmission)
Priority Mode
Isolation Mode
PD Detection
Intelligent Power Supply
Mac Address Auto-Learning and Auto-Aging
PoE & Power Supply
Model
FR-5A3216P
FR-5A3224P
PoE Port
Port 1 to 16 IEEE802.3af/at @PoE
Port 1 to 24 IEEE802.3af/at @PoE
Power Supply Pin
Default: 1/2(+), 3/6(-)
Max Power Per Port
30W; IEEE802.3af/at
Total PWR

350W

350W

Power Consumption
<15W(220/50 Hz, no PD connected)
<18W(220/50 Hz, no PD connected)
Power Inputs
1
Power Supply
Internal power adapter with AC100 – 240V 50-60Hz input
Protection
Overload Current Protection
Inquiry about the product
Sample request for the product