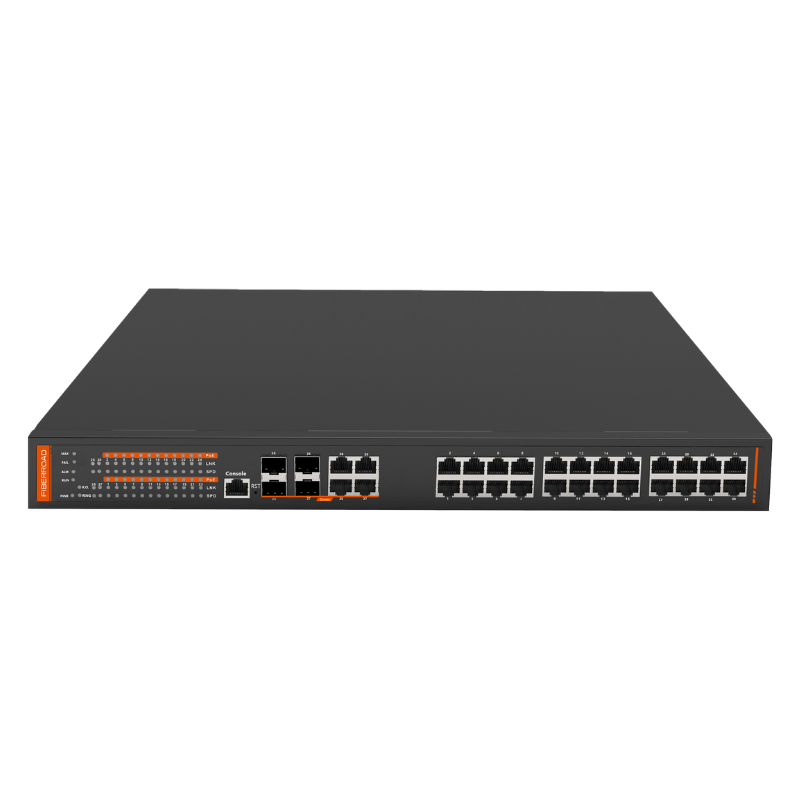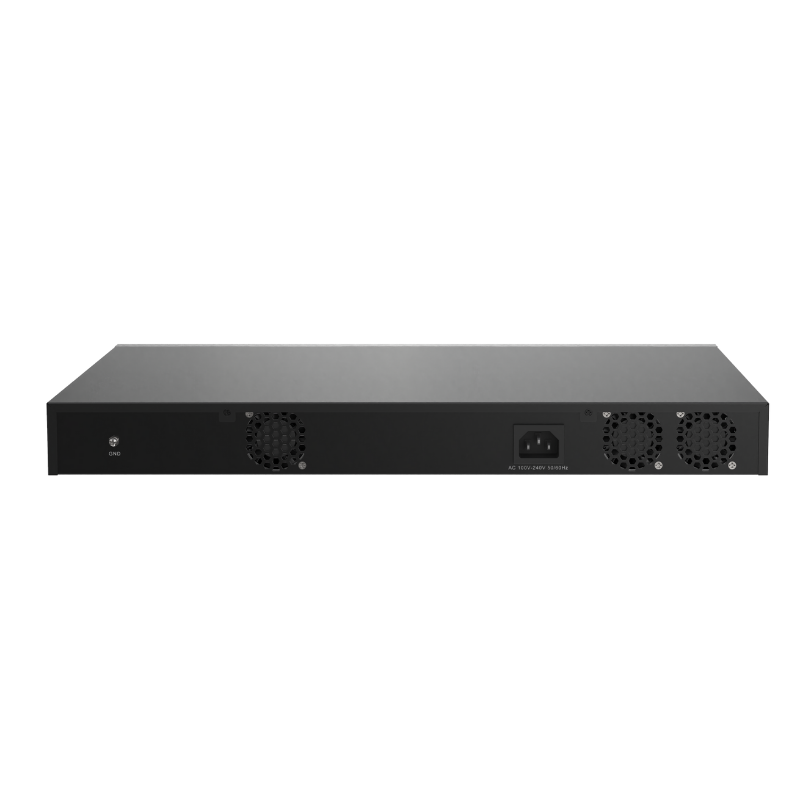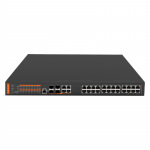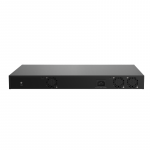 Quality Certifications
Guarantee
Share This Product
Making the Most of Your Networking Budget with the Affordable 28 Port Managed PoE Switch
Get ready to revolutionize your networking game with the 28 Port Managed PoE Switch! This powerhouse switch guarantees stable and reliable Gigabit Ethernet transmission, ensuring that every byte of data is delivered with lightning-fast speed. But wait, there's more! The magic doesn't stop there. With its unique Power over Ethernet (PoE) capabilities, this switch can power up all your PoE compatible devices like wireless APs, IP cameras, VoIP phones and visual intercoms- without any extra wiring or fuss. Say goodbye to the tangled mess of wires and hello to a streamlined network infrastructure that is easy-to-manage yet powerful enough to handle even the most demanding applications. Whether you're running an enterprise business or a small office setup, this PoE network switch has got you covered with high-density IEEE802.3(PoE++) power supply that ensures uninterrupted connectivity for all your critical devices. Don't settle for less when you can have it all- choose the 28 Port Managed PoE Switch today and see what a difference it makes in transforming your networking experience!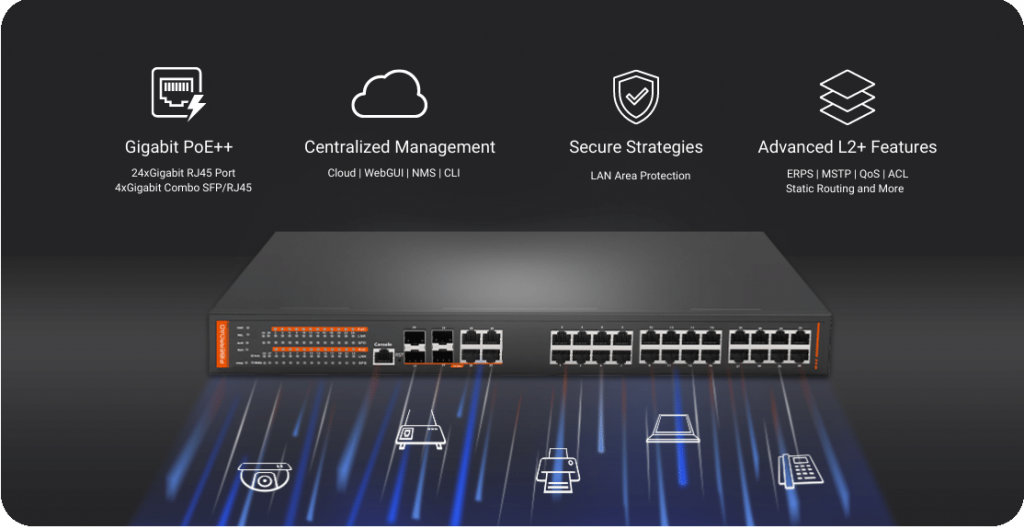 SMART POE FEATURES
1. IEEE802.3af/at/bt standard automatically identifies power devices without damaging non-PoE devices.
2. Up to 30W per port.
3. PoE+ Switch port will supply power to the high priority level port when the power budget is insufficient.
4. PoE output power allocation, Scheduling of PoE operation.
ADVANCE LAYER2+ FEATURES
1. Build a redundant network with STP/RSTRP/MSTP/ERPSv2.
2. IPv4/IPv6 Management and Static Route
3. ACL Based on MAC, IP address.
4. Retagging and complicated flow classification based on VLAN, MAC/IP.
5. Flexible bandwidth control policies.
HIGH-PERFORMANCE NETWORK MANAGEMENT
1. Web-based CloudMQTT to monitor the PoE Network anytime, anywhere.
2. Command-line interface(CLI) and Firo WebGUI management for configuring major managed functions.
3. SNMPv1/v2C/v3 for different levels of network management.
4. FIRO Web-based NMS enable discovery and diagrams of PoE++ Switch network topology.
COMPLETE SECURITY MECHANISMS
1. AAA&RADIUS, IEEE 802.1X, SNMPv3, HTTPs/SSLv3,SSH2.0 to enhance network security.
2. Support user hierarchical management, ACL control list
3. Port isolation within the same VLAN, DHCP-Snooping
4. DDOS, port-based MAC filtering/binding, MAC black holes, IP source protection, ARP message speed limit
Streamline Your Business Operations with a Customer-Friendly PoE Network Switch
The 28 Port Managed PoE Switch is a game-changer for businesses in need of reliable power supply to their devices. With its compatibility with IEEE802.3bt(PoE++) standard, ports 1-24 are designed to deliver an impressive maximum output power of 90W per single port! What's more exciting is the fact that you don't have to worry about manually configuring the switch or your end devices as it comes equipped with an automatic detection and recognition feature. This means that any equipment connected will receive the required power through the network cable without any hassle on your part. Whether you're running a small home office or managing a large enterprise network, this switch has got you covered! Say goodbye to messy cables and unreliable power issues – embrace the future of seamless connectivity with the 28 Port Managed PoE Switch today!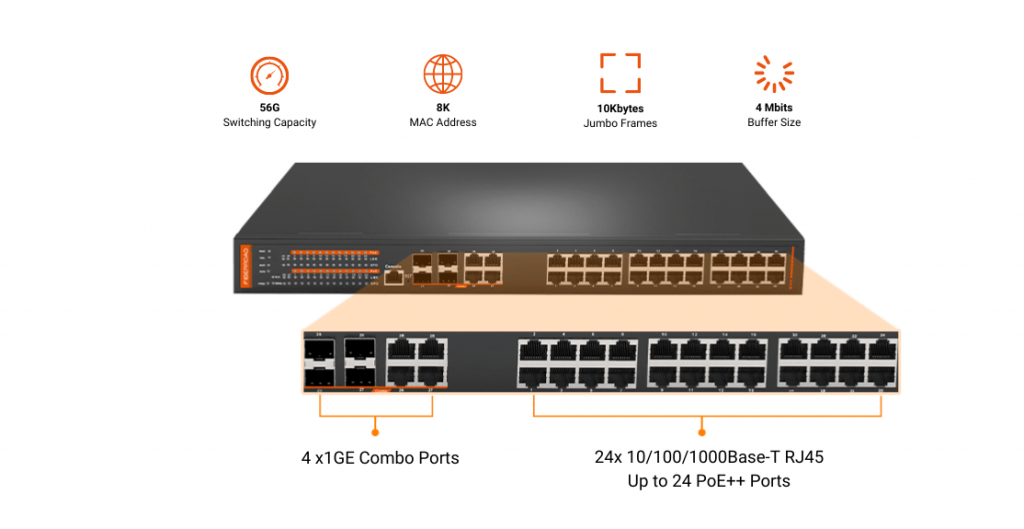 Getting the Most Out of Your PoE Switches: Tips and Tricks for Effective Management
With 4x100M/1000M SFP and 4×10/100/1000M RJ45 Combo uplink, the 24 PoE Network Switch can handle extremely large amounts of data in a secure topology linking to a network backbone or high-capacity servers. The FR-5M3424BT is capable of providing non-blocking switch fabric and wire-speed throughput.
The 24-Port Managed PoE Switch series allows the administrator to conveniently boost network efficiency by manually configuring Layer 3 IPv4/IPv6 VLAN static routing. FR-5M3424BT supports redundant ring technology and features a strong, rapid self-recovery capability to prevent interruptions and external intrusions. In addition to using advanced ITU-T G.8032 ERPS (Ethernet Ring Protection Switching), Spanning Tree Protocol, and redundant power input systems, it enhances system reliability and uptime in harsh factory environments
The Benefits of Always-On Monitoring for 28 Port Managed PoE Switches
Another critical feature of the 24-Port PoE Network Switch is that it will automatically detect and recognize power devices that meet the standard and supply power through the network cable. Being the PoE management for CCTV surveillance, wireless and VoIP Networks, FR-5M3424BT features the following special PoE management functions: PoE PD-Imagine a world where you never have to worry about power outages or network failures again. Imagine being able to monitor and manage your PoE devices seamlessly, without ever having to leave the comfort of your desk. This is exactly what the 28 Port Managed PoE Switch offers – an always-on monitoring system that keeps your devices up and running at all times. Whether it's CCTV surveillance, wireless networks, or VoIP systems, this switch has got you covered with its special PoE management functions. With features like PoE PD-alive check, schedule power rebooting, and PoE usage monitoring, you can rest assured that your devices are always functioning at their best capacity. Plus, with its powerful feeding priority capabilities and operation schedules in place, you can customize the way your switch powers each device for optimal efficiency. The possibilities are endless with the 28 Port Managed PoE Switch – so why wait? Experience uninterrupted connectivity today!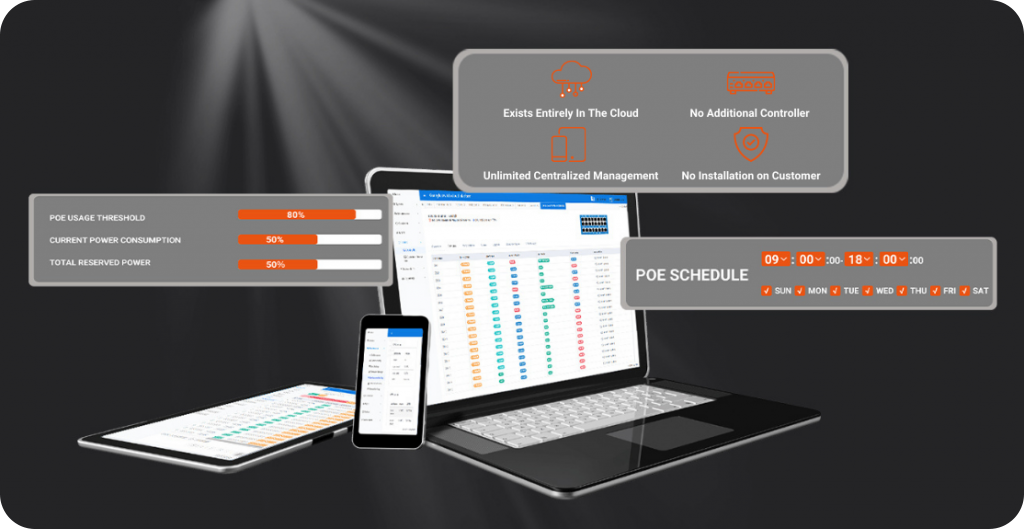 Ethernet Interface
FR-5M3416P
FR-5M3424P
Ports

4×Uplink Combo Gigabit SFP/RJ45+

16×10/100/1000M Base-TX RJ45

4×Uplink Combo Gigabit SFP/RJ45+

24×10/100/1000M Base-TX RJ45

Port Mode(Tx)

Auto-Negotiation Speed

Full/Half Duplex Mode

Auto MDI/MDI-X Connection

SFP Port Transmission
Multi-mode: 850nm/0-500M, Single-mode:1310nm/0-40km, 1550nm/up to 120km
RJ45 Port Transmission
100m(using standard CAT5/CAT5e cable )
Standards

IEEE 802.3 for 10BaseT

IEEE 802.3u for 100BaseT(X) and 100BaseFX

IEEE 802.3ab for 1000BaseT(X)

IEEE 802.3z for 1000BaseSX/LX/LHX/ZX

IEEE 802.3x for flow control

IEEE 802.1D-2004 for Spanning Tree Protocol

IEEE 802.1w for Rapid Spanning Tree Protocol

IEEE 802.1s for Multiple Spanning Tree Protocol

IEEE 802.1p for Class of Service

IEEE 802.1Q for VLAN Tagging

IEEE 802.1X for authentication

IEEE 802.3ad for Port Trunk with LACP

Packet Buffer Size
4Mbits
Maximum Packet Length
Up to 10K
MAC Address Table
8K
Transmission Mode
Store and Forward (full/half-duplex mode)
Exchange Property

Delay time: < 7μs

Backplane bandwidth: 56Gbps; Packet Forwarding Rate:47.616Mpps

IGMP Group
4096
Max. No. of VLAN
256
VLAN ID Range
VID 1 to 4094
PoE & Power Supply
Model
FR-5M3416P
FR-5M3424P
PoE Ports
Port 1 to 16 IEEE802.3af/at/bt @PoE
Port 1 to 24 IEEE802.3af/at/bt @PoE
Power Supply Pin
Default: 1/2(+), 3/6(-), 4/5(+), 7/8(-)
Max Power Per Port
90W; IEEE802.3af/at/bt
Total PWR /Input Voltage
350W(AC100-240V)
400W(AC100-240)
Power Consumption
<18W(220/50 Hz, no PD connected)
<22W(220/50 Hz, no PD connected)
Power Inputs
1
Power Supply
Internal power adapter with AC100 – 240V 50-60Hz input
Protection
Overload Current Protection
Ethernet Software Features
Redundancy Protocols
Support STP/RSTP/MSTP/ERPSv2, Link Aggregation
Multicast Support
Support IGMP Snooping V1/V2/V3, support GMRP, GVMP,802.1Q
VLAN
Support IEEE 802.1Q 4K VLAN, support QINQ, Double VLAN,
Time Management
SNTP
QoS
Flow-based redirection

Flow-based rate limiting

Flow-based packet filtering

8*Output queues of each port 802.1p/DSCP priority mapping

Diff-Serv QoS, Priority Mark/Remark

Queue Scheduling Algorithm (SP, WRR, SP+WRR)

ACL
Port-based Issuing ACL

ACL based on port and VLAN

L2 to L4 packet filtering, matching the first 80 bytes message.

Provide ACL based on MAC, Destination MAC address, IP Source, Destination IP, IP Protocol Type, TCP/UDP Port, TCP/UDP Port Range, VLAN, etc

POE Management
Total power limit of PoE power supply

PoE output power allocation

PoE output priority configuration

PoE working status

Scheduling of PoE operation

Diagnostic Maintenance
Support port mirroring, Syslog, Ping
Industrial Protocol
Modbus TCP(ASCII and RTU, Server and Client)
Management Function
Support CLI、WEB、SNMPv1/v2/v3, Telnet server for management, EEE, LLDP, DHCP Server/Client(IPv4/IPv6), Cloud/MQTT
Alarm Management
Support 1-way relay alarm output, RMON, TRAP
Security
Broadcast Storm Protection, HTTPS/SSLv3, AAA & RADIUS, SSH2.0

Support DHCP Snooping, Option 82,802.1X security access,

Support user hierarchical management, ACL access control list,

Support DDOS,port-based MAC filtering/binding, MAC black holes, IP source protection, Port isolation, ARP message speed limit

Advance Layer 2+ Features
IPv4/IPv6 Management

Static Route
Inquiry about the product
Sample request for the product