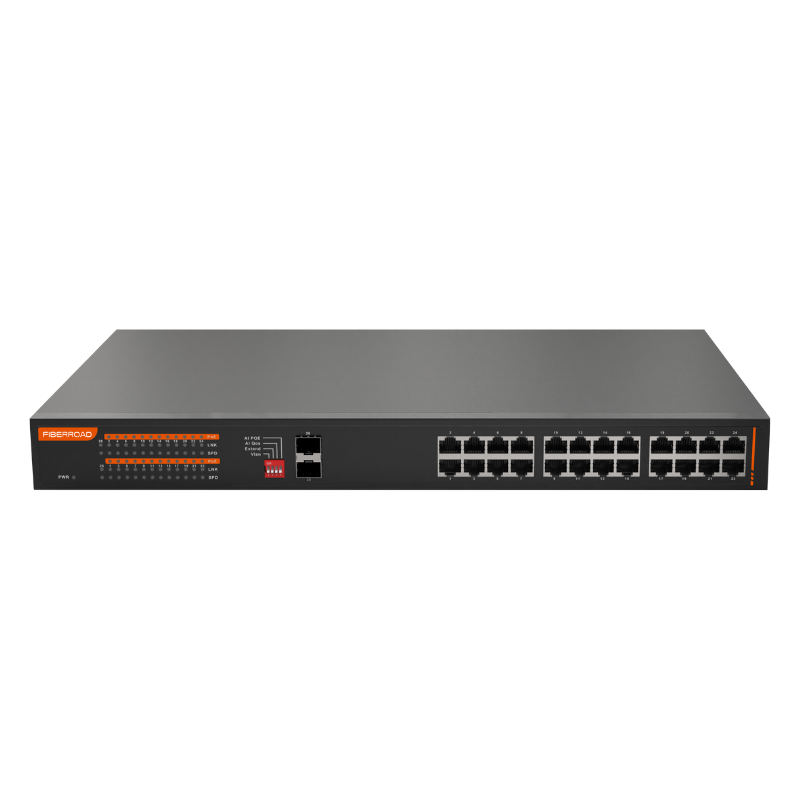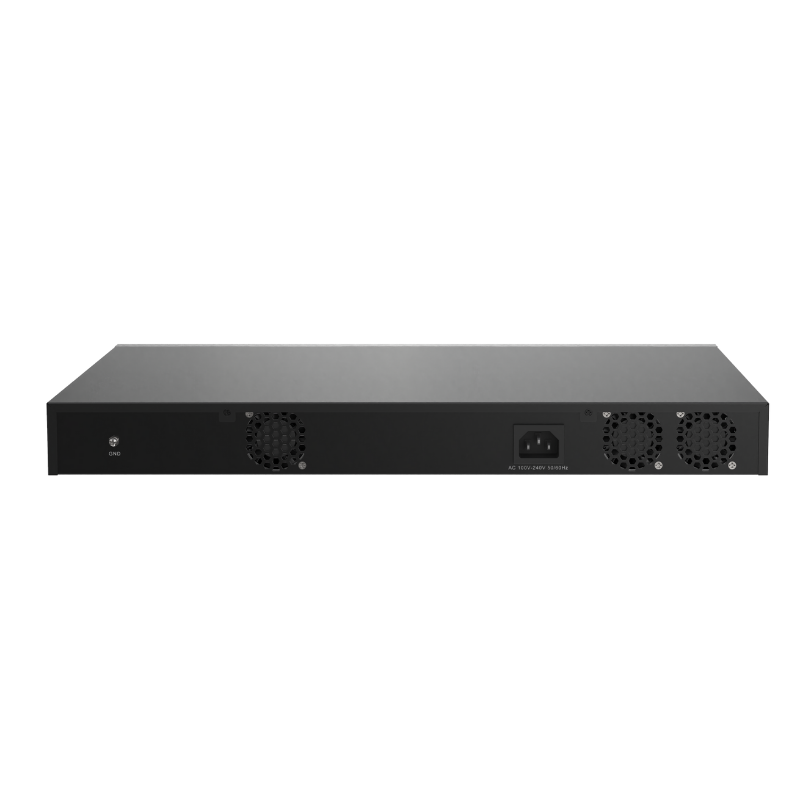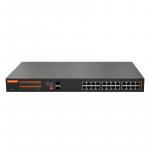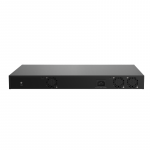 Quality Certifications
Guarantee
Share This Product
Get the Most Out of Your Network with a 24 Port PoE Switch
One of the most important factors in a network upgrade is to find a way to get the most out of your existing infrastructure. A 24 port PoE switch offers a way to do just that by providing power to all devices on the same switch while allowing them to remain connected using standard Ethernet cables. With this type of switch, you can use fewer power cables and still have more ports than before.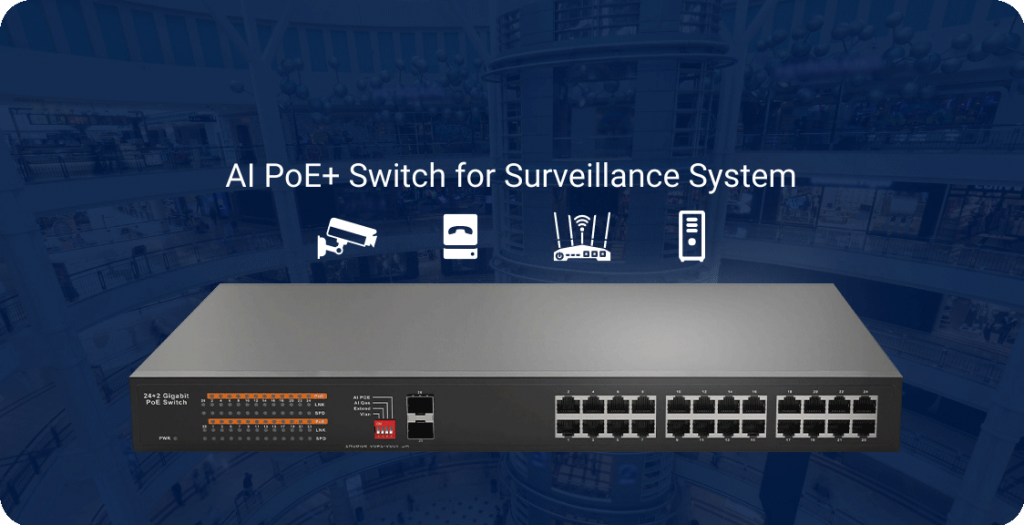 Product Attributes
Ports
24×10/100/1000Base-T RJ45
2x1000Base-X SFP
Switching Capacity
52 Gbps
MAC Address
8K
Jumbo Frame
10K
PoE Port
Port 1 to 24 IEEE802.3af/at
Total Power
250W@15.4W/Port
Input Voltage
100V-240VAC, 50-60Hz
Output Voltage
48VDC
Operating Temperature
0℃ to 50℃(32℉ to 122℉)
Storage Temperature
-20℃ to 70℃(-4℉ to 158℉)
Housing
Metal
Warranty
3 Years
Compliance with 802.3af/at PoE+ Standard
Fiberroad 24 port PoE switch offers a complete solution for the cost-sensitive Ethernet market by delivering reliable, stable performance at an affordable price. It is compliant with the IEEE 802.3af/at PoE+ Standard, then allowing you to use power-over-Ethernet technology to deploy IP cameras or other PoE devices remotely up to 100m away from your power source.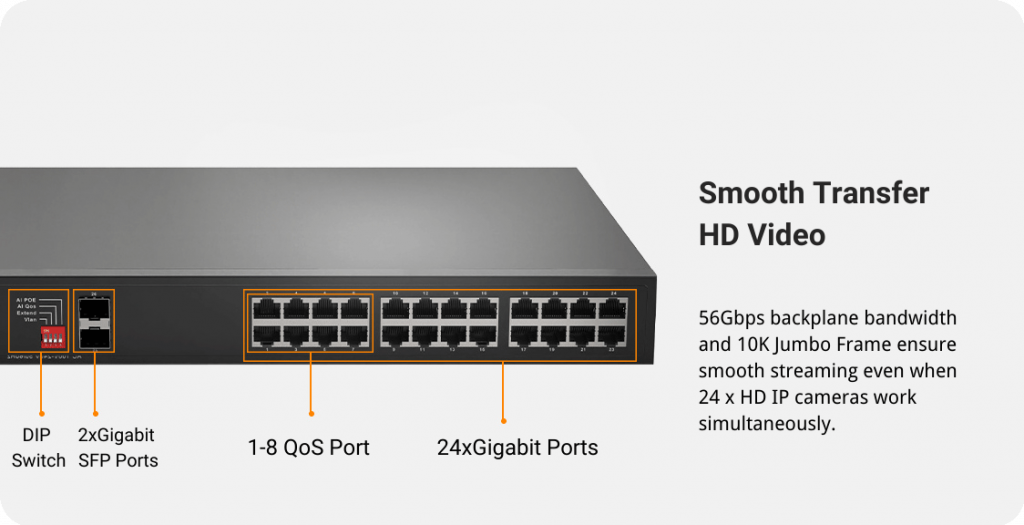 24 Port PoE Switch Maximize your Network Connectivity
AI Extend: AI Extend is a common PoE switch feature designed to extend PoE distance up to 250m. Markedly, the downside is that port speeds will be limited to only 10Mbps.
AI PoE: The AI PoE feature allows the switch to check the ports for activity periodically. As long as a port is not passing traffic for a certain amount of time, the switch will reset the power on that specific port.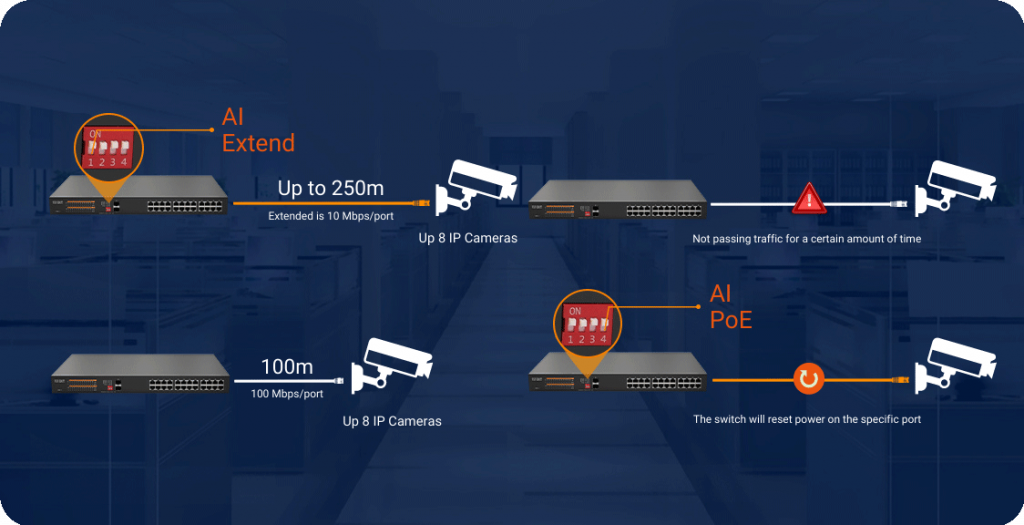 Stay connected with our 24 Port PoE Switch
AI VLAN: AI VLAN is essentially port isolation on each of the PoE ports. All PoE ports are only able to communicate with the uplinks when this option is enabled.
AI QoS: When AI QoS is enabled, 1-8 ports will prioritise Video and VoIP traffic flows over others. For example, an IP camera streaming in real-time takes preference over a user transferring a backup file to a server.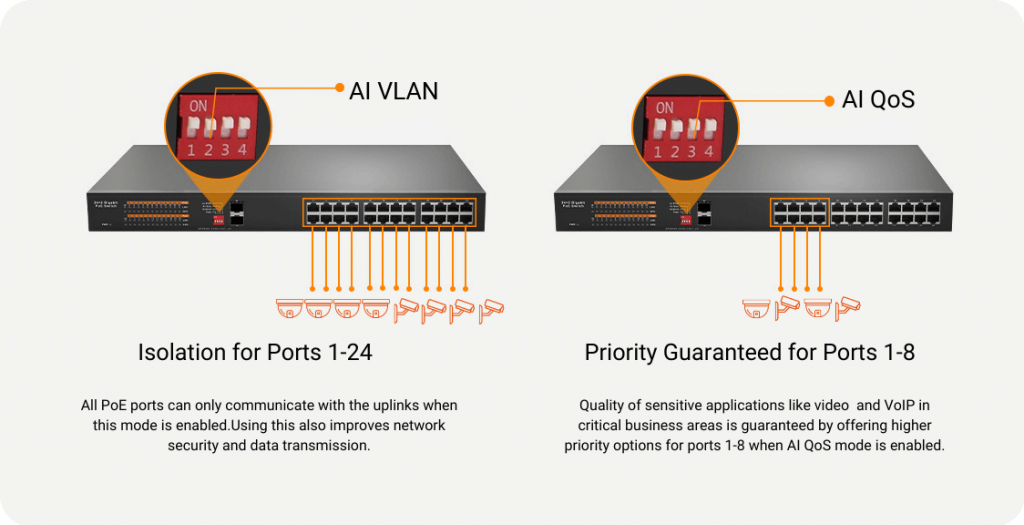 24 Port PoE Switch FAQs
Ethernet Interface
Model
FR-5A3216P
FR-5A3224P
RJ45 Port
16×10/100/1000Base-TX
24×10/100/1000Base-TX
Optical Fiber Port
2x1000Base-X SFP
2x1000Base-X SFP
SFP Slot Port
Gigabit SFP optical fiber interface, default matching optical modules (optional order single-mode / multi-mode, single fiber / dual fiber optical module. LC)
Twisted Pair Transmission
10BASE-T: Cat3,4,5 UTP(≤100 meter)

100BASE-TX: Cat5 or later UTP(≤100 meter)

1000BASE-T: Cat5e or later UTP(≤100 meter)

Port Mode(Tx)
Auto-Negotiation

Full/Half Duplex Mode

Auto MDI/MDI-X Connection

Standards
IEEE 802.3 for 10BaseT

IEEE 802.3u for 100BaseT(X) and 100BaseFX

IEEE 802.3ab for 1000BaseT(X)

IEEE 802.3z for 1000BaseSX/LX/LHX/ZX

IEEE 802.3x for flow control

IEEE 802.1p for Class of Service

IEEE802.3az Energy Efficient Ethernet

Packet Buffer Size
4Mbits
Maximum Packet Length
Up to 10K
MAC Address Table
8K
Transmission Mode
Store and Forward (Full Wire Speed)
Exchange Property
Delay time: < 7μs

Backplane bandwidth: 52Gbps

Advanced Features
Compatible With IEEE 802.3at/af Compliant PDs
Extend Mode (Up to 250m PoE power supply and data transmission)
Priority Mode
Isolation Mode
PD Detection
Intelligent Power Supply
Mac Address Auto-Learning and Auto-Aging
PoE & Power Supply
Model
FR-5A3216P
FR-5A3224P
PoE Port
Port 1 to 16 IEEE802.3af/at @PoE
Port 1 to 24 IEEE802.3af/at @PoE
Power Supply Pin
Default: 1/2(+), 3/6(-)
Max Power Per Port
30W; IEEE802.3af/at
Total PWR

350W

350W

Power Consumption
<15W(220/50 Hz, no PD connected)
<18W(220/50 Hz, no PD connected)
Power Inputs
1
Power Supply
Internal power adapter with AC100 – 240V 50-60Hz input
Protection
Overload Current Protection
Inquiry about the product
Sample request for the product