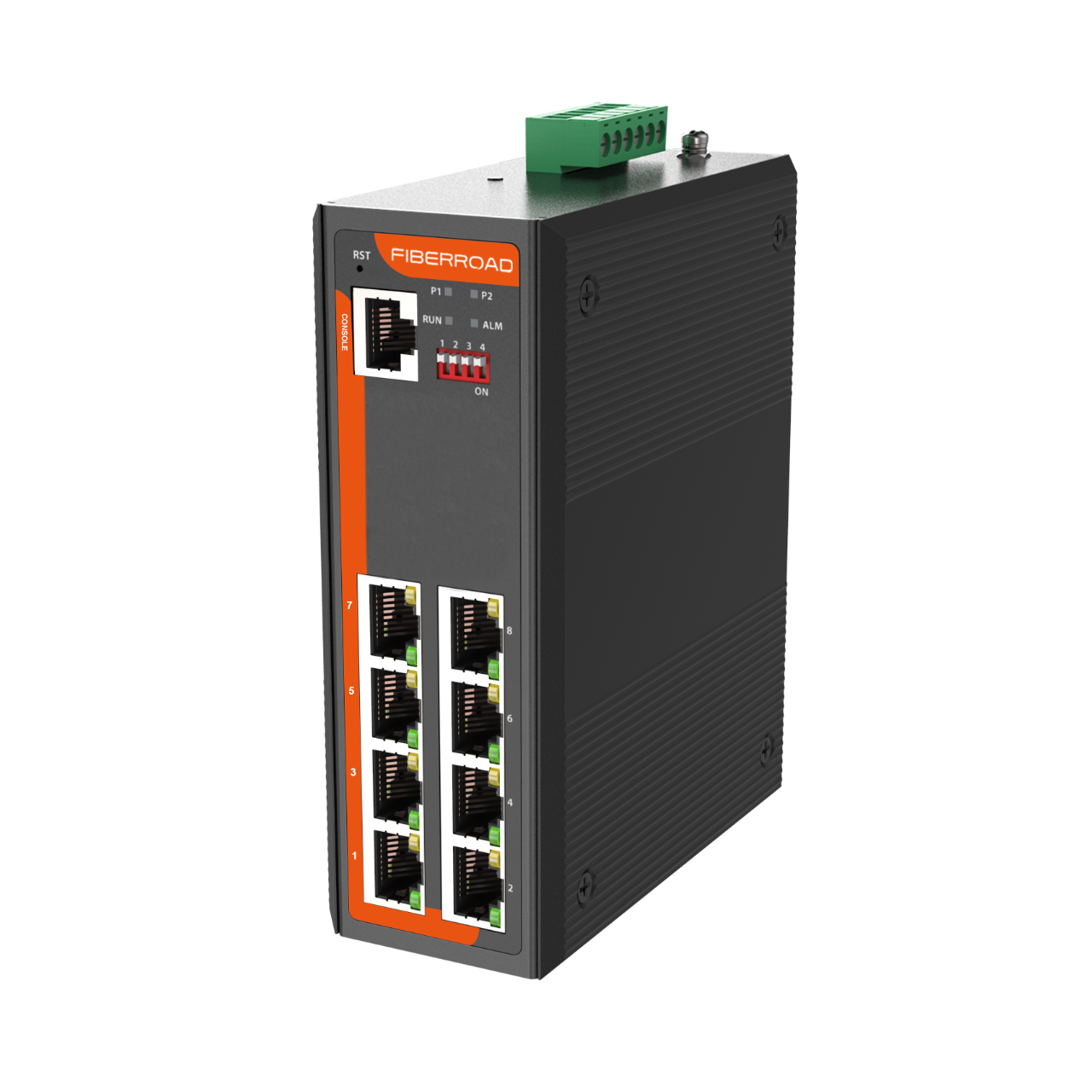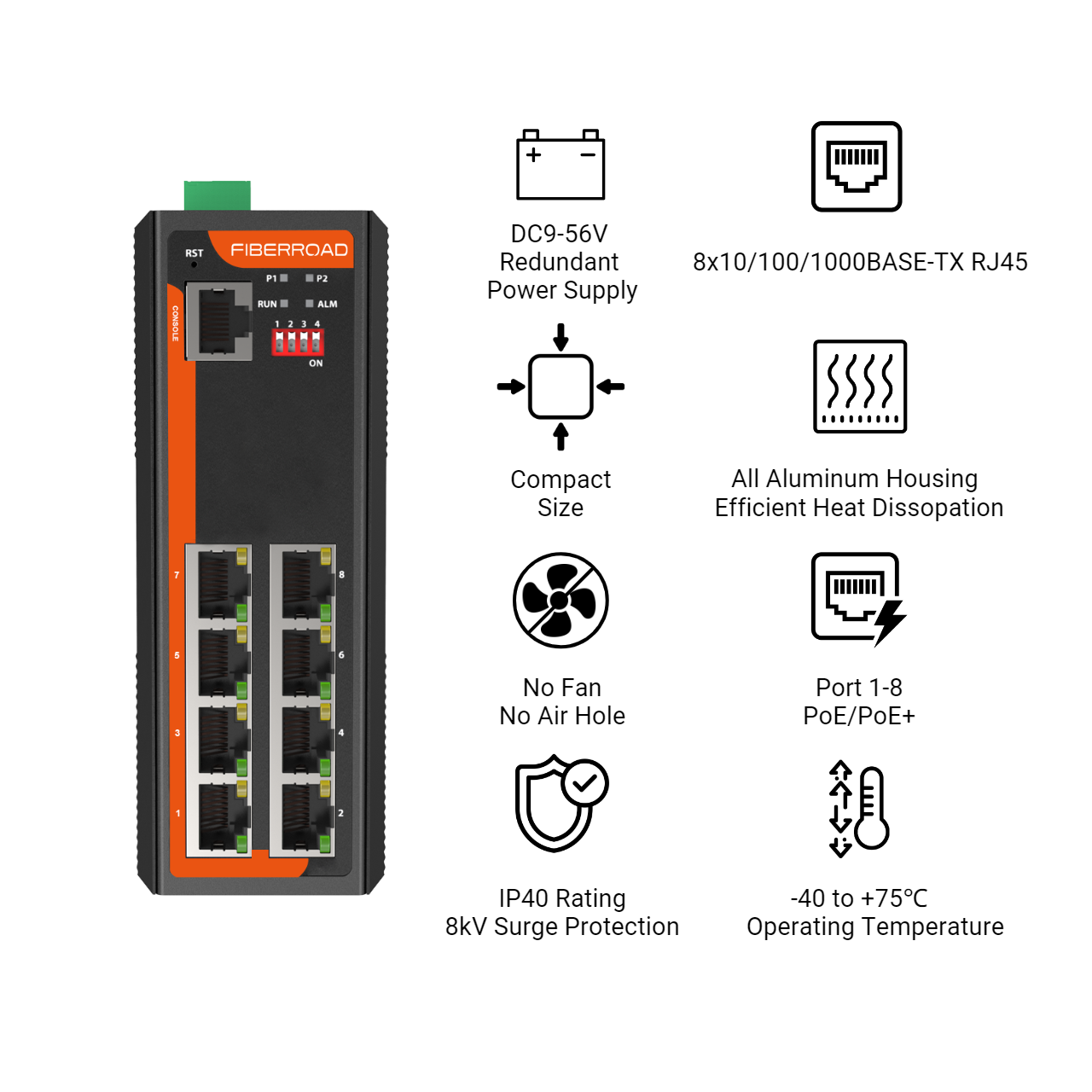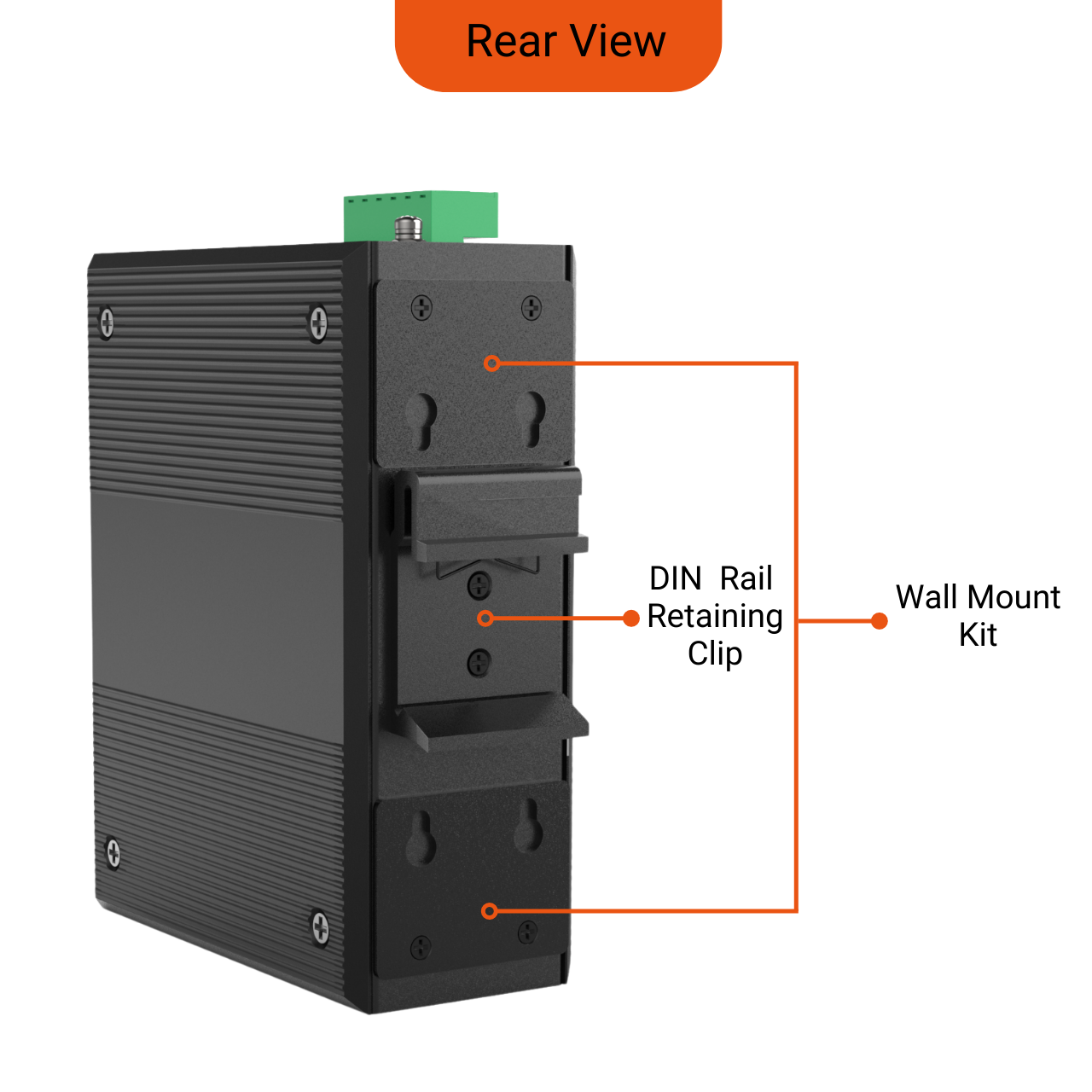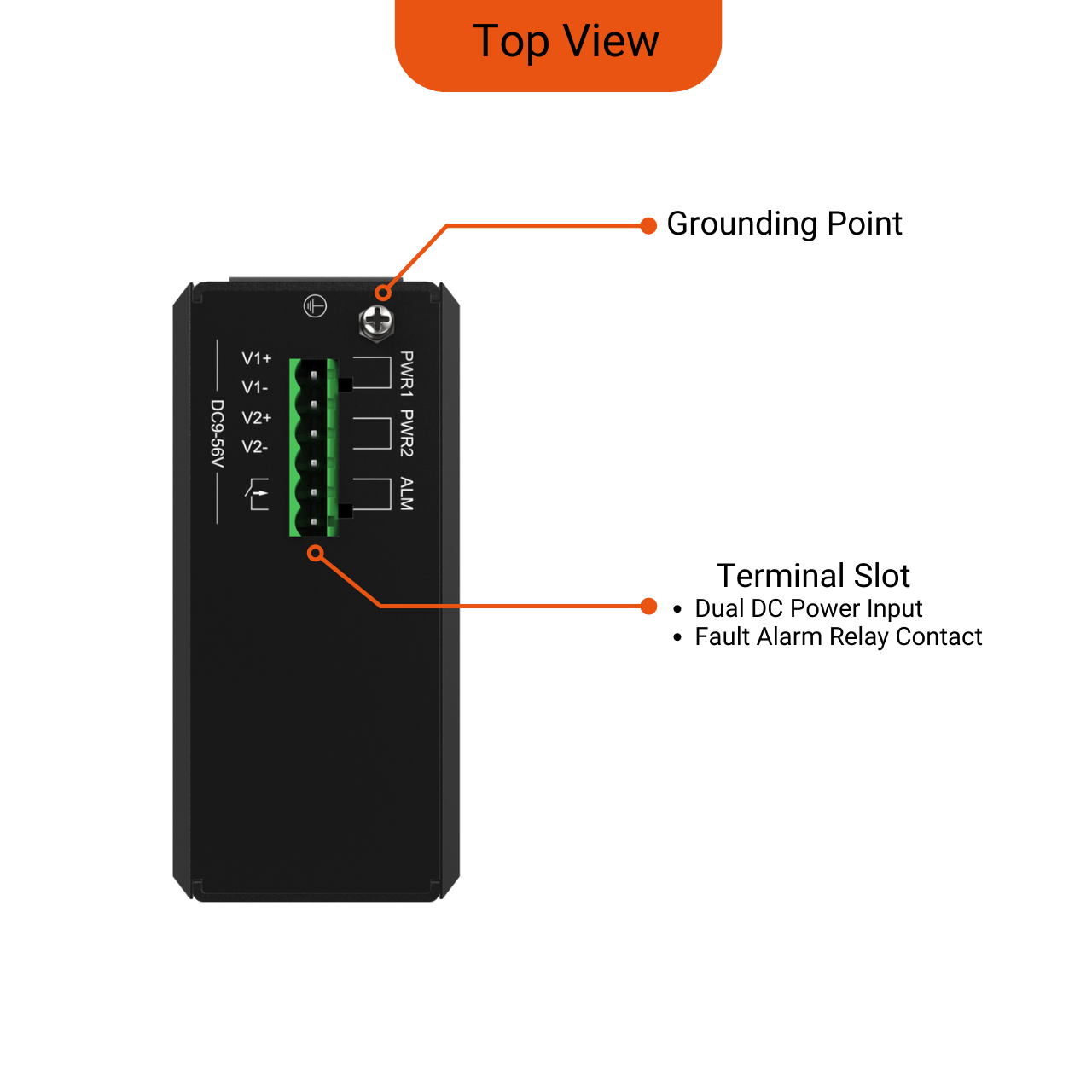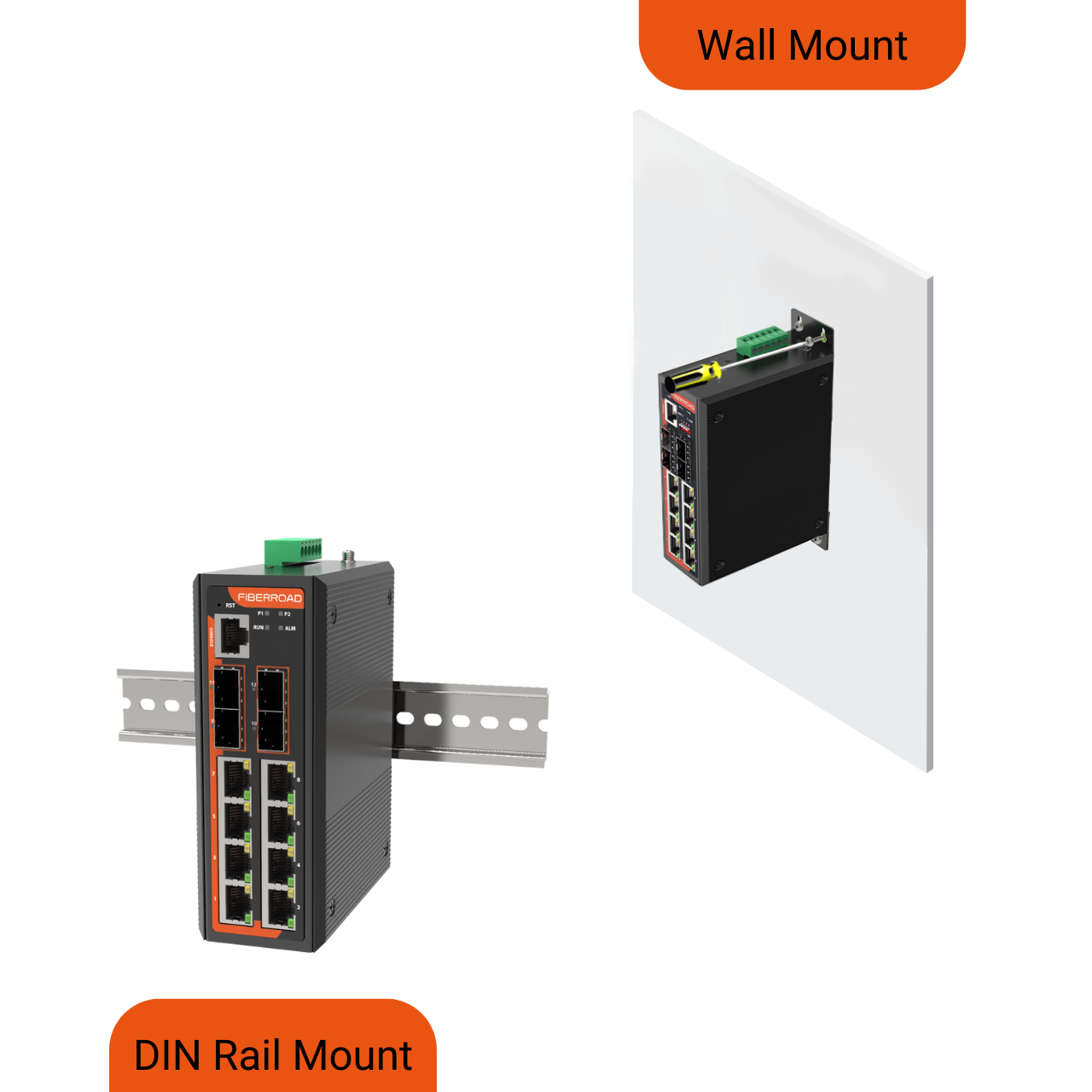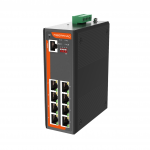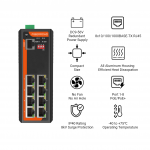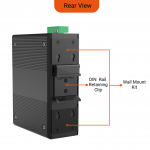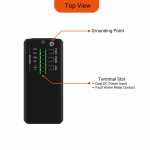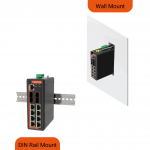 Quality Certifications
Guarantee
Share This Product
Exploring the Benefits of Using a 24v Industrial PoE Switch in Your Network
If you're looking for a top-of-the-line industrial 24v PoE+ switch, you'll want to check out the 8 port managed industrial PoE switch. This industrial switch is designed for optimal performance and features eight 10/100/1000Mbps Ethernet ports with PoE+ support. It also has a rugged casing that can withstand harsh environments, making it ideal for industrial applications. Plus, the web-based management interface makes it easy to configure and monitor your network.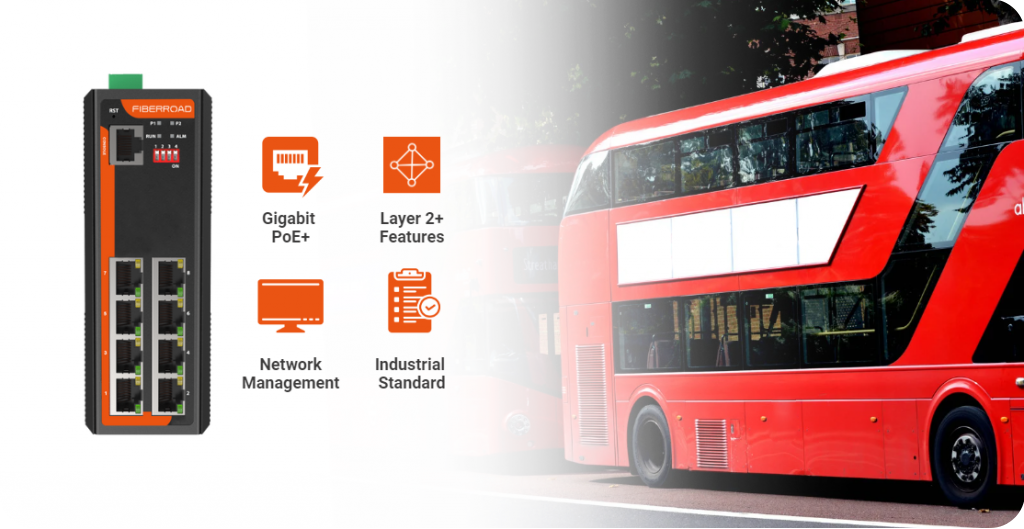 INTRINSICALLY SAFE
1. Guarantees utmost protection against potential explosions or fires caused by electrical sparks
2. Supports 2xRS485 Port + 2x CAN standard port
3. Full load power consumption ≤10W, the power supply meets the requirements of the intrinsic safety circuit, support over and over voltage protection, anti-reverse design
ADVANCE LAYER2+ FEATURES
1. Build a redundant network with STP/RSTRP/MSTP/ERPSv2.
2. IPv4/IPv6 Management and Static Route
3. ACL Based on MAC, IP address.
4. Retagging and complicated flow classification based on VLAN, MAC/IP.
5. Flexible bandwidth control policies.
HIGH-PERFORMANCE NETWORK MANAGEMENT
1.FIRO WebGUI management for configuring major managed functions.
2. SNMPv1/v2C/v3 for different levels of network management.
3. FIRO Web-based NMS enable discovery and diagrams of PoE++ Switch network topology.
COMPLETE SECURITY MECHANISMS
1. AAA&RADIUS, IEEE 802.1X, SNMPv3, HTTPs/SSLv3,SSH2.0 to enhance network security.
2. Port isolation within the same VLAN, DHCP-Snooping
3. DDOS, port-based MAC filtering/binding, MAC black holes, IP source protection, ARP message speed limit
Surviving the Toughest Conditions: Industrial-Grade Design for Harsh Applications
In the world of industrial applications, durability is key. The equipment used must be able to withstand harsh environments and tough conditions. That's why an industrial-grade design is necessary for these types of settings.
The 8 Port Managed Industrial 24v PoE Switch is specifically designed to handle even the toughest conditions with its rugged metal casing and IP40-rated housing. It's equipped with surge protection to prevent damage from power surges, making it ideal for use in areas prone to electrical fluctuations.
But that's not all – this switch also features a wide operating temperature range (-40°C to 75°C), ensuring it can function properly in extreme temperatures without overheating or malfunctioning.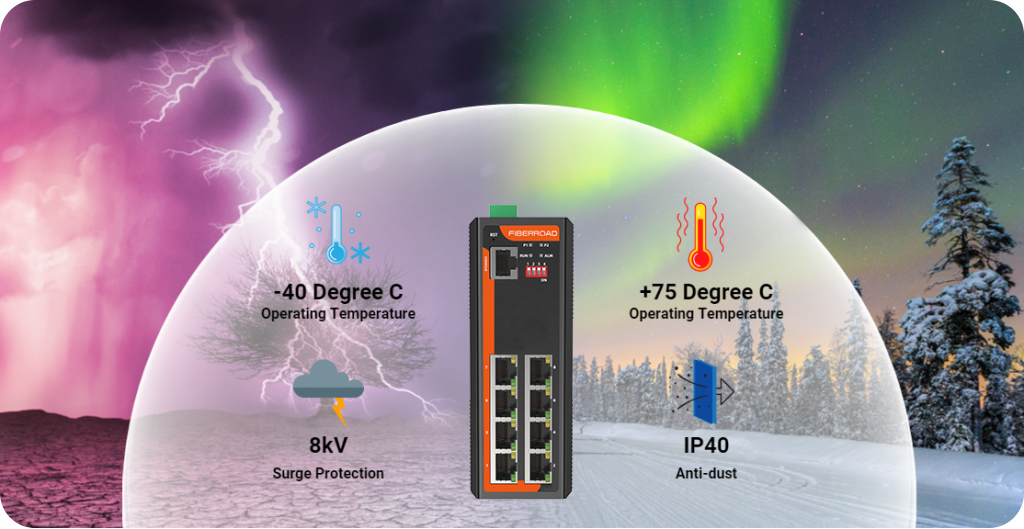 The Importance of Proper Power Input Voltage for Optimal Device Functionality
The FR-7M3008-24V industrial PoE switch is a powerful solution that addresses one of the biggest challenges faced by network administrators – the need to provide power to devices located in areas where electrical outlets are not available. This switch uses state-of-the-art power-boosting technologies to convert 9-24VDC input into a steady and reliable 48-56VDC output, which is exactly what's needed for devices that comply with the IEEE 802.3at PoE+ standard. With this advanced technology, users can easily connect various types of networking equipment such as IP cameras, access points or even VoIP phones without having to worry about finding an electrical outlet nearby. The FR-7M3008-24V industrial PoE switch provides an innovative and cost-effective solution for businesses looking to expand their networks while maintaining flexibility and convenience.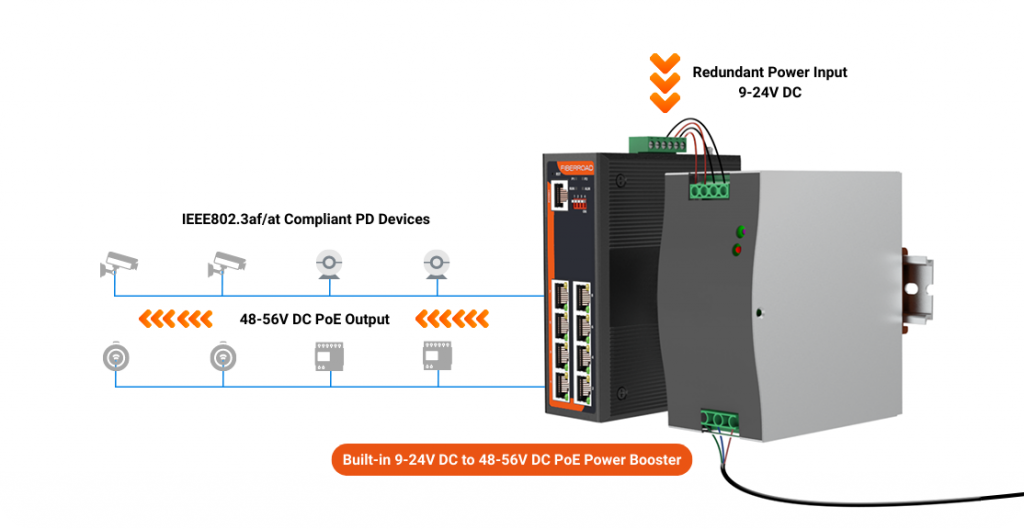 Revolutionize Your Network Management with 24v Industrial PoE Switch
Port 1-8 complies with IEEE802.3af/at standards. One critical point is that it can automatically detect and recognize PD devices that meet the standards and supply power through the network cable. As a PoE management unit for CCTV surveillance, wireless and VoIP networks, FR-7M3008P-24V has the following special PoE management functions: PoE PD-alive check, schedule power rebooting, scheduled power feeding, usage monitoring, and port priority power feeding.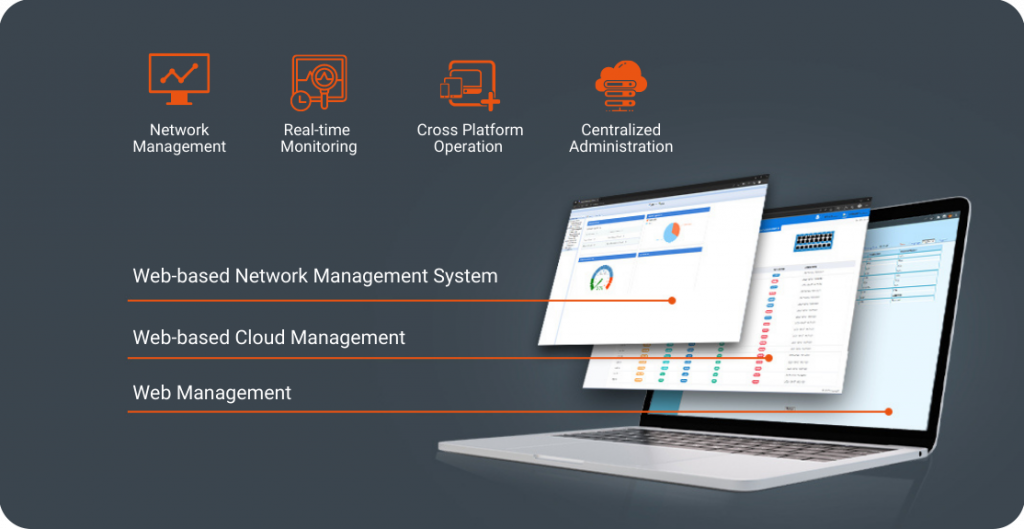 FAQ
---
What technology does this switch use to convert 9-24VDC input into a steady and reliable 48-56VDC output?
Our FR-7M3008-24V industrial PoE switch uses advanced power-boosting technologies to convert 9-24VDC input into a steady and reliable 48-56VDC output. This is done by boosting the voltage with a high power efficiency integrated circuit. The integrated circuit included in our switch also ensures a long lifespan of the switch, so you can trust your setup to keep running smoothly for years to come.
What types of devices can be powered using the Power over Ethernet (PoE) feature of this 24v Industrial PoE Switch?
This 24v Industrial PoE Switch uses a unique IEEE 802.3at compliant DC-DC converter technology which provides the necessary power conversion from 9-24VDC input to steady and reliable 48-56VDC output. This technology also enables the device to be used for both indoor and outdoor applications. With this feature, you can power various IP devices such as VoIP phones, Wi-Fi Access Points, security cameras and more using a single Ethernet cable.
How does the rugged design of this switch make it suitable for use in harsh environments?
The 8 Port Managed Industrial 24v PoE Switch is designed with a rugged metal casing and IP40-rated housing to ensure it can withstand the toughest of conditions. It also comes equipped with surge protection technology, so you can be sure that your data will stay safe even in extreme temperatures or humidity levels. We have designed this switch to handle whatever conditions come its way.
Hardware Specifications
Model
FR-7M3008P-24V
Ports
8×10/100/1000Base-T(X)Ports (RJ45 connector)
Port Mode(Tx)
Auto-Negotiation Speed

Full/Half Duplex Mode

Auto MDI/MDI-X Connection

Standards
IEEE 802.3 for 10BaseT

IEEE 802.3u for 100BaseT(X) and 100BaseFX

IEEE 802.3ab for 1000BaseT(X)

IEEE 802.3z for 1000BaseSX/LX/LHX/ZX

IEEE 802.3x for flow control

IEEE 802.1D-2004 for Spanning Tree Protocol

IEEE 802.1w for Rapid Spanning Tree Protocol

IEEE 802.1s for Multiple Spanning Tree Protocol

IEEE 802.1p for Class of Service

IEEE 802.1Q for VLAN Tagging

IEEE 802.1X for authentication

IEEE 802.3ad for Port Trunk with LACP

Console
1x RJ45-to-RS232 Serial Port(115200)
Packet Buffer Size
2Mbits
Maximum Packet Length
Up to 9K
MAC Address Table
4K
Transmission Mode
Store and Forward (full/half duplex mode)
Exchange Property
Delay time: < 7μs

Backplane bandwidth: 20Gbps

IGMP GroupS
2048
Max. No. of VLAN
64
VLAN ID Range
VID 1 to 4094
PoE & Power Supply
Model
FR-7M3008P-24V
PoE Ports
Port 1 to 8 IEEE802.3af/at @PoE+
Power Supply Pin
Default: 1/2(+), 3/6(-)
Max Power Per Port
30W
Total PWR /Input Voltage
90W(12VDC)

120W(24VDC)

240W(48VDC)

Power Consumption
10 Watts Max(without PoE load)
Power Inputs
2
Input Voltage
9-56VDC, Redundant dual inputs
Operating Voltage
Non-PoE Mode: 9-56VDC

30W PoE Mode: 48-56VDC

Connector
1 removable 6-contact terminal blocks

Pin 1/2 for Power 1, Pin 3/4 for Power 2, Pin 5/6 for fault alarm

Protection
Overload Current Protection, Reverse Polarity Protection
Software Features
Redundancy Protocols
Support STP/RSTP/MSTP/ERPSv2, Link Aggregation
Multicast Support
Support IGMP Snooping V1/V2/V3,support GMRP, GVMP,802.1Q
VLAN
Support IEEE 802.1Q 4K VLAN, support QINQ, Double VLAN,
Time Management
SNTP
QOS
Flow-based redirection

Flow-based rate limiting

Flow-based packet filtering

8*Output queues of each port 802.1p/DSCP priority mapping

Diff-Serv QoS, Priority Mark/Remark

Queue Scheduling Algorithm (SP, WRR, SP+WRR)

ACL
Port-based Issuing ACL

ACL based on port and VLAN

L2 to L4 packet filtering, matching the first 80 bytes message.

Provide ACL based on MAC, Destination MAC address, IP Source, Destination IP, IP Protocol Type, TCP/UDP Port, TCP/UDP Port Range, and VLAN, etc

POE Management
Total power limit of PoE power supply

PoE output power allocation

PoE output priority configuration

PoE working status

Scheduling of PoE operation

Diagnostic Maintenance
Support port mirroring, Syslog, Ping
Management Function
Support CLI、WEB、SNMPv1/v2/v3, Telnet server for management, EEE, LLDP, DHCP Server/Client(IPv4/IPv6), Cloud/MQTT
Alarm Management
Support 1-way relay alarm output, RMON, TRAP
Security
Broadcast Storm Protection, HTTPS/SSLv3, AAA & RADIUS, SSH2.0

Support DHCP Snooping, Option 82,802.1X security access,

Support hierarchical user management, ACL access control list,

Support DDOS,port-based MAC filtering/binding, MAC black holes, IP source protection, Port isolation, ARP message speed limit

Advanced Layer 2+ Features
IPv4/IPv6 Management

Static Route
Inquiry about the product
Sample request for the product